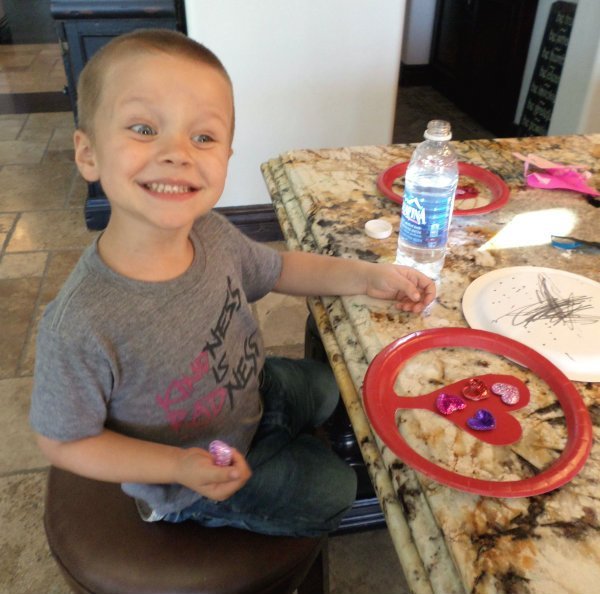 I love love, and I love celebrating love… but sometimes the old stuffed animal and chocolate Valentine's routine can get a little redundant. ?Finding new, creative ways to express my love to Chris and our kids is becoming one of my favorite things about Valentine's Day. I'm counting down my favorite ways to celebrate the holiday of love without spending too much money or veering too far off the track of our typical healthy lifestyle. Without further adieu (and in no particular order!)… 14 Ways to Say "I Love You!"
1. Sunset Hike + Picnic – Slap on your hiking shoes and Ergobaby baby carrier, grab a blanket and an easy healthy meal, then head to your favorite hiking spot. Spending time together as a family and taking in beautiful scenery is one of my favorite pastimes.
2. Homemade Dark Chocolate Fondue with Fruit – Not the healthiest, but not a caloric bomb either! Melt some dark chocolate over the stove or in a fondue pot and cut up some bananas, strawberries, blueberries, and pineapple for a romantic Valentine's treat. Dark chocolate?is?loaded with antioxidants…just saying' ;).
3. "Heart Attack" Your Kiddos' Bedrooms – Our sweet friend Kamala helped the kids do this for us about a year ago while we were traveling for EWL, and to this day it is one of my most special memories from our kiddos. You can see how she did it here.
4. Love Letters – Before going to bed tonight, write a personal love letter to your significant other and put it somewhere he or she will spot it first thing in the morning. Sometimes letting your loved one know exactly how you feel is the best gift ever, and sharing that first thing in the morning sets the mood for the entire day. Maybe you are doing this one for Valentine's Day…but try not to let this habit die! There is nothing sweeter to me than small little love notes. Yes, I am a hopeless romantic!
5. Scrapbook Scavenger Hunt – Print out pictures of some of your favorite memories together and hide them around the house. Give clues at each picture and send your sweetie on a trip down memory lane! This is a great one to do for kiddos too!
6. Couples' Massages – After a good, hard workout, nothing feels better than a back massage. Grab some sweet smelling lotion, lay down a towel or blanket, and take turns giving each other a deep rub down. It'll ease those aches and set the mood for a romantic night together!
7. Try a New Recipe – Restaurants can be SO overcrowded on Valentine's Day, and often lack the healthy options we crave. Opt to stay in, but instead of sticking to the same old recipe, spice it up and search for ways to incorporate new exotic ingredients. Maybe even serve dinner to your sweetie on a candlelit table or on a blanket in the backyard.
8. Craft with the Kids – I've said it before and I'll say it again: Handmade gifts from my kids are always my favorite presents! Round up your littles and spend the night crafting together. Cash, Ruby, and I had so much fun making these silly paper plate hats, and they were so easy! Draw a heart on a plate and help your kiddos safely cut it out. Then let them decorate to their heart's content.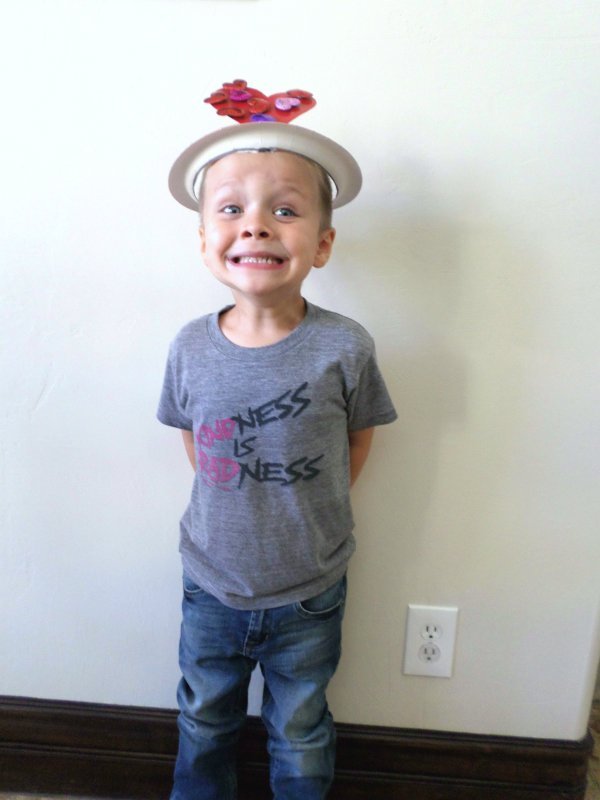 9. Ditch the technology – It's 2015 – who isn't at least a little attached to those devices?! Guilty, here…sadly. Between work, keeping up with the blog, social media, and catching up with friends and family, ?sometimes turning off my phone/computer/iPad just doesn't seem possible. Take a technology timeout together and spend the evening the old fashioned way… talking!
10. Make It a Movie Night – Skip the theaters this weekend?and snag a Redbox! Have fun building a fort and watching a movie in the comfort of your own home…with the whole fam! My kids LOVE using this fort building set?we got them for Christmas during our movie nights!
12. Serve Your Sweetheart – Who doesn't love a little extra pampering? And it's more about giving than receiving anyway! Wake up early on Valentine's and devote the day to your honey. Take the time to make an extra delicious breakfast, iron his clothes the annoying way he insists on (even if it bugs you the other 364 days a year), offer to drive him to work – anything to just be there for your loved one. Going the extra mile is exactly the kind of love our lovers need :).
13.?Schedule a Sweat Sesh Together – Couples that play together, stay together! And for me and Chris, exercise IS play! What better way to start the holiday than by getting that blood pumping and those endorphins going! Not only does it make for a natural high, but if you do plan on splurging on some of that dark chocolate fondue, at least you'll have gotten in a good workout to offset those extra calories! Plus… I hear sweat is a natural aphrodisiac… just sayin' ;).
14. Give Back – Valentine's Day is about sharing the love, so why not share that love with those less fortunate? Search for ways to lend a helping hand in your area and take the day to teach your littles about true love. Sites like volunteermatch.org make finding opportunities to serve in your hometown so easy! Spread the love 😉
What are your plans for the weekend? Do you celebrate as a family or make it a special date night? Share your ideas in the comments below!
Xoxo,
Heidi