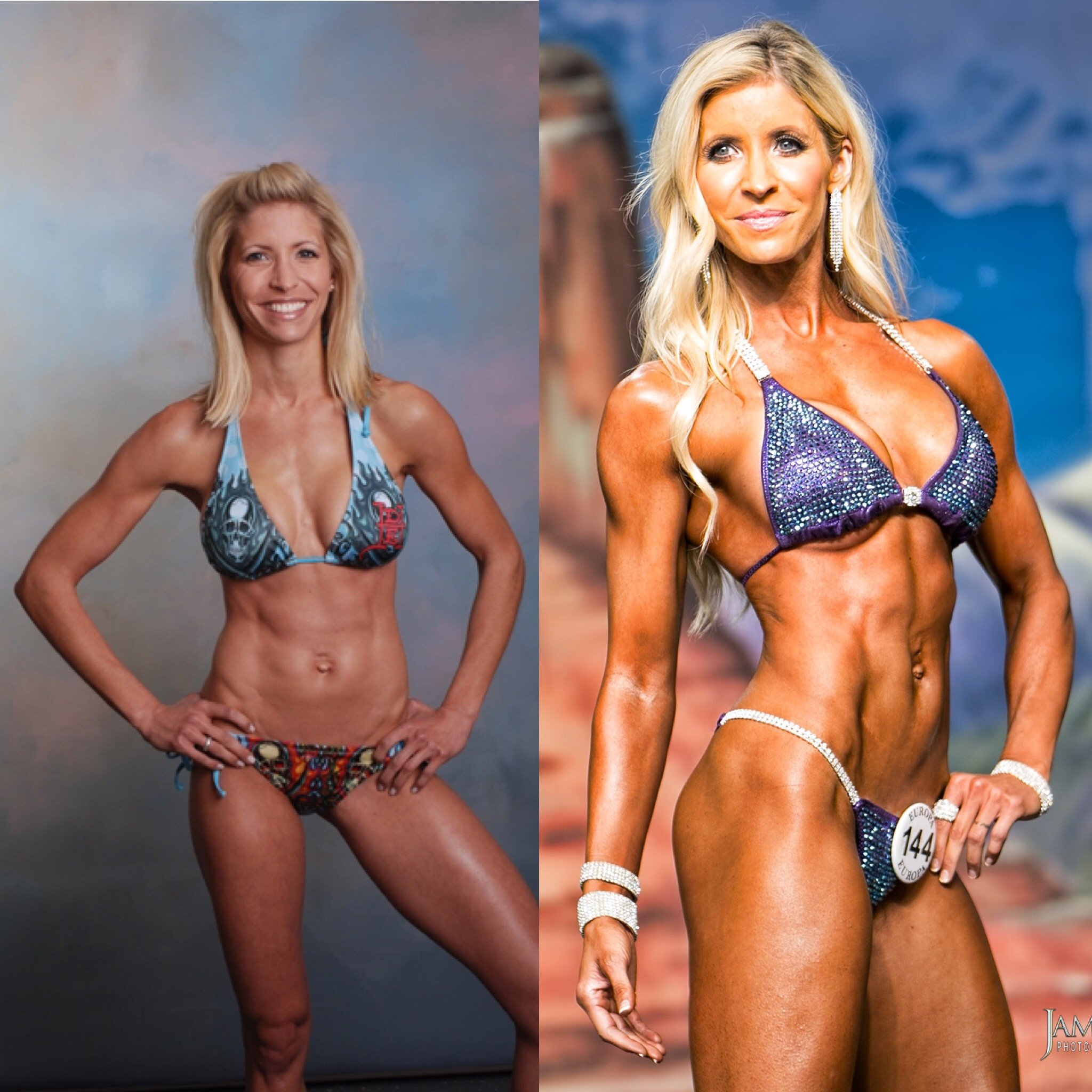 A few months back, one of my social media posts about my own experience with body dysmorphia struck a major chord?when it elicited over?1,000 comments. Hundreds (maybe thousands) of people have reached out to me for help since, and I realize this is a struggle many of you have experienced or are experiencing. In an effort to provide hope to anyone needing it, I am reposting this today. While I'm not expecting this post to be a "cure all," I am praying it touches those in need most and lets them know there?is?light at the end of the dark tunnel…and that happiness and balance can be found!!!
*Originally posted on Facebook and Instagram on October 24, 2015.
Posting this is a bit gut-wrenching for me. More than anything, it's rather uncomfortable to focus on MY body, MY change, and MY weaknesses and struggles from my past. It's so much easier to highlight the peeps we work with and stick with posting cute family selfies. But, I also feel incredibly proud of how far I've come physically and mentally over the past 8 years, and I hope there is someone out there that this gives hope to.
Eight years ago, I was terrified of gaining weight. I worried that one little nutritional slip-up would ruin me. While I had many people telling me to "eat a cheeseburger," I had the hardest time seeing what it was that they were seeing…and was still caught in some of the lingering darkness from my decade-long battle with an eating disorder. Clearly, I was still struggling with body dysmorphia, even though I thought I was healed. While I had found the willpower to stop my binge/purge cycles, I was still somewhat of a confused messuva woman. I was convinced that I would never be able to eat more than 1200 calories again without putting on weight where I didn't want it.
The girl on the left never would have believed that today I'd have 2 more babies (4 total), eat 2600 calories a day, add 20 lbs to my frame, and feel happier, healthier, fitter, and more in control of my body than ever before. AND have a very healthy relationship with food!!
Those I have to thank for this:
Chris for helping me take my first leap of faith toward 5 meals a day (terrifying to the woman on the left). You have been my rock through this…and you may not even know it.
My EWL peeps for helping my own healing as you courageously allowed me to coach you through (and be a part of) yours.
My amazing coaches for opening my eyes to a whole new approach for my body. It's been incredible to see the changes my body has made in this short time by trusting the process: increasing calories/counting macros, decreasing cardio (to ZERO), and lifting like an athlete to build muscle. Thanks to my amazing coach,?Damian Segovia at Pro Physiques,?for guiding me every step of the way, and Deborah Goodman?for helping me find my booty! You've helped me realize my body CAN get better with age, even after babies!
And for any of you struggling with any type of eating disorder, please reach out for help! Asking for help is not a sign of weakness?it is a huge marker of strength and shows a tremendous amount?of courage. Below is a list of some additional reads to help guide you in the right direction, as well as some resources for support. I promise you this is something you can overcome…I have lived both sides and KNOW it's possible!
Xoxo,
Heidi
Related reading:
Eating Disorders: The Ugly Truth of the Skinny Fixation
Overcoming an Eating Disorder: A Journey to Health, Healing, and Happiness
Emotional Eating: How to Take Control Once and for All
For additional support:
Shades of Hope
National Eating Disorders Association
Mayo Clinic