A few months ago, Chris and I had the chance to head to Reebok Headquarters in Boston to help choose the face of their incredible "Be the One" campaign. During our few action-packed days with some of the best trainers we've ever had the privilege of being around, we were so graciously taken to Whole Foods for the most amazing cooking demo I've ever seen.
Not only was the chef talented (like think Rachel Ray, Curtis Stone, or Rocco caliber), but every single dish was beyond delicious as well. Surprisingly, the recipes were simple too…the ONLY way I can do them.
With the holiday season in front of us – and hoards of family sure to be knocking on your door for a good meal in the coming weeks?I figured I'd help a friend out and share these gold nuggets with you! Each dish is healthy and full of flavor, and together, they make up the perfect holiday meal. Bon appetit!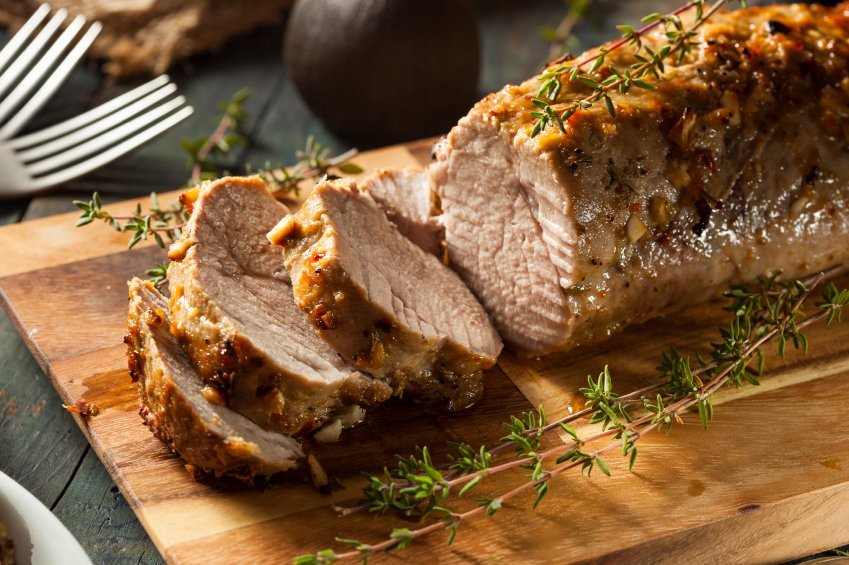 Herb Roasted Pork Tenderloin
Serves 8
Ingredients:
4 garlic cloves, finely chopped (about 2 tablespoons)
2 tablespoons finely chopped fresh sage
1 tablespoon finely chopped fresh rosemary
2 ? teaspoons kosher salt
? teaspoon freshly ground pepper
2 tablespoons extra virgin olive oil (optional)
2 pork tenderloins (about 1 ? lb each)
Directions:
Preheat oven to 400 degrees. Stir together garlic, sage, rosemary, salt, pepper, and olive oil in a small bowl. Rub half of mixture all over each piece of pork.
Heat a large cast iron skillet over medium-high heat. Add pork, and brown all over, about 4 minutes.
Transfer pan to oven. Roast pork, turning occasionally, until an instant-read thermometer inserted into thickest part registers 145 degrees to 150 degrees, about 20 minutes. Transfer pork to a cutting board, tent with foil and let rest 10 minutes before slicing.
Nutritional information (including olive oil): Calories: 202.4, protein: 29.9g, carbs: .5g, fiber: 0g, fat: 8.3g, sodium: 808.6mg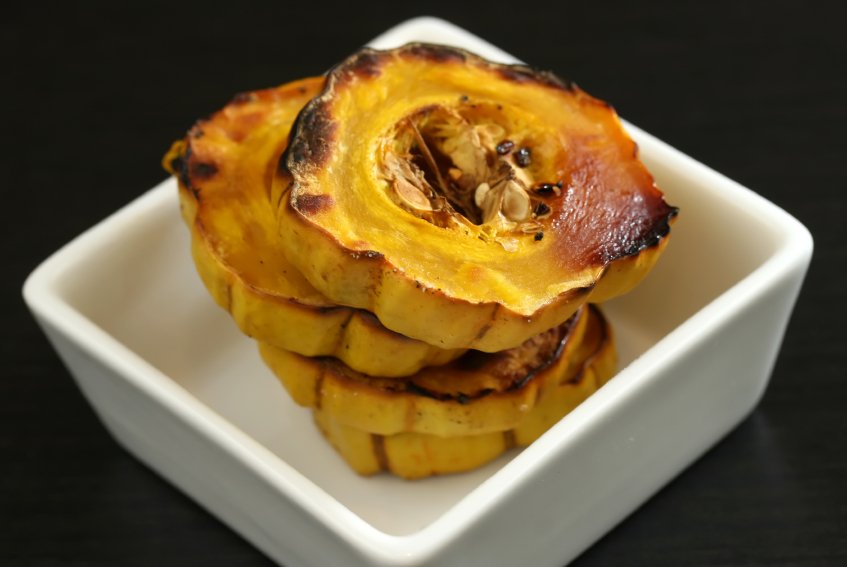 Sweet & Spicy Delicata Squash
Serves 8 as a side
Ingredients:
4 small delicata squash, halved lengthwise, seeded and cut into ? inch slices
2 teaspoons extra virgin olive oil
2 teaspoons honey or maple syrup
Kosher salt, to taste
Pinch red pepper flakes
Pinch ground cinnamon
Fresh grated nutmeg, to taste
4 large sage leaves, thinly sliced
Directions:
Preheat oven to 400 degrees. On two large baking sheets, place squash in a single layer.
Drizzle squash slices lightly with olive oil and honey or maple syrup. Sprinkle each pan evenly with a few pinches of salt, red pepper flakes, and cinnamon. Grate some nutmeg over the top and sprinkle with sage.
Toss to coat squash evenly in all ingredients and bake for about 30 minutes or until squash is soft in the center and caramelized on the outside. Cool slightly and enjoy!
Nutritional information: Calories: 35, protein: 1g, carbs: 6.1g, fiber: 2g, fat: 1.2g, sodium: 18.3mg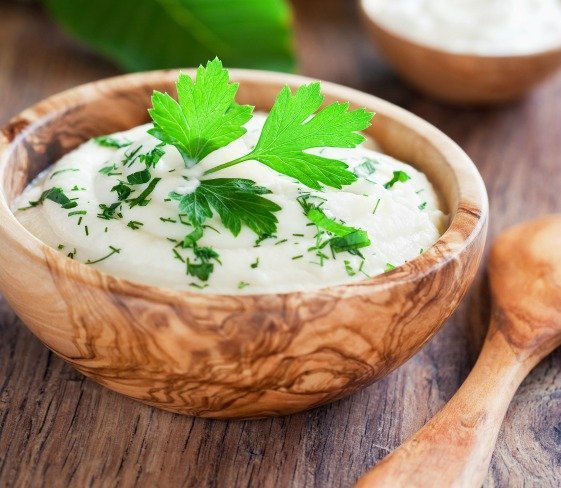 Garlicky Cauliflower Puree
Serves 8
Ingredients:
2 large heads cauliflower, florets roughly chopped
6 cloves garlic, peeled
4 cups low-sodium vegetable stock
2 teaspoons fresh thyme
Fresh lemon juice, to taste
4 tablespoons extra virgin olive oil (optional)
Salt and freshly ground pepper
Directions:
Combine cauliflower, garlic, and stock in a large saucepan, and bring to a boil over high heat. Reduce heat to a simmer, and cook until cauliflower is very tender, about 10 minutes.
Using a slotted spoon, transfer cauliflower and garlic to the bowl of a food processor. Process until smooth, adding 1 to 2 tablespoons cooking liquid, 15 to 20 seconds.
Add thyme, lemon juice, and olive oil, and process 5 to 10 seconds more. Season with salt and pepper. Serve hot.
Nutritional information (including olive oil): Calories: 110.1, protein: 3.6g, carbs: 10.5g, fiber: 4.2g, fat: 7.2g, sodium: 155.8mg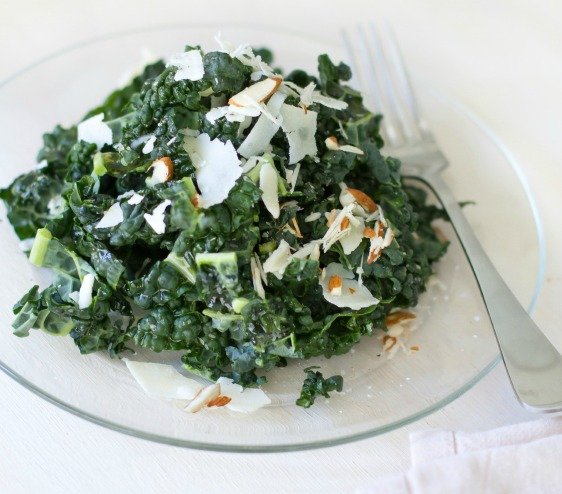 Apple Cider Kale Salad
Serves 8 as a side
Ingredients:
Dressing:
2 tablespoons apple cider
2 tablespoons raw cider vinegar
2 tablespoons Dijon mustard
4 tablespoons extra virgin olive oil
1 small shallot, minced
Salt and pepper, to taste
Salad:
8 cups baby kale or dino kale, chopped
2 honey crisp apples, thinly sliced
Nuts of your choice (I used 2 oz, which is 1 tablespoon per serving)
Cheddar or aged gouda, shaved with a veggie peeler (optional) (I used 4 oz, which is ? oz per serving)
Directions:
Combine all dressing ingredients together in a mason jar and shake to combine. Season with salt and pepper to taste. You will probably have extra dressing leftover, and it will keep in the fridge for up to a week.
Put kale in a large serving bowl and add dressing a little bit at a time until there is enough to coat the kale. Massage the dressing into the leaves.
Add apples and nuts to salad just before serving. Garnish with shavings of cheese, if using.
Nutritional information (including cheese): Calories: 185.9, protein: 6.6g, carbs: 6.8g, fiber: 1.8g, fat: 15.4g, sodium: 236.6mg
Xoxo,
Heidi
Related posts:
A Powell Twist on Thanksgiving Dinner
Pumpkin Pecan Pie
Protein Waffles with a Pumpkin Twist!