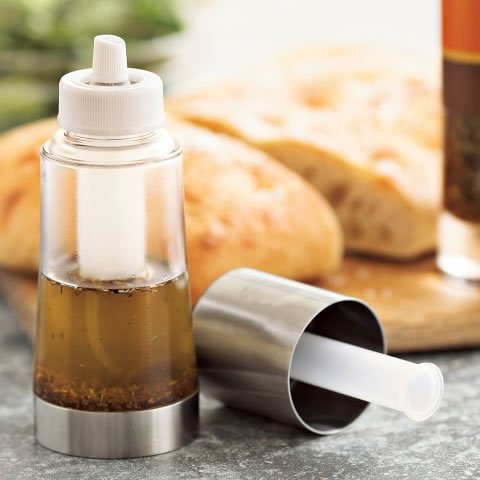 If you?re a Williams Sonoma or kitchen store fanatic (like me!), I?m sure you?ve seen these little gadgets and wondered if it really has any benefit over good ol? Pam cooking spray.
Boasted as ?a dieter?s dream? by Isa Chandra Moskowitz, these oil spritzers (aka oil misters) do carry many health benefits! Here are a few:
Reduced-Fat Cooking: Oil spritzers use compressed air to create a fine mist of oil to use for cooking. Instead of dumping 1 Tbsp of olive oil (and 119 unwanted calories) into your pan, you can spritz and get a small fraction of the fat and calories!
Choose Your Oil: While many prepackaged cooking sprays do offer a couple of varieties of oils, the unhealthy oils are most abundant on the store shelves?so we tend to grab these! An oil spritzer encourages you to think about and choose a healthier oil option. A few of my favorite healthy oils are:

Olive Oil: This well-know heart-healthy oil is also full of vitamins E, A, K, iron, calcium, magnesium, and potassium, AND is a great source of amino acids! Thanks to the incredible vitamins and minerals, this oil lends to our overall cell health as well as immune function.
Coconut Oil: Dr. Oz is a fan, teaching us that ?coconut oil can help our bodies mount resistance to both viruses and bacteria that can cause illness. Even more, it also can help to fight off yeast, fungus and candida.? Just a few of this oil?s amazing benefits.
Safflower Oil: Known as the ?anti-aging? oil, safflower oil helps us combat wrinkles and stay heart healthy!

Chemical-Free Cooking: Believe it or not, the prepackaged cooking sprays are LOADED with chemicals! Keep your kids and yourselves away from any scary additives by spritzing :-).
Ready to spritz? I am! And so is Chris?check out his new book, Choose More, Lose More for Life
, on shelves May 7th, for recipes that include an oil spritzer.
Happy spritzing!