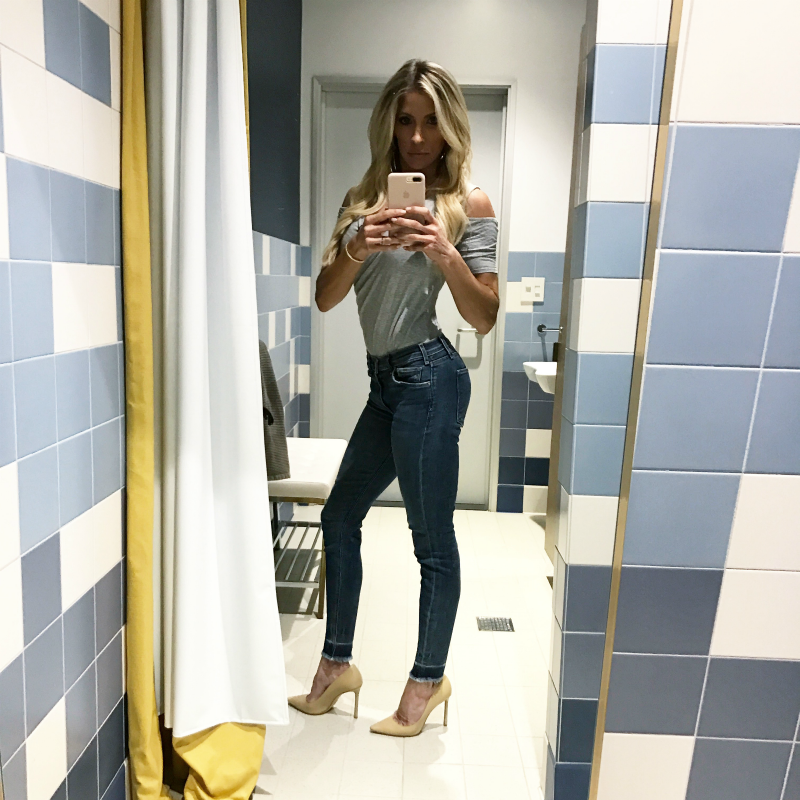 And here we have a Heidi out of her natural habitat?wearing something other than gym attire and workout shoes. Cue the gasps.
It's not often I get to dress up, and even more rare that I get the chance to shop for a new look, so when I do, I go all out. For example, these shoes! I'll admit these pretty Jimmy Choos held a hefty price tag, but considering they're probably the ONLY heels I've purchased in a year, I don't mind a bit of a splurge. They go with everything and will last forever.
Also currently obsessing over these fun jeans! They're just shy of classic?perfect shade of denim, amazing fit, but a fun little fray at the end. I predict these guys being my fall favorite. I'm dying over this top too! I never saw myself as a bodysuit kind of gal, but I love how it hugs me in all the right places and shows just the right amount of shoulder. Love!
After a few questions scattered throughout Instagram and Facebook, I hunted for all of the pieces in my look! Unfortunately, this top is a season past its prime, so it is no longer available, but I found a shirt I love just as much. Check out my splurge-and-save options for this look below!
Shop my look: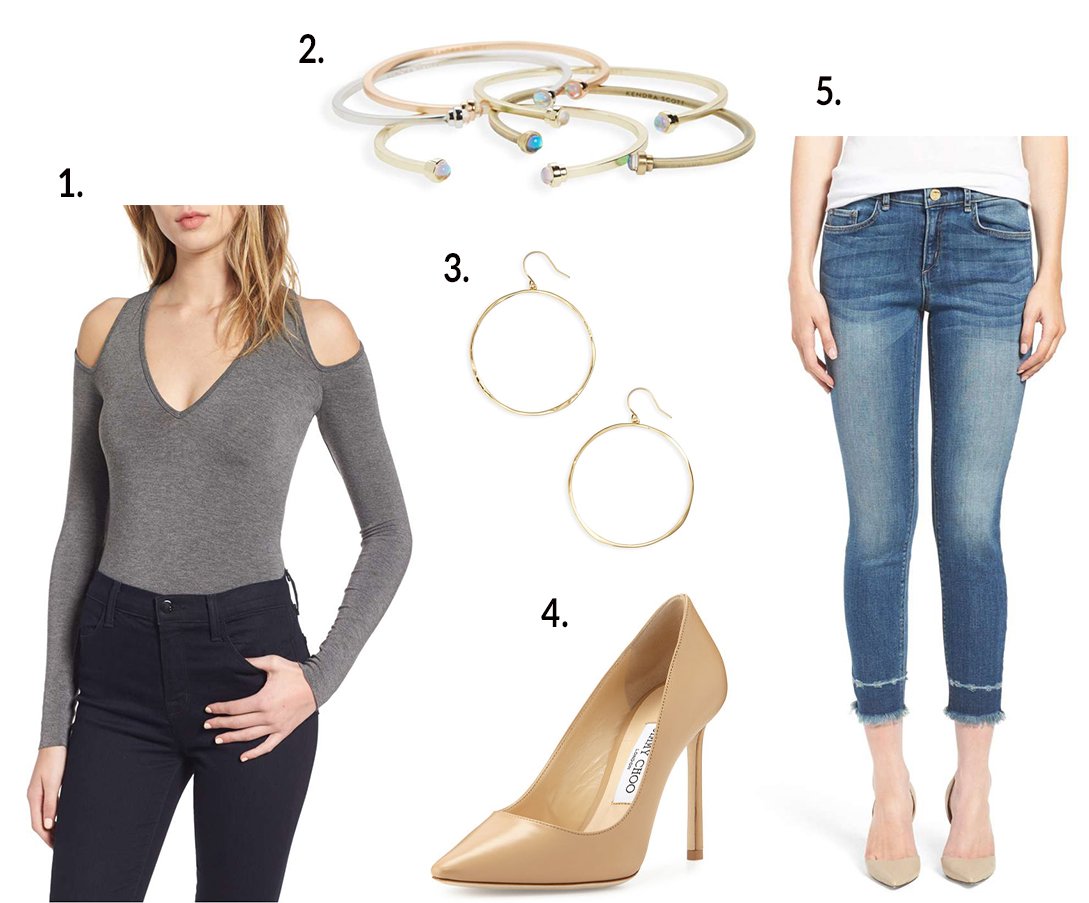 I so wish the top that I have was still available, but sadly it's from last season! I found one that is practically sisters to the one I wear called the Patricia Cold Shoulder bodysuit from Nordstrom! ? This top will have your man a-whistlin' and make you feel like Beyonc? all night long!
I am absolutely obsessed with these bangles. They are so easy to throw on, and they dress up any casual outfit.
These go-to hoops are the perfect accessory to brighten up your features, and they make your face appear slimmer. Can't go wrong there, right?!
Like I said before, my Jimmy Choos were on the pricier end, but they last FOR-EV-ER! Plus, they make you look absolutely fabulous for any occasion.
Lastly, these jeans are swoon-worthy! The frayed bottom is my favorite feature about these bad boys, plus the fit is just right and accentuates all of the right things.


Shop my look for less:


This J Crew Body suit is just as darling and nearly half the price. It's a keeper.
Charming Charlie has a huge selection of cute jewelry for cheap! Check out this cuff bracelet for only $8.
Hammered hoop earrings that accomplish the same goal as the hoops above for only $12. Such a steal!
Everyone needs to invest in at least one pair of nude pumps. They go with everything and can be worn dress up or down.
These Articles of Society jeans are so comfy and cheap! Same styled frayed look for a night out on the town.

Happy shopping!

Xoxo,

Heidi

Related reading:

Nordstrom Anniversary Sale: My Wardrobe Essentials
Friday Faves: What?s on My Feet 2.0
Hair Health, Hair Care, and Some Hair Favorites
Kitchen Hacks: My Top Tips and Tricks!