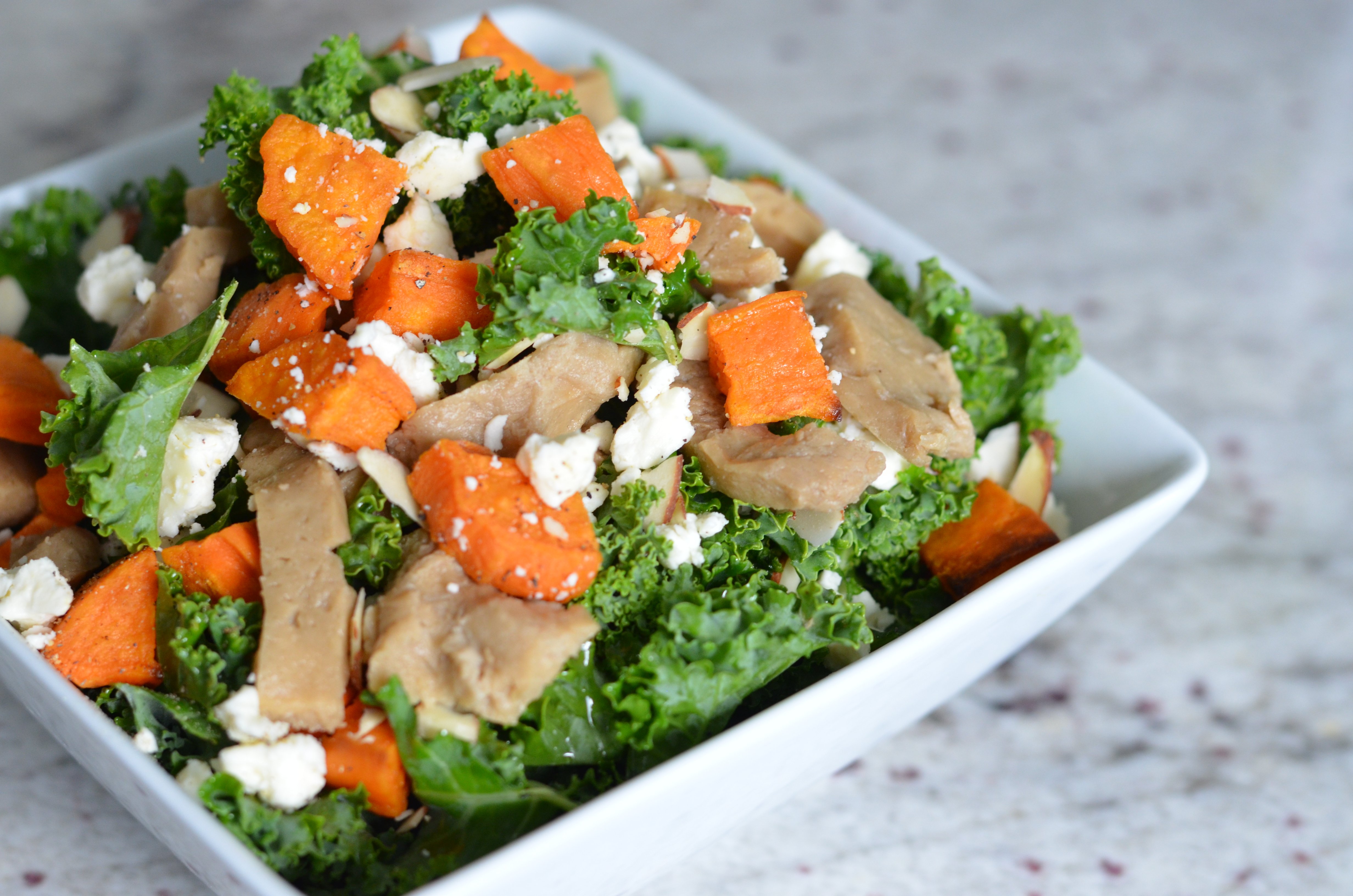 You're officially on your road to transformation success, you've had no trouble turning up your nose at excess Halloween candy, you're avoiding carb binges and high fat take-out meals like a champ, but *Gasp!* Thanksgiving is just a few days away!
How the heck are you supposed to say "NO!" to the delicious eats and treats of a holiday centered on FOOD?! Well, my friends, you take a page out of the old Heidi Powell playbook (remember this post about surviving parties?!) and bring your own healthy side dishes to share instead of diving deep into a bowl of mashed potatoes and gravy.
Considering Thanksgiving is this week, I thought I would share with you one of our best vegetarian recipes that also happens to be LOW CARB (amazing, right?!) straight from the TRANSFORM app! Our Kale Sweet Potato Salad with seitan is the perfect seasonal salad and vegetarian option for your Thanksgiving dinner. And the best part? It's super easy to make! So, while you're busy preparing all of the other fixings for Thanksgiving dinner, you won't have to fuss over this tasty side dish. I call that a win! Remember?just because this salad is vegetarian doesn't mean you can't change it up for anyone who wants to add meat to it. Simply substitute the seitan with chicken breast (instructions below) for a delicious alternative. Here's the recipe: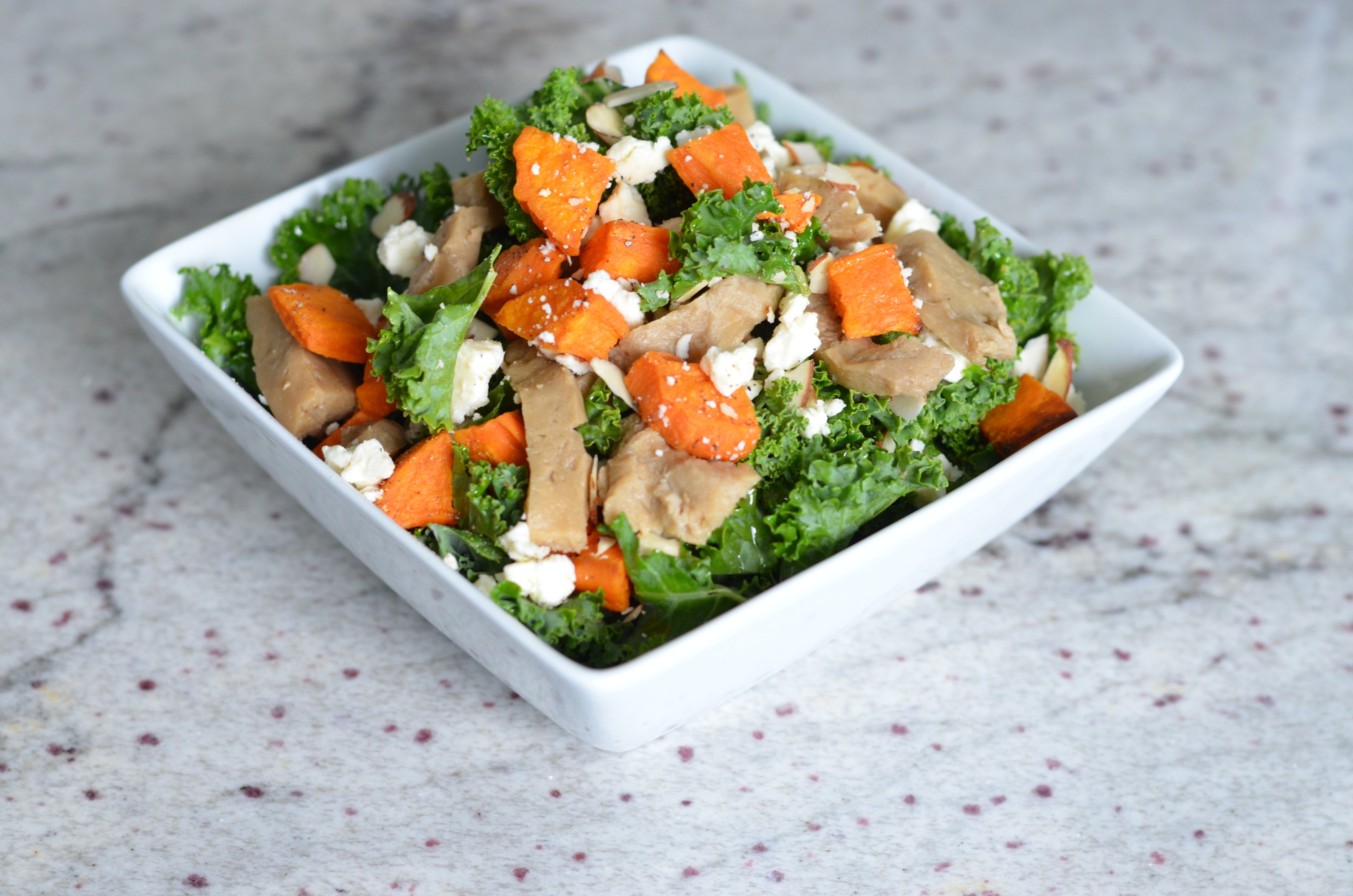 Kale Sweet Potato Salad
Ingredients:
? cup sweet potatoes, diced
1 tablespoon olive oil
1 ? cups finely chopped kale leaves
1 tablespoon sliced almonds
2 tablespoons low-fat feta cheese, crumbled
3 ? ounces seitan (meal prepped) cut into bite sized pieces (or chicken if you prefer)
2 tablespoons apple cider vinegar
1 tablespoon orange juice
Salt to taste
Pepper to taste
Directions:
1. Heat oven to 425 degrees. Toss potato in half the olive oil and sprinkle with salt and pepper. Roast in oven on baking sheet for 20 minutes or until browned. Cool.
2. Mix together vinegar, the rest of the olive oil, orange juice, salt, and pepper in bowl. Set aside.
3. Place kale, almonds, feta, seitan, potato, and dressing in bowl. Toss well. Serve chilled or warm. Will keep in fridge for up to 3 days. Makes 1 serving.
Nutrition information: 464 calories, 23g fat, 33g carbs, 37g protein
*Note: If you'd like to sub chicken breast for the seitan, you can use 2 1/2 ounces of meal prepped chicken breast, and the new nutritional information is 466 cals, 24g fat, 29g carbs, and 37 g protein.
Xoxo,
Heidi
Related reading:
Pecan Pie Tartlets – Powell Approved
Can I Carb Cycle as a Vegetarian?
Clean Eats: Sweet Potato Souffle
A Powell Twist on Thanksgiving Dinner