The holidays are officially upon us, so pull out those leggings!! It's time to gather with family members around a buffet of thousands of calories and just go NUTS for the next month, promising yourself you will "start over" in January. <insert record scratch> Wait a minute… Did you really think I was going to give you permission to throw discipline to the wind just because the holidays are here? Of course not! But are there ways to enjoy your family and ALL of the food you love in moderation this season without having to demote yourself to leggings and a rising scale until January? YES!!
Well, even when I give myself a little T-day pep talk like, "Hey girl, slow your roll and go easy on the portions," there's no telling if smaller, bite-sized portions will override my football player-sized appetite. I need a better game plan.
So instead of going totally NUTS on your holiday dessert intake, go PECANS instead! Pecan Pie Tartlets! These are totally Powell-approved and portion controlled! While this traditional Thanksgiving and Christmas pie staple can set you back a solid 450 cals for just one slice, these mini pecan pies only have about 100 cals per mini pie! (See below the recipe for the nutrition facts and macro breakdown).
These little heavenly bites are perfect to offer guests or to add to your annual Christmas platters. And depending on how big your mouth is, they're the perfect 2-bite dessert to satisfy your sweet tooth and not bust your buttons! You CAN actually stay on track with your fitness goals through the holidays with a little planning ahead and moderation.
Check out the easy recipe below, and if you make them, be sure to post them to spread the word?and tag me so I can see the results!
Happy and healthy baking to you and your pecan pie loving friends this season!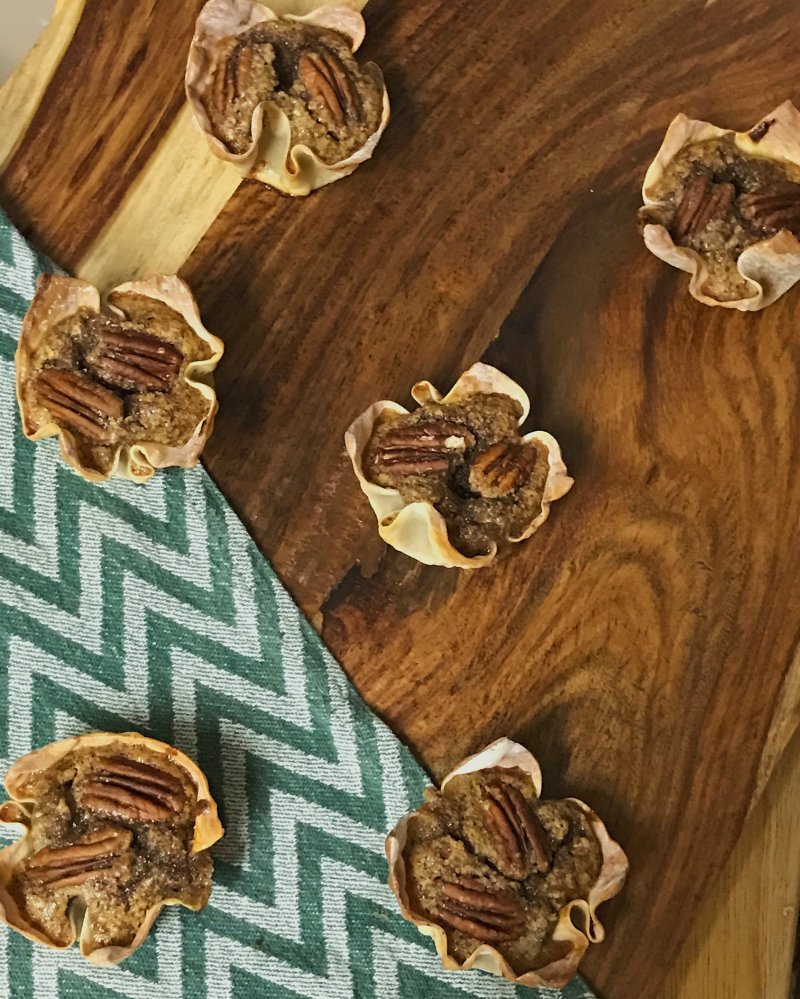 Pecan Pie Tartlets
Makes 12 servings
Ingredients:
12 wonton wrappers
1 large egg
? cup + 3 tablespoons pure maple syrup
? cup + 2 tablespoons almond flour
3 tablespoons stevia (or Truvia)
? teaspoon cinnamon (plus extra for dusting)
? teaspoon vanilla
24 pecan halves
Directions:
Preheat oven to 350 degrees F. Spray a 12-cup muffin tin with nonstick cooking spray, line muffin tin with 1 wonton wrapper in each hole. Dust each wonton wrapper with cinnamon to taste.
Bake wonton wrappers in preheated oven for 8 minutes. Set aside and allow to partially cool. Leave oven on.
While wonton wrappers are cooking, mix together the remaining ingredients except for pecans in a medium sized bowl.
Once wonton wrappers are partially cooled, spoon the mixture into ?crusts? so they are ? full. (You may have extra batter, and you may make more crusts or discard the extra, but do not fill the crusts full. It will make a big sticky mess!).
Once ?crusts? are filled with mixture, top each mini pie with 2 pecan halves.
Bake in preheated oven for 15-18 minutes until pies are set. Allow to cool for 5-8 minutes.
Store in an airtight container for up to 5 days. Enjoy!
Nutrition information: (1 pecan pie tartlet) 103 calories, 5g fat, 13g carbs, 2g protein, 7g sugar
Xoxo,
Heidi
Related reading:
Maple Pecan Sweet Potatoes
A Powell Twist on Thanksgiving Dinner
Don't Gobble 'Til You Wobble!
Powell Pack Workout | Deck of Cards: Thanksgiving Edition
Pumpkin Pecan Pie