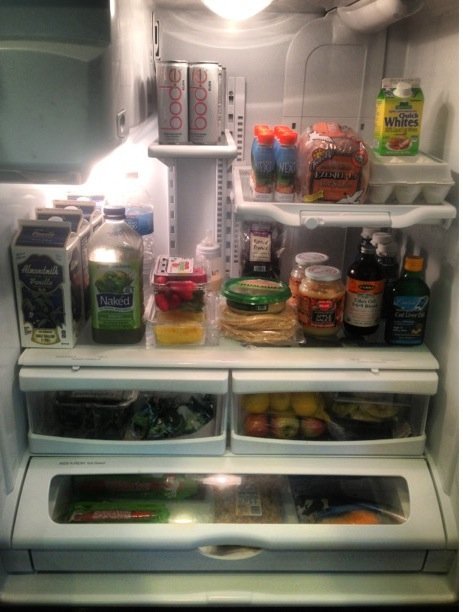 Ever wonder what the Powell Pack piles in their fridge? While this does change often, depending on what ?kick? we are on or how long we are in town, this list and picture pretty much sums up our staple cold items.
I bet you?re wondering if I actually went shopping for foods for these pics, or if I had to clean out some of the bad stuff. Believe it or not, our fridge looks like this MOST of the time. I will admit though ? I did do a slight reorganization before I snapped the shot ?. With so many hands in and out all day long, it rarely looks this neat!
So ?what is in your fridge? you ask? Here you go!
Almond Milk, vanilla unsweetened: Tons of it. We only have 4 in there right now, but we usually stock no less than 6-8!
Naked Juice, Green Machine :Cash?s new favorite drink, and one of my all-time favorites. We guzzle this stuff when we don?t have time to juice.
Water: I ALWAYS keep one cold bottle of water in the fridge for my protein shakes?and get so upset when the kids take this out to drink and leave it out. There is nothing worse than a warm protein shake! But nothing better than a cold one. 😉
Pineapple: Or ?ap-o? as Cash calls it. Pre-cut makes it more convenient for us to eat.
Strawberries: We only have one container in this pic, but a few days ago there were three. Berries are SO low in calories and high in antioxidants! We usually also stock blue and blackberries. Mmmm.
Corn Tortillas: A staple around here.
Cilantro Jalepeno Hummus: We rarely buy hummus, but Matix tried a sample in Trader Joe's the other day and was hooked!
Apple Sauce, unsweetened: Entire family favorite. And great for baking!
Prunes: Ummm?these keep us all regular, if you know what I?m sayin?.
Avent Bottle with my Secret Formula: Cash IS 2, and Cash STILL drinks a bottle. Hey, it helps him get some incredible nutrition, so I can?t say no!
Udo's 3-6-9 Oil: Ah-mazing! And one of the ingredients in my baby/toddler formula.
Carlson?s Cod Liver Oil: CP?s favorite way to talk fish oil. It?s not bad with the lemon infusion.
Bod.e Burn (protein energy drink): Addicted. That?s all I?m gonna say. You can?t see the sides of the fridge, but they are LOADED with more cans of Burn.
Vemma NEXT, liquid kids vitamins: Yes, these are for the kids, but Chris and I drink them too. ? The most delicious way to get your vitamins. Not to mention totally convenient in the proportioned bottles.
Ezekiel Bread, low sodium: For Matix?s lunches. He loves this, thank goodness!
Eggs: The incredible, edible, egg. Enough said.
Egg Whites: For a recipe, but have some left over. 🙂
Mixed Greens, organic: I eat this by the handful. Keeps me fiber-full!
Broccoli and Cauliflower, precut and prewashed: Makes veggies easy.
Fuji Apples: Can?t go wrong with these, and great for juicing!
Lemons: GREAT for juicing too!
Apple Slices, prepackaged: We prefer whole apples, but sometimes we need a snack in a hurry! These are perfect.
Squeezable Greek Yogurt: Kids love these protein-packed treats!
Almonds, raw: The nut that has too many health benefits to name. Oh yeah, and they taste amazing.
Shredded Cheddar Cheese: We don?t use often, but is great to have around for extra flavor every now and then. 🙂
Nitrate-Free Deli Turkey, low sodium: Yummy in salads!
What?s in YOUR fridge???