Ever wish there was a trainer that could feel your pain? Someone that could understand and has dealt with the struggles that come along with obesity? If you don't know this man already, then you should get to know him. Our good friend, Drew Manning, took the courageous trip from Fit2Fat2Fit, and is here to share some of his words of wisdom. PS – Drew comes with one amazing PIC (partner in crime)! His sweet, adorable, funny, amazing wife Lynn works side-by-side with him. The kind of partnership Chris and I appreciate!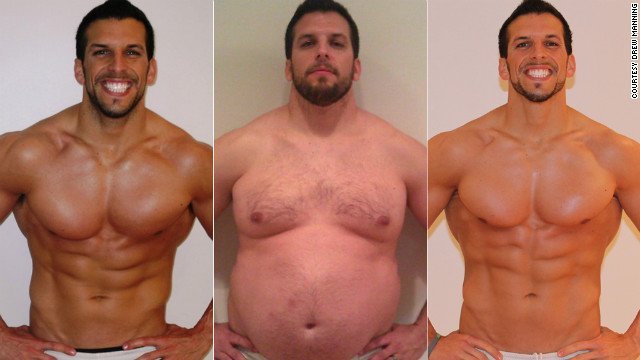 Food Addictions
by Drew Manning
The hard truth is that most ?fit? people hear ?food addiction? and roll their eyes. I admit, even I was that closed-minded once. Until I embarked on a journey that showed me just how real food addiction really is.
Fit2Fat2Fit in a nutshell is my journey of going from fit (which I had been my entire life) to fat (gaining 75 lbs.) back to fit (in a year?s time). For 6 months I allowed myself to eat an unrestricted diet and stop exercising in my attempt to see a different perspective. My clients kept telling me I didn?t understand their struggles. They?d mention late night snacking and food addiction, and I felt they were just being lazy and making poor choices. Until I walked (a small ways) in their shoes?
Food became a comfort, a friend and an escape within a few short months. I?d get headaches without my Mountain Dew and I found myself emotionally eating as my relationships, job and self-esteem struggled during my journey. When it was time to go back to a healthy lifestyle, giving up these addictive foods was not just a challenge but required a detox (just like a drug). In fact, most studies show that food is just as addictive as drugs.
This may not be news to you. You may be struggling with food addiction right now. Though I can only scratch the surface in a short blog post, here are 3 tips on how to push through food addiction:
1) Keep ?trigger foods? out of the house.
For me this is Cinnamon Toast Crunch, Zingers and Mountain Dew. It?s different for everyone, but there are certain foods that really trigger your emotional eating. It is those foods that make it hard to quit eating and make you feel you have no self-control. If it?s in the house you will eat it, so don?t bring it into your house! Even when I have a cheat/treat meal I still avoid those items because they trigger an episode that leaves me with an empty box of cereal and a massive stomachache.
2) Be prepared.
Often, our poorest food choices have everything to do with lack of preparation. After a late night at the office the last thing you want to do is cook a meal. Or anytime you?re starving you grab the quickest thing you can find. If you don?t have healthy food prepared in advance you will always go for fast food or packaged (processed) food because it?s convenient. So make healthy eating convenient too by being prepared. My wife and I cook in bulk (often using the crockpot) and we cut and separate snacks for several days so they are just an arms reach away. This helps so you aren?t as tempted with fast food.
3) Find another emotional outlet.
As my wife likes to say ?we eat our emotions?. A common phrase she uses when she has a hard day and made a lot of poor food choices. Anyone that has struggled with food addiction understands that you ?eat your emotions?. It?s hard not to use food for comfort. This will always be a struggle, even years later. Something that helps is finding another emotional outlet. I like to use exercise as my emotional outlet (I know, big surprise-ha). Find something besides food that can help relieve stress such as reading, working in the yard, etc. When you have a stressful moment and want to search through the cupboards, acknowledge you want to emotionally eat, then steer yourself to your new outlet. It?ll take time, but you?ll create a healthier habit.
Food addiction doesn?t just go away. It will be something that creeps back up and will be something most of us battle with our whole live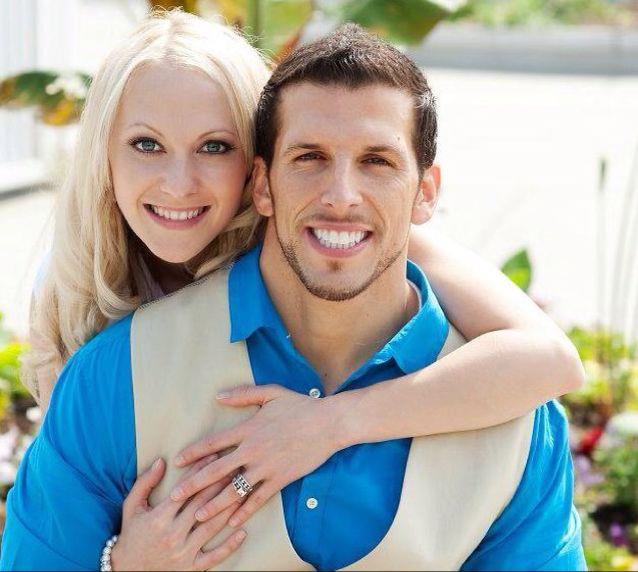 Want to connect with Drew Manning? Find and follow Drew here:
Website: Fit2Fat2Fit.com
His Book:Fit2Fat2Fit: The Unexpected Lessons from Gaining and Losing 75 lbs on Purpose