Alright, alright?I?ll give you guys what you want ;).
So many have asked how the heck my ankles (which are abnormally small, I feel) and feet could ever suffer from ?swollen anything? as I mention in my Huffington Post Article about CrossFitting while Pregnant. Here I am, bringing you the proof 🙂 .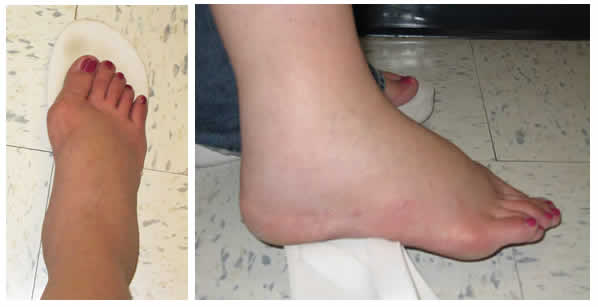 Now that the pic is in front of your face, maybe you wish you hadn't asked after all!!
This is what happens to me, ladies and gentlemen, when I do not exercise while pregnant. My lymphatic system takes a major hit and water pools in the oddest way throughout my body. As many of you know, this is called edema.
Notice, although both feel are quite swollen, only one is abnormally huge! This condition prevented me from not only wearing shorts and skirts throughout my pregnancy, but also from walking comfortably at all.
This was the case for both of my first two pregnancies, before I learned that working out while pregnant was safe. I used to sit there and count down the days until delivery when I would have my feet and ankles back, as well as my feeling of normalcy.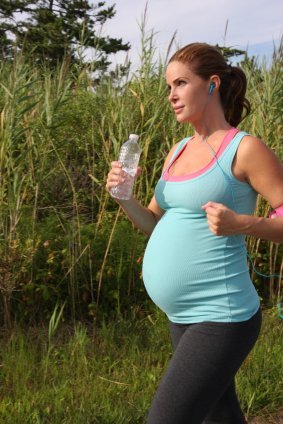 Incase you haven?t read my Huffington Post article?and are suffering or have suffered from something similar, here are a couple simple tips to avoiding this.
MOVE while pregnant (as long as your doctor clears you too). Pregnancy is not a handicap nor a disease. It is more of a reason than anything to keep our bodies healthy! Continued daily exercise will help pregnant women avoid such extreme swelling.
Drink plenty of water. Living in AZ, I try to aim for 1.5 gallons a day. This is a lot, yet, but I sweat tons here! It seems odd to follow advice to add more water to your body when you are already holding water in your limbs! But by consuming more water, your body will flush more efficiently.
Be aware of your sodium intake. As a pregnant woman, I definitely crave both sweets and salty foods. It is recommended that you slightly increase your sodium intake while pregnant to 3000mg per day (from the normal 1500mg per day), but with the salty food cravings, many pregnant women can hit that limit in just a meal and some salty snacks. Be aware of the sodium content in your store bought and restaurant foods, and aim for the 3000mg number.
Here?s to wishing you a happy, healthy, and swollen-ankle-free pregnancy!