Congratulations to our Winner, Stephanie Nicholls
Watch for the next Labor Day to Labor Day 12-week Giveaway this coming Sunday.
More prizes coming your way!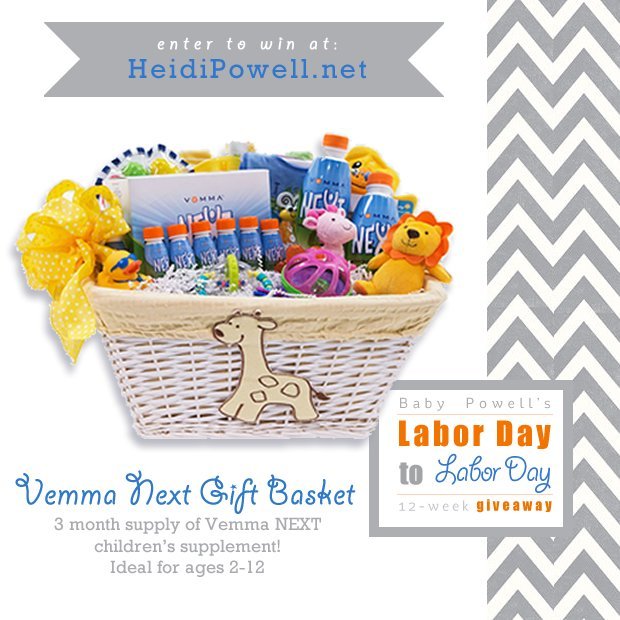 Many of you may have seen quite a few pics posted of Cash Man thoroughly enjoying his Vemma NEXT multivitamins. Not only are these little bottles of goodness loaded with all the stuff that your little ones need, but they are incredibly delicious too! Your kids won?t even know they?re taking vitamins ?.
To help keep your family healthy, Baby Powell and Vemma?have teamed up for one heck of a giveaway this week!
What we?re giving away:
Vemma NEXT? – Nutrition for the NEXT Generation (3-month supply).
Estimated value: Over $139
As the finest and most complete children?s supplement, Vemma NEXT provides essential vitamins and nutrients for growing children ages 2 to 12. Vemma NEXT includes the Vemma formula, combined with vegetarian-sourced DHA, 14 fruit and vegetable extracts, the antioxidant quercetin and the B-complex vitamin choline, and is physician-blended specifically for children.
How to win:
1. Comment on this blog post letting me know why you should be our lucky winner.
2. Like and share my Vemma NEXT giveaway post on Facebook, Instagram, Pinterest, and Twitter (be sure to use #BabyPowell when you share). The more you share, the more chances to win!
3. Follow me and @Vemma!
Random winner was announced on Wednesday, October 9, 2013. Thanks for participating!