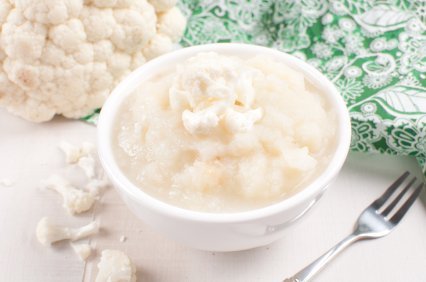 Who doesn't love some creamy mashed potatoes to go with their fresh Blackened Salmon or Garlic Lime Chicken? But with 1 cup packing over 230 cals, 660 mg of sodium, and 35 grams of carbs, this family fave isn't for everyday consumption around our home. And for those carb cycling, this clearly isn't an option on your low carb days.
Enter, "Recipe Rehab!" Time to give mashed potatoes a little makeover using one of my favorite tricks – cauliflower! Might sound a little "iffy", but don't knock it till you try it. These delectable "faux-tatoes", as many call them, are so darn good, they may just earn a prominent place on your Thanksgiving table ;).
Creamy Mashed Cauliflower
Serves 4
What you?ll need:
8 cups bite-size cauliflower florets (about 1 head)
4 cloves garlic, crushed and peeled
1/3 cup nonfat buttermilk (see Tip)
4 teaspoons extra-virgin olive oil, divided
1 teaspoon butter
1/2 teaspoon salt
freshly ground pepper to taste
Snipped fresh chives for garnish
How to make it:
Combine cauliflower florets and garlic in a steamer basket over boiling water. Cover and steam until very tender, 12 to 15 minutes. (In a hurry? You can make it in the microwave. Simply place florets and garlic in a microwave-safe bowl with ? cup water, cover and microwave on High for 3 to 5 minutes.)
Place the cooked cauliflower and garlic in a food processor. Add buttermilk, 2 teaspoons oil, butter, salt and pepper; pulse several times, then process until smooth and creamy. Transfer to a serving bowl. Drizzle with the remaining 2 teaspoons oil and garnish with chives, if desired. Serve hot.
Tip
No buttermilk? You can use buttermilk powder prepared according to package directions. Or make ?sour milk?: mix 1 tablespoon lemon juice or vinegar to 1 cup milk.
What?s in it:
Each serving has 170 calories, 5g protein, 10g carbs, 7g fat, 4g fiber and 288mg sodium