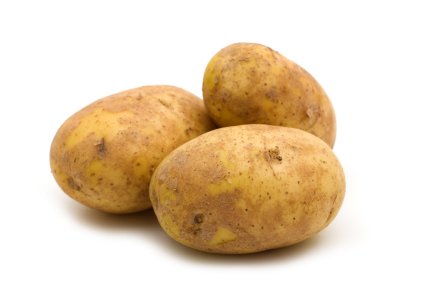 There were many questions about white potatoes after I posted a pic of my potato the other day. People wondering if they were good for you, bad for you, too starchy, etc? I have WONDERFUL news for you all – potatoes are INCREDIBLY good for you (not fried in oil, of course). Here is a helpful response Christina Davis, one of my FB fans, posted for the commenters to read.
"Hope this makes some folks day. Potatoes are very healthy if they're not fried in oil. They contain half daily recommended Vit C, more potassium than a banana, contains B6, high in fiber, and zinc/iron/phosphorous and magnesium. We need carbohydrates-and vegetable sources are better than bread/pasta. Potatoes have 5000 ORAC units (oxygen radical absorbance capacity)."
Amen, Christina! Thanks for helping spread the good news about spuds. Let me also add to that…potatoes (yes, white potatoes) are one of the most satiating carbohydrates out there. What does this mean for us? We eat a potato as our healthy carb and we stay fuller longer! Go spuds!
Final verdict: Spuds are definitely studs in my book 😉