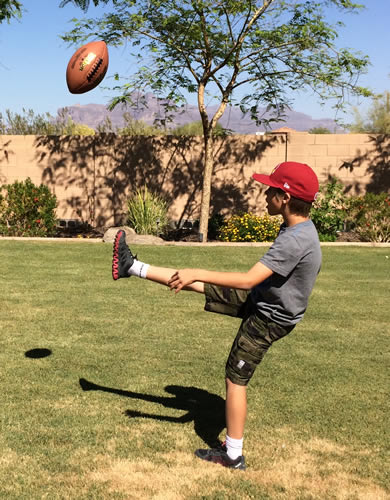 Did you know that kids school-aged and older should get 60 minutes of activity most days of the week? I know, that sounds like a great idea, but how do you make a nice?and very healthy?idea become a reality? Here are some tips to help your kids (and even yourself) get?and stay?active:
Be an ?active? example. Let the kids see you making exercise a part of your life.
Let them choose what activities they?d like to do, and they?ll be more likely to enjoy them!
Exercise as a family: ?The family that plays together, stays together.?
Schedule activity into every day. Break up exercise periods into smaller increments and always be flexible. The goal is to make daily activity a life-long habit.
Do the kids show interest in your favorite activities? Adjust them to their skill and attention levels. Yes, you might not get in a ?perfect? workout, but the long-term payouts are so worth it!
Be active with the kids. Do what they like to do: Jump Rope, Hopscotch, tag, etc. Have them teach you new skills.
Walk more.
Help your kids set fitness goals. Maybe they?d like to complete a marathon or bike 500 miles, one mile at a time. Maybe they?d like to master new swim strokes, or learn to fence. And maybe they?d even like to take up karate or Hip Hop.
Include their friends. Anything is more fun with friends!
Use exercise as a reward for completing not-so-fun activities like homework and chores.
Have some basics on hand to make exercising more convenient: Balls, jump ropes, bikes, Frisbees, Sidewalk Chalk (for hopscotch and four square), etc.
Limit screen time. At our house, if the kids want to play video games, they need to play (be active) for 60 minutes. THEN they can play their favorite games.
Choose active?versus couch potato?video games. And join in on the fun!
And last, but not least, be patient and offer lots of positive feedback and encouragement. It might take some trial and error for the kids to find activities they love, but once they do, they?ll want to stay active. For life!