It's a known fact that I have a really had time relaxing, and giving myself the much-needed ME time that I need. Yesterday, I did something about it … I spent a little time on something that was long overdue – Christmas crafting 🙂 Thanks to many ideas on Pinterest, here's what I came up with: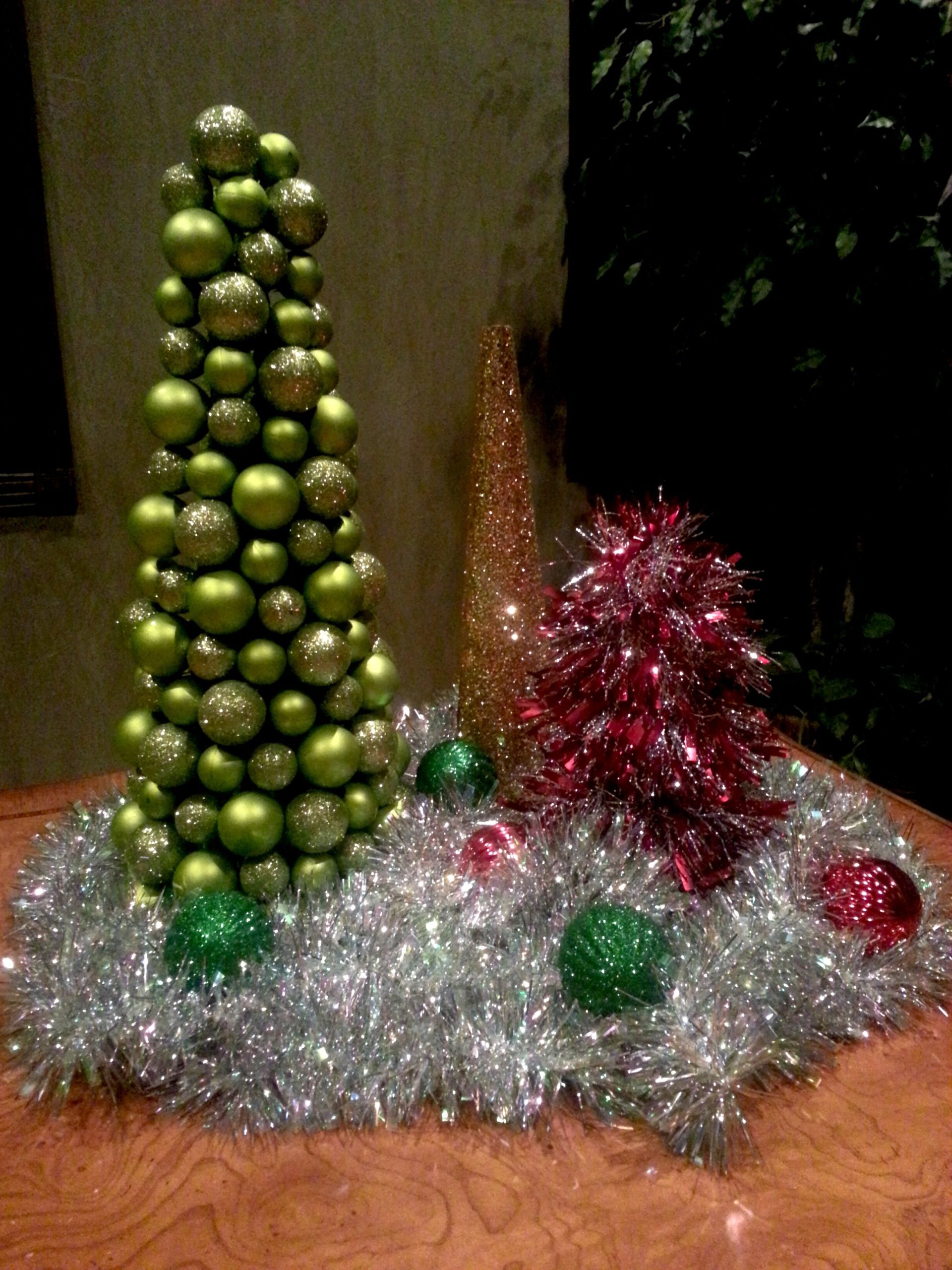 I basically took three different sized cones and decorated each differently and then threw some tinsel and extra ornaments around them and created this! MUCH easier than you might thinks, and super cute 🙂
Here's how to make your own:
Tinsel Christmas Tree
Supplies:
Styrofoam cones in varying sizes
Tinsel
Hot glue gun
This tree is really as simple as covering the Styrofoam cone with hot glue and wrapping the tinsel around it.?Ta-da!
Glitter Christmas Tree
This idea stemmed from my Glitter Pumpkin craft.
Supplies:
Poster board
Paint
Mod Podge
Glitter
Hot glue gun
1. Cut the poster board to the size you want the tree to be. Then roll it into a cone shape and hot glued it together to get the cone.
2. Paint the cone gold. Let the paint dry.
3. Cover the cone in Mod Podge and sprinkle the glitter all over.
So pretty, huh?! 🙂
Ornament Christmas Tree
Supplies:
Small Christmas ornaments
Styrofoam cone
Hot glue gun
Matching paint
1. Cover the cone in green paint. Let it dry.
2. Starting at the bottom, hot glue the ornaments to the tree. I did it in horizontal rows and worked my way up.
And there you have it! This one might just be my favorite!
Happy Christmas Crafting! 🙂