Holiday traditions are big in my family, and on the Lane side, one of our favorite traditions is our annual Halloween Soup + Chili Cook Off, followed by some good ol' fashioned trick-or-treating! The kids love getting together with their cousins and comparing costumes, and the adults love diving into bowl after bowl of hot, yummy soup or chili. Each?year, we try to?find a healthy recipe to share with everyone, and after years of trial and error, I think I've finally perfected the art of Turkey Chili…and it literally takes 10 minutes to make! Seriously, this recipe is so simple and easy, but don't let the simplicity fool you. It has the perfect combination of flavors?I can't get enough. And for all you carb cyclers, it's an excellent option for a high-carb meal!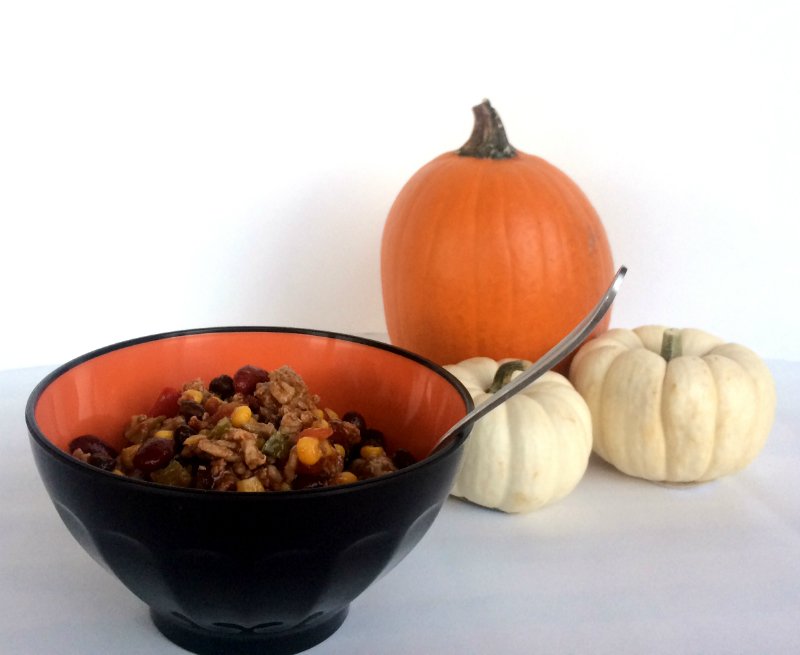 10 Minute Taco Turkey Chili
Serves 6
Ingredients:
1 lb extra-lean Jennie-O Ground Turkey
1 can low-sodium black beans
1 can kidney beans
1 can yellow corn
1 green pepper, diced
1 red pepper, diced
1 can stewed tomatoes
1 cup chopped white onion (or to taste)
1 packet low-sodium taco seasoning
Chopped cilantro (as topping, if desired)
6 tablespoons fat-free plain Greek yogurt (as topping, if desired)
Directions:
Brown turkey meat with chopped onion, peppers, and half of taco seasoning packet until meat is thoroughly cooked and peppers are softened.
Drain corn, black beans, and kidney beans and add to ground turkey mixture.?Add entire can of stewed tomatoes (including juices), and remaining taco seasoning packet.
Let simmer on low for a minute until all ingredients are mixed together.
Add toppings as desired and enjoy!
Nutritional Facts:
Calories: 373.3, protein: 29.4g, carbs: 51.3g, fiber: 10g, fat: 2.5g.
Try it out and let me know what you think below!
Xoxo,
Heidi
Related posts:
Healthy Winter Eats: Chicken Quinoa Chili