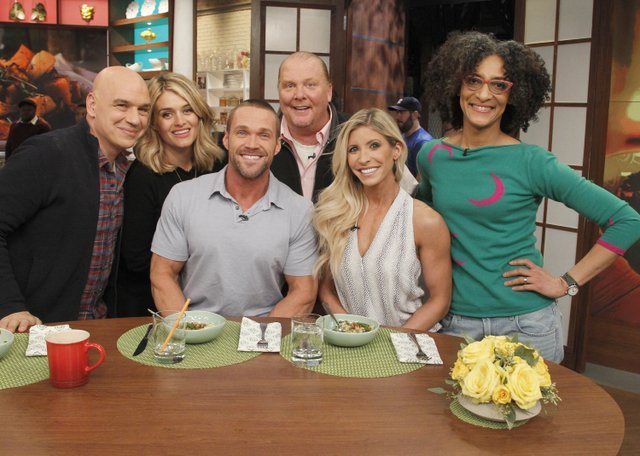 As part of our whirlwind adventures, Chris and I recently had the opportunity to visit the amazing peeps at The Chew. They are truly just as nice as they appear on TV, and we had a blast making one of our favorite recipes from our new book, Extreme Transformation. At the request (or, dare I say, challenge?) of the Mister, it turned into a gun show before we started any cooking! 🙂 By the end, in true Powell form, we put Carla through a little challenge of her own.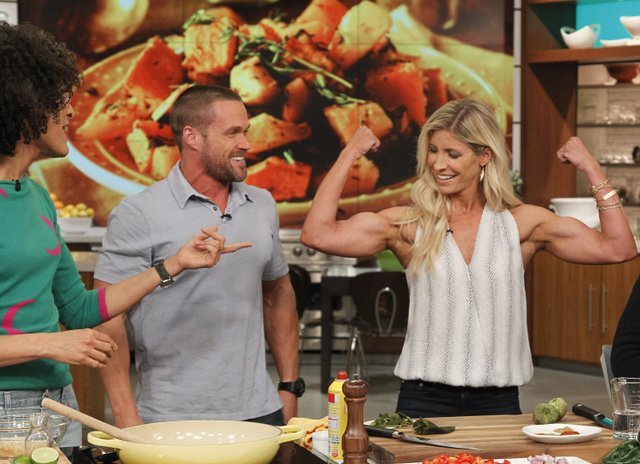 Seriously…I think we knocked it out of the park with this one. It's the perfect combo of healthy carbs and lean protein, super easy to prep, and completely delicious. Not only does it have a kick of unexpected flavor, but it's only 305 calories a serving! Ladies and gents, I give you The Chew-approved Green Chili Turkey and Cilantro Rice Bowl—straight from the pages of Extreme Transformation.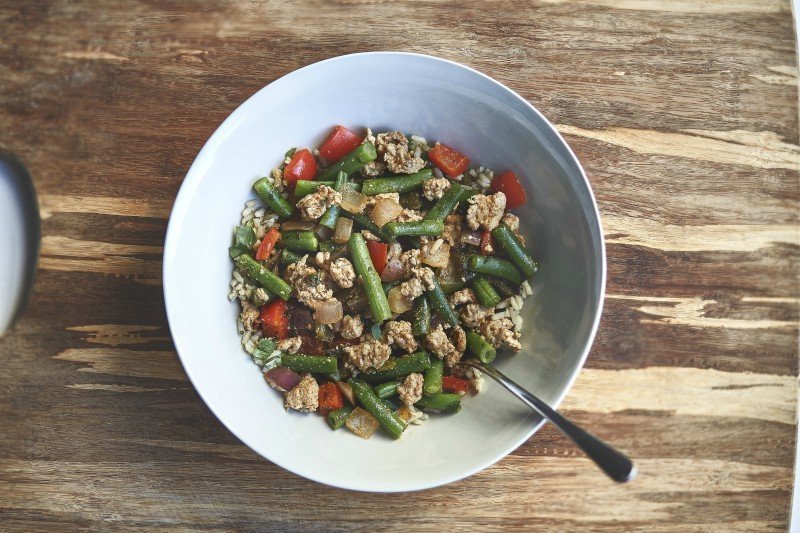 Green Chili Turkey and Cilantro Rice Bowl
High-Carb Meal
Green Chili Turkey
3 ounces extra lean ground turkey
1 red bell pepper, diced
¼ cup red onion, chopped
1 medium poblano pepper, roasted and diced
1 small green tomatillo or green tomato
¼ teaspoon ground cumin
¼ teaspoon smoked paprika
¼ teaspoon dried oregano
Pinch of salt substitute
Pinch of ground black pepper
¼ cup water
Pinch of ground cayenne pepper
1 tablespoon cilantro, rinsed and chopped
Juice of ½ lime
Heat skillet to medium high heat. Spray with cooking spray. Crumble turkey into the skillet and stir to break up into small pieces.
Add bell peppers, red onion, roasted poblano, green tomatillo, cumin, paprika, oregano, salt substitute, black pepper, water, and cayenne. Stir and cook until turkey is cooked through.
Add cilantro and lime juice. Mix with green beans and serve over Cilantro Rice.
Cilantro Rice
¼ cup cooked brown rice
1 tablespoon chopped cilantro
½ tablespoon lime juice
Pinch ground cumin
Pinch black pepper
Pinch salt substitute
Cook rice and toss with cilantro, lime juice, cumin, salt substitute, and black pepper.
Green Beans
1 cup of green beans
Steam and toss with turkey mixture. Serve over cilantro rice.
Makes 1 serving
Nutritional information: 305 cals; 3g fat; 44g carbs; 27g protein
To get all 21 days? worth of amazing recipes, plus 21 days? worth of exercise plans, get your copy of Extreme Transformation now!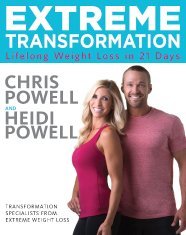 Xoxo,
Heidi
Related reading:
Clean Cheat // Muddy Buddies
Pumpkin Protein Pancakes with Pumpkin Seed Granola
Carb Cycling: The Extreme Cycle
Extreme Transformation Sneak Peek Workout