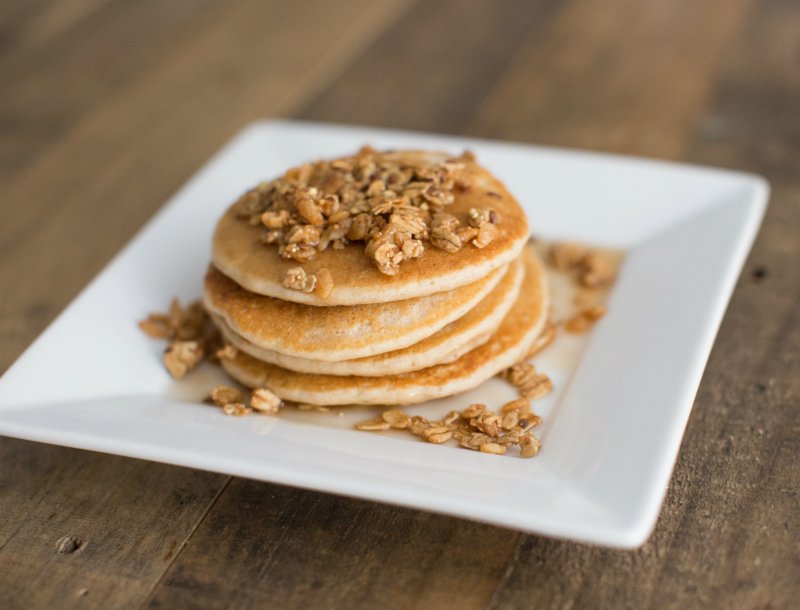 With only a few weeks left in my favorite season of the year—pumpkin flavored everything season, of course—the Powell Pack is trying to squeeze in our last family favorite recipes and pumpkin indulgences before it's on to peppermint and gingerbread.
A couple of years ago, I shared our very popular and very yummy Pumpkin Protein Waffles (amaze…a must-try). Last year, we discovered these Pumpkin Protein Pancakes topped with a crumbly and delish Pumpkin Seed Granola. Um, let me just say…it is a game changer! So dang good we actually snuck this recipe into our new book, Extreme Transformation. And to celebrate the book's December 20th paperback release date, I just had  to share this pumpkin goodness with you again (plus some of my favorite ingredients and breakfast essentials)! Consider this an early Christmas gift. 😉 Check it out and whip some up for yourself before pumpkin gets stocked away for the season!

Pumpkin Protein Pancakes
Makes 4 servings

Ingredients:
1/2 scoop vanilla protein powder (3/4 for men)
1/4 cup pumpkin puree
1 teaspoon coconut oil
1/2 teaspoon ground cinnamon
1/2 teaspoon ground nutmeg
1/2 teaspoon baking powder
1 large egg white
1/4 cup steel-cut oats
1/3 cup water
1 teaspoon Truvia sweetener
1/4 cup sugar-free pancake syrup
1/2 tablespoon Pumpkin Seed Granola (see recipe below)
1/2 banana sliced (men only)
Directions:
Add all the ingredients except syrup, granola, and banana (men only) to the blender and blend until smooth.
Heat a nonstick griddle or skilled coated with cooking spray over medium heat. Ladle about 1/4 cup of pancake batter per pancake onto griddle or skillet. Once pancake tops are covered with bubbles and edges look cooked, they are ready to flip. Cook both sides. Serve immediately. Top with syrup, granola, and banana (for men). Recipe makes 4 pancakes.
Pumpkin Seed Granola
Ingredients:
1 teaspoon extra virgin coconut oil
1/4 cup slivered almonds, raw and unsalted
1/4 cup raw, unsalted pumpkin seeds
1/2 teaspoon Truvia
1/2 teaspoon ground cinnamon or pumpkin pie spice
Pinch of ground nutmeg
Pinch of salt substitute
Directions:
Heat coconut oil in nonstick skillet over medium heat.
Toss the almonds and pumpkin seeds in coconut oil and stir to avoid burning.
Add Truvia, cinnamon, nutmeg, and salt substitute, mix.
Nutritional Information:
For one pancake with 1/2 tablespoon of granola:
Women: 310 cals; 11g fat; 34g carbs, 25g protein
Men: 400 cals; 12g fat, 48 gcarbs, 32g protein
For more amazing recipes like this, and for what Chris and I believe is the most comprehensive guide to transformation EVER, check out our book, Extreme Transformation: 21 Days to Lifelong Success, now.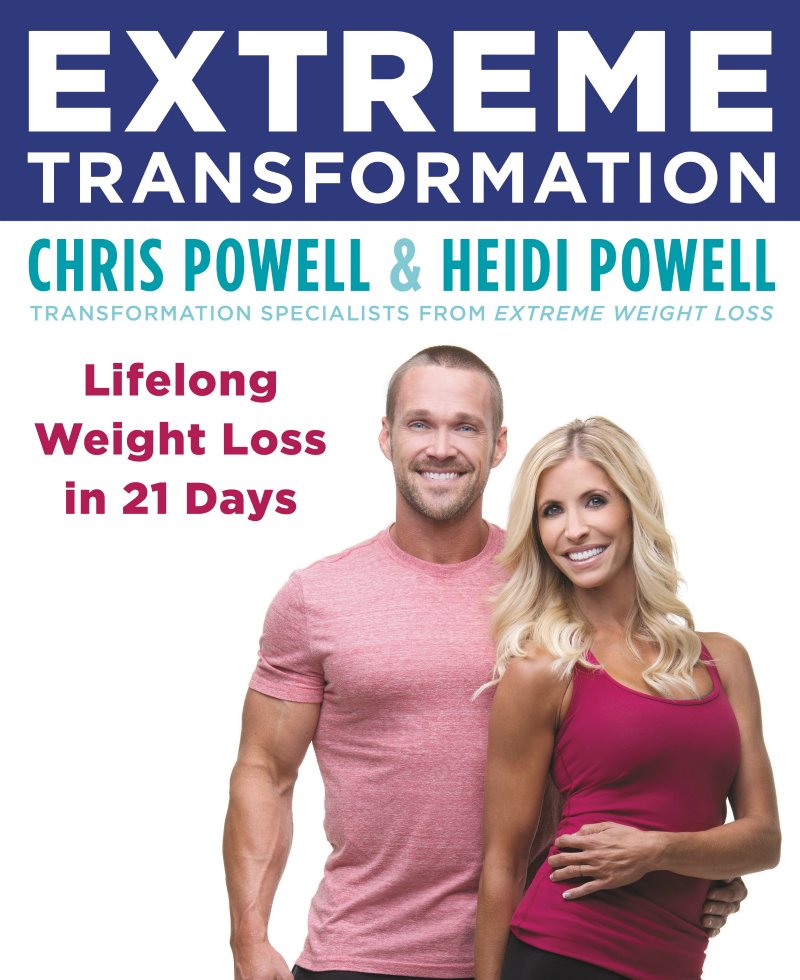 Xoxo,
Heidi
*Originally posted on November 22, 2015*
Related reading:
Protein Waffles with a Pumpkin Twist
Pumpkin Pie + Protein Shake = Low Carb Heaven
A Healthy Holiday Feast Compliments of Whole Foods