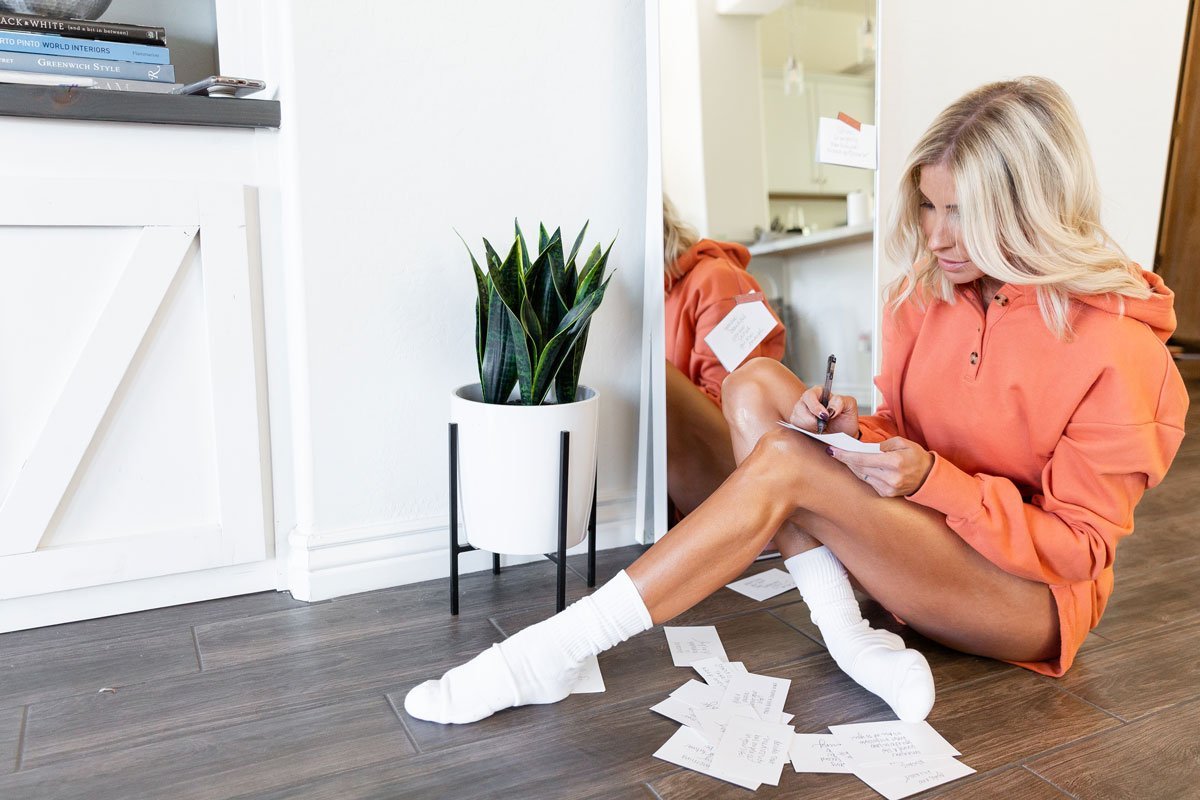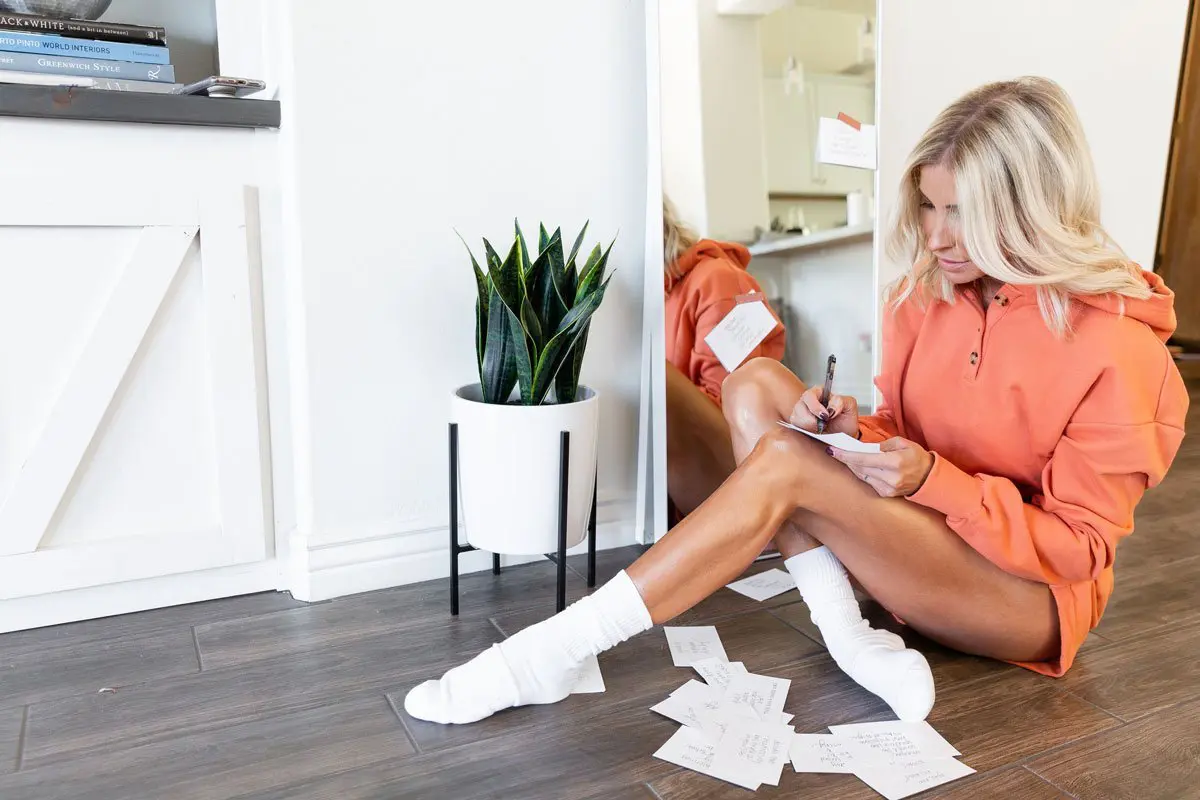 The time to set goals and start living the life you love is now! Did you know that nearly 74% of the entire population will set some type of New Year's Resolution? And that only around 8% will actually follow that resolution through to meet their goals? Guys, it's true. Everyone loves the idea of a fresh new year. It's a brand new start and a way to wipe the slate clean, right? It's a way to leave all the baggage of the previous year in the past and start with a blank page. And I think we ALL want to say "goodbye!" to 2020. BUT. A lot of times, we are just setting ourselves up for FAILURE instead of success.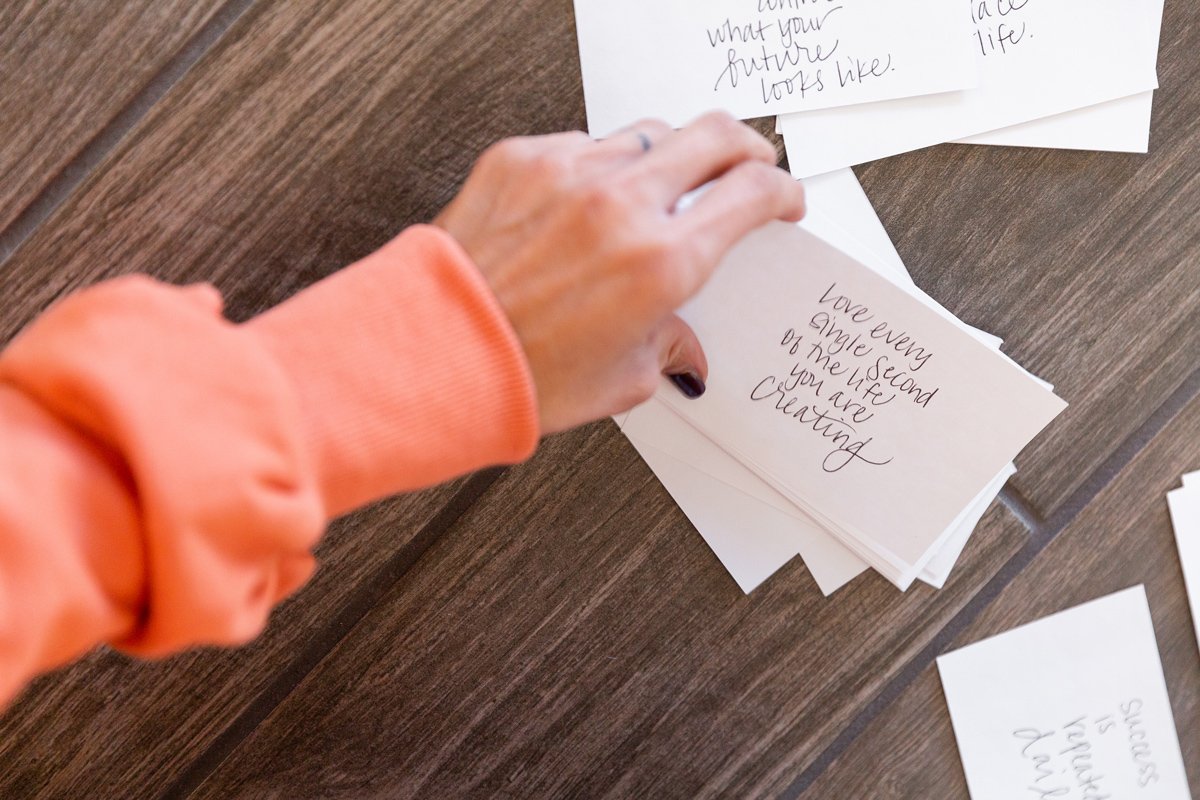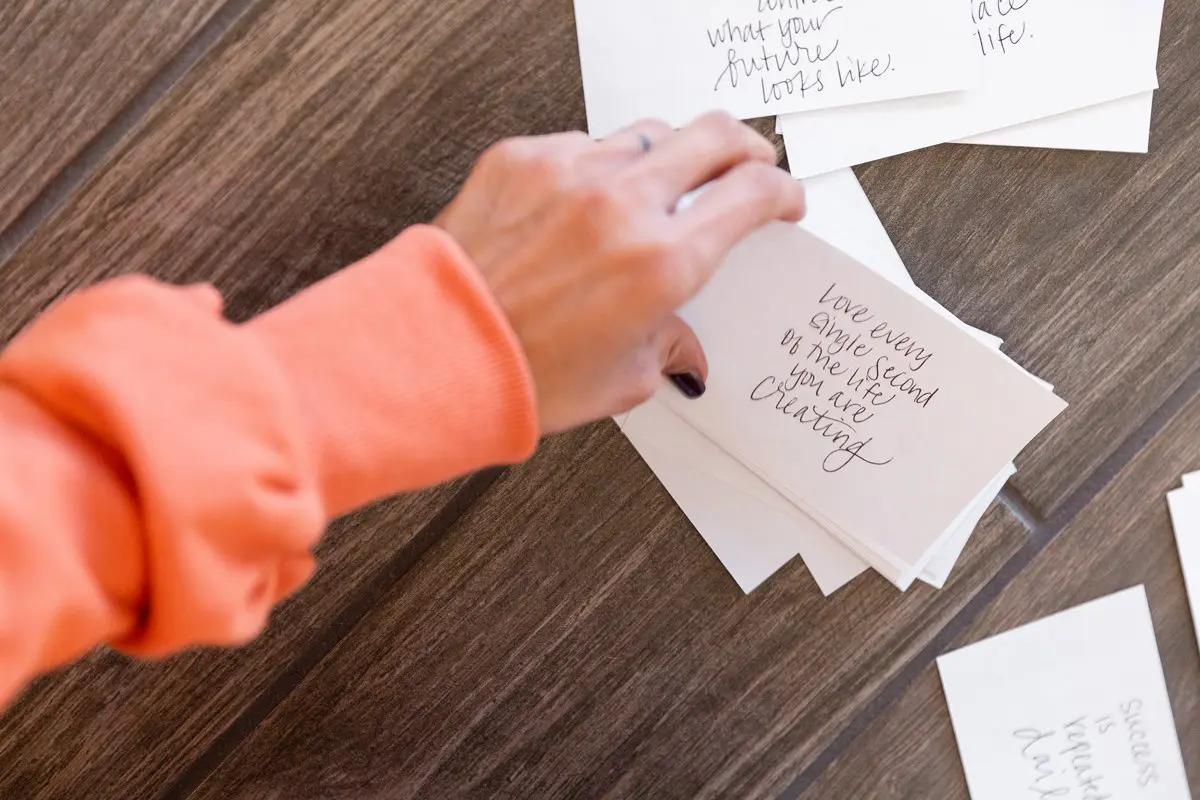 Outfit Details:
Two Piece Sweat Set (similar here under $20, similar hoodie here, and tie-dye version here), nude polka dot washi tape, Heart Print Wall Art (similar here and here), personalized notecards, Secrets of Goal Setting Bundle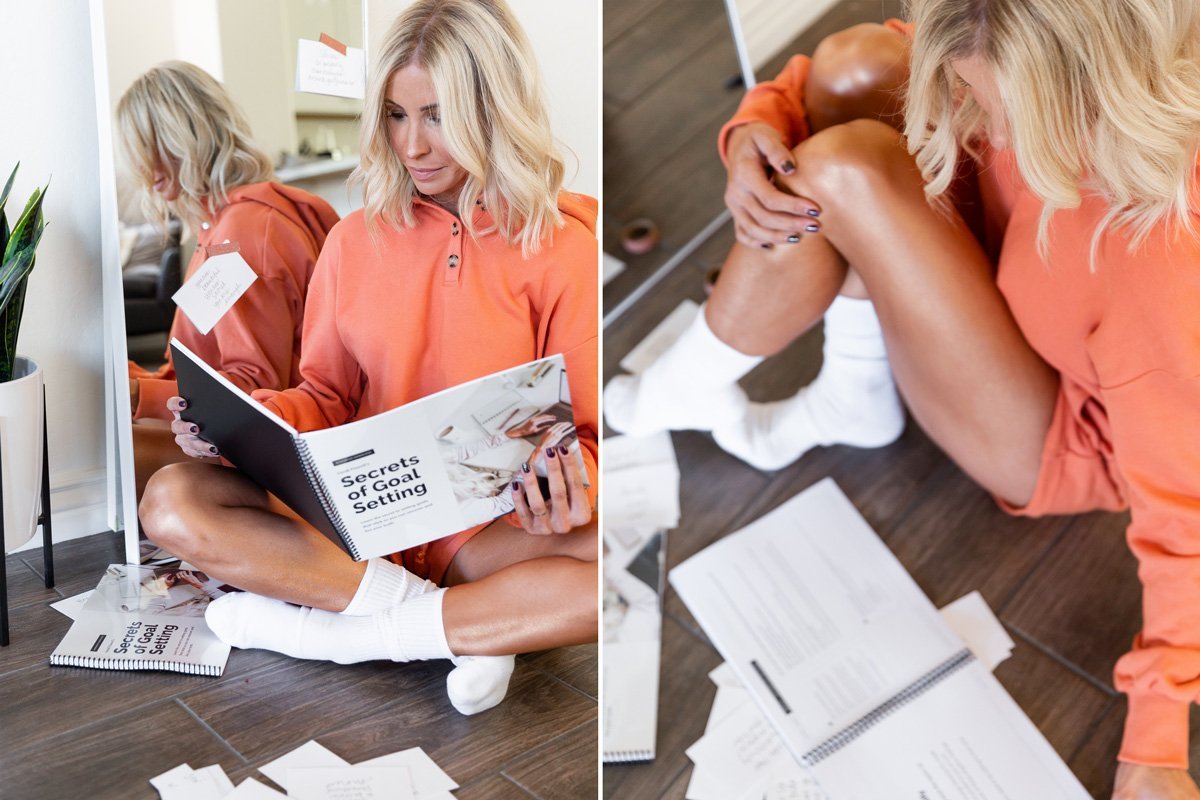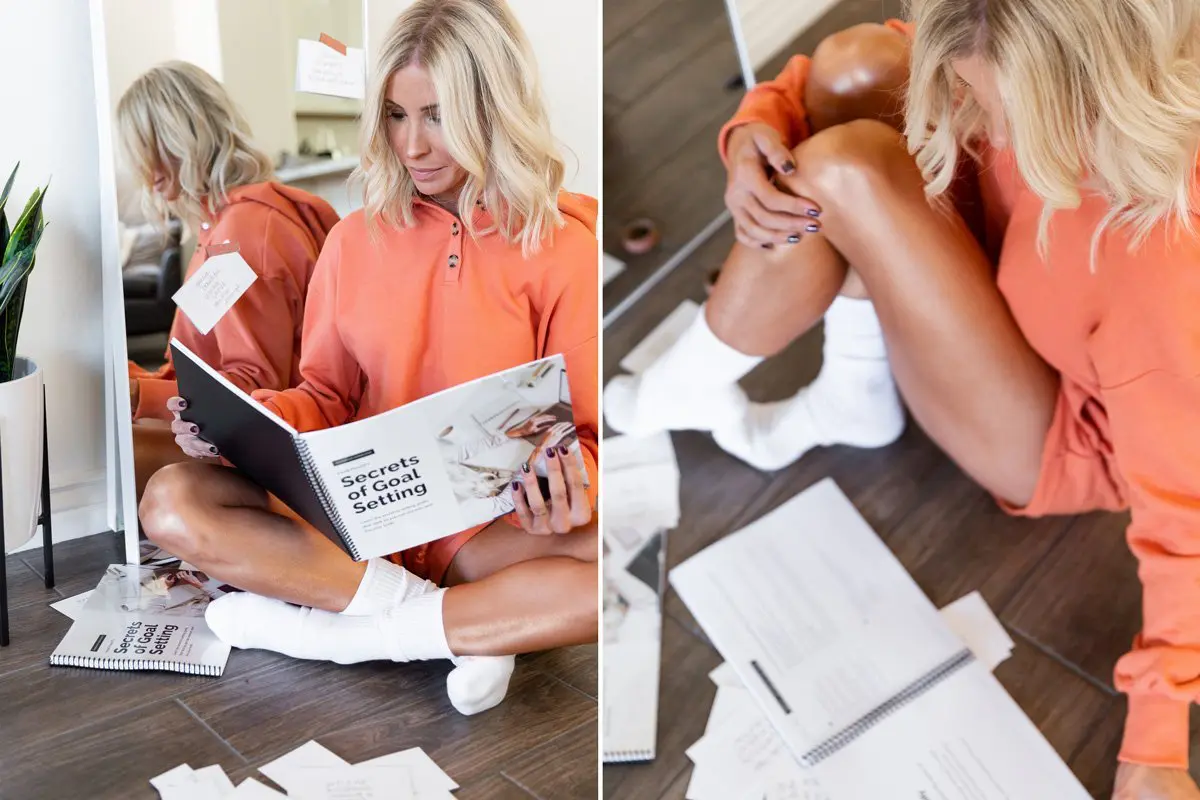 New Resolutions =
Procrastination on Goal Setting
Why do we wait to start a goal? Is there some hidden magic that January 1st holds? Nope. It's just any ole' day. Instead of jumping in right now with both feet and taking even one tiny step toward getting closer to that finish line, we hide behind the excuse that's camouflaged as an exciting new start date. Sometimes, we do this because we really do need time to prepare, but other times, it's because we're letting fear stand in our own way. It could even be that we're not super clear on what it is we want to achieve or how on God's green earth we can actually make it happen. So, instead of trying, we push it back.

It's the same as if we say, "I'll start next Monday!" or "Next month!" or "Next year!" We have these ideas for goals we want to achieve, but we end up making them too big. We put too much pressure on ourselves instead of focusing on all the small steps it takes to achieve that goal that we end up overwhelming ourselves too fast, too soon, and we say, "Forget the whole dang thing!" because it seems too hard or we feel we're not ready.

Identify Your Goal and Make It Crystal Clear
Let's say you have a goal to lose 50 pounds. That's an amazing goal, and one that I know you can accomplish! But if you start focusing on ALL the things you need to do to lose those 50 pounds, chances are high you will overwhelm yourself and back out of the deal before you even begin. Instead of focusing on every little thing, focus on small goals. Don't think of all the pounds, set a goal that you want to lose 5 pounds. And then celebrate it once you achieve it. Don't think about all the food you'll have to buy and prepare, think instead about what you'll eat for your next meal. Make it small, break it down, and tackle each item as you get to it.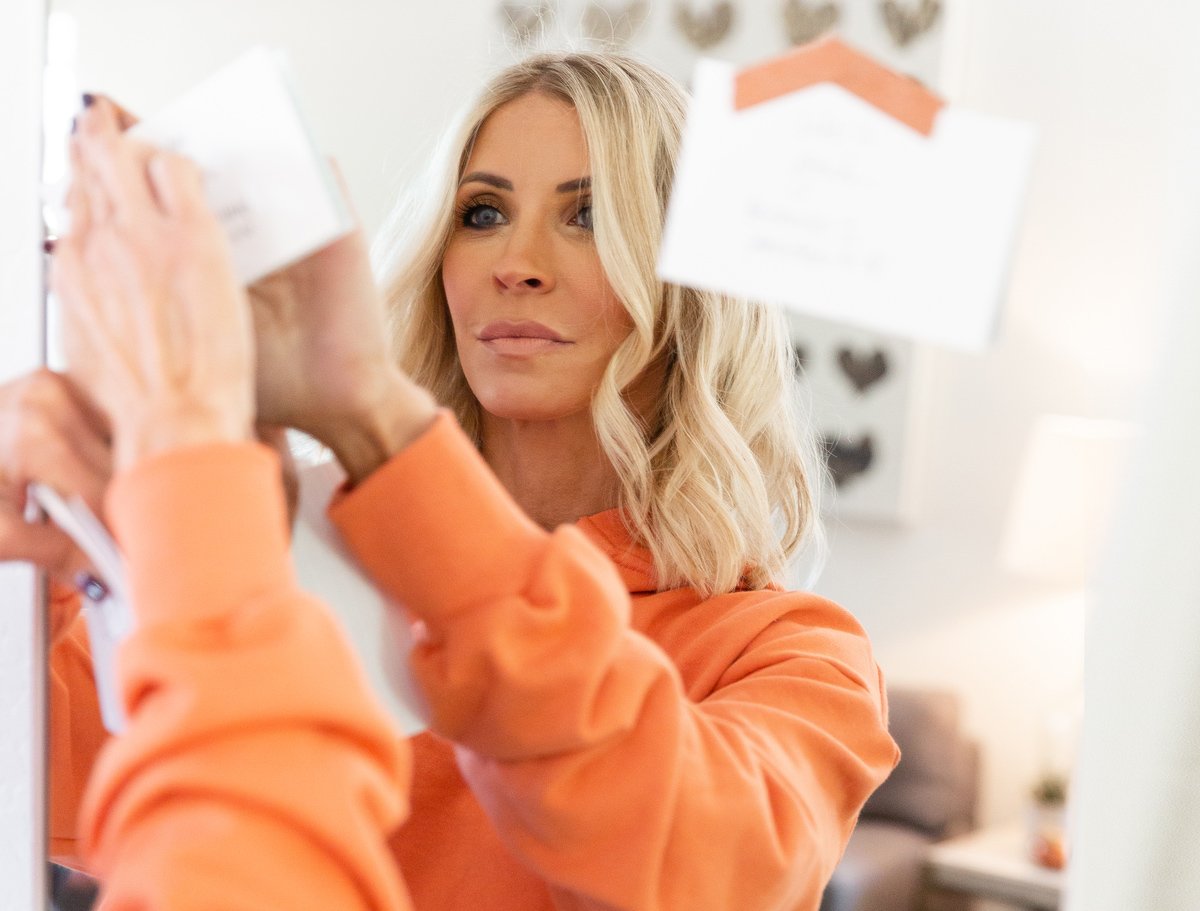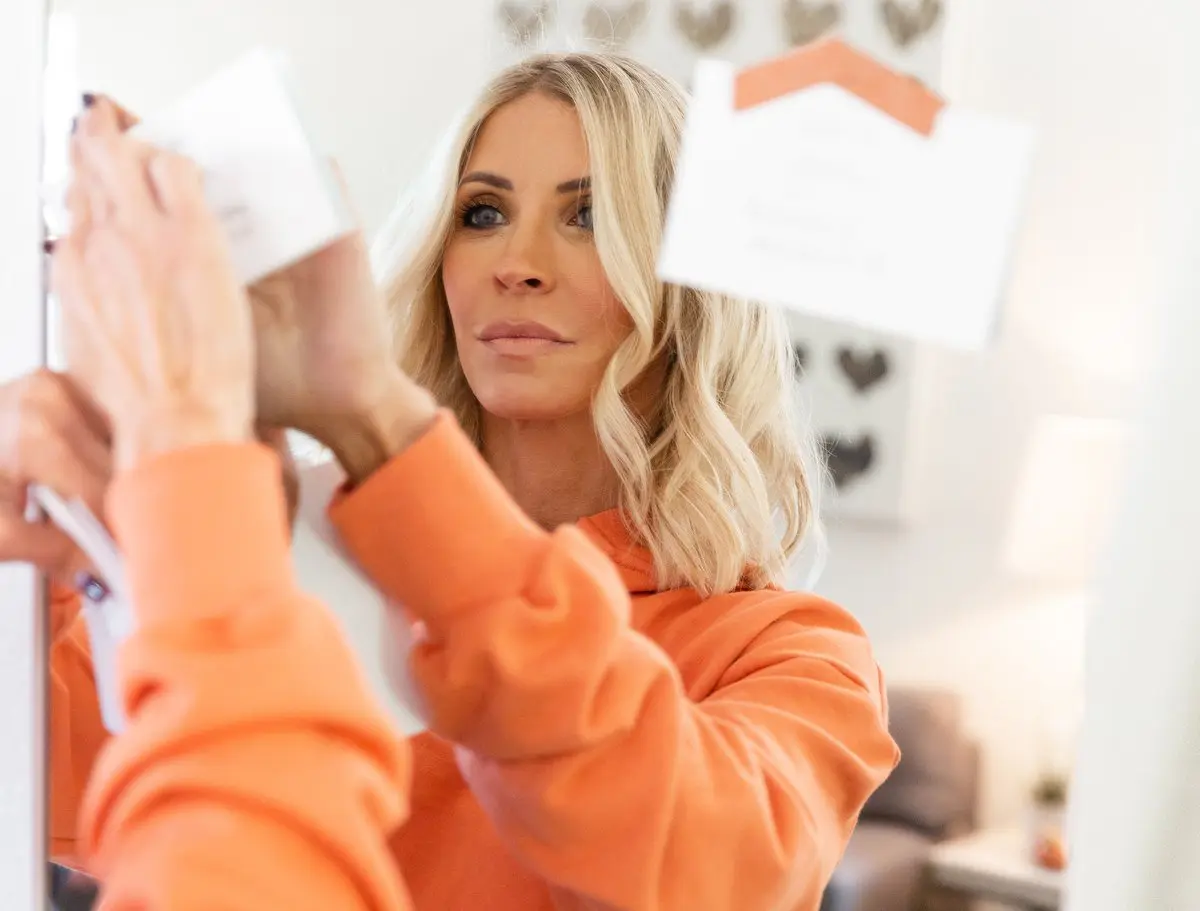 So, how can you get clear about your goals and set them in a way that sets you up for success?
I'm a visual person, so sometimes finding a quiet space for ten or fifteen minutes really helps me find clarity and focus on my intentions and what it is I'm wanting to do. I would encourage you to grab a pen and piece of paper and think about the following:
WHY am I wanting to achieve this goal?
WHAT can I do to achieve this goal?
WHAT will my definition of "success" look like when I achieve this goal?
WHAT are the consequences if I don't achieve this goal?
WHAT will I do once this goal has been achieved? Hint: Start with the next small step on your larger overall goal (remember that goal to lose 50 lbs?) OR on the next goal.
WHAT are the potential barriers and WHAT can I do plan for them and overcome them?
Make Your Goals S.M.A.R.T.
You've probably heard (or read) me mention S.M.A.R.T Goals before, right? S.M.A.R.T Goals stand for goals that are:

So, instead of saying, "I want to lose weight," which is a great goal, you can make it easier to achieve by diving in a little deeper and saying:
S: I want to lose 50 pounds.
M: I will start with 5 pounds at a time and weigh myself every Sunday at 7:00 AM for comparison.
A: Losing 50 pounds is an attainable goal, especially if you break it down into smaller increments.
R: Explore your goal. Is it realistic to say that you're going to lose 50 pounds within a given time frame? Or are you setting a goal that you can actually work toward and achieve because you've made it doable?
T: Give yourself a timeline. Instead of saying, "I want to lose 50 pounds," say, "I want to lose 50 pounds by October 1, 2021." Give yourself a cutoff time that will help keep you committed and working toward your goal each and every single day.

Be Flexible + Realistic with Yourself
ANY goal is achievable if you stay consistent, patient, and dedicated to the power promises you are making to yourself. Here are some other tips that I recommend when we're talking about goal setting + goal achieving:
Break down your big goals into smaller, doable steps. Remember: Even baby steps are movement.
Write down your goals on paper so you can see them. Put them somewhere you can be reminded of them daily so you don't lose sight of why they're important to you.
Remember that it's okay to tweak and revise your goals as you go!
Go for progress, not perfection. Nobody is perfect, especially when starting something new. Give yourself grace and time to learn this new skill. There will be bumps, but they're not bigger than you, my friend. You can overcome anything, especially if you plan for it.
Finally: CRR: Confess, Reassess, Recommit. Know that it's okay to mess up. Not every day will be perfect. But it's the ability to be able to recognize those moments as they happen and have real, honest conversations with yourself to determine why you fell off plan and what you can do next time to prevent it from happening that will make ALL the difference.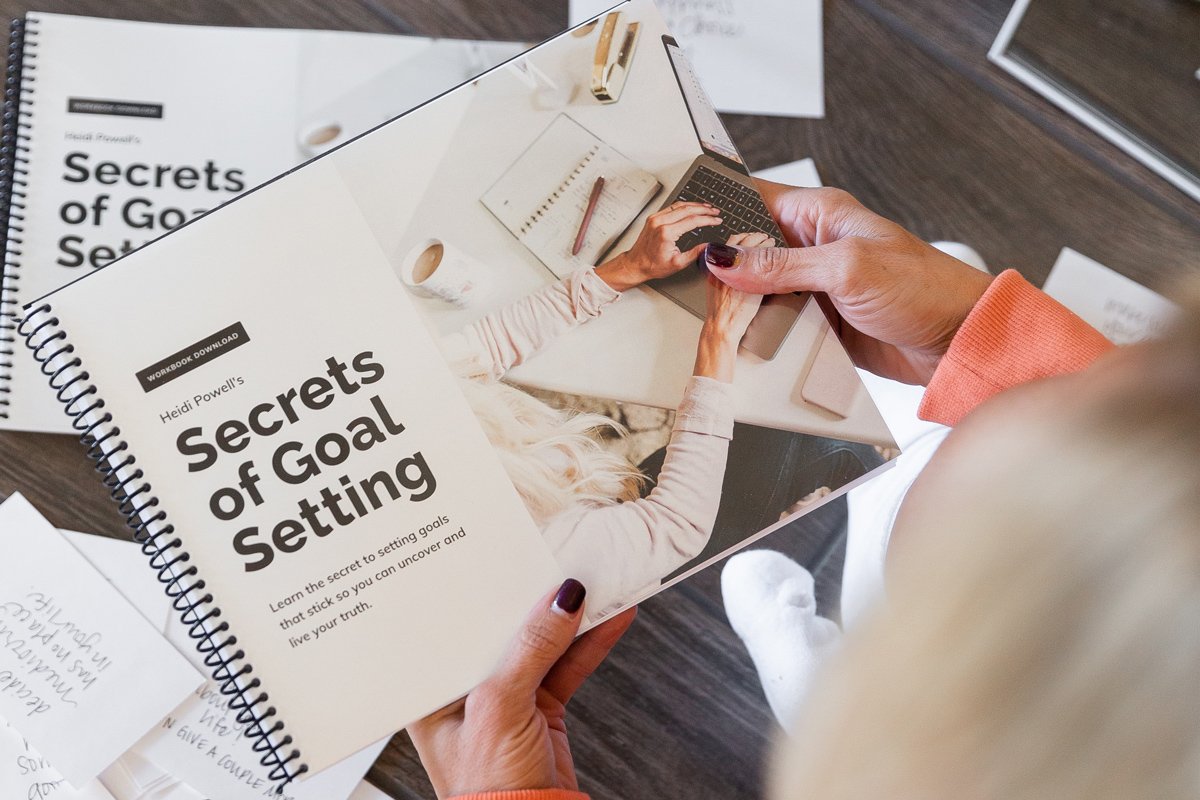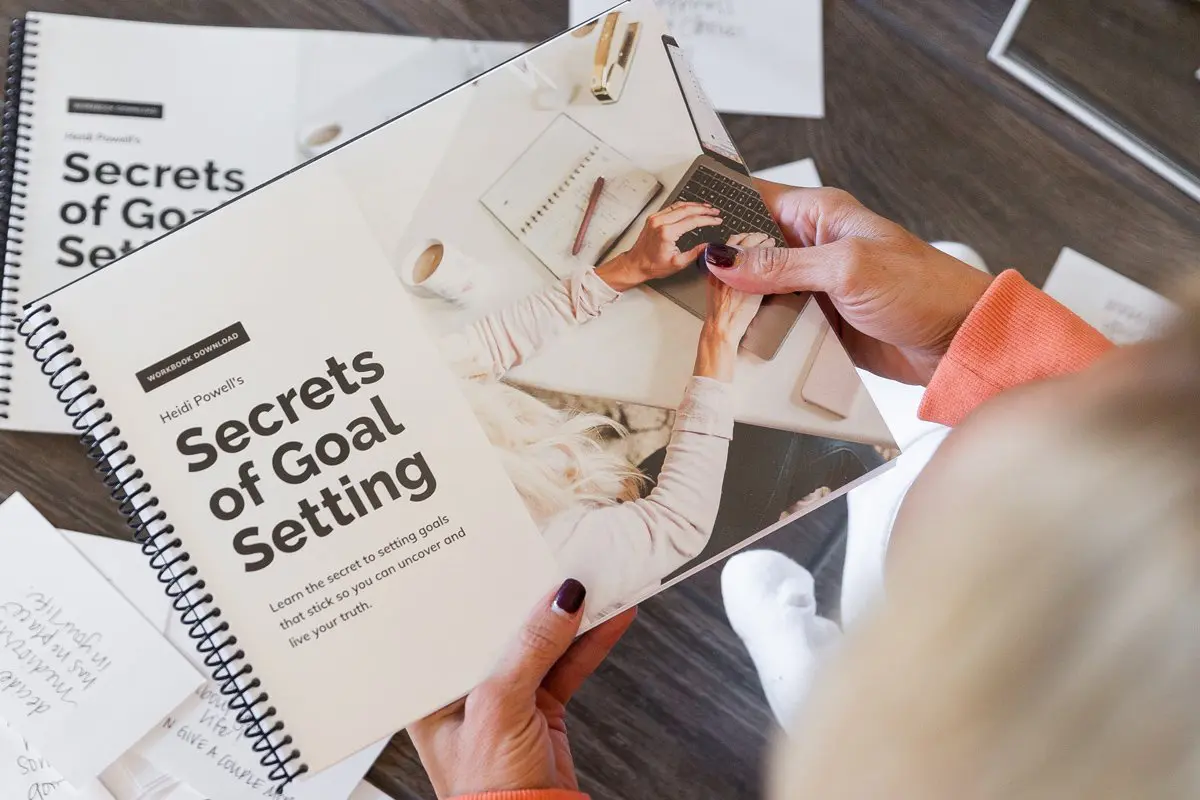 To learn more about this last chance sale AND to sign up, go here.
Show Up for YOURSELF
Here's one last thing I want you to consider as we close out this chapter of 2020 and move on to the new year. Are you ready to show up as your best self in 2021? Not your perfect self. Not your Instagram self. But your best self—leaving all your doubts, worries, and fears behind? Friend, I want to cheer for you as you win. I want to help you set crystal-clear goals you CAN achieve, identify your self-limiting beliefs, and rewrite your story with your narrative and build new, powerful habits that help you show up for yourself each and every single day. To get you started showing up for yourself, I'm having a last chance sale for my complete Show Up course bundle, which includes:
Secrets of Goal Setting + a 135-page digital workbook
Creating You: Five Habits to Create Balance and Success
How to Find Your Purpose
Hot to Get Out of a Rut
Membership in my exclusive Show Up Community Facebook group where you'll find additional support and inspiration from me, my team, and other Show Up members.
This course bundle is only available until Tuesday, January 5, 2021, and here are the details:
The complete Show Up bundle is on sale for $249 (retail price: $499), which includes all the Show Up bundle courses mentioned above + the 135-page Secrets of Goal Setting digital workbook + membership in my Show Up Facebook group.
BONUS: Two exclusive zoom calls with me in January—available ONLY to Show Up group members!
To learn more about this last chance sale AND to sign up, go here.
Guys, here's the deal. Whether you join me in my Show Up community or not, please know that I'm here for you. Always. We'll leave 2020 behind and make 2021 the BEST year ever. Together. I know we can do it! What are some goals that are on your to-achieve list? Please share them below! Sharing your goals with others is also a great first step. 😉
PS: I had an amazing and very last minute idea yesterday! I'm offering FREE coaching for the month of January to FIVE people who join my Show Up community!!! I announced this giveaway on a LIVE yesterday afternoon, and I'll be choosing one winner each day, starting yesterday through Thursday at midnight PST. Each winner will get a weekly zoom call with me during January! I'm so excited to help you reach your goals!
xo,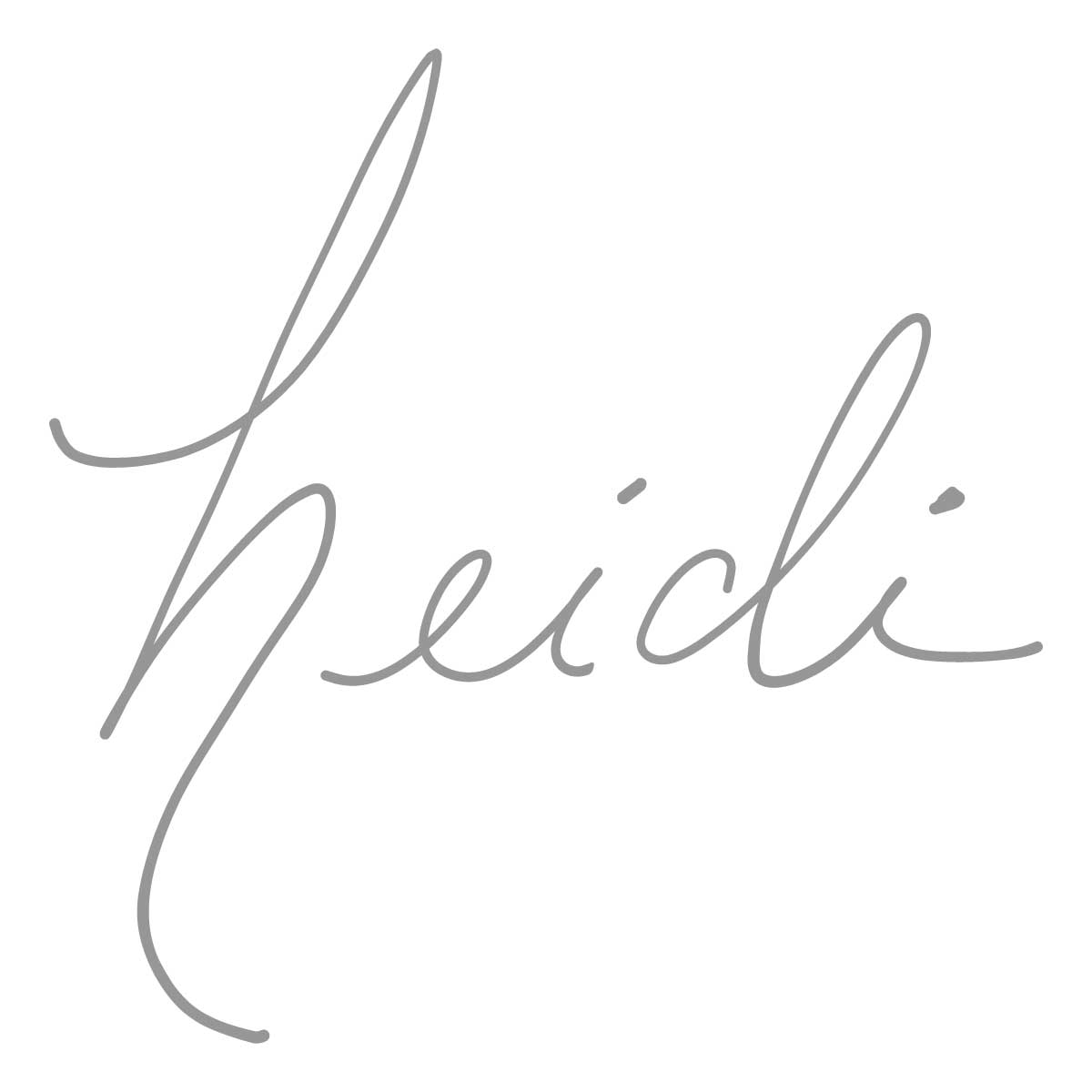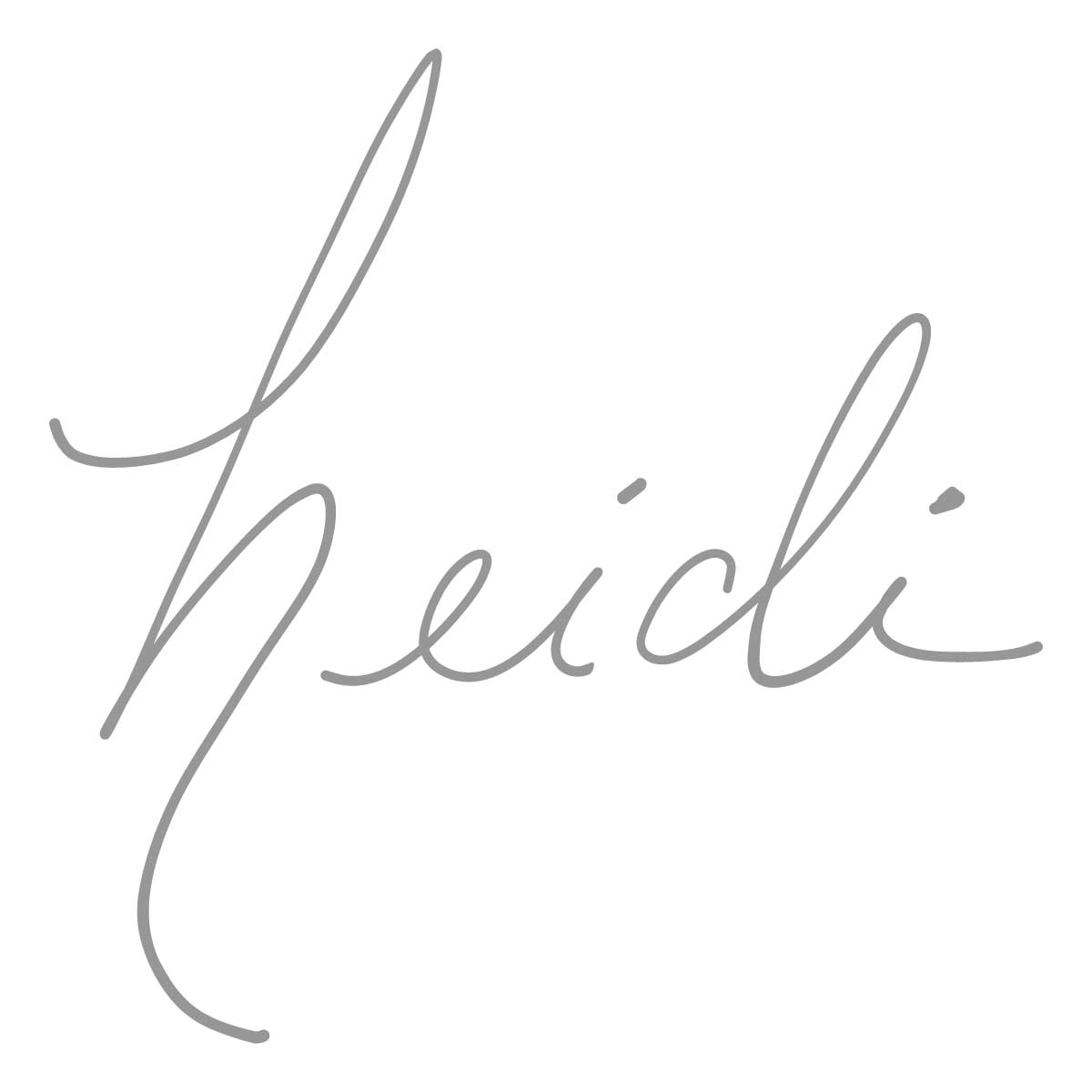 Related reading:
How to Beat the Odds and Actually Finish Your Goals | Jon Acuff
Why Gratitude Is Important to Your Weight Loss Goals
6 Secrets to Success: How to Reach Your Goals This Year
Reignite Your Fire to Achieve Your Goals!
Decision Fatigue: So Many Questions? Too Many Options!