Baby Girl is almost here, and I have yet to choose a diaper bag! I would totally use the same one I am using for Cash, but?I want a little more of a feminine touch for my little angel ?. And the one I am using for Cash is technically not even a diaper bag. It?s a gym bag that I loved.
Time for a true diaper bag purchase, for sure, but I need help! So many cute ones to choose from, it?s making my head spin! Below are my fave 5 so far. Tell me your favorite of the bunch! Or give me your own suggestion ?.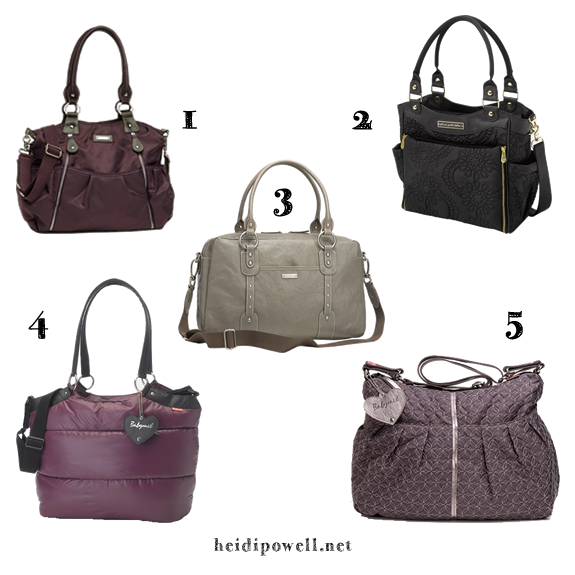 1. Storksak ?Olivia? Nylon Baby Bag ? At first glance, I feel like this is the one!!! Not sure though, because with online shopping you can never tell. I love this purple color and think it will add ?pop? to my wardrobe. And the nylon seems like it will be great for regular kid wear and tear. I will be using it for both little ones?is it too girlie for Cash? Or better yet, for Chris to carry? Gosh?I would totally carry this with or without a baby! Sporty and fun.
2. Petunia Pickle Bottom ?City Carryall? Diaper Bag – In all my days of mothering, I?ve never had a Petunia Pickle Bottom Diaper Bag that I didn?t love. And this is, as Cash would say, ?adobable?. Love it. Classic, chic, a little glam, and black?which hides lots of dirt ?. Spacious enough? This is my only question.
3. Storkak Diaper Bag Tote in Grey ? This is super cute and stylish, but a bit pricey. After having used quite a few diaper bags in my day, I do know that you get what you pay for. Has anyone used this one before? Is it worth the money spent?
4. Babymel 'Camden' Carryall Diaper Bag ? Okay?could this get any cuter or squishier??? Reminds me of how babies should be?chubby ?. And there?s that purple color again. Looks SO cozy!
5. Babymel 'Amanda Quilted' Diaper Bag ? Loving this line that I have never heard of before! Well-priced compared to some others. And this (yes, purple again) pattern is amazing. Fun and cute, but subtle enough to wear everyday. Once again?adobable.
Post your comments below! Let me know which bag I should choose for Baby Powell. If none, don?t hesitate to give me advice on what you like!
Thanks, friends,
Heidi ?