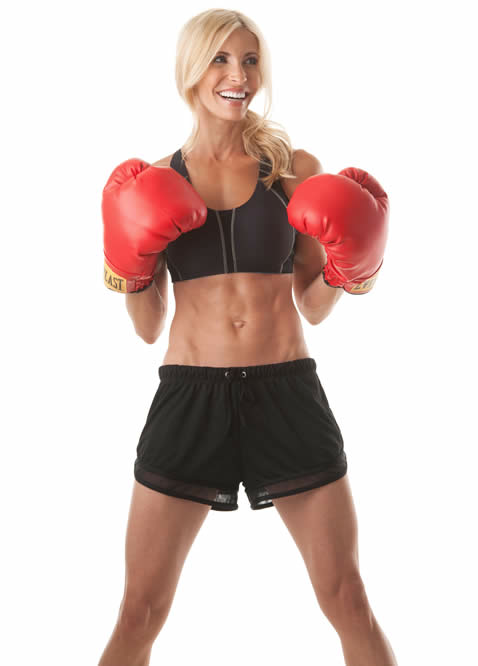 Unfortunately, injuries happen, whether they're exercise-induced or a by-product of simply living life. Sometimes they can be avoided, sometimes they cannot. Here?s the thing: an injury is not an excuse to take a break from your health and often your fitness routine! Throughout our many years of working with clients and our peeps on the show, Chris and I have never come across an injury we can?t work around. Never. So even with an injury, you can continue working out?it will just require some modifications and creativity from you and your healthcare team to find what works best for you.
Coach Bob Brenner, our dear friend and contestant on season 3?s final episode of Extreme Weight Loss, is an awesome example of how to not let an injury sideline your transformation goals. Bob had barely begun his 365-day transformation journey when he suffered a torn left ACL on day 4. He was given the option to get surgery and wait until season 4, but he said ?No!? So Chris and our awesome team worked around this knee injury. On day 53, while doing lunges (which he wasn?t supposed to be doing!), he tore the meniscus on his right knee. At this point most people would quit, but not Bob. He said, ?If I have to crawl to my goal, that?s what I?m going to do.? And even with two injured knees and a knee scope before his day 270 weigh in, Bob set an Extreme Weight Loss record, losing 56.47% of his weight?253 pounds! And he was the first person to outperform Chris during a milestone. Two injuries did not stop Bob!
You can also reach your goals, like Bob did, even with an injury. If you can?t run, bike or walk, hit the pool, and use the arm bike. If you have an upper body injury, use the stationary bike. There are so many options available that there really is no excuse to put your exercise routine on hold. Again, your healthcare team can help you figure out what works best for you in your situation and help you learn how to avoid injuries in the future.
While injuries do happen, there are some things you can do to decrease your risk of being injured:
Always warm up and cool down. Always.
Stretch before and after every workout and throughout the day.
Ease into a new program or exercise.
Don?t stick to the same routine day after day?throw some cross training days into your schedule.
Know your ?trouble? spots (knees, ankles, feet, elbows, etc.).
Listen to your body. Seek medical care sooner rather than later, and don?t try to ?tough it out? because you could end up making your injury worse (which means a longer recovery period!).
Fuel your body with healthy foods and lots of water. We think carb cycling is a great option! 😉
Work with a certified trainer to learn how to work out correctly, especially if you?re new to strength training.
Dress appropriately for your workout. Be sure to wear a helmet when biking, the right shoes if you?re running (believe me?this is crucial!), and so forth.
Be sure to incorporate some rest days into your routine, and make sure you actually rest!
As frustrating and difficult and never-ending as they may feel, injuries are temporary. You?ll be back to your routine sooner than you think, with a newfound appreciation for having a healthy and injury-free body to move!
Xoxo,
Heidi