Erika, oh Erika…do you have any idea how grateful I am for you and your magical recipes???
Ladies and gentlemen, Erika Peterson, aka Clean Simple Foodie, is back at it again…giving us her secrets to deliciousness, one recipe at a time. These mouth-watering Cocon"oat" Macaroons will blow your mind. Light and crispy, and perfectly sweet and chocolatey… they won't totally blow your diet either ;). To be totally clear, this "cleaner" version of a macaroon is still 100 calories, so portion control is a MUST. My recommendation? Save these babies for your Cheat Day, and enjoy away!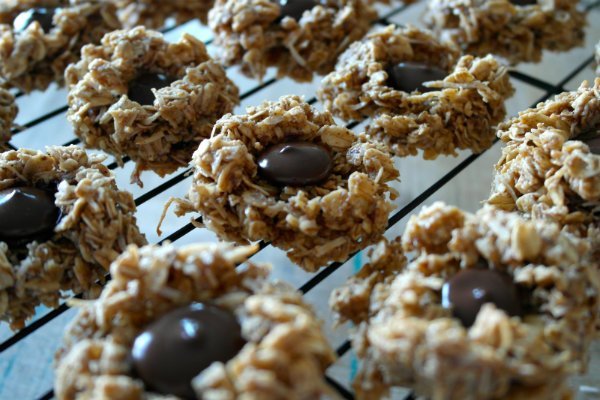 By: Erika Peterson, Clean Simple Foodie
Cocon"oat" Macaroons
This recipe puts a fun "clean" and simple spin on traditional coconut macaroons – light and crispy with the perfect touch of sweetness!!
What you'll need:
1/4 cup coconut oil, melted
1/4 cup all natural almond butter
1 whole egg
1/2 cup coconut palm sugar
2 cups rolled oats
1 cup unsweetened shredded coconut
A dash of sea salt and cinnamon
Amberlyn Chocolates dark chocolate chunks or other extra dark chocolate chunks.
What you'll do:
1. Preheat oven to 325 degrees.
2. Beat the oil, almond butter, egg, and sugar together until smooth. Add the oats, coconut, salt, and cinnamon. Mix until well combined.
3. Scoop rounded tablespoons of dough onto a baking sheet lined with parchment. Should make 22 cookies.
4. Bake for 8 minutes. Remove from oven and press a chocolate chunk in the middle of each macaroon. Let cool 5 minutes and transfer to a cooling rack. Enjoy!!
What's in it:
100 calories, 6g fat, 11g carb, 2g protein (per cookie).
Want to connect with Erika? Find and follow her here: cleansimplefoodie.com