I have a confession to make: I am soooo ready for summer. Even though we live in Arizona where the weather?s nice pretty much all year round, there?s just something about summertime…. And since the kids are out of school (Yay! No more homework!), we get to do stuff we can?t do at other times of the year and enjoy a more relaxed routine. I love it! However, when the kids are home all day, it gets even trickier to get those workouts in. Especially with a little one around. And summer = swimsuit season, which can add a wee bit of extra stress. 😉
So how can you get in a great workout, on limited time, with your baby, and shed those extra pounds STAT so you?re ready for summer sun ?n fun? Voila! My latest babywearing workout, which is perfect for older babies like Ruby. You can use the same Ergobaby Performance Carrier I raved about before, and besides that, all you need is your favorite little one. Can?t get simpler than that! If your baby is smaller than Ruby, no worries?simply modify the workout. And if you?ve got older kids around too, why not include them in your workout!
Before we get started, here are some things to keep in mind:
Warm up before and cool down after by doing a few minutes of walking and light stretching.
Keep those ab muscles tight during all exercises for some awesome core and stability work.
If you need some help with balance or extra support, hold on to the back of a chair or bench.
Can?t quite get through the workout? Do what we do?we call it ?chipping.? When you can?t do any more, stop for a few seconds, shake it out, and keep going. Repeat as needed. It works!
Always, always, always follow your doctor?s recommendations.
Ready? Let?s go!
Complete as many rounds as safely possible in 30 minutes of the following exercises:
NOTE: Safety first! If one round is all you feel it is safe to complete with your little one on your back, then finish out the remainder of the 30 minutes with a fast-paced walk around the park. Walking burns calories!! However, keep up the rounds as long as you are feeling you and baby are good and safe.
For a more advanced version, these moves can be done without support as well, as long as baby is safe:
Advanced squat: Keep feet shoulder-width apart and weight on heels for max stability. Use your arms as a counter balance.?
Besides helping me get in some amazing workouts, here are some other reasons I?m such a pro-babywearing workout momma:
Workouts can be done anywhere (inside and outside).
You get a natural resistance progression as baby grows.
You can do each workout all at once or throughout your day as you have a few free minutes.
Your little can help you get and stay fit.
Workouts are good for beginners to not-so-beginners?basically everyone.
You?re teaching your kiddos the importance of exercise and that working out is really fun!
And the best thing? Extra bonding time with your little one. 🙂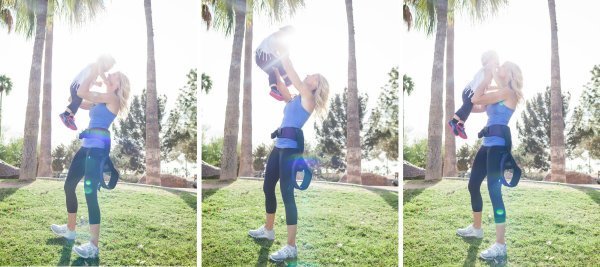 How do you use your carrier to get those workouts in? Share in the comments below? for your chance ?to win?one?Ergobaby Performance Carrier!!
Here's what you need to do to enter:
Comment below on how you use your baby carrier to workout.
Share this post via one of my social media channels.
You? have until midnight on Wednesday, April 29, 2015, to enter, and the winner will be randomly chosen and announced on Thursday, April 30, 2015.
Xoxo,
Heidi
Missed my previous Ergobaby babywearing adventures? Check ?em out here:
Oh Baby! My Babywearing Workout
Oh Baby! My Babywearing Workout, Part 2: The Piggyback Park Workout
Oh Baby! My Babywearing Adventures Continue
And here are some other posts you might like:
No Time for Exercise?
Exercise…It?s A Family Affair!