Can it really be July already?? It sneaks up on me every year! It seems like school lets out, and we JUST start settling into the fact that it's summer, and BOOM! Independence Day. While some of you may feel like you have LOST your independence with kids home everyday complaining of boredom, here are some treats the kids can help you with for all of the 4th festivities!
Everyone loves dessert, and it's even better when it's cute! I don't know about you, but I love to host (or attend) a party with a pretty looking dessert in hand that took me minimum effort and got me maximum "Ooooooohs, Ahhhhhhhs, and Mmmmms." ?But I'll tell you what I don't love to do?spend hours in the kitchen with my oven on in July!
So, I have compiled a few fresh and healthy treats to WOW your friends and get them feeling proud to be an American!
First, MY personal favorite,?the 4th of July?Rice Krispy Treats. While I am no stranger to treating myself with these babies on a *semi* regular basis, dip them in white chocolate and freeze dried berries?? Forget it, I'm hooked!!
4th of July?Rice Krispy Treats

Ingredients:
6 Rice Krispy Treats
8 squares sugar-free white chocolate
? cup freeze dried mixed berries
Directions:
1. In a microwave safe bowl, melt the chocolate in 30 second increments until melted.
2. Pour freeze dried berries into ziplock bag, crumble or crush with a cup until a fine dust
with a few chunks forms. Pour into a small bowl.
3. Dip half of a Rice Krispy Treat in melted chocolate then roll in crushed fruit. Serve immediately
or chill until chocolate is set. Enjoy!
Makes 6 servings
Nutritional Information: 188 cal; 8g fat; 28g carbs; 1g protein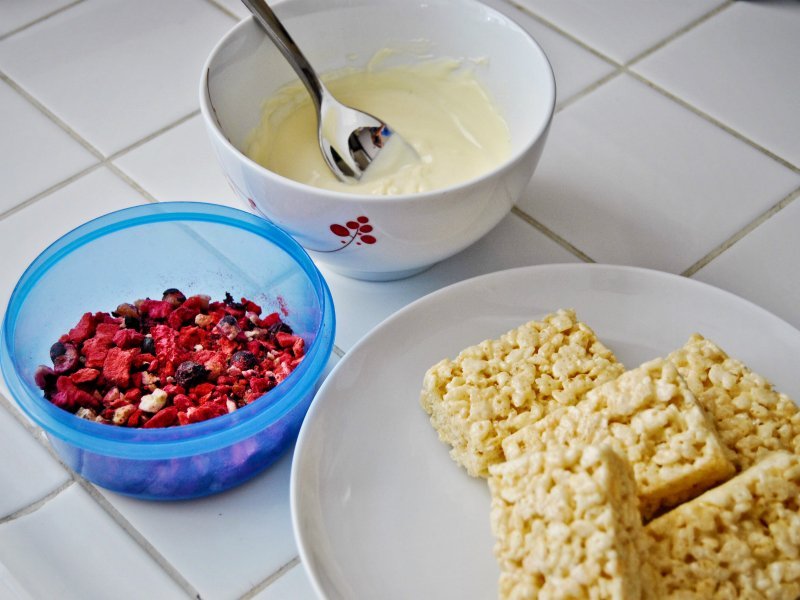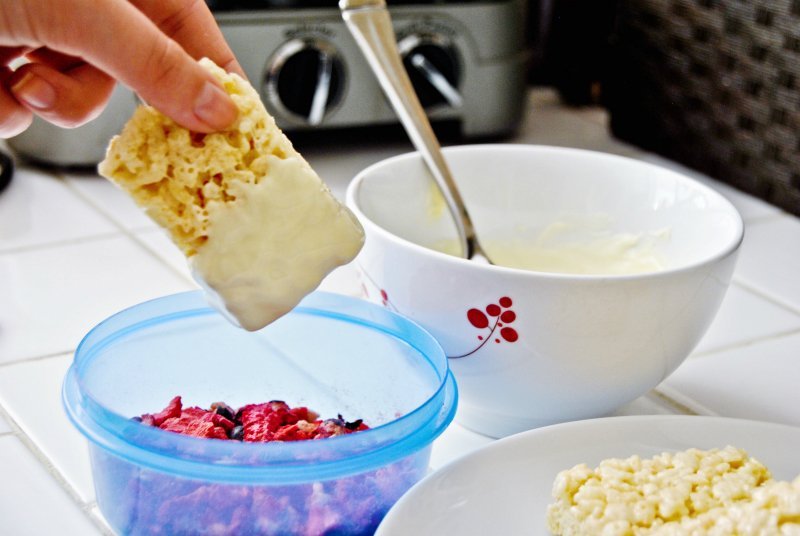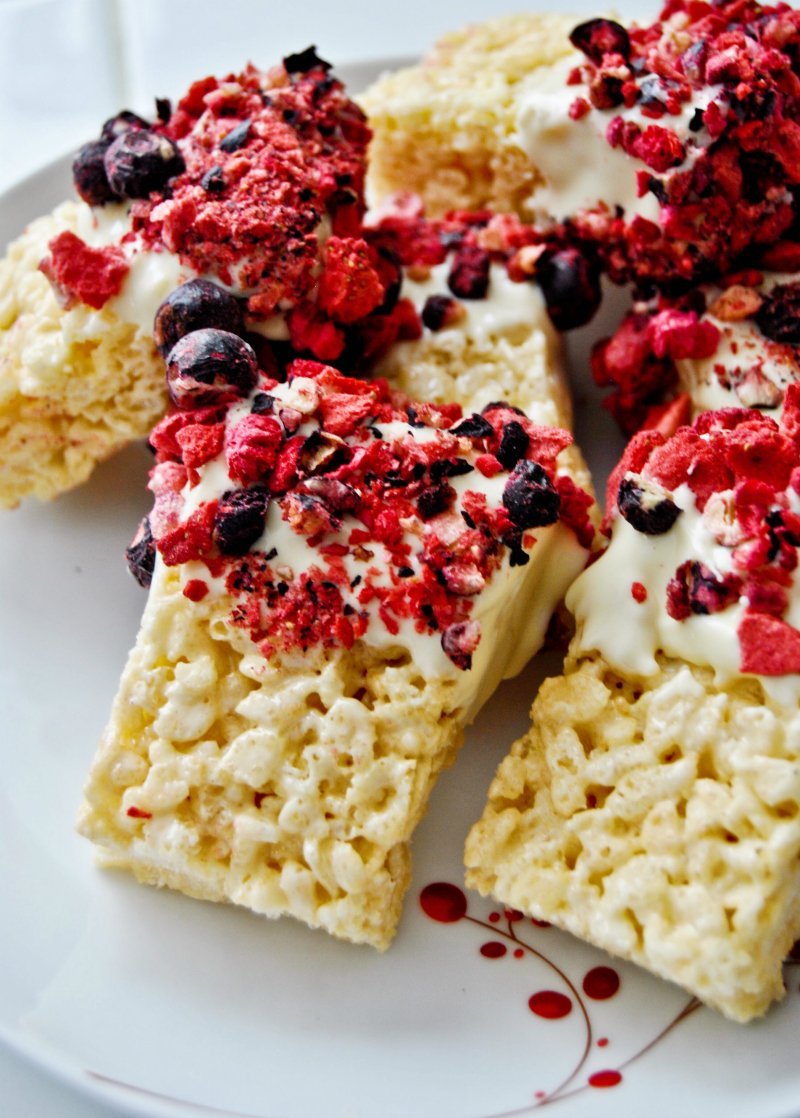 The next recipe is light and refreshing and just enough to satisfy that sweet tooth. Red, White, and Blue Strawberry Cheesecake Bites are a crowd favorite in the Powell house!
Red, White, and Blue Strawberry Cheesecake Bites
Ingredients:
10 strawberries, cut in half
20 blueberries
4 ounces reduced fat cream cheese, room temperature
? cup powdered xylitol (xylitol blended in blender.)
? teaspoon vanilla
Directions:
1. In a bowl, combine the cream cheese, powdered xylitol, and vanilla until mixed well. Place the cheesecake mixture in a sandwich bag, squeeze the mixture to one corner. Cut the tip of the corner off, this will be used to pipe the mixture onto the strawberries.
2. Place strawberries cut side up on a serving platter. If strawberries fall over, slice a thin piece off the bottom so they have a flat bottom and stay upright.
3. Pipe the cheesecake mixture onto the top of the strawberries, distributing evenly among all the strawberry halves.
4. Top each strawberry half with 2 blueberries each.
5. Chill until ready to serve.
Makes 4 Servings (5 strawberry halves per serving)
Nutritional information: 104 cal; 5g fat; 18 g carbs; 2g protein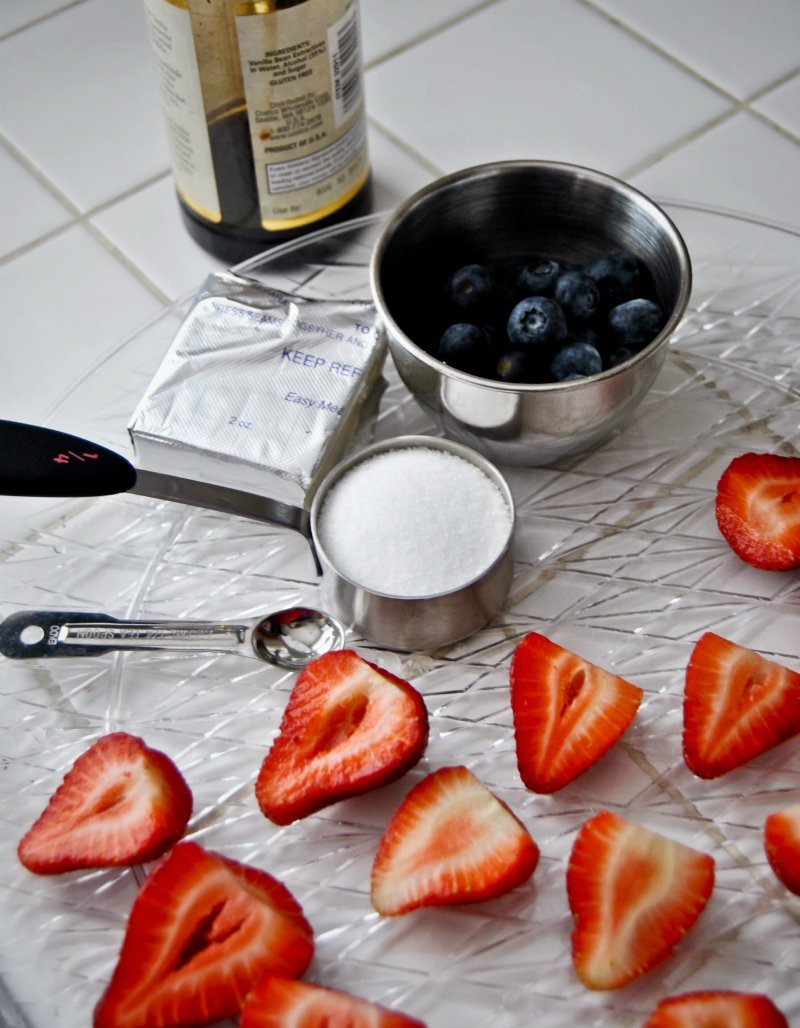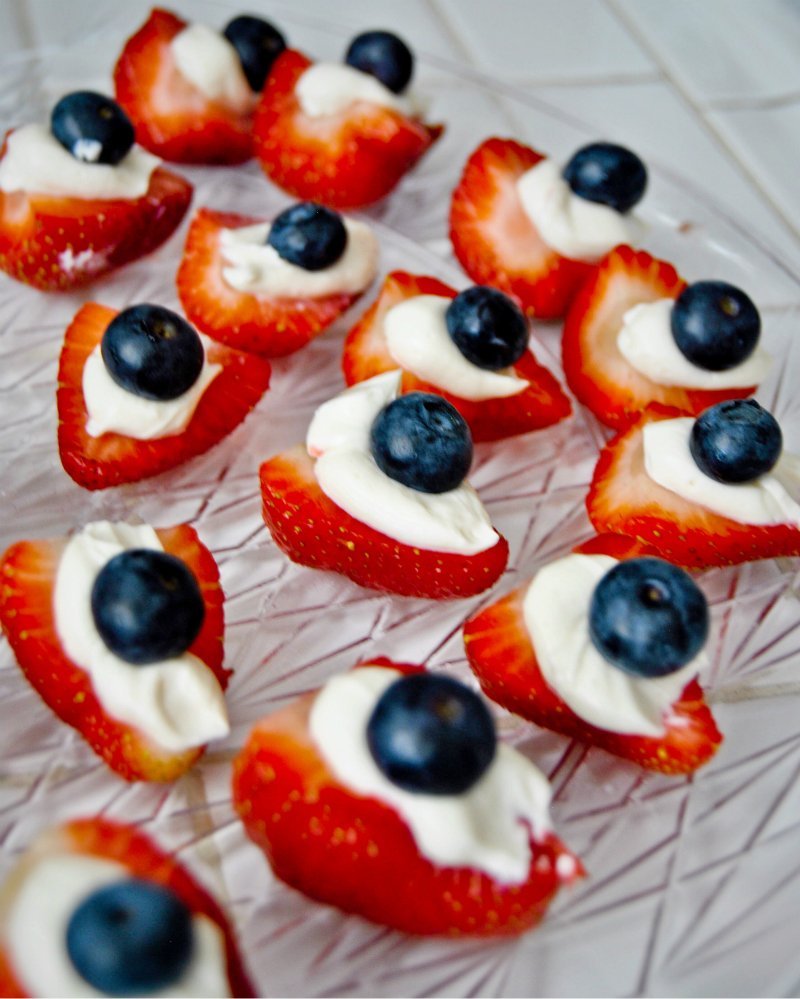 If you really want to keep your kids busy, these fruit kebabs are a treat AND a craft rolled into one (slightly more challenging) operation! Ruby is 2-and-a-half and just starting to learn about patterns, so with the bigger kids' help, we'll have kebabs for days!
4th of July Fruit Kebabs
Ingredients:
2 large slices watermelon
1 cup blueberries
8 strawberries
2 ounces fat-free plain Greek yogurt
4 wooden skewers
Star cookie cutter
Directions:
1. Using the star cookie cutter, cut out 4 stars in the watermelon.
2. Start by sliding 1 strawberry onto 1 wooden skewer, followed by 5 blueberries, 1 watermelon star, 5 more blueberries, and finish by adding 1 more strawberry. Continue with the other skewers.
3. Pour the Greek yogurt into a ziplock bag, squeezing it into one corner. Cut off the tip of the corner creating a piping bag. Squeeze yogurt over skewers in a stripe pattern. Chill until ready to serve.
Makes 4 servings
Nutritional information: 41 calories; 0g fat; 9g carbs; 2g protein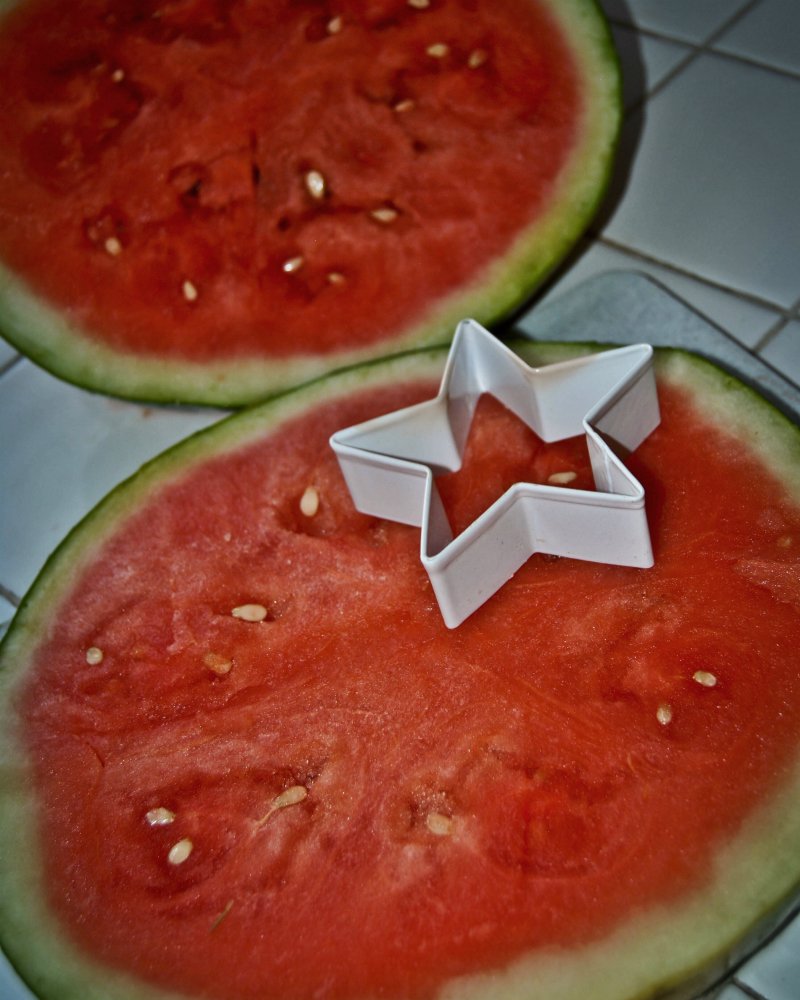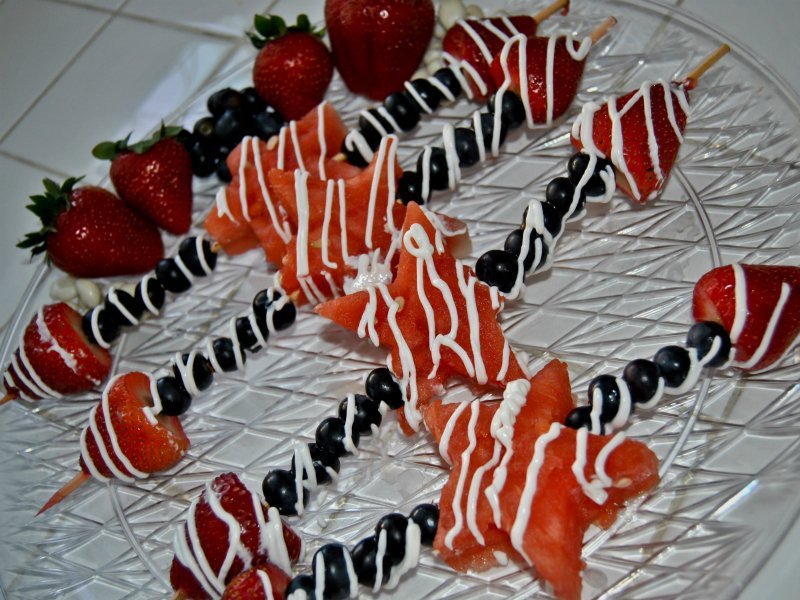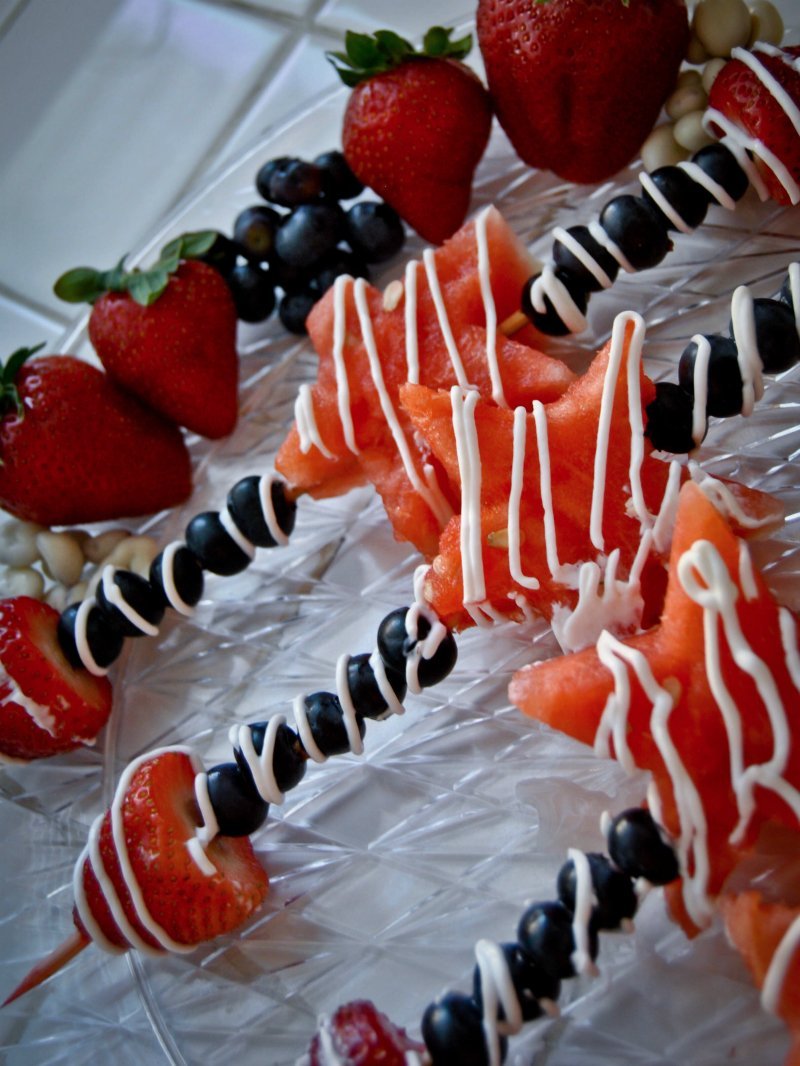 And finally, I leave you with the ultimate challenge for those wanting to take on an artistic masterpiece of a ?treat, a treat that leaves you confused with either wanting seconds from the grill or moving on to dessert…. I give you, the hamburger cupcake and sugar cookie fries!! This spin on a summer BBQ classic was created by my friend Kacey with great intentions of impressing her friends, but less concern about the caloric content. Sometimes you just need to bend the rules for the sake of creative expression (wink, wink).
Hamburger Cupcakes and Fries
Ingredients:
1 box of yellow cake mix
1 box of brownies
Sugar cookie dough
White Frosting
Food coloring (green, yellow, and red)
Corn flakes or potato chips
Butter
Marshmallows
Sesame seeds for "bun" garnish
Directions:
1. Bake your yellow cupcakes (adding the sesame seeds halfway through the baking process) and bake your brownies. Let cool.
2. Separate frosting into 2 bowls and add red food coloring to one and yellow to the other to get the colors of ketchup and mustard.
3. You will follow the recipe for Rice Krispy Treats with a few exceptions. HALF the recipe and start with the melted butter and marshmallow. Add green food coloring to make it like the color of lettuce. Swap out the Rice Krispy's for either corn flakes or lightly crushed potato chips. I prefer the potato chips because of the salty sweet factor. ?
4. Roll out your sugar cookies as flat and even as possible and then cut strips with a pizza cutter. Once they are baked and broken up, they will look just like French fries! Add a dusting of sugar and it appears like salt!
5. Use a circle cookie cutter to cut out your brownies into "burgers."
6. Gently cut your yellow cupcakes to create "buns."
7. Assemble your hamburgers with the brownie between the cupcake with the "lettuce mixture" and squirts of the "ketchup and mustard" frosting!
8. Serve with a side of sugar cookie fries, and it's a hit!!!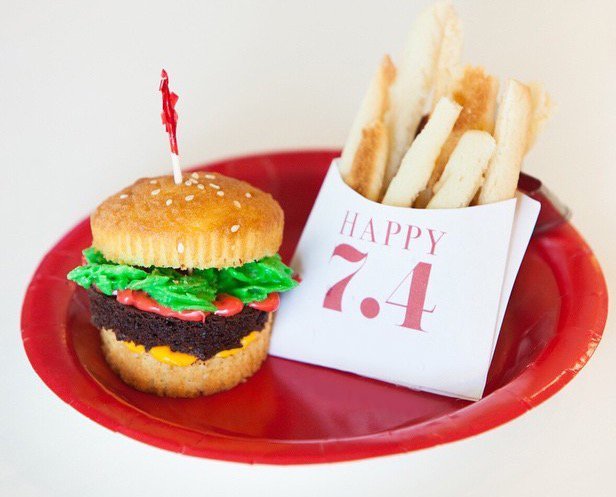 No matter how you celebrate Independence Day in your home, take time to appreciate your everyday freedoms. Enjoy your family, enjoy your calories, and don't forget to get in a quick workout!
Happy snapping, sparkler-ing, and smoke bombing…And happy birthday, America!!!
Xo,
Heidi
Related reading:
When It's Too Dang Hot to Cook! We Chill…
Memorial Day BBQ Recipes: Mouthwatering and Powell Approved!
I Cheat Every Day
Macro Tracking for the Win! All of Your Questions Answered