If it gets any hotter, we will all sit down as a family and talk about the benefits of temporarily relocating to the North Pole (Christmas in July never hurt anyone).
So when the outside temperature is set to BROIL, the last thing we want to do is heat up the oven, slave over a hot stove, or fire up the grill! We are already paying higher electric bills to keep this A/C kicking, and when Chris grills, that heat swarms around the back patio and makes it completely unbearable!
Well, hold the heat because I have two fun, quick, no-bake recipes that are sure to keep you cooler than school this summer!
First up, these amazing Rainbow Greek Yogurt Popsicles!! Not only do they look like a work of art, they are cold, refreshing, and a super healthy option that you AND the kids will love! Greek yogurt is high in protein, and berries have incredible antioxidant properties. The best-kept secret is in the green though (wink, wink). Spinach has a very mild (if any!) taste when combined with fruits and yogurt, so you can feel good about sneaking more veggies into your kids' day!
This recipe is amazing, and think of all the other popsicle possibilities… Or, should I say, the "pop-sibilities" (had to). They are endless! All you need to get started are some popsicle molds and the fruits and liquids of your choice. Maybe even have a contest to see who can come up with the most delicious and creative blend! Have fun with it!
Here?s the exact recipe we used?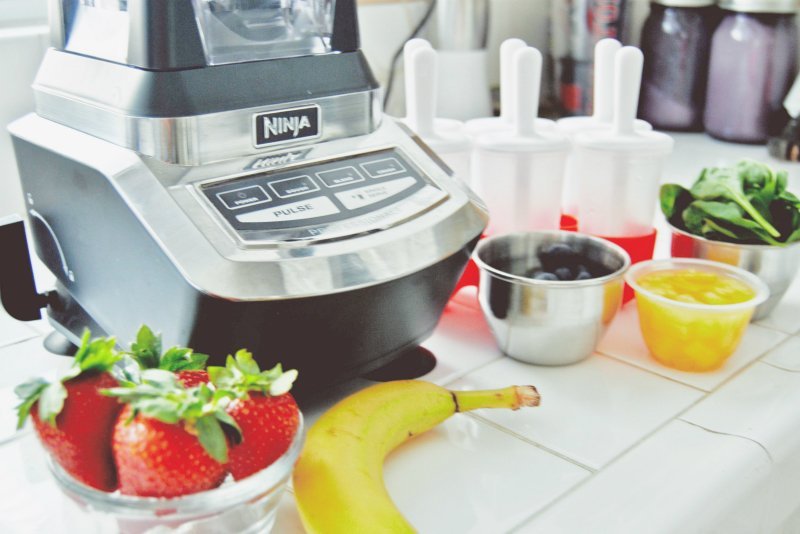 Rainbow Greek Yogurt Popsicles
Ingredients:
? cup plain nonfat Greek yogurt
? cup blueberries
4 large strawberries
? banana
1 cup spinach
Splash pineapple juice
? cup pineapple
? teaspoon stevia
Directions:
1. In blender, puree blueberries with ? teaspoon stevia, set aside.
2. In a blender, puree 3 strawberries with the remaining stevia, set aside.
3. In a blender, puree the banana, spinach, pineapple, and pineapple juice, set aside.
4. Dice the remaining strawberry into small pieces, set aside.
5. In 3 separate bowls, divide the Greek yogurt so there is ? cup in each bowl.
6. In one bowl, combine the yogurt and strawberry puree til mixed well. Mix another bowl of yogurt with the blueberry puree, and the last bowl with the banana, pineapple, and spinach puree.
7. In a popsicle mold, evenly distribute the strawberry yogurt mixture, fill about a 1/3 of the mold. Top with a few pieces of strawberries. Follow this pattern with each of the purees, topping off with one of the purees.
8. Freeze for 3-4 hours til set. Enjoy!
Makes 6 popsicles
Nutritional information: 42 cals; 0 fat; 8g carb; 3g protein
Now on to another one of my faves?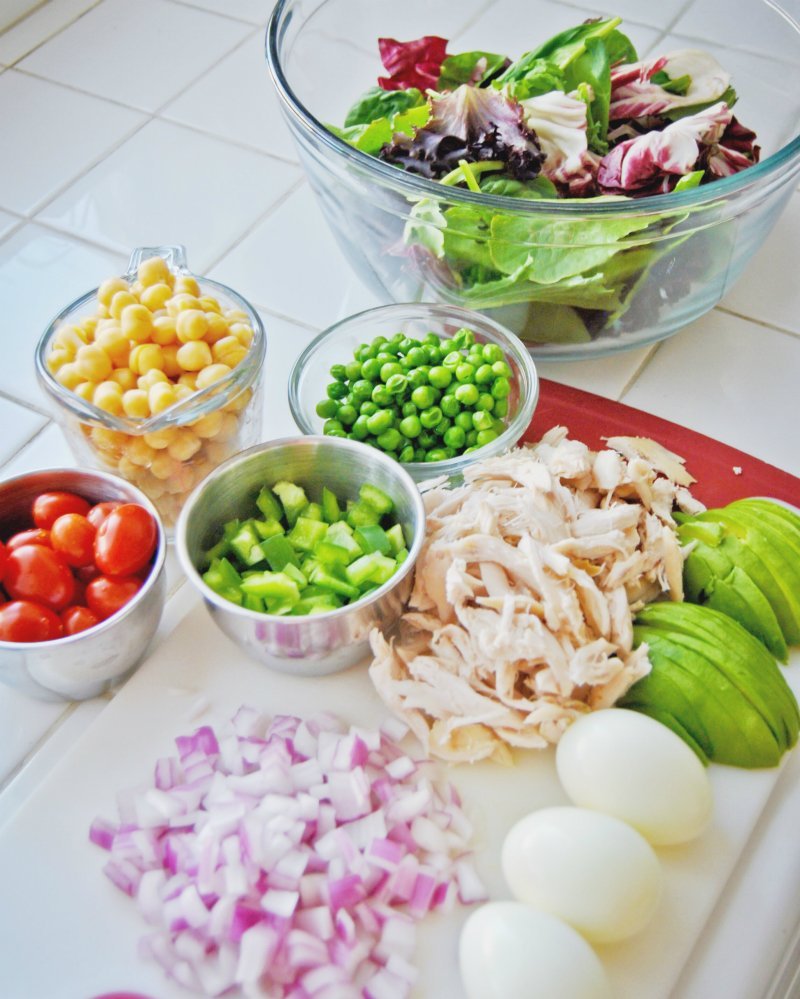 For those of you (like me) who love savory every now and then?even when it?s hot as hell, here?s a flavor and protein-packed chilled salad recipe that is sure to make mouths water and bellies happy.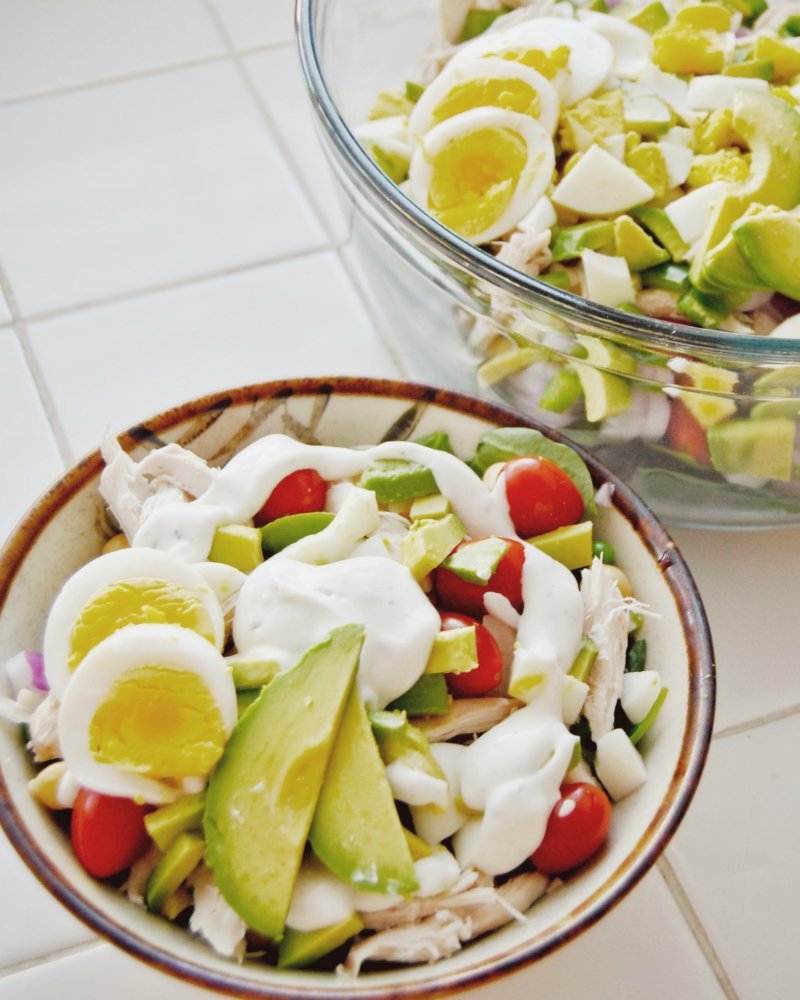 Chicken Summer Salad
Ingredients:
2 cups shredded rotisserie chicken
1 14 ounce bag mixed greens salad
1 can low-sodium garbanzo beans, rinsed and drained
? cup red onion, diced
1 bell pepper, diced
1 cup cherry tomatoes
? cup peas
1 small avocado, diced
3 hard boiled eggs, chopped
1 1/3 cups plain nonfat Greek yogurt
3 tablespoons unsweetened almond milk
1 packet low-sodium ranch seasoning
Directions:
1.In a large bowl, layer all the ingredients except for the Greek yogurt and ranch seasoning. Chill til ready to serve.
2. In a small bowl, combine the yogurt, milk, and ranch seasoning til mixed well.
3. Serve salad with 2 tablespoons of Greek yogurt ranch and enjoy!
Makes 6 servings
Nutritional information: 340 cal; 17g fat; 22g carb; 26g protein
For those of you carb cycling and curious how it fits, this recipe?as is?is more of a Clean Cheat with the amount of fat and carbs we are combining. To make a low carb meal, simply remove the beans and peas in the recipe. To make a high carb meal, remove the avocado and egg yolks. Easy peasy!
If you have any great popsicle creations, refreshing salad recipes, or any other no-bake ideas for summer, be sure to post them on Instagram, Facebook, or Twitter and tag me!! I'd love to see what you come up with!
Beat the heat and stay cool,
Love, Heidi
Related reading:
Chocolate Raspberry Greek Yogurt Pops
4th of July Berry Cream Parfaits
Corn and Black Bean Salsa
Healthy Summer Popsicles
Guilt-Free Banana Ice Cream