Summer nights are the BEST!! When I think back to being a kid, my favorite memories usually took place in the summer. Although as a mom of young kids now I think ?nothing good happens after dark,? we are finding ways to create fun and SAFE environments for them!
If you haven?t noticed, I LOVE kids… I collect them. I?ve always dreamed of having the house where all my kids? friends wanted to come. It?s not about having the biggest house, best toys, or junkiest food?it?s about the experience.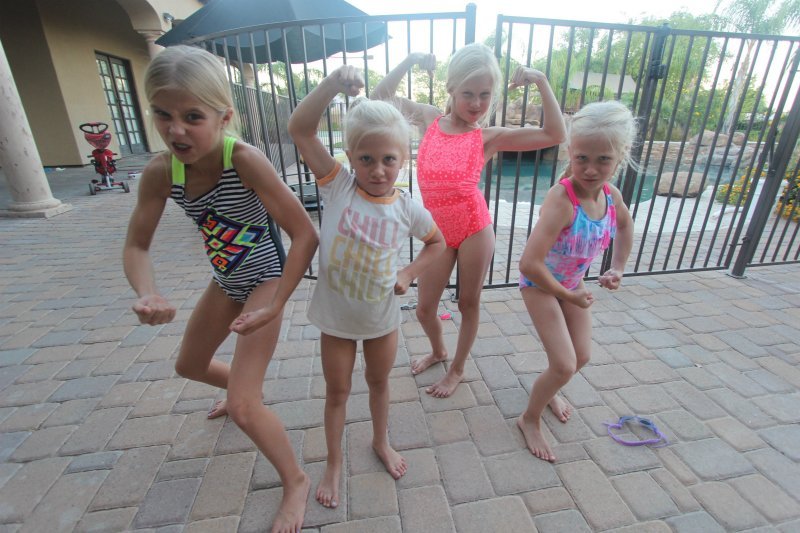 Summer nights are the perfect way to practice hospitality AND gain a following of your kids? friends for years to come.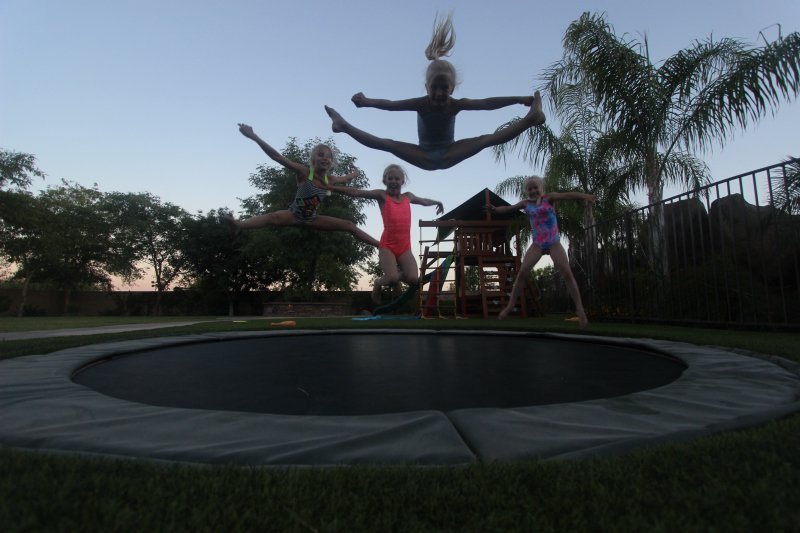 Chris and I had this wild idea for a summer night party. There was no special occasion other than letting our kids invite their friends to make some great memories and do something different. We started the evening with BBQd meats (yes?a new Powell every-other-day ritual) and some of our fave summer fruits.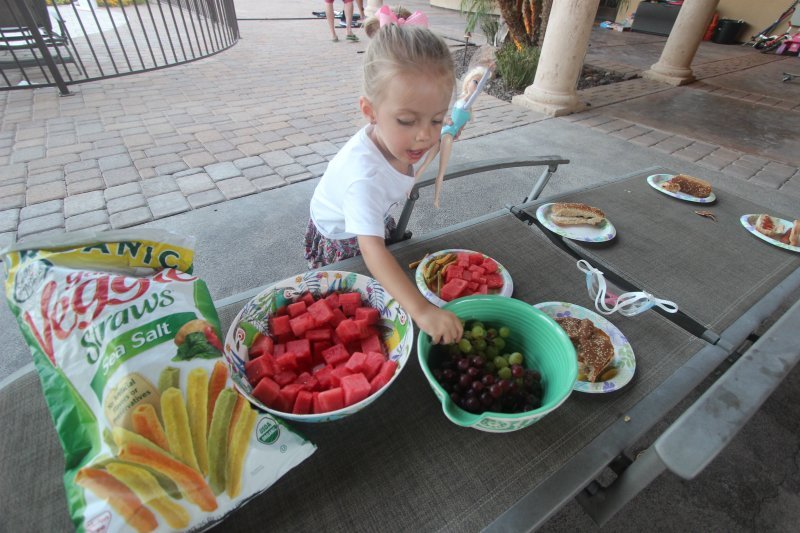 You see that fruit plate next to Ruby? That?s hers?and she wouldn?t let anyone come near it. #DontMess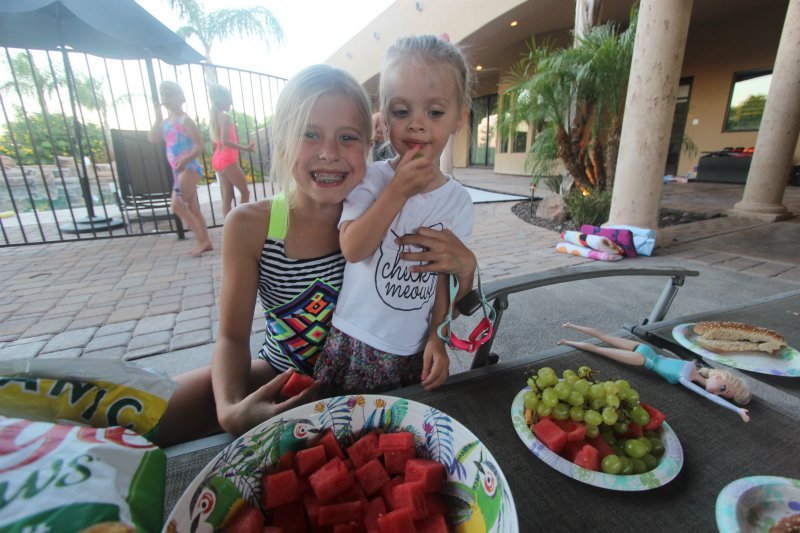 We decided to go in on a giant projector screen with a neighbor and set it up in our backyard… perfectly placed so we could see it from the pool!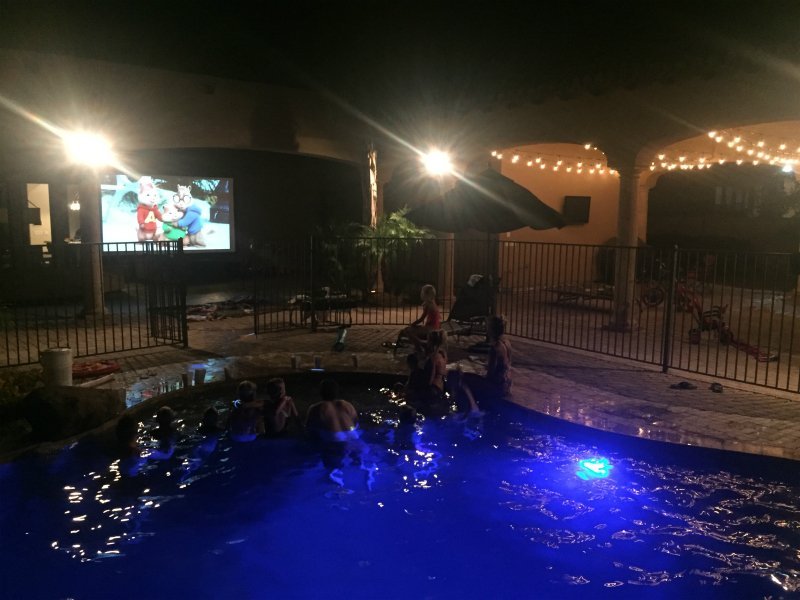 We made our own movie theatre-styled boxes of popcorn (thank you, Pinterest, and here's a link so you can make your own!), glow sticks, and necklaces.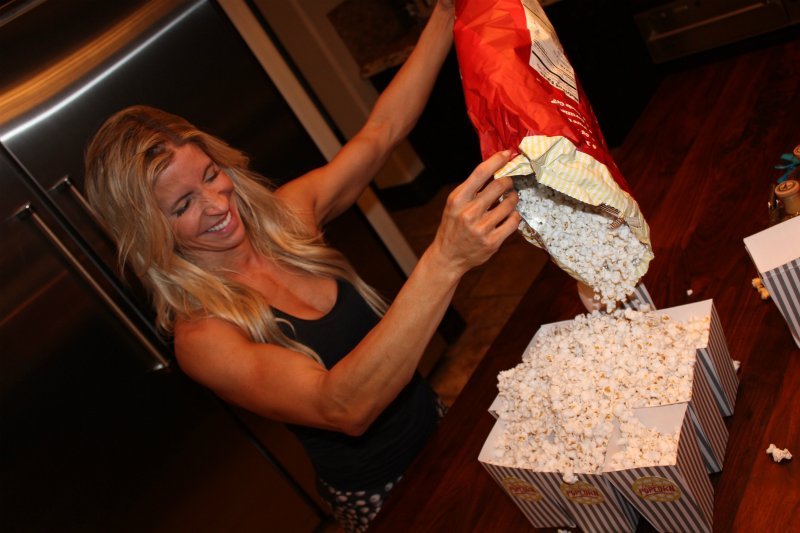 The movie played on the projector, but the kids were so excited about the popcorn in the pool that they barely noticed the movie. Funny, the things you spend the MOST money on get the LEAST attention. See where I?m going here?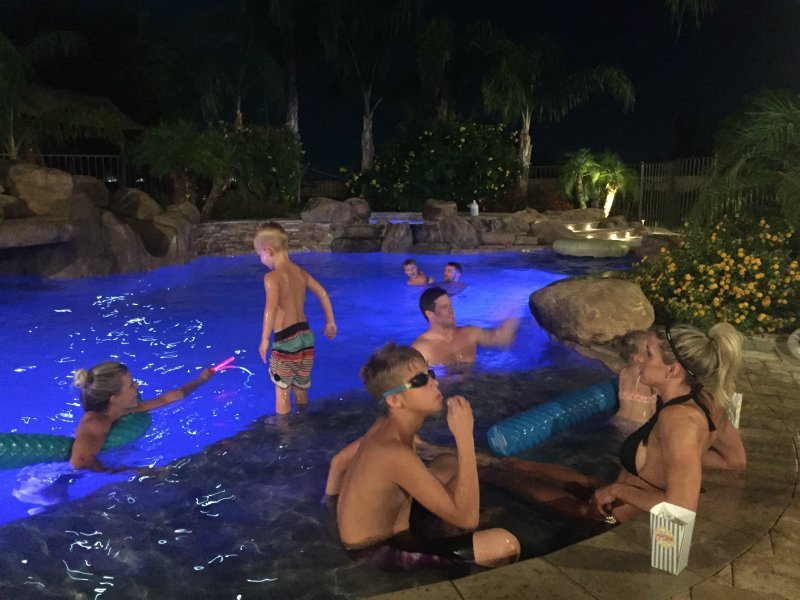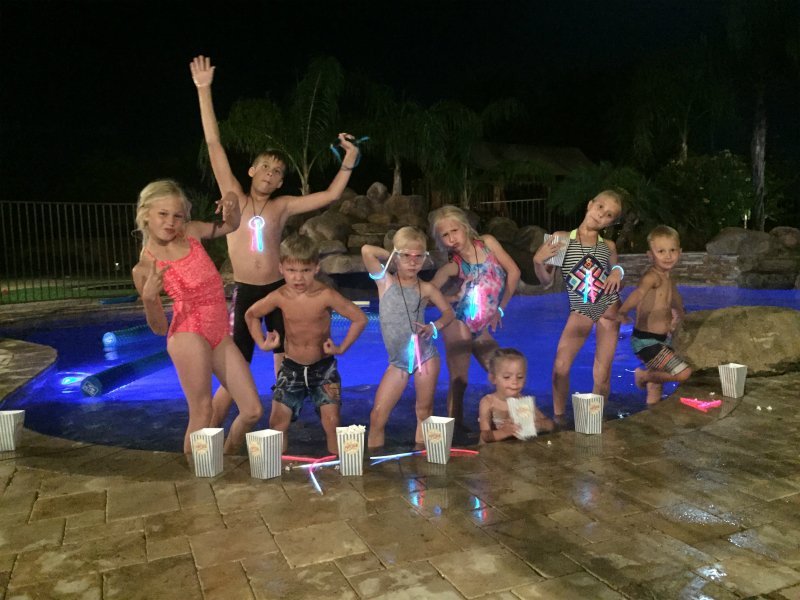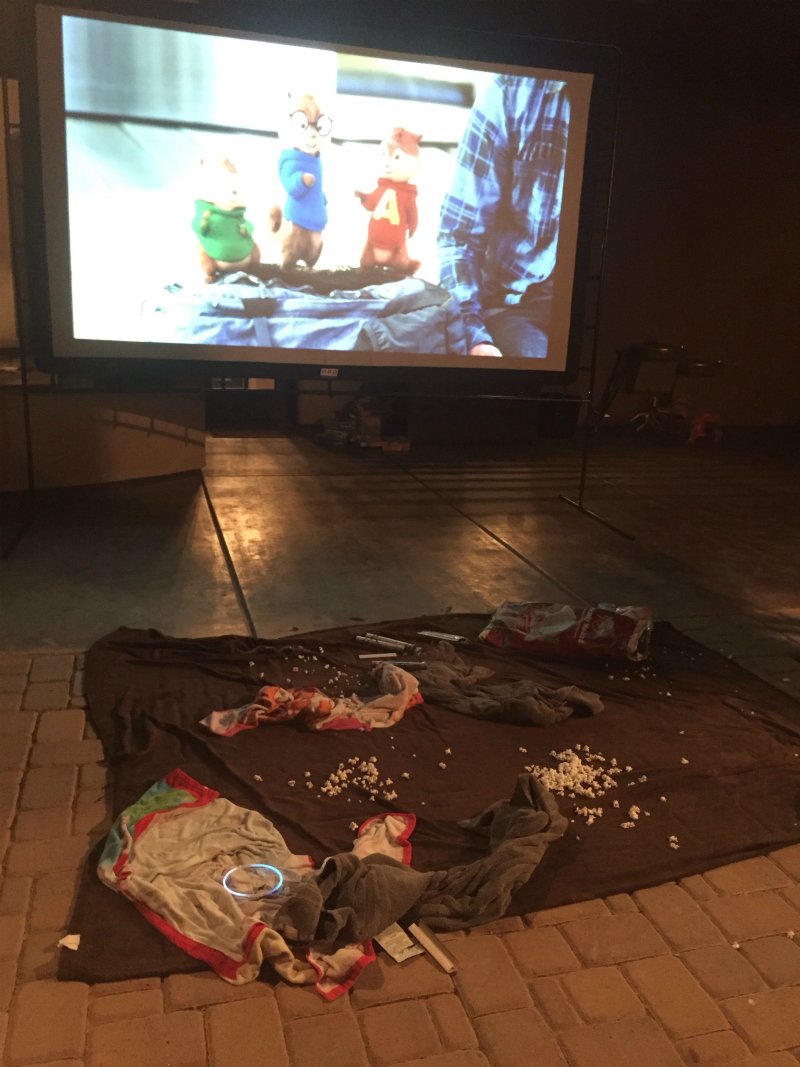 Our outdoor movie with popcorn in the pool night was nothing short of a loud and chaotic event, but it?s the sound of summer and our FAVORITE to hear kids having some good old fashioned fun.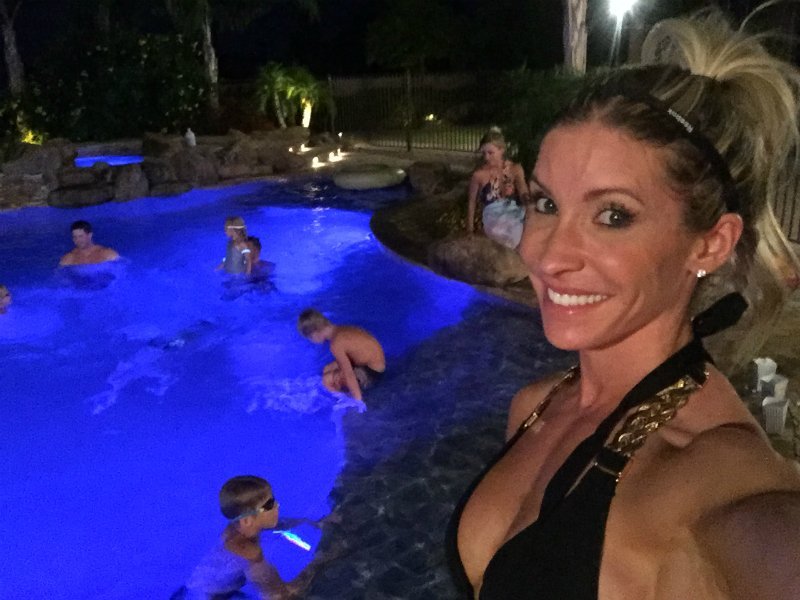 Here are a few other simple summer night activities you can do with your kids!!
If you don?t have a projector screen (I?m sure many people don?t have these just sitting around), consider finding a drive-in movie theatre in your town! Bring blankets, pillows, and healthy snacks, and the kids will go nuts! Or?if you want to do it at home, find a well-priced projector and use your outside house wall instead of buying a screen!
For a downsized version of a drive-in theatre, consider building a fort in the backyard with sheets beneath a tree or have the kids pile into a tent with popsicles and an iPad for a movie! It?s SUPER fun for them (and quiet inside the house for at least 90 minutes… yessssss!!!!! …and you?re welcome).
If you have an enclosed trampoline, blow up a bunch of balloons and surprise the kids with a ?balloon pit? they can jump in!
Since the 4th of July has just passed, there still seems to be plenty of firework stands selling the remnants from the holiday. Sparklers are a cheap and (pretty) safe option for your backyard or pool! You can hype it up with some enthusiastic chant like ?SPARKLER SWIMMING!!!? Maybe it?s just me, but I feel like my kids always get more hyped when my inner cheerleader comes out.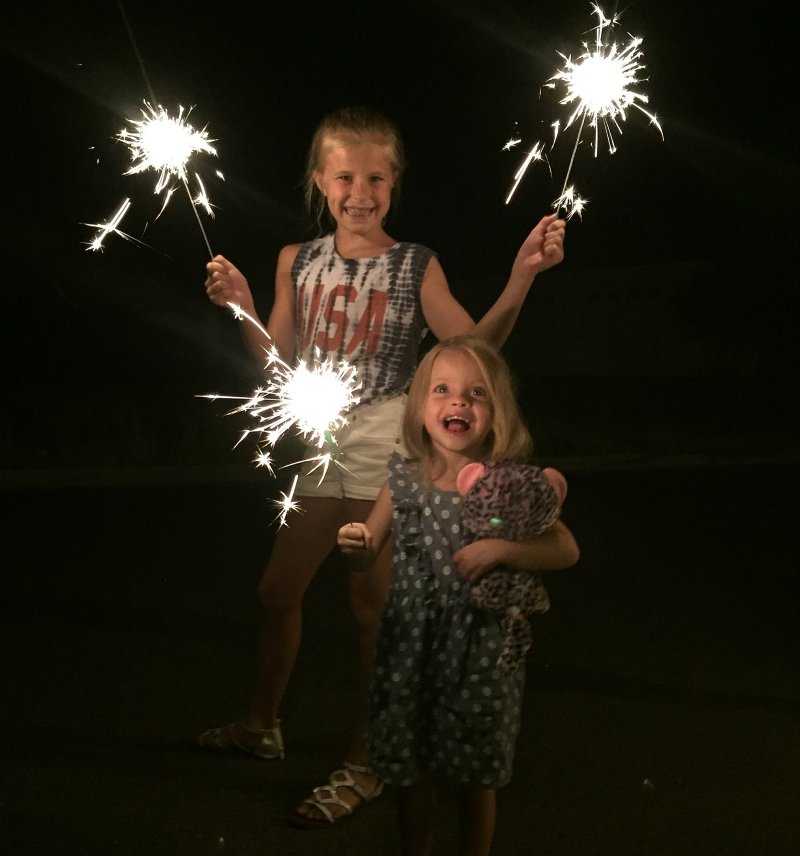 Kids are SO easily pleased with just a little bit of effort and creativity from us. I am CONVINCED that what kids want most is for us to be present with them. Enjoy making these memories together, and you will always have kids that enjoy bringing their friends over. It really doesn?t matter what ?things? you have, fun can always be available!!
Xoxo,
Heidi
Related reading:
A Powell Pack Family Workout
5 Spring Break Activities for a Fit Family
When It's Too Dang Hot to Cook! We Chill…