As always, Chris and I loved hanging out with our friends at Good Morning Arizona today to talk about two of our passions?our brand new app, TRANSFORM with Chris and Heidi, AND food (healthy junk food, that is). I can't think of a more perfect combo to start off the week. And to celebrate Spring Break?or just to take a quick (and tasty) break from life if you've already returned from break and need another?I'm sharing two of our fave savory and sweet treats to enjoy with the family. Or to enjoy alone…because sometimes we need that time. 😉
First up…savory. This recipe has been?by far?one of our most popular, and it's the kind of recipe you can whip up in just a few minutes as soon as that "I need pizza NOW!" mood hits. I mean…seriously…just look at that picture. It tastes as delicious as it looks.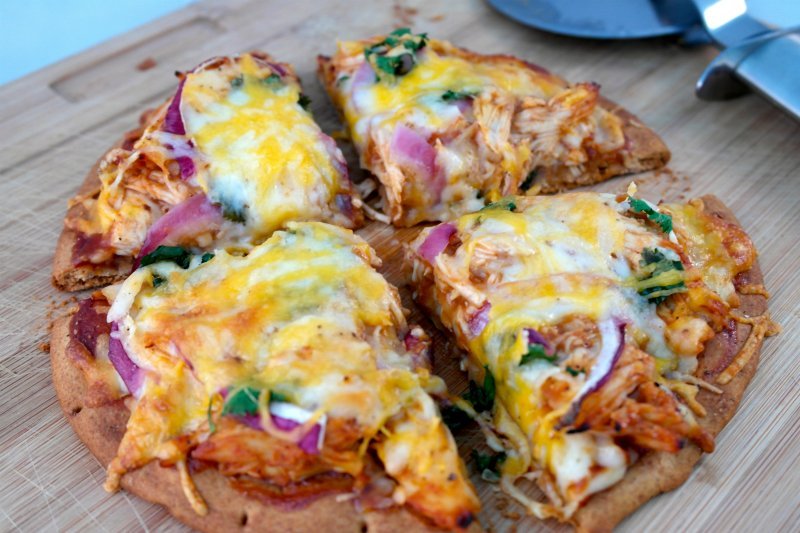 Barbecue Chicken Pita Pizza
Ingredients:
1 whole wheat pita flat bread
2 tablespoons reduced-sugar barbecue sauce (we like the smoky mesquite flavor)
? cup shredded Monterey Jack and Cheddar cheese
2 ounces cooked and shredded chicken
Red onion, thinly sliced
Cilantro
Directions:
1. Preheat oven to 350 degrees.
2. Spread the barbecue sauce on the pita, then layer ? cup cheese, chicken, red onion, cilantro, and remaining ? cup cheese.
3. Bake on a baking sheet for 15-20 minutes. Enjoy!
Nutritional information (makes 1 serving): 495 cals; 16g fat; 53g carbs; 40g protein. Helpful hints: 1) To turn this amazing pizza into a vegetarian option, simply sub your fave vegetarian protein for the chicken! 2) To make this a lower fat option, use 1/4 cup reduced fat cheese in place of the 1/2 cup of cheese in the recipe. #yourewelcome
So that's the savory…now for the sweet (because when would you EVER want to skip the sweet??). Check out the video below for one of my all-time faves?THE One-Minute Brownie. #yourewelcomeagain 😉
Now before you bake this bad boy, know that it's packed with a few cals. Instead of calling this an every day treat, this one must fit your macros. It's more of a healthier indulgence…a brownie packed with protein. And I even added 2 tablespoons of fat free Cool Whip today on the segment because…why not? 😉
And now I'm hungry! I know I'm going to thoroughly enjoy my pizza and brownie today?I hope you enjoy yours too! 🙂
Xoxo,
Heidi
PS: If you haven't checked out our app, EVERY person who downloads it gets one week free! There's an amazing, totally customizable meal plan (which we're adding to continually), a workout program with videos AND instructions AND alternate and modified moves for every single movement. Most importantly, we share Life Lessons to help you make YOUR transformation a life-long one! It's available in both Apple and Android, so click below!


Related reading:
Gluten-Free Pumpkin Chocolate Chip Cookies
My (Almost) Famous Pumpkin Pie Overnight Oats!
Macro Tracking For the Win! All of Your Questions Answered
Gluten-Free Maple Bacon Protein Donuts
Green Chili Turkey & Cilantro Rice Bowl
1-Minute Breakfast in a Mug