The Donut Gods must have been listening to my plea for some Gluten-Free donuts the other day because THESE bad boys miraculously made it into my life yesterday! Introducing…Gluten-Free Maple Bacon Protein Donuts.? Thank you to my dear friend, Ashtyn, for making magic in my home and opening my eyes to how delish protein donuts can be.
Sharing is caring, so here you go…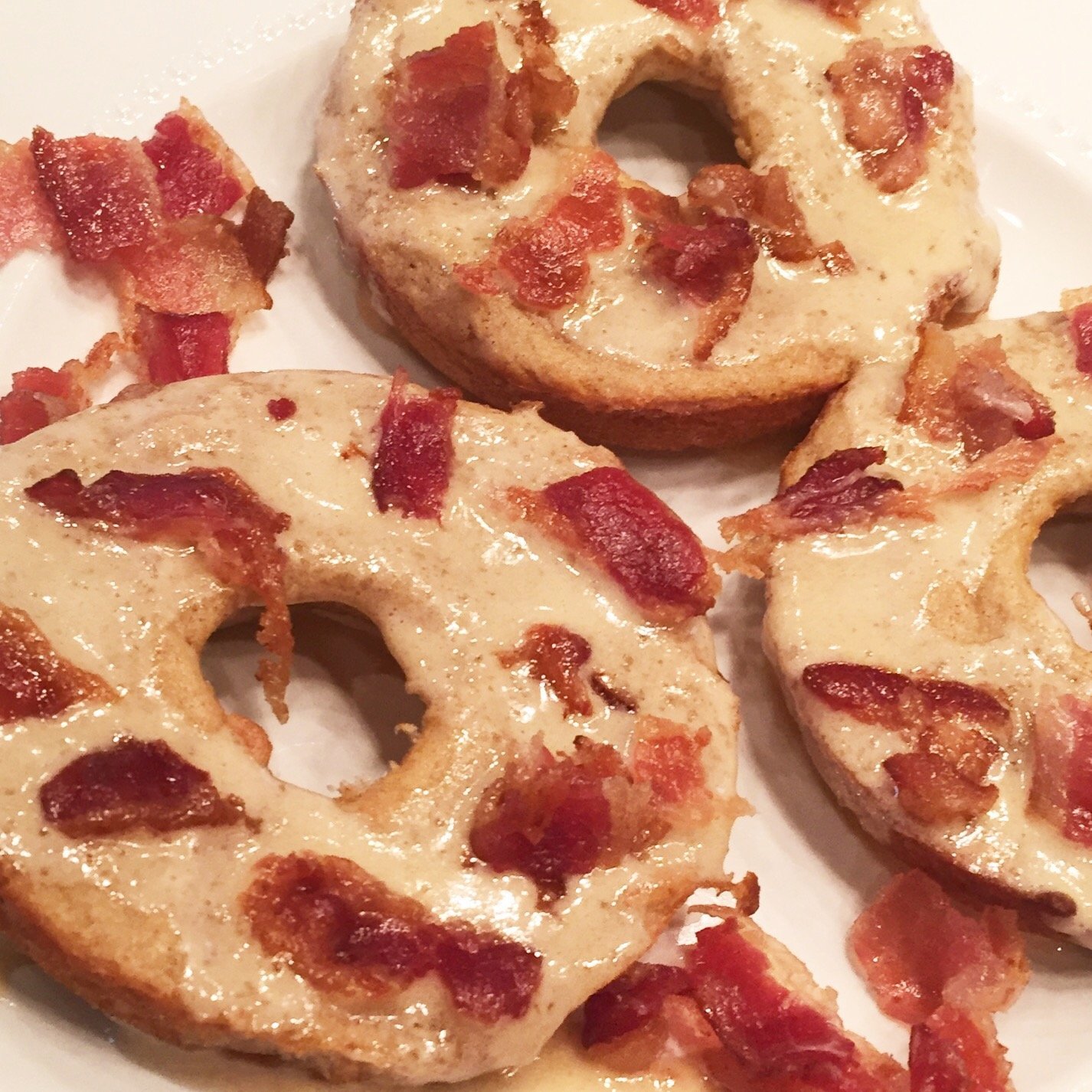 Gluten-Free Maple Bacon Protein Donuts
Ingredients:
1? cups Quest Nutrition brown rice powder
? cup vanilla protein powder
1? teaspoons baking powder
1 teaspoon pumpkin pie spice
1 teaspoon salt
? cup xylitol (or 1/8 cup stevia)
1/3 cup unsweetened applesauce
2 teaspoons vanilla
? cup pure maple syrup
2 eggs
2/3 cup unsweetened almond milk
Frosting:
? cup powdered xylitol (blend ? cup xylitol in blender till powdered)
2 scoops vanilla protein powder
? cup sugar free maple syrup
4 slices of bacon
Directions:
1. Preheat oven to 400 degrees. In a medium bowl, combine all the dry ingredients, except for the xylitol, and mix well. Set aside.
2. In a separate bowl, mix the wet ingredients, including the xylitol, til well combined.
3. Fold together the wet ingredients with the dry ingredients til just mixed.
4. Spray a donut pan with nonstick cooking spray, spoon dough into pan, about half full. Bake for 8-10 minutes, til lightly browned and dough bounces back at touch. Set aside to cool.
5. In a small bowl, combine the ingredients for the frosting, except for the bacon.
6. Once the donuts have cooled, spoon frosting on top til well covered. Sprinkle crumbled bacon on top and enjoy!
Makes 12 donuts
Nutritional information: 163 cals; 2g fat; 20g carb; 9g protein (Only 4g sugar!)
Do you have a donut recipe to share? Post below!!
Xoxo,
Heidi
Related reading:
Gluten-Free Pasta Perfection
Peanut Butter Power Fudge
Gluten-Free: Hype or Healthy?
Guilt-Free Chocolate Indulgence Cake