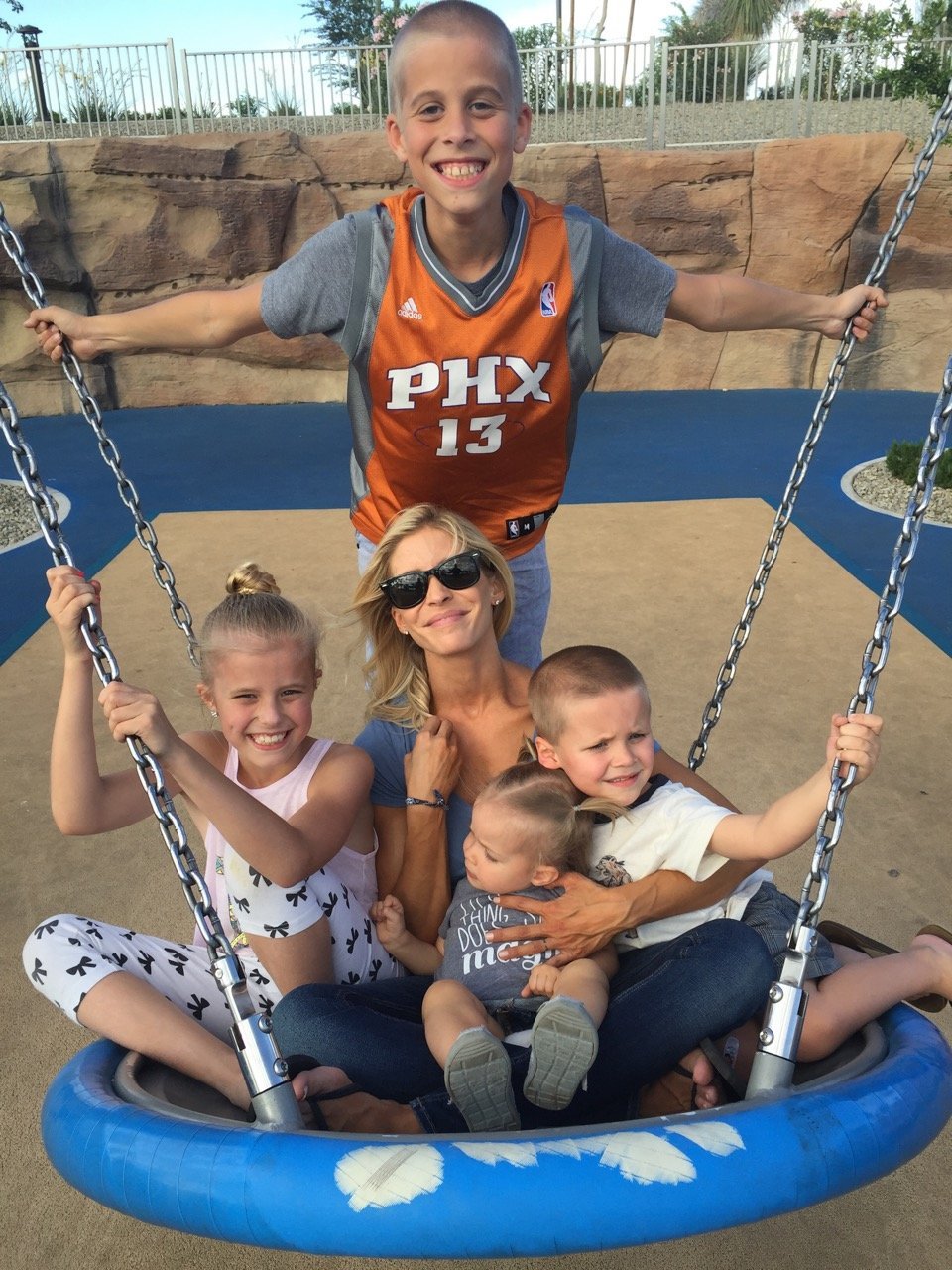 Even though we live in the HOTTEST possible place in the U.S., we absolutely love summer! The kids are out of school, which allows us the freedom to have more time for FUN days.
I am SO excited to start this new summer series! Throughout the next few months, I?ll be featuring different places from all over the country that you can take the fam?at little to no cost?for some fun and active togetherness time! First up, our amazing Riverview Park right here in my home town?Mesa, AZ. Chris and I took the kiddos there about a year ago and can?t wait to go back! This year has been crazy busy, but as soon as we can swing it, we will be there again! Here are some of the reasons this local spot is on the top of our ?to-visit? list.
The kids had an awesome time! There were so many things for all of them to do, even for little Ruby (I can?t believe my baby has changed so much in just a year!).
I was so excited about packing a picnic lunch and had visions of all 6 of us sitting on blankets, eating and giggling and saying all the reasons we love each other?but no. The food was the LAST thing on the kids? minds when they saw all the opportunities to play at the park. Am I the only one who prioritizes food over play?? So, like good parents, we let them play and work up that appetite so they could appreciate (or at least pretend to appreciate) my masterpiece of a picnic.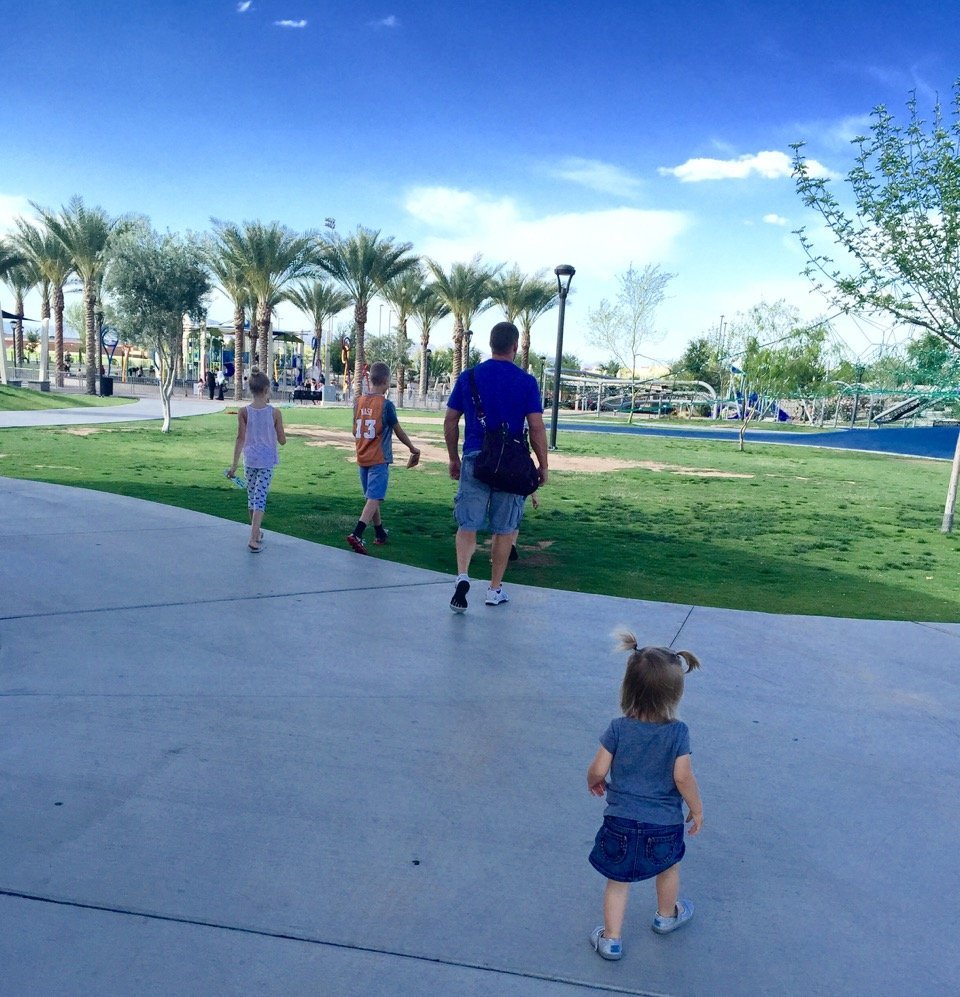 We spent a lot of our time on the age-specific playgrounds?even Matix and Marley loved the little kid area…go figure! I love this feature because I don?t like seeing my little ones get trampled by the bigger kids, and you can easily sit back and watch without worry. And for those super hot AZ summer days, there?s even a shaded playground! This is truly a year-round family adventure spot.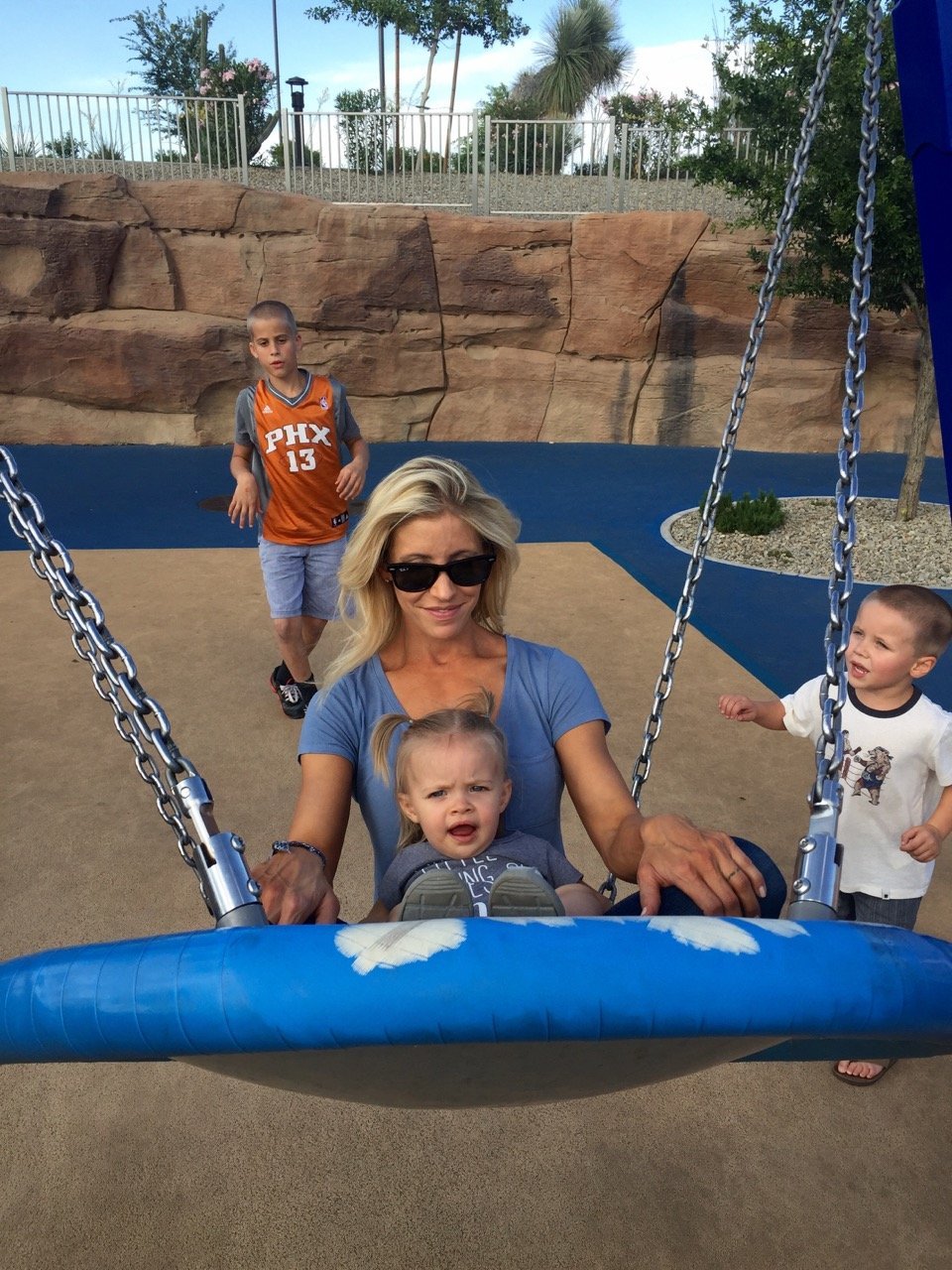 We loved feeding the ducks in the pond, and you can even go fishing if that?s your thing. Sadly, we were too busy making sure the ducks got their day?s carb allowance to take any pics.
The kids (even the biggest kid, aka, Chris) loved the 50-foot climbing tower. They could?ve played on this for hours! And the 60-foot caterpillar mesh rope climb was a total hit too!
Meanwhile, Ruby thought the sun was way too bright and decided she needed my shades. Little stinker.
The splash pad. Oh, the splash pad!! We didn?t realize there was a splash pad, so we really weren?t prepared (as in no swimming suits OR towels)?but, we told the kids they could just get their feet wet. #rookiemistake. Within minutes, we had four five totally soaked kids! This splash pad doesn?t just have a couple of water features, it was like running through a car wash (without a car)! We had to abandon the camera because there was water flying everywhere, so?we didn't take any pics of this part of the day either, but here's an awesome pic I found. You should see this baby when the water is on at full force!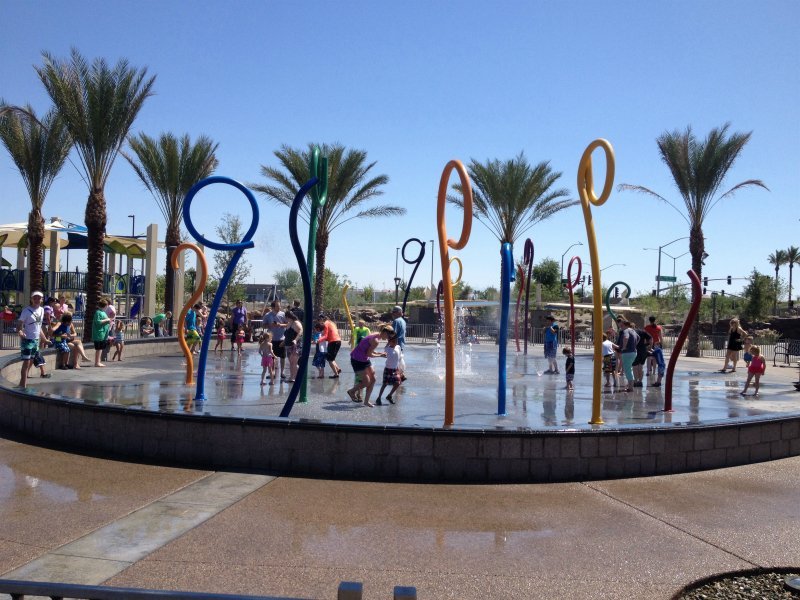 Another thing we loved was that this park has tons of run-around space, as well as miles of sidewalks too. Think of all the activities you could do with your littles and not-so-littles!
Ah?our little Ruby. With so much to do, she was more interested in picking the grass!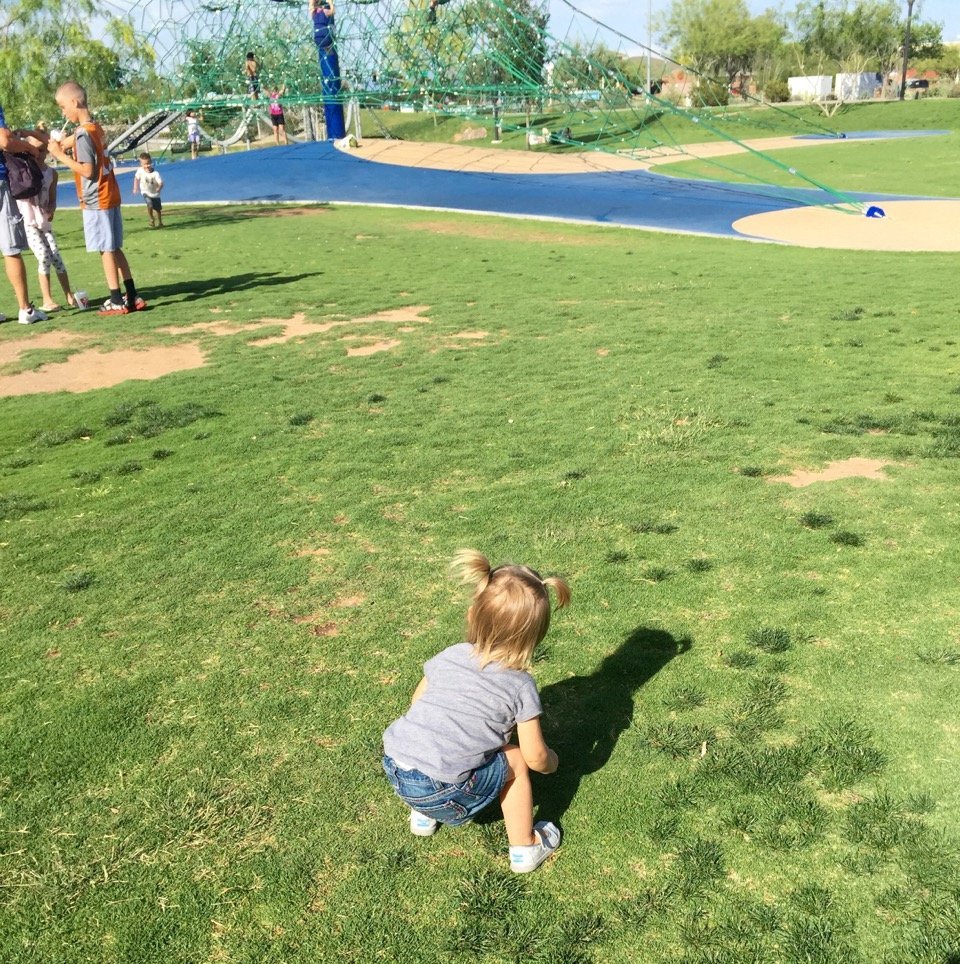 We had such an amazing time, and I?d say it was practically the PERFECT day. And it was awesome to be able to go so close to home?for only the cost of a little gas?and spend some precious bonding time as a family.
So…if you ever find yourself in the Phoenix valley, make sure a visit to Riverview Park is on your list. With the awesome year-round weather we have here in AZ, you?ll love it winter, spring, summer, or fall. Believe, me, you don?t want to miss it!
And Chris and I are always looking for fun things to do when we travel, so please share your favorite family fun spots in the comments below?we can't wait to check 'em out!
Love, Heidi
Related reading:
Exercise…. It?s a Family Affair!
Drink Up! The Benefits of Drinking Water
5 Spring Break Activities for a Fit Family
3 Ways to Stay Fit This Summer
The Powell Pack?s Cure for Couch Potato Syndrome!
*Splash pad pic courtesy of runragnar.com