Thanks to my sweet friend, Meagan Rigby (aka Macro Mini), I was invited to participate in a cooking challenge. The challenge was to create a delicious recipe including two ingredients: canned pumpkin and garbanzo beans. Since cooking is not my thing, creatively, at least, I was definitely a little bit wary of my abilities here!!! After a few Google searches and asking some of my chef friends, we collectively created this absolutely, 100% delicious, fall-flavored cookie! BONUS: it's gluten-free and macro friendly!
Whether you are gluten-free or not, you'll definitely want to bake these babies up STAT…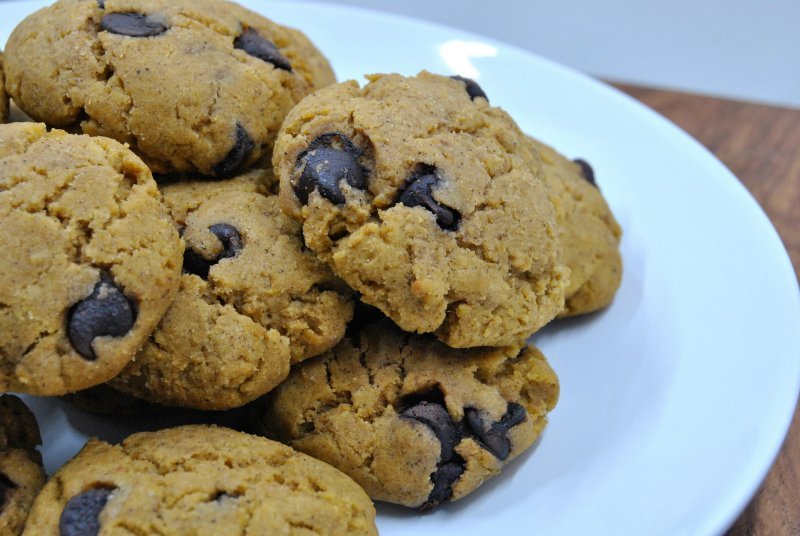 Gluten-Free Pumpkin Chocolate Chip Cookies
Ingredients:
1 (15 ounce) can garbanzo beans, drained and rinsed well
½ cup coconut oil
1 tablespoon pure maple syrup
½ cup pure pumpkin puree
1 teaspoon vanilla extract
1 egg
¼ cup stevia (or Truvia)
¼ cup coconut sugar
2 scoops vanilla protein powder
½ teaspoon baking powder
½ teaspoon baking soda
1 ½ cups gluten-free all-purpose flour
2 teaspoons pumpkin pie spice
½ teaspoon cinnamon
½ cup semi-sweet chocolate chips
Directions:
1. In a food processor (or high powered blender), blend garbanzo beans until a paste forms, scrape down the sides of the bowl as needed.
2. Add coconut oil, maple syrup, pumpkin puree, vanilla, egg, stevia, and coconut sugar to the garbanzo beans paste, mix on high until thoroughly combined.
3. Add the rest of the ingredients, except for the chocolate chips, to food processor and blend on high until dough begins to form.
4. Remove dough from food processor, place into a large bowl. Add chocolate chips to dough and fold in using your hands or rubber spatula.
5. Chill dough, covered, in refrigerator for at least 3 hours or overnight. (This step is not mandatory, but it does keep cookies soft and fluffy!).
6. Preheat oven to 350 degrees Fahrenheit, spray a baking sheet with nonstick spray. Remove dough from refrigerator.
7. Measure out a heaping tablespoon of dough, roll into a ball with your hands. Using your palms, flatten the ball into a disc shape, about ? inch thick. Place on cookie sheet sprayed with nonfat cooking spray.
8. Continue until baking sheet is full, keeping about 1-2 inches between each cookie. Recipe makes 36 cookies.
9. Bake in preheated oven for 12-14 minutes until the bottoms of cookies are golden brown. Allow to cool 5 minutes on baking sheet before transferring to cooling rack.
10. Enjoy! Store in airtight container for up to 1 week.
Nutrition Information (per cookie): 87 calories, 4g fat, 11g carbs, 3g protein, 4g sugar
Make these cookies, tell me how you like them, then comment below on one of your favorite recipes using canned pumpkin and garbanzo beans!
Xoxo,
Heidi
Other yummy pumpkin recipes (because you can never have too many pumpkin recipes!):
My (Almost) Famous Pumpkin Pie Overnight Oats!
Pumpkin Protein Pancakes with Pumpkin Seed Granola
Protein Waffles with a Pumpkin Twist!
Pumpkin Pie + Protein Shake = Low Carb Heaven
Pumpkin Pecan Pie