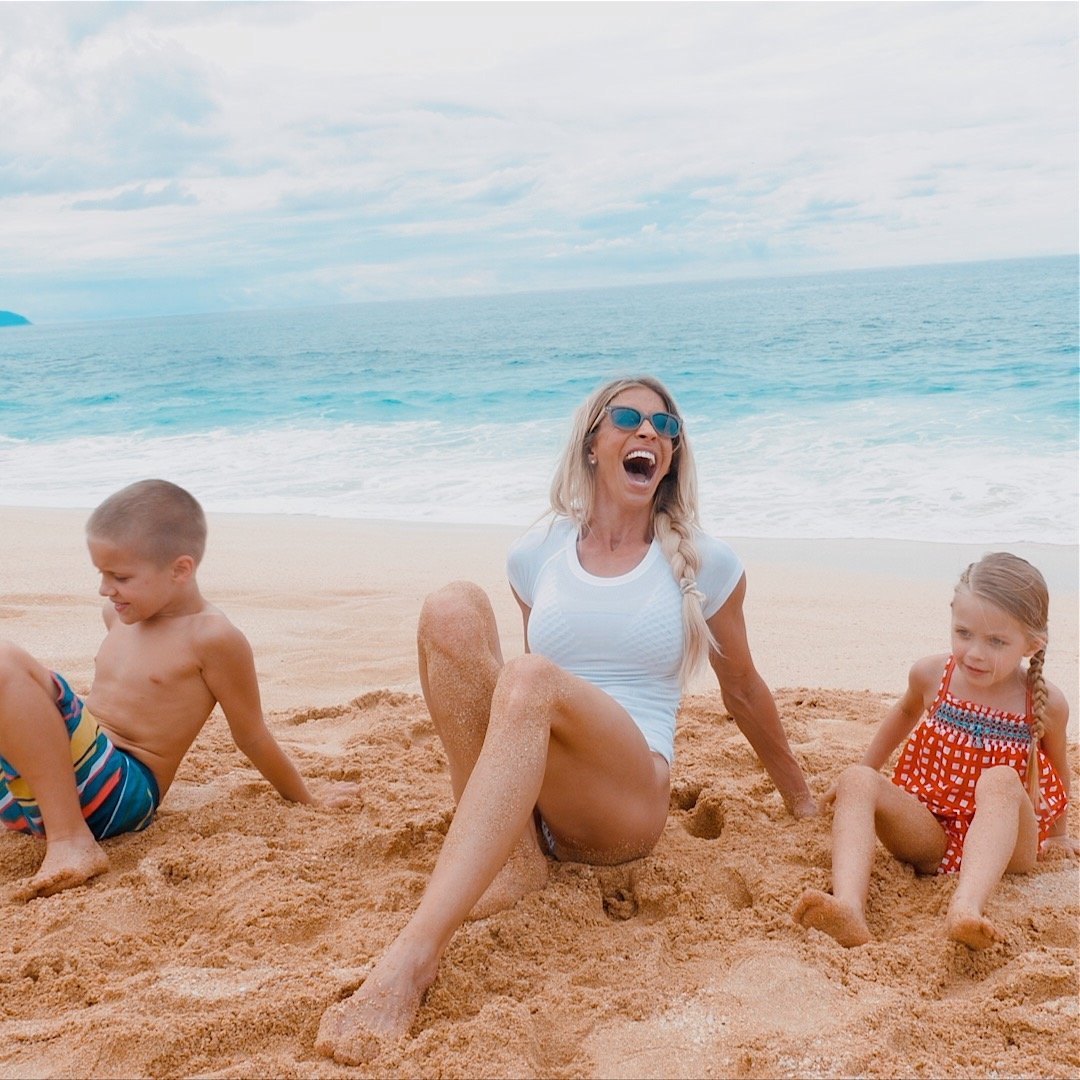 Yeah, yeah?we might be a week off of the Hawaiian islands, but our hearts still belong to that tropical paradise!
Hot off the press (er?maybe "hot out of the video edit bay"), we have our own Powell Pack rendition of the Elephant Walk! Don?t have a clue what that is? Just wait until about 20 seconds in when you see my little ducklings following Mama! LOL
Really, one of my favorite things about being on the island was the limitless access to the beaches where my own personal workouts very quickly turned into family time!
This was one of the kid?s favorite ways to ?play??ie., ?work out without even realizing it,? which is EXACTLY the way kids' fitness should be!
BEACH BABES FAMILY FUN CIRCUIT
Have fun with these four simple moves:
Crab Walks: Because we?re at the beach, of course! Start your workout by becoming a sandy crab yourself and warming up all of those joints (because us parents NEED that!). Forward, backward, sideways, diagonally?go whichever way you want until your kiddos don?t want to go anymore! Then? SWITCH!
Bear Crawls: Like a bear?you just crawl. It's that plain and simple. We loved making this one a race, then if you caught it in the video, we had extra fun playing Follow the Leader, Jungle Book-style!
Superman Push Ups: Also known as Commander Push Ups if you are following our Transform App. 😉 But we changed the name to remind the kiddos that these exercises will help THEM find their own inner super hero! My kids had a hard time grasping this, but watching them try was sure cute!
Shoreline Sprints: Last, but not least, these short bursts are perfect for burning up that last bit of energy your kiddos might have left over from the day. Just run back and forth to the shoreline?plain and simple, until you?re ALL. WORN. OUT.
Now head on back to your beach towels, grab a bottle of water and some baked chips?then CHILL knowing you just did your and your babies? bodies a lot of good!
xo,
Heidi
Related reading:
Halloween Candy Workout: Family Style!
Screen Time Killing + Boredom Busting Workout for Kids of All Ages (even 40+!)
Mommy & Me Tabata Workout
Back to School Workout Ideas: From Toddlers to Teens to You!
March Madness!!!! A Powell Pack Family Workout
Powell Pack Workout | Deck of Cards: Thanksgiving Edition