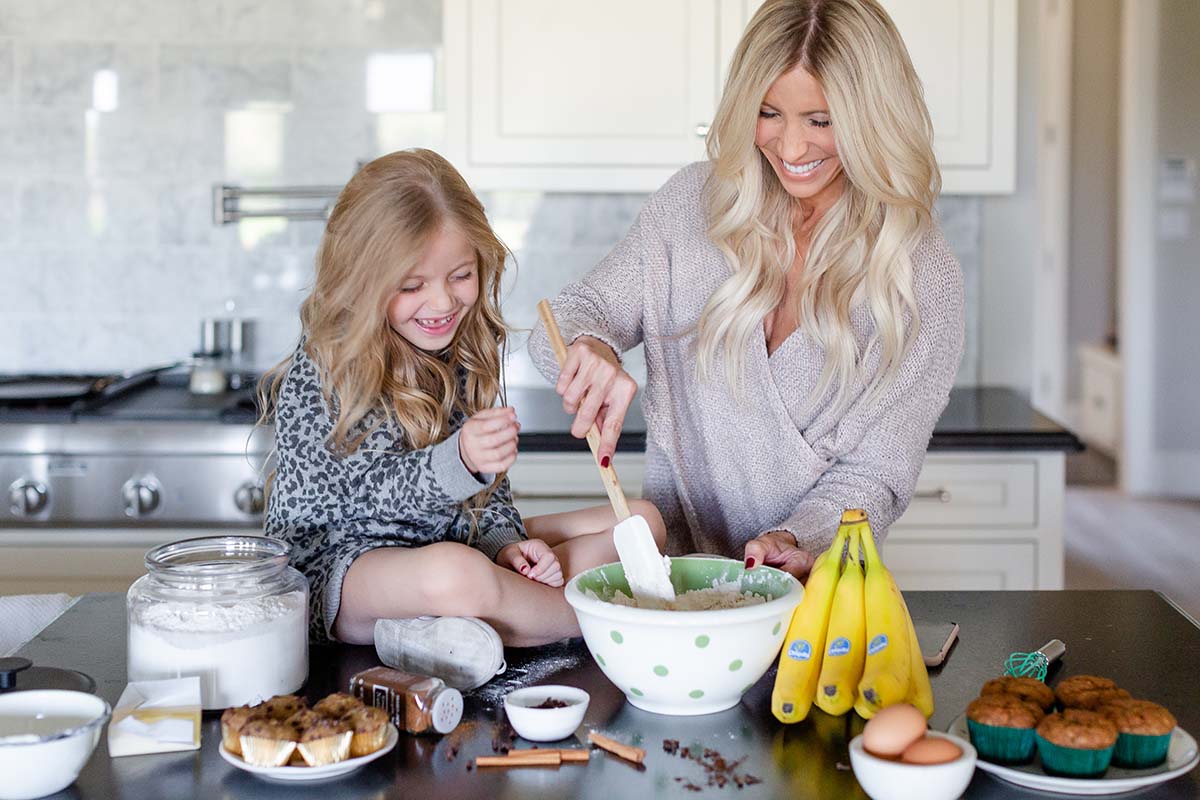 Before we hit our turkey tryptophan-induced comas and the Black Friday craziness, are you ready to eat some additional excitement?! Ha. Whether you're trying to get rid of any extra ingredients you may have gone a little overboard on at the store, or you're just looking for something sweet to help you transition between holidays and the "new norm," I have the perfect recipe for you to try.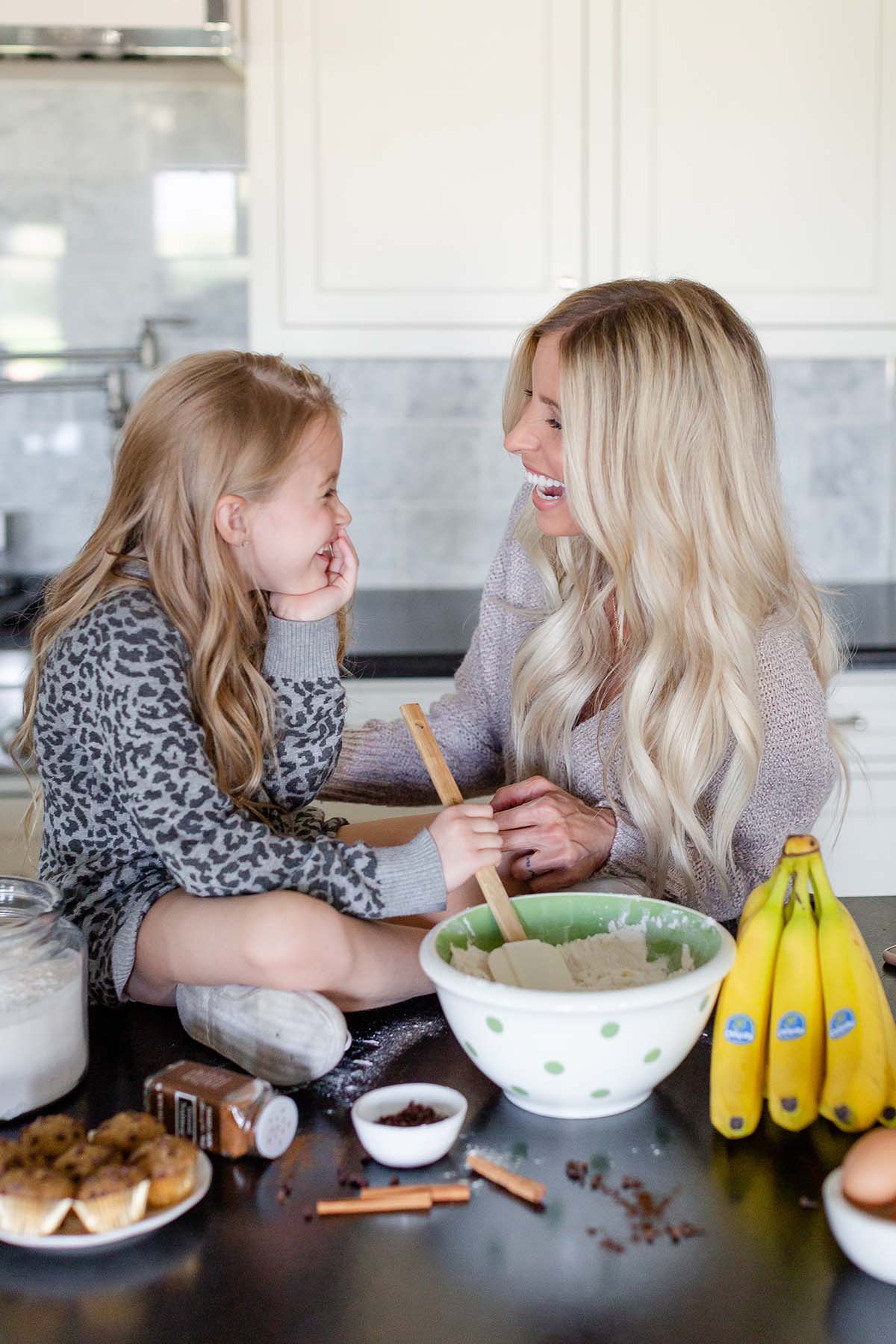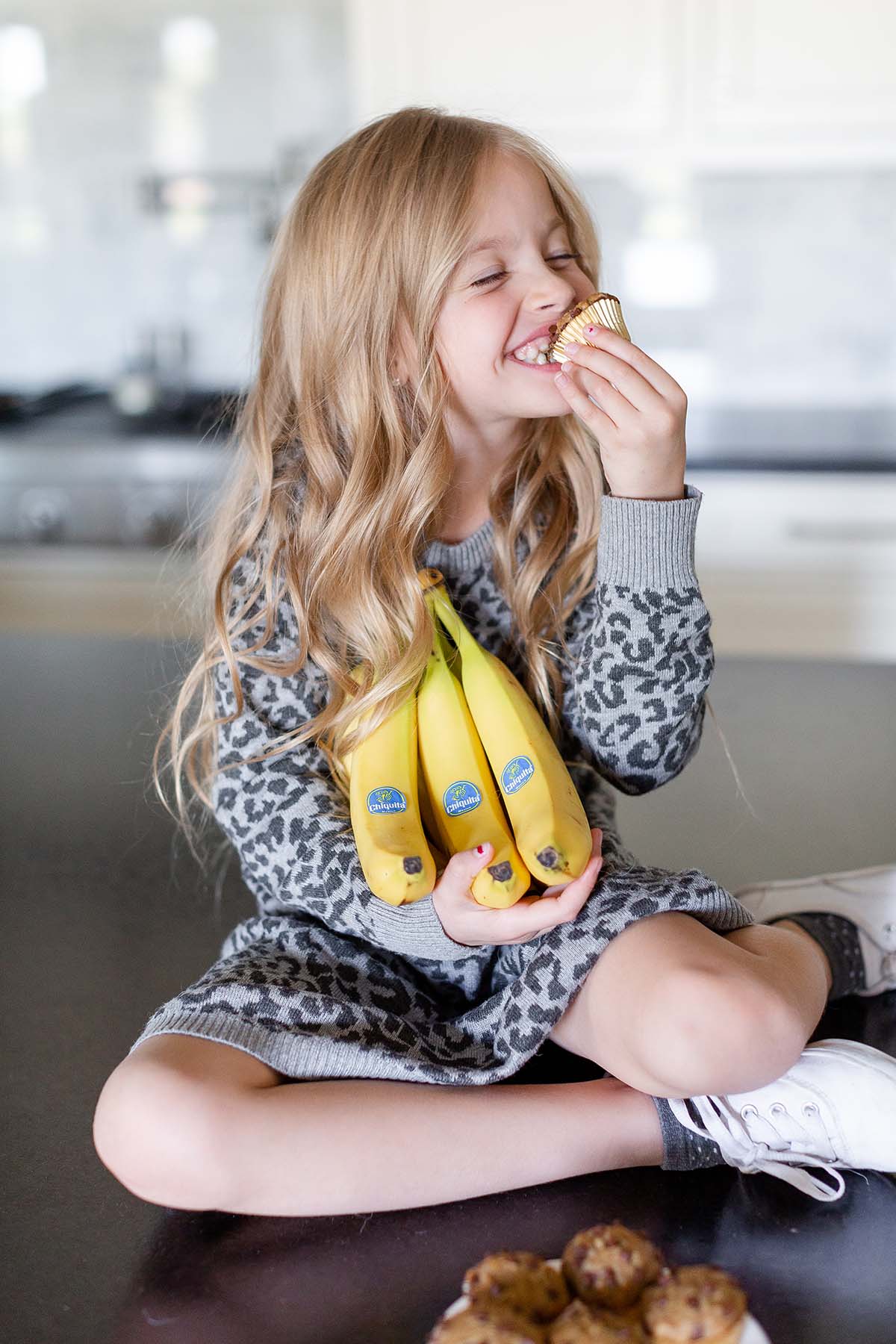 Outfit Details:
Wrap Sweater (on sale), Spanx Moto Faux Leather Leggings, Ruby's Sweatshirt Dress (similar here and budget friendly version here), Silicone Muffin Tins, Polka Dot Muffin Wrappers, and Polka Dot Bowls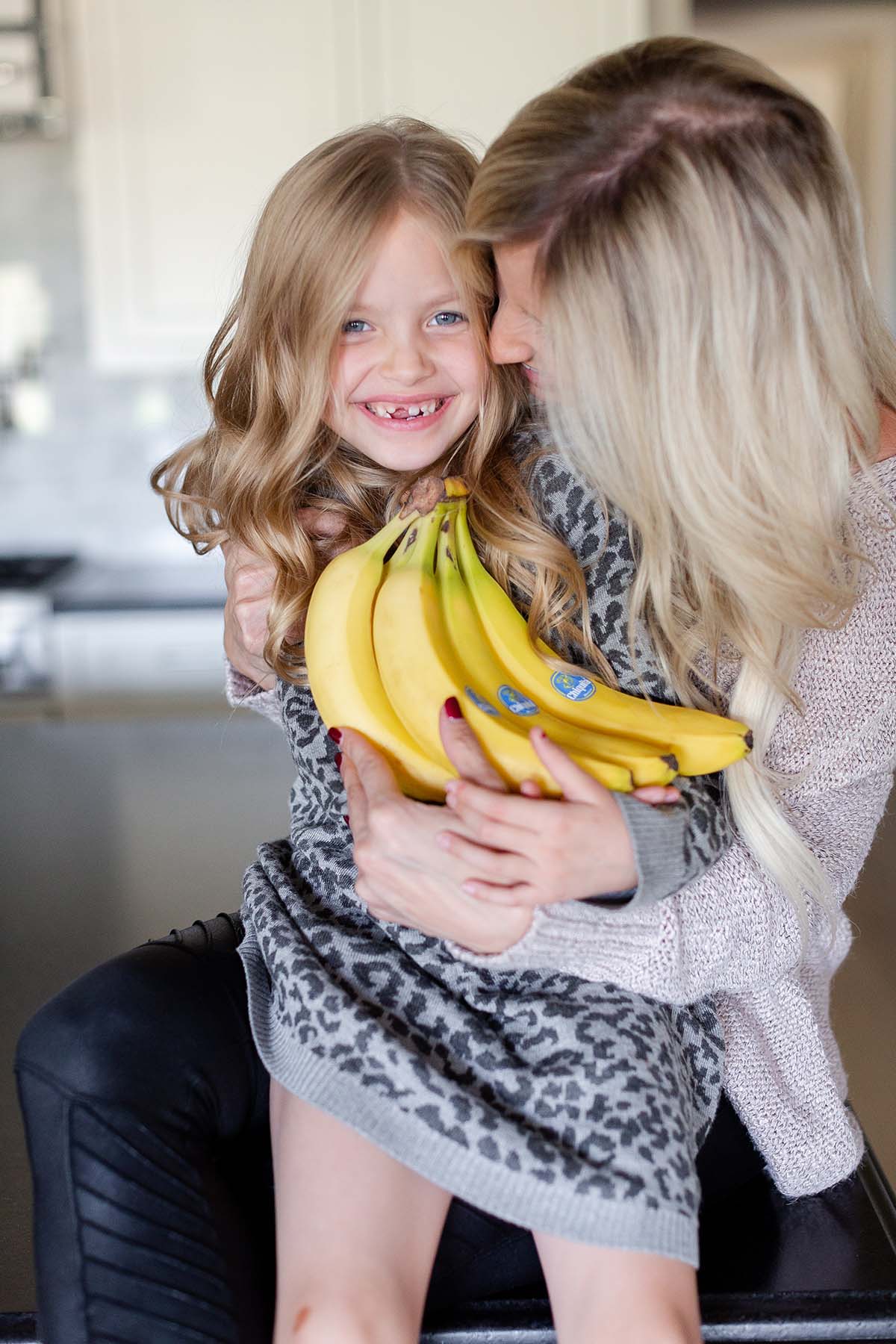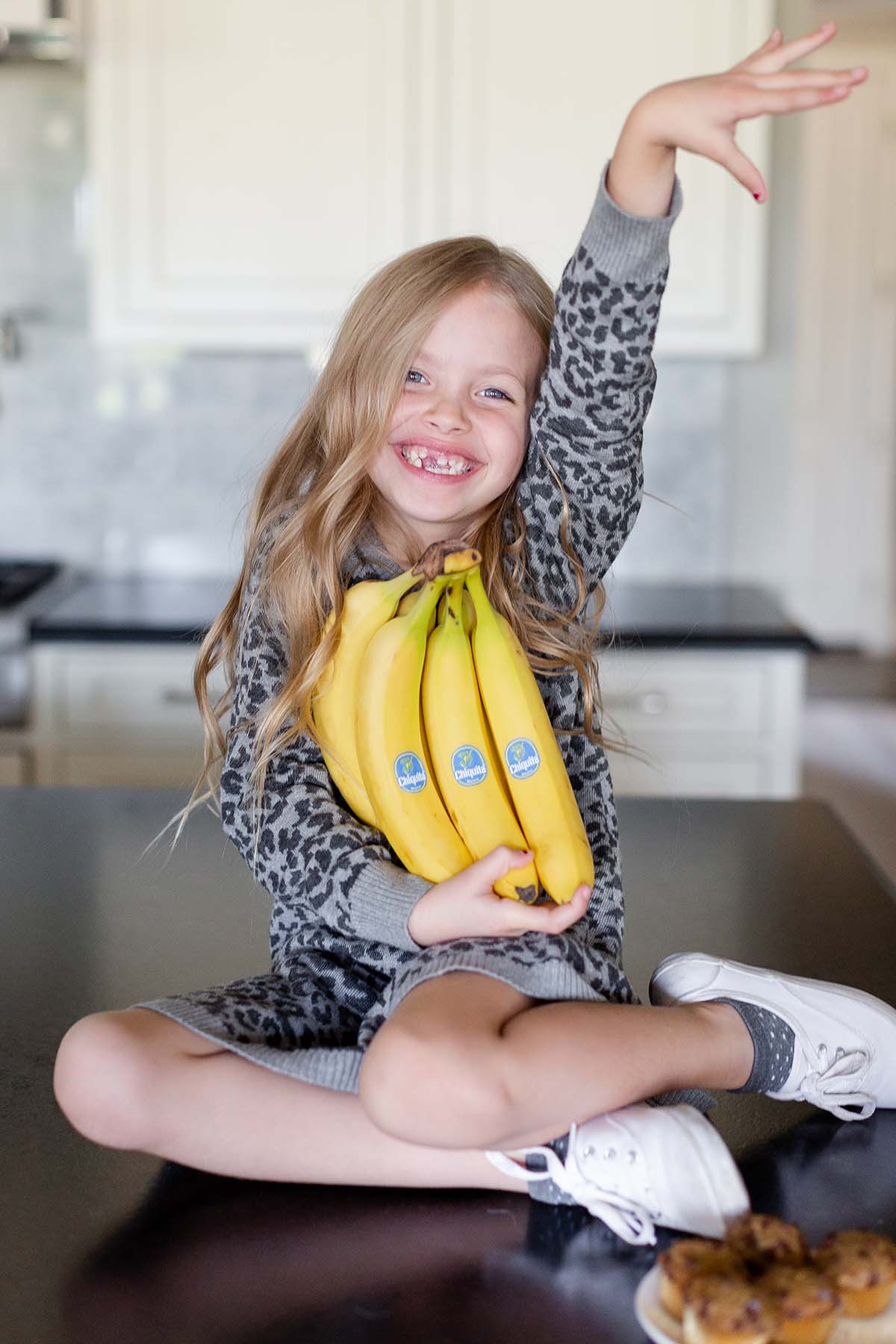 Growing up, banana bread was always an absolute favorite of mine, and I love the family tradition of cooking and baking together.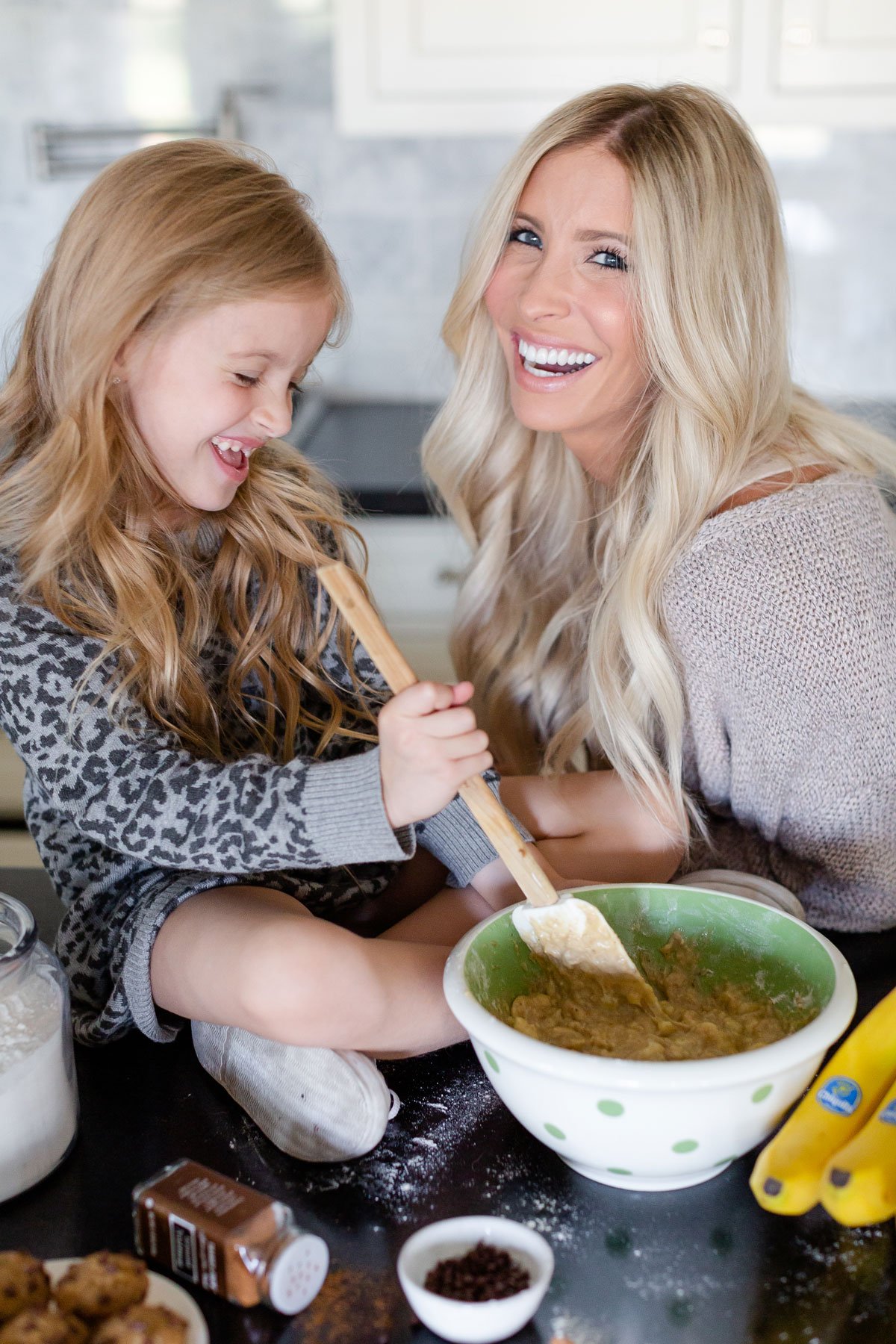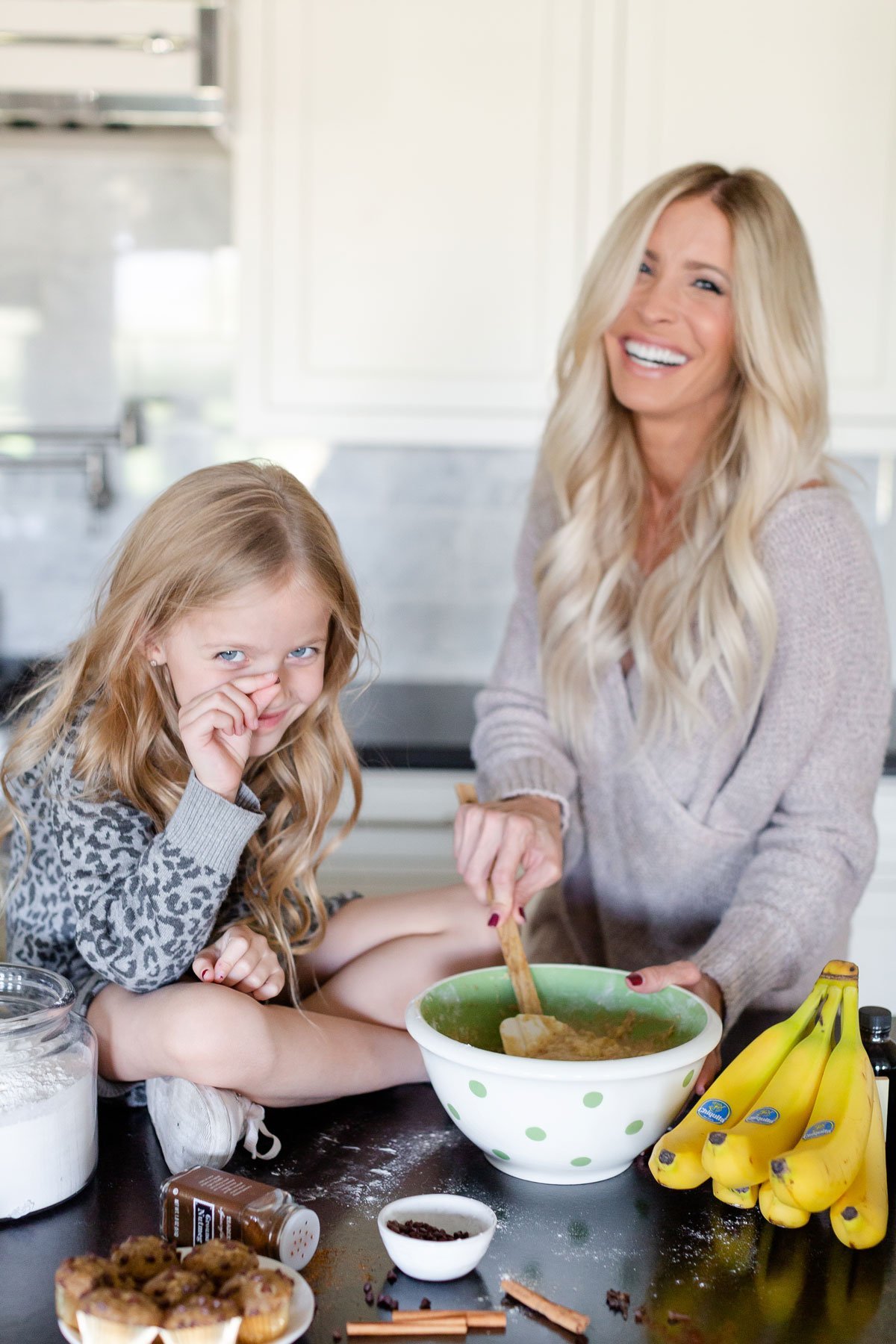 Plus, it's a delicious way to use up any bananas that may be nearing their expiration date.
Best Banana Bread Muffin Recipe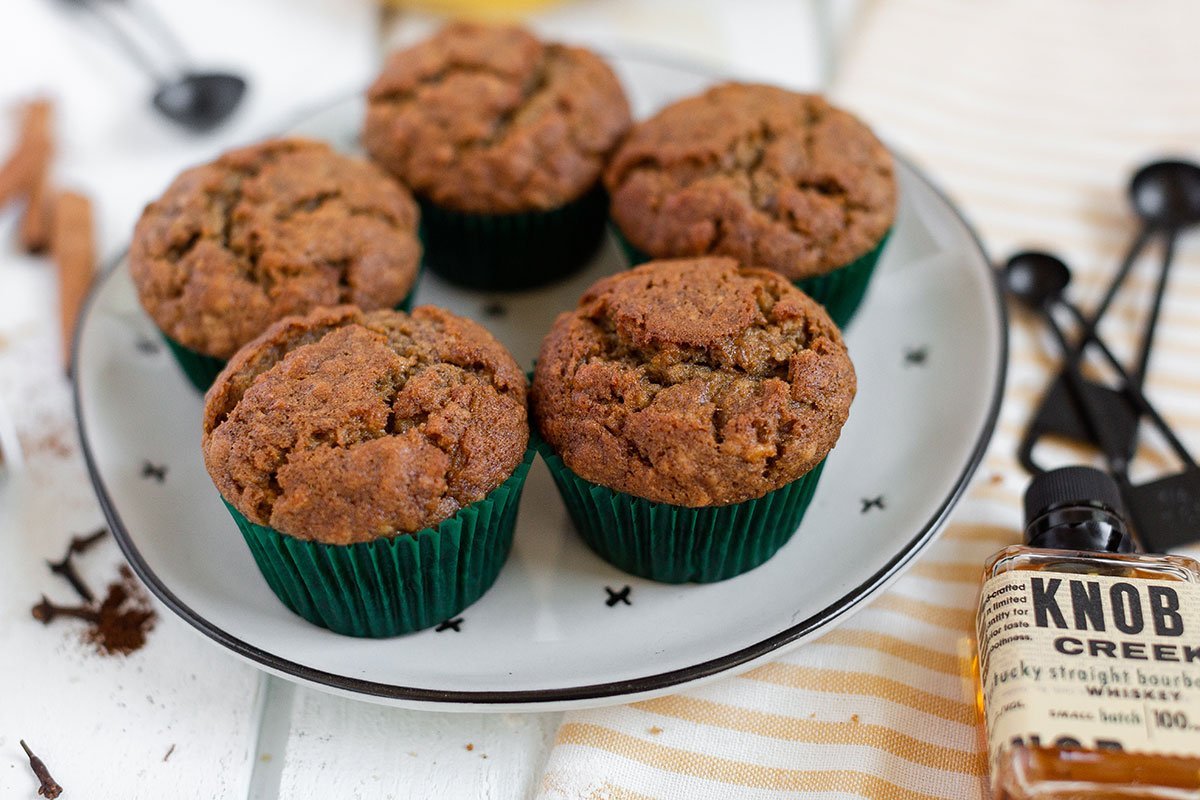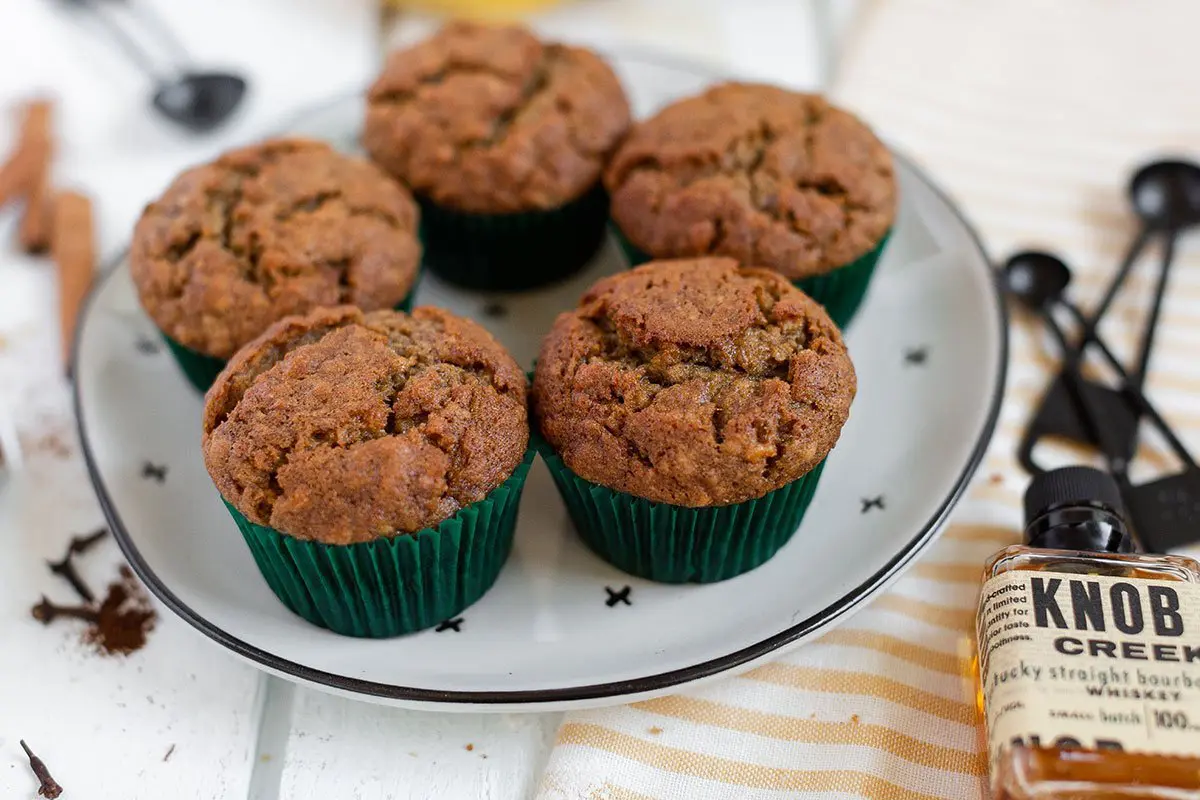 Grab an apron and your favorite kitchen helpers and get ready to be Betty Crocker for a day! All you have to decide is if you want to make traditional banana bread or turn these into banana muffins!
*This recipe is an adaptation from Smitten Kitchen.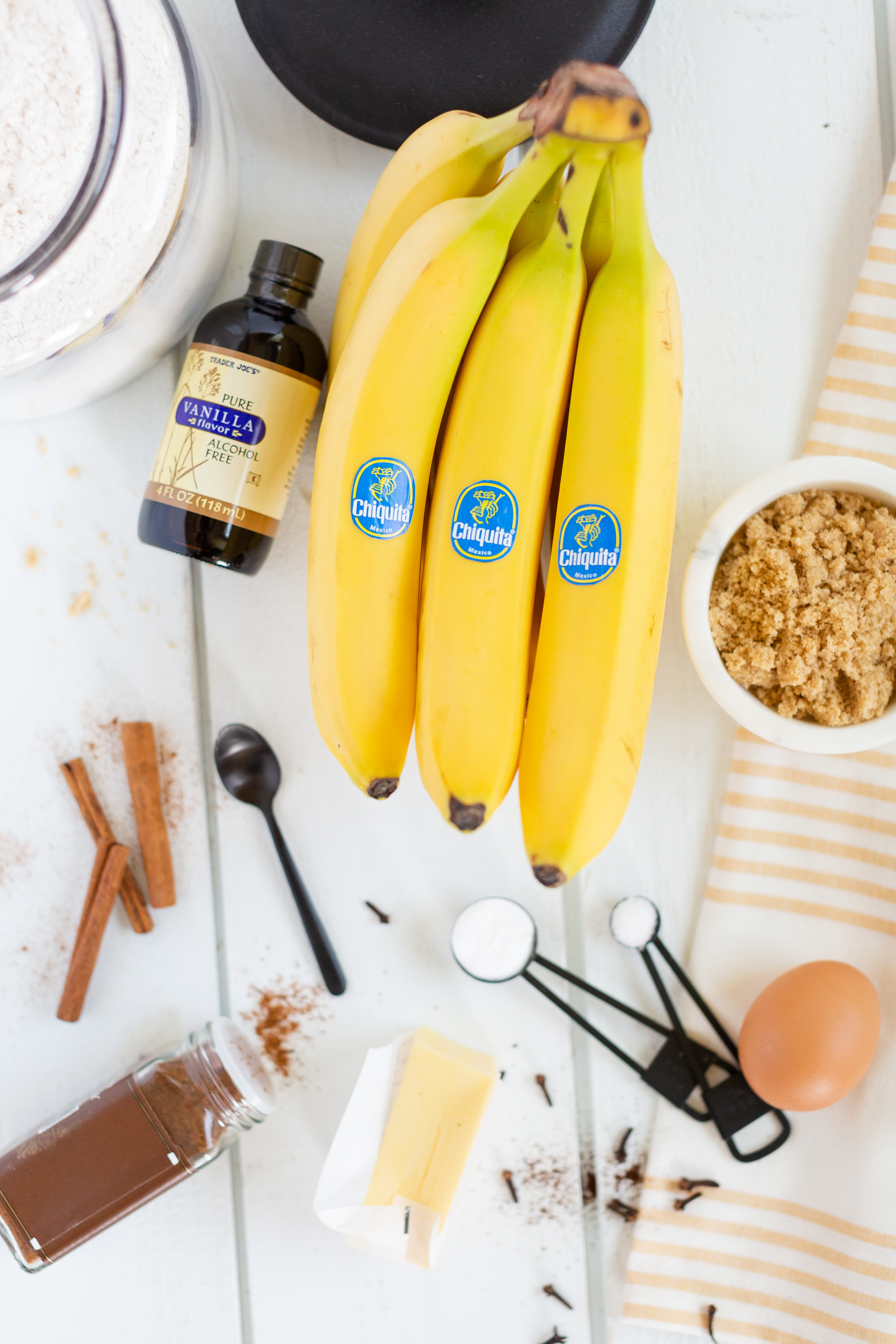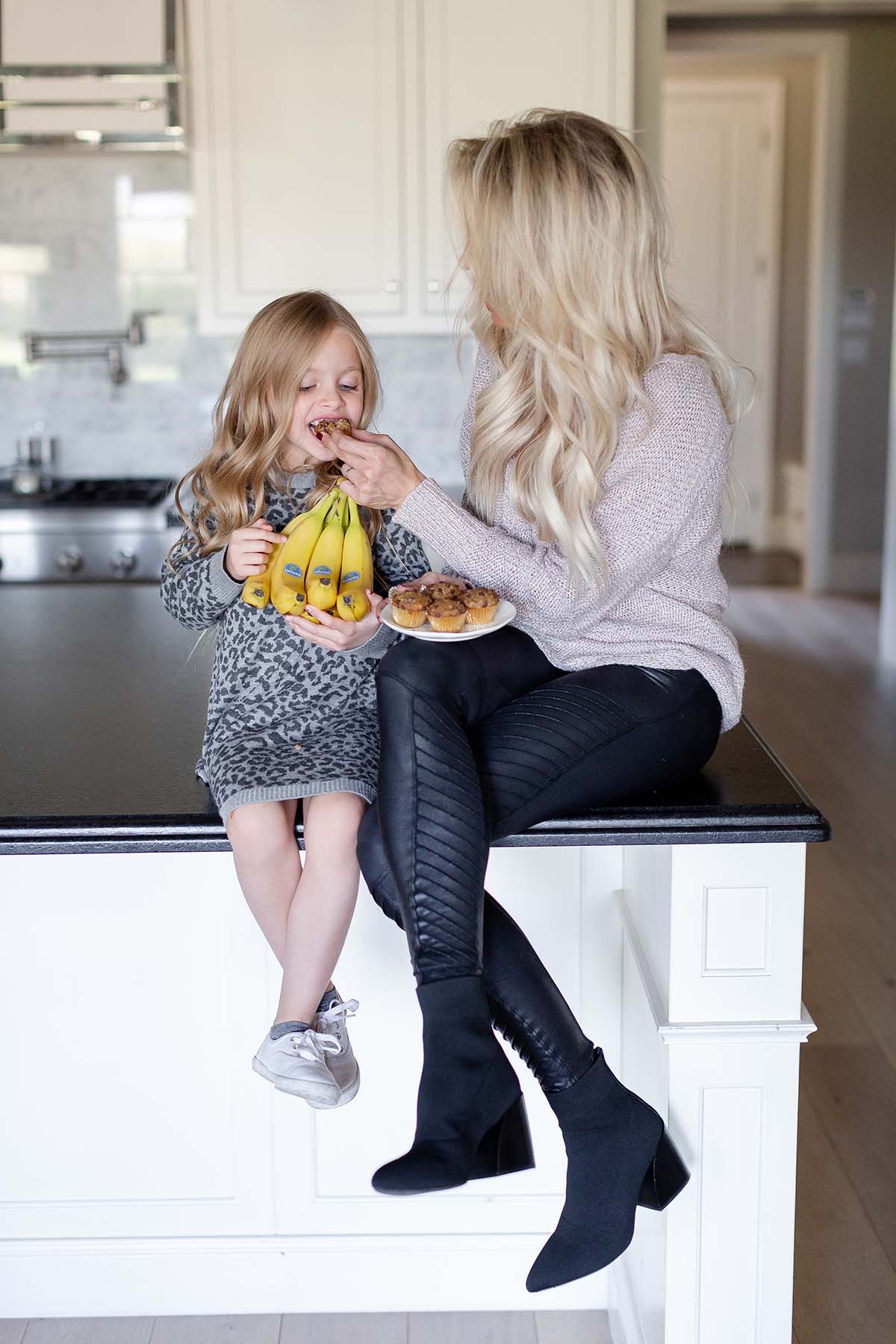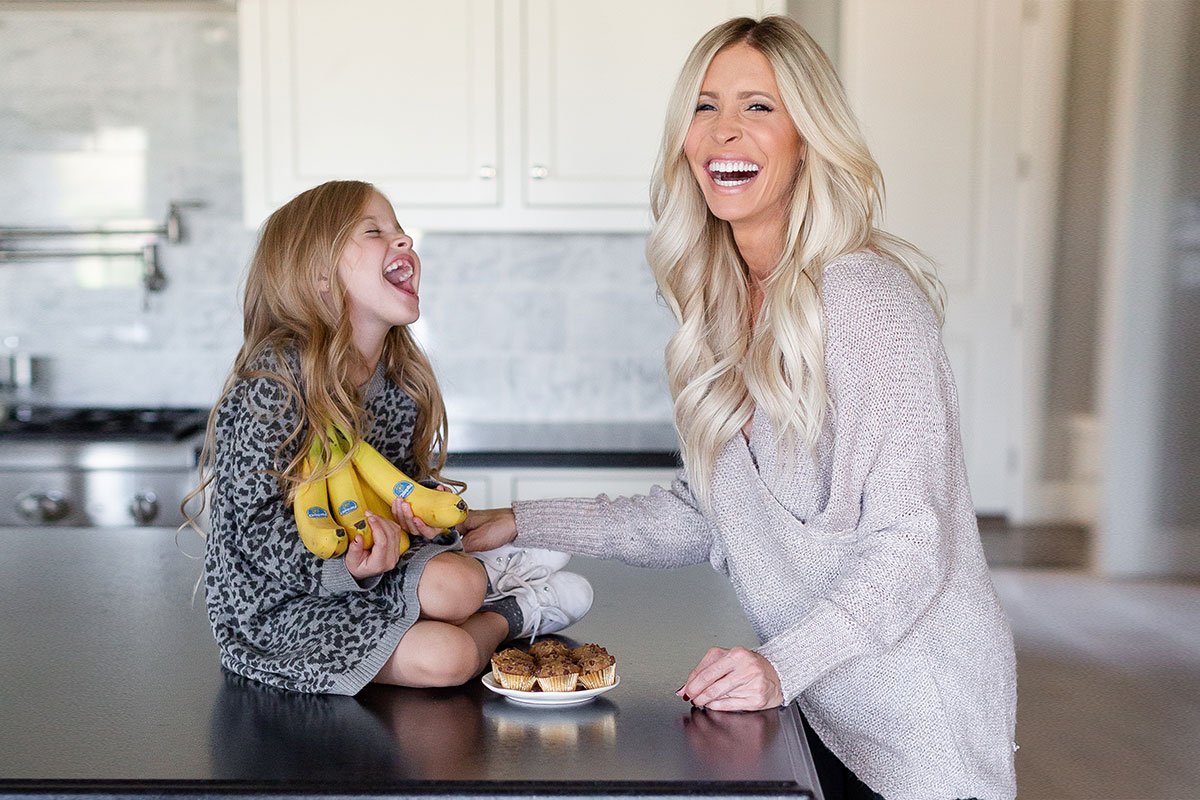 Ingredients:
3 to 4 ripe bananas, smashed
1/3 cup (75 grams) melted salted butter
3/4 to 1 cup (145 to 190 grams) light brown sugar (depending on the level of sweetness you prefer. I always use the smaller amount)
1 egg, beaten
1 teaspoon (5 ml) vanilla
1 tablespoon (15 ml) bourbon (optional)
1 teaspoon (5 grams) baking soda
Pinch of salt
1 teaspoon (3 grams) cinnamon
Up to 1/2 teaspoon (1) nutmeg
Pinch of ground cloves
1 1/2 cups (190 grams) flour
Directions:
Preheat the oven to 350°F.
With a wooden spoon, mix the butter into the mashed bananas in a large mixing bowl.
Mix in the sugar, egg, vanilla, and bourbon, then the spices.
Sprinkle the baking soda and salt over the mixture and mix in.
Add the flour last, mix.
Pour mixture into a buttered 4X8 inch loaf pan (or muffin tin).
Bake for 50 minutes to one hour, or until a tester comes out clean.
Cool on a rack. Remove from pan and slice to serve.
Nutrition information for 1 slice (12 slices per loaf): 204 calories, 5g fat, 26g carbs, 2g protein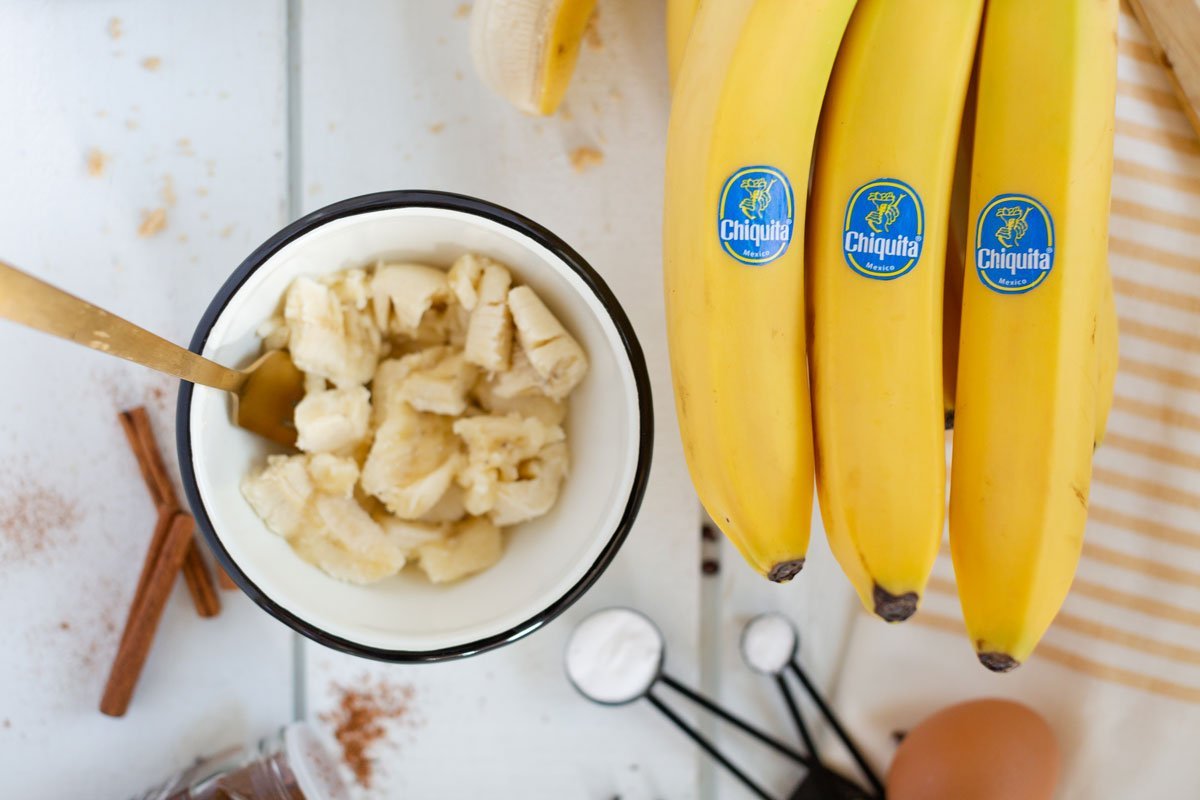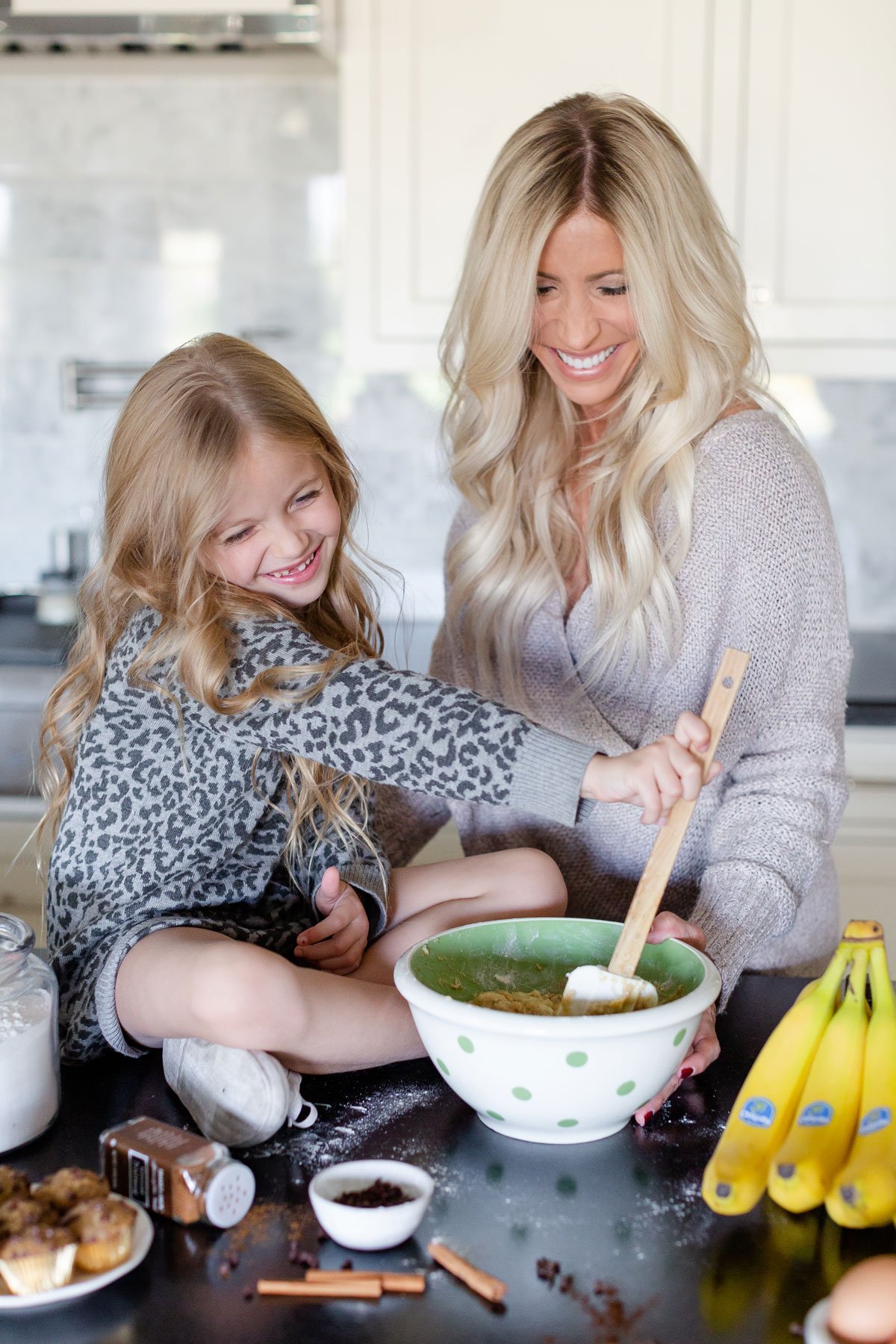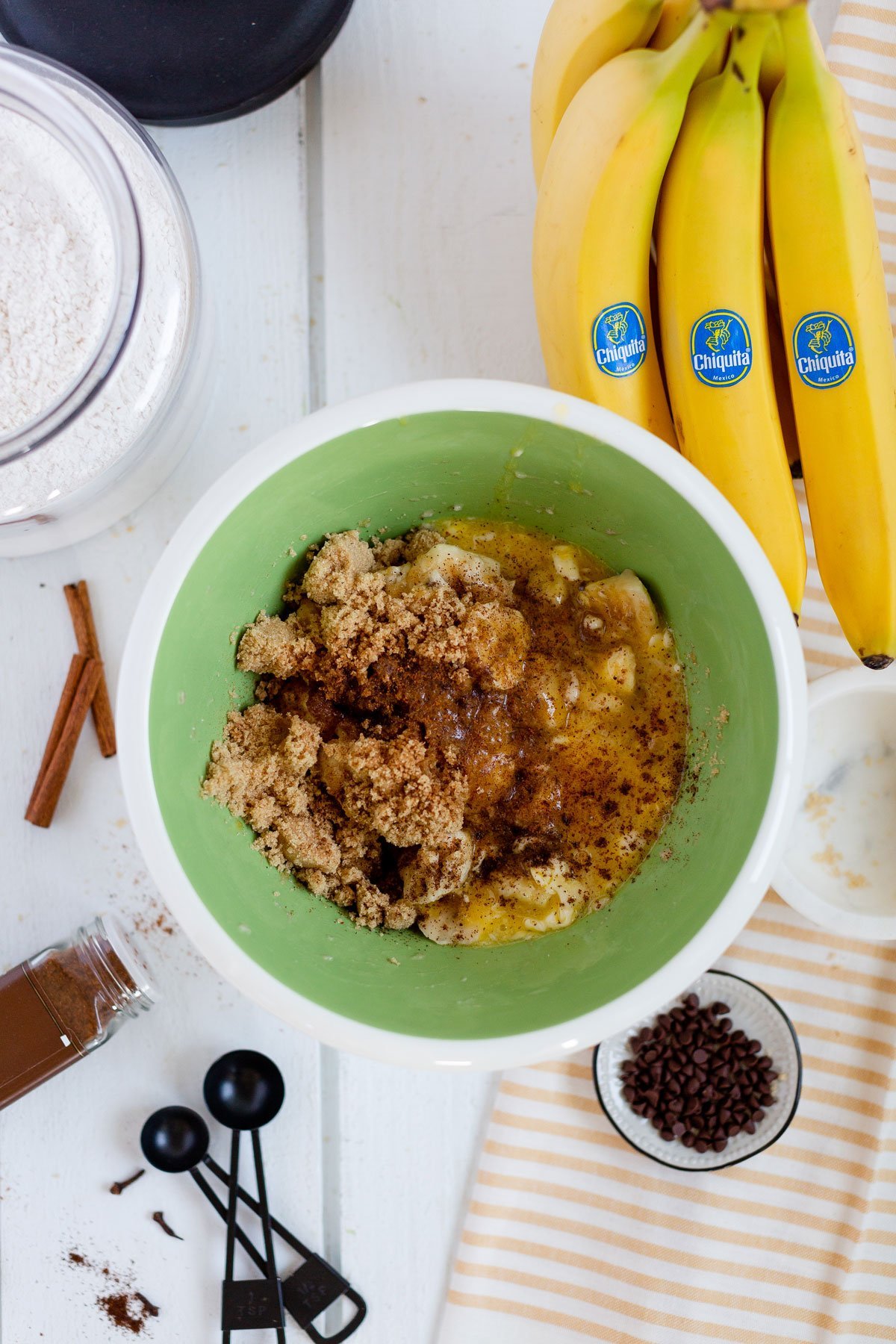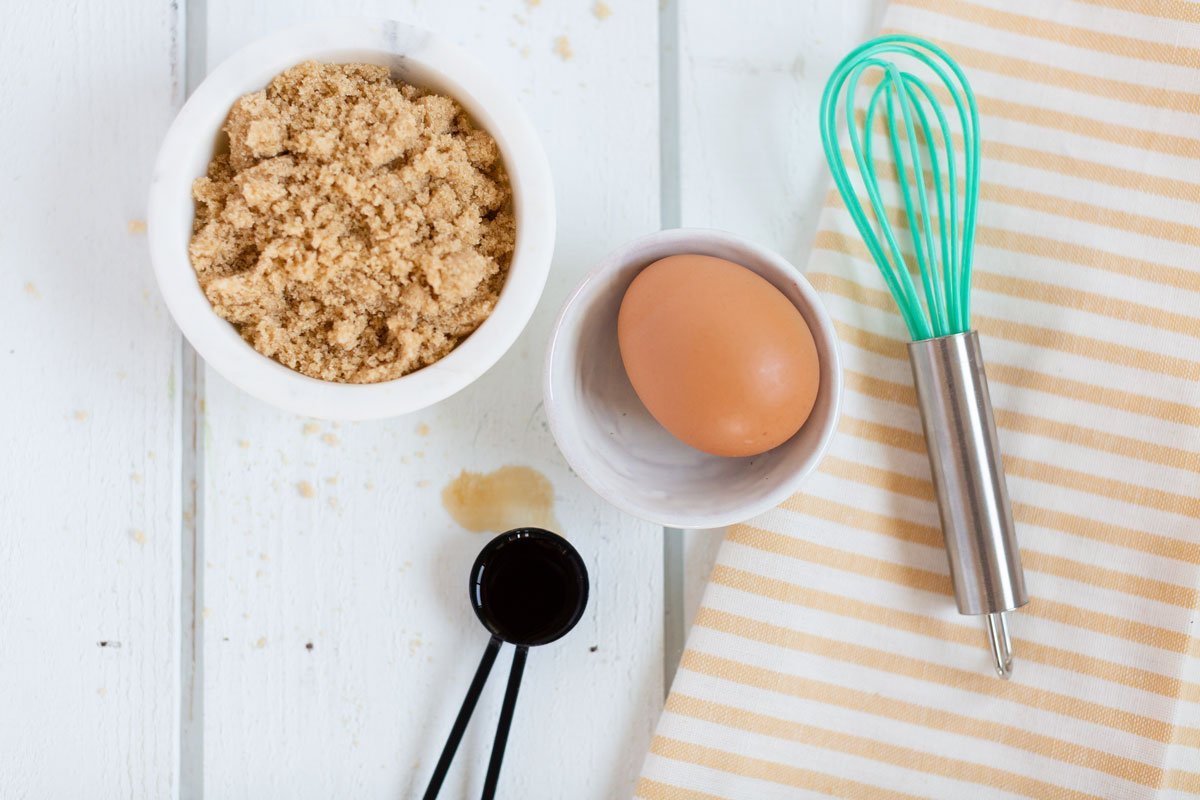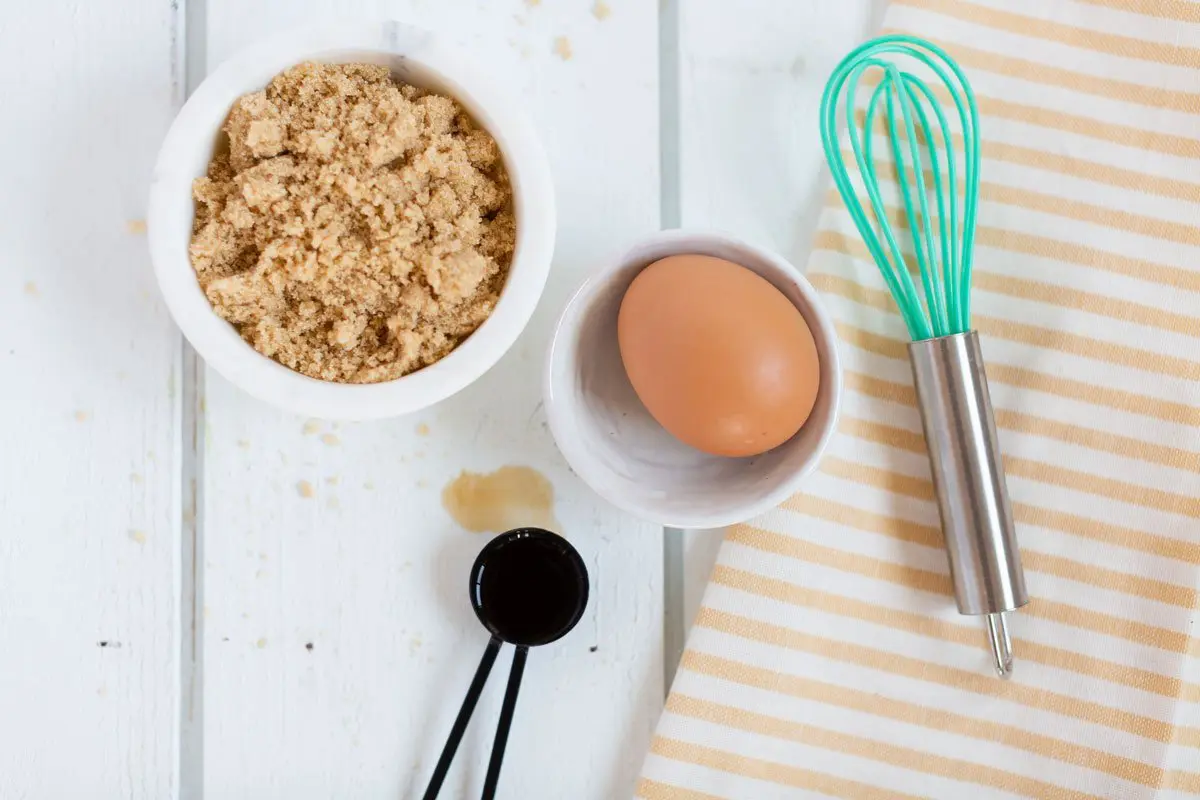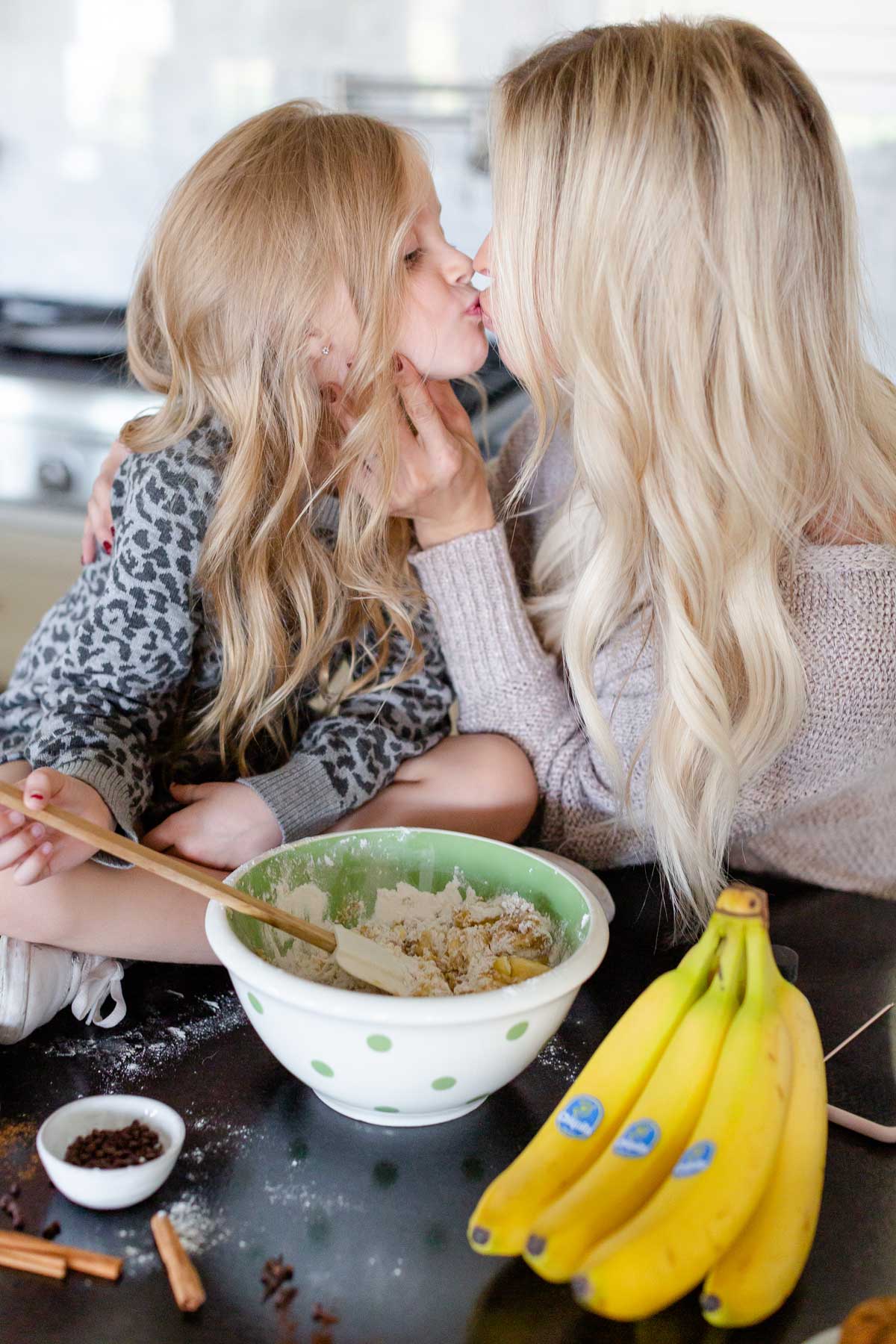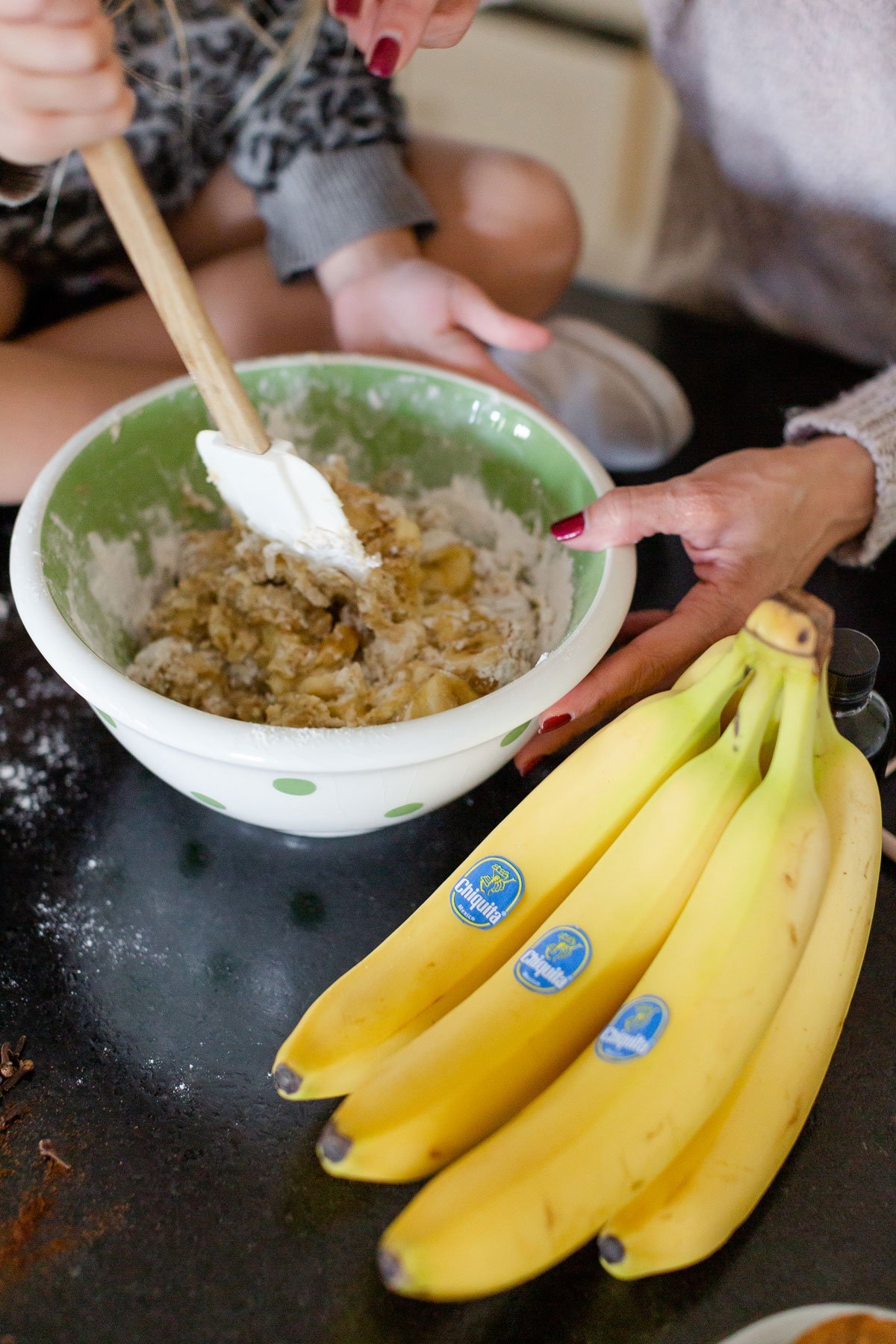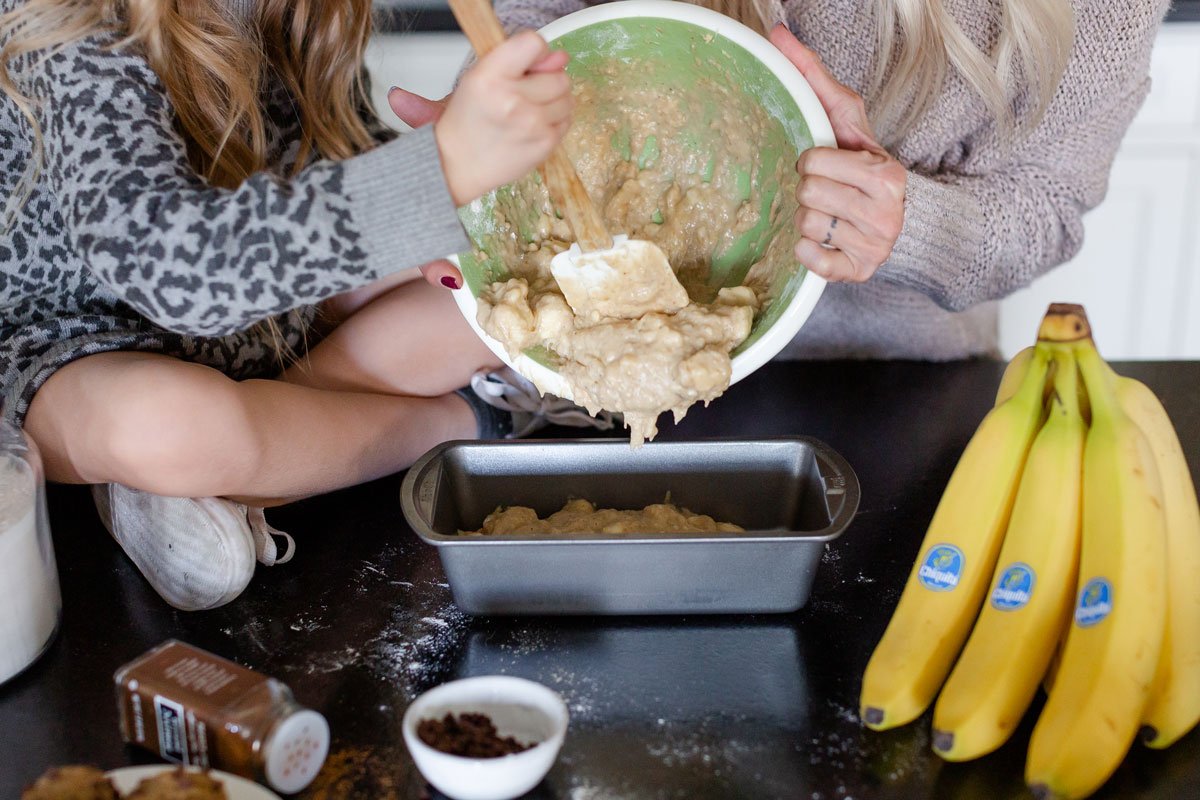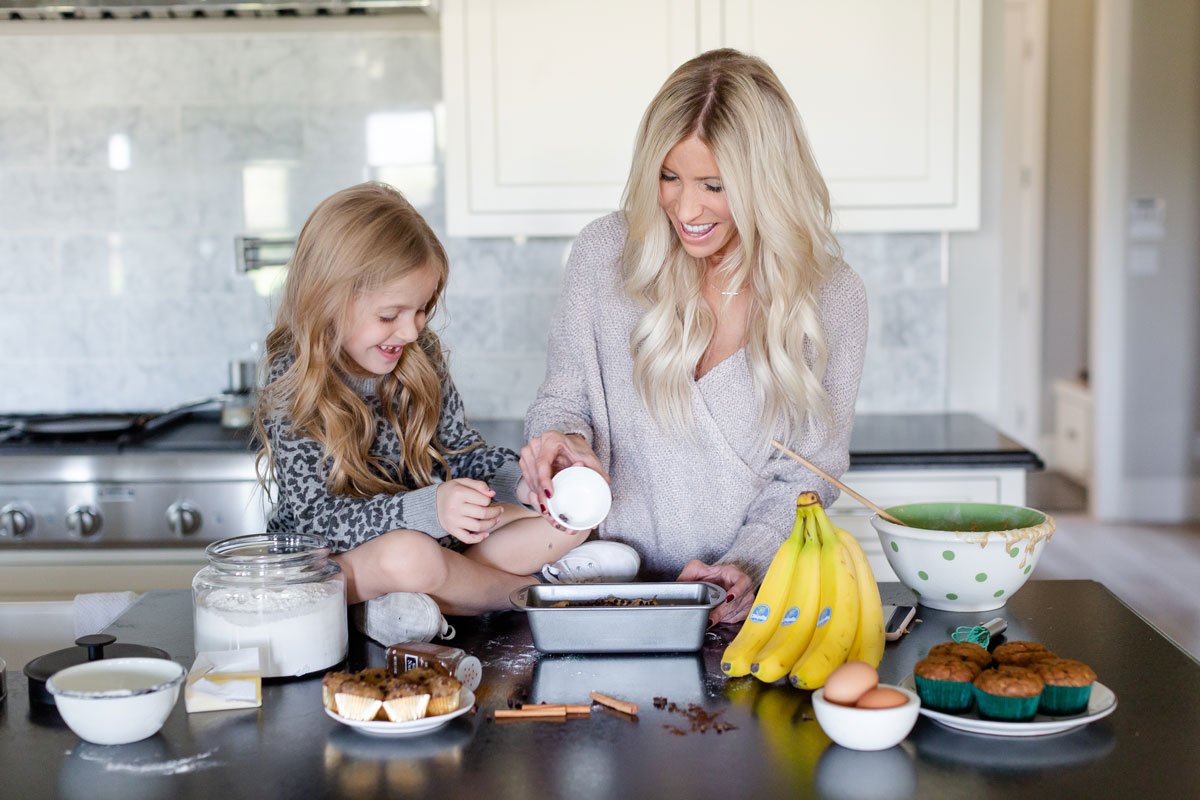 They say that yellow is the color of happiness, and this banana-inspired treat is no different. The end result is sure to make your mouth water, and spending a day baking with the ones you love is the best holiday gift this Mrs. Claus could ever ask for. What's a family tradition you love to uphold every year?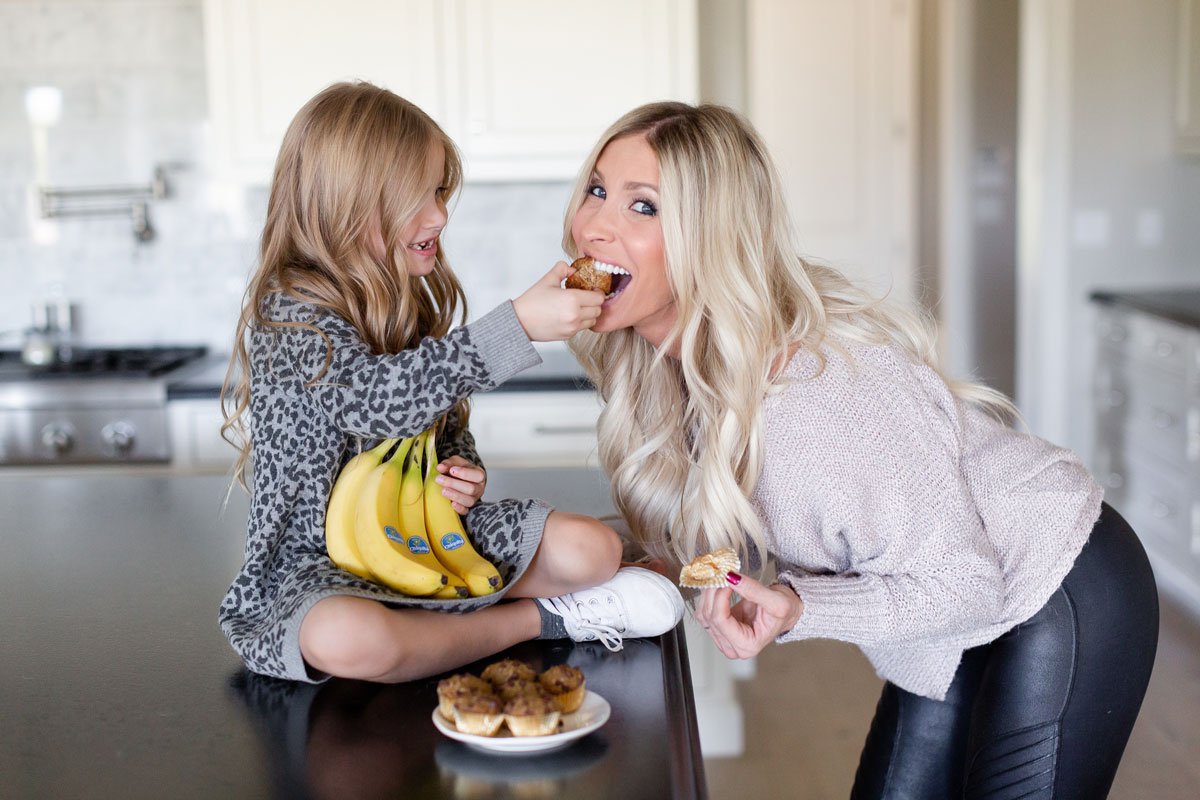 xo,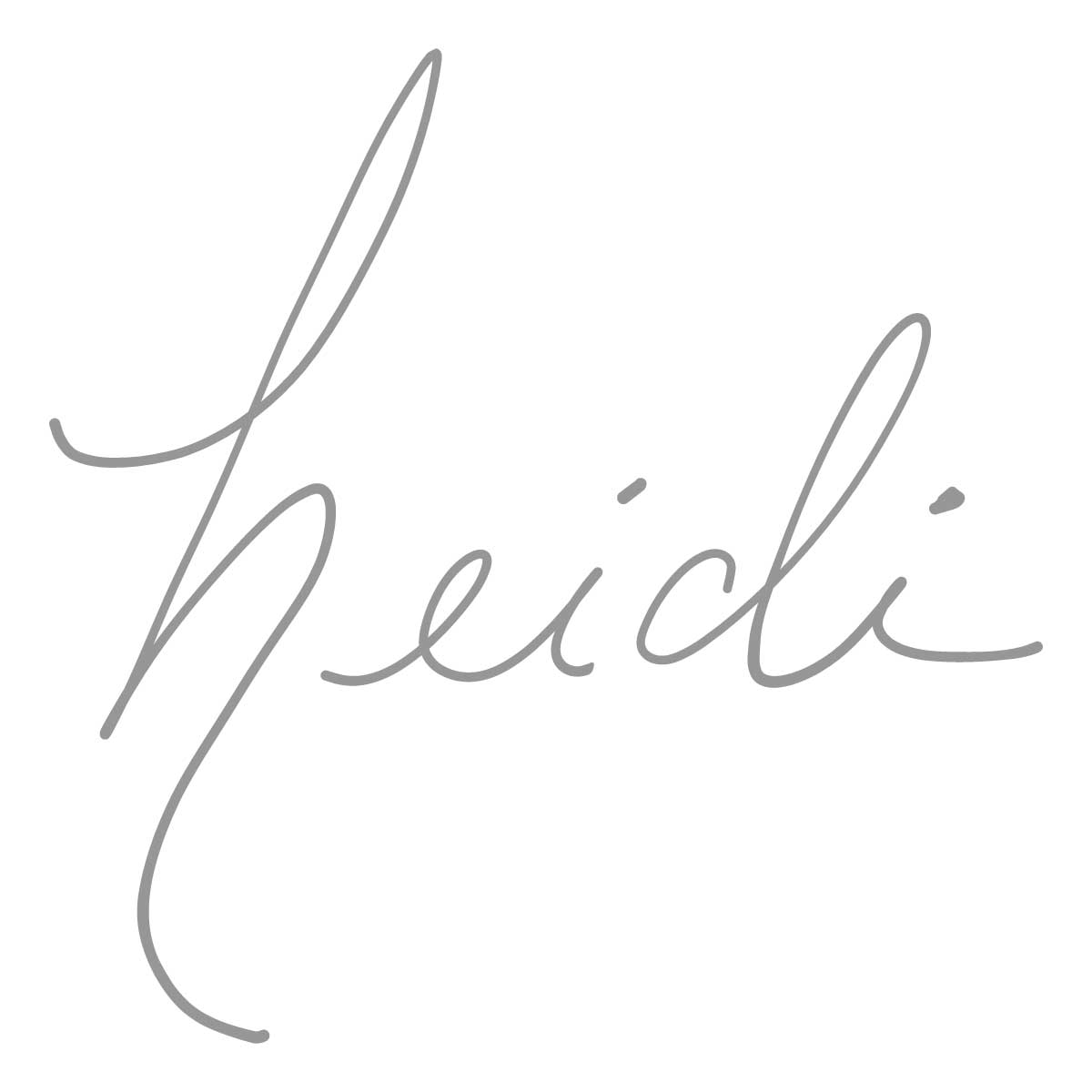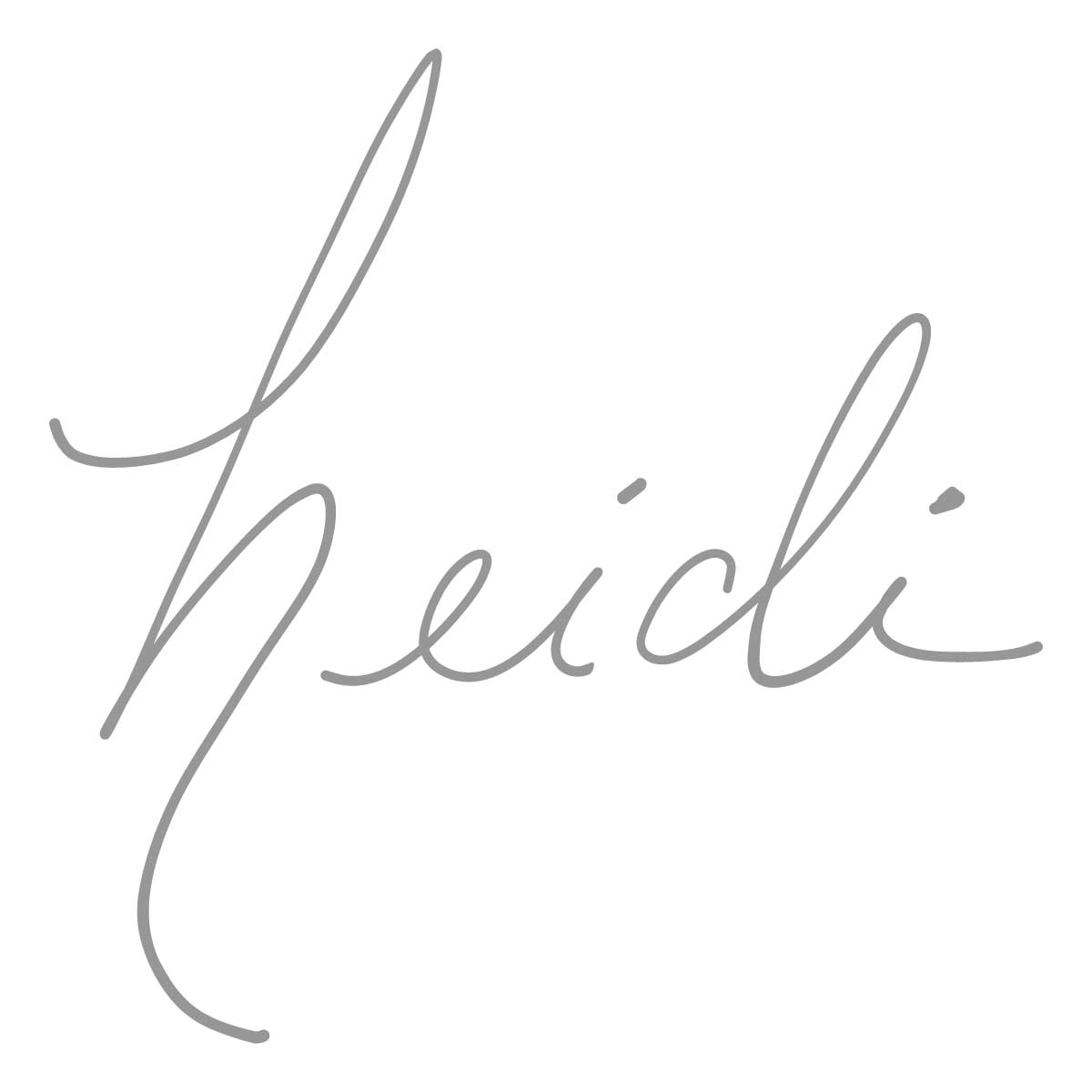 Related reading:
Pumpkin Banana Protein Pancakes
Banana Zucchini Protein Muffins
Skinny Pancakes
Orange Glazed Poppy Seed Bread