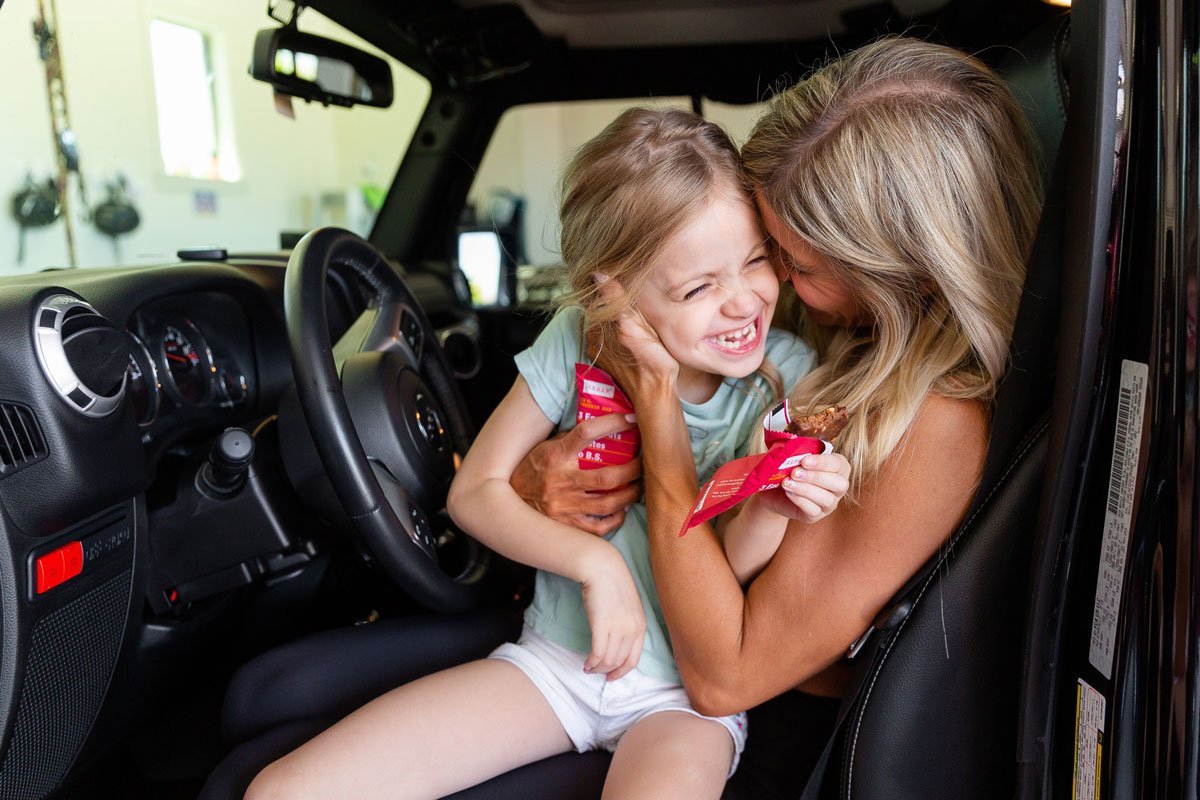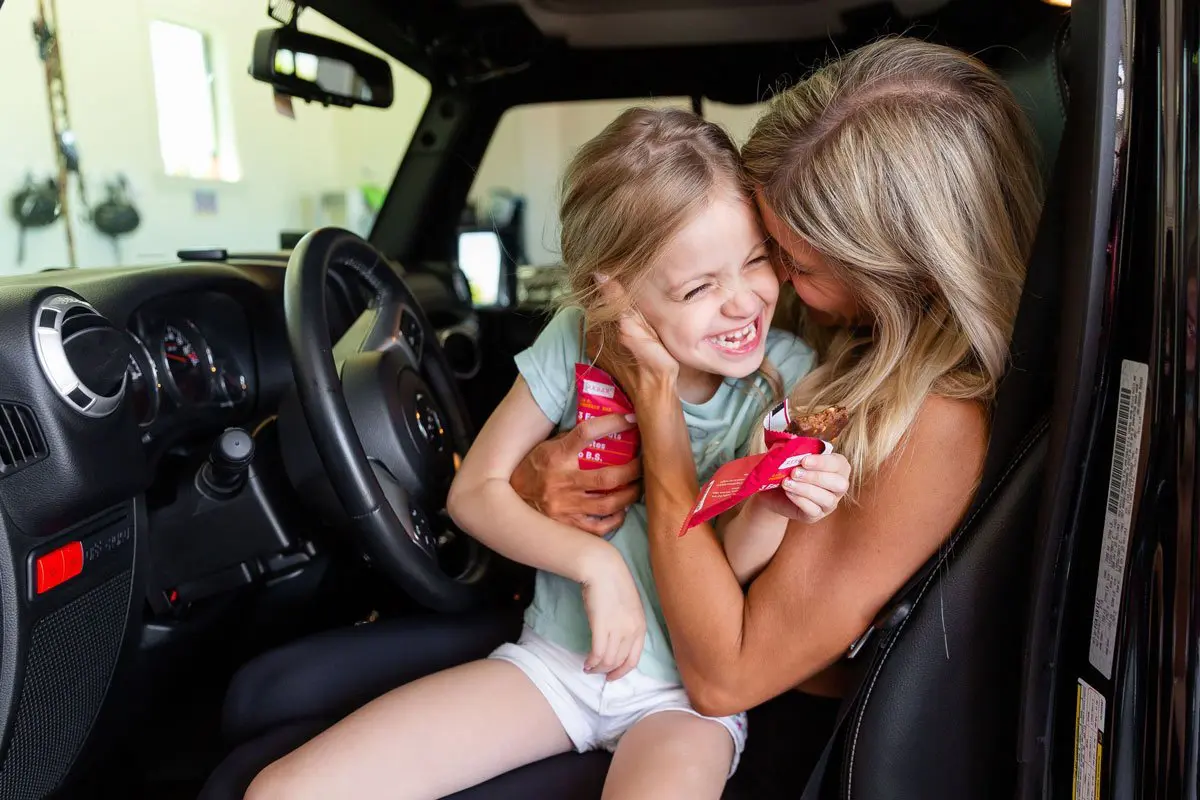 If Professional Protein Bar Taste Tester was a job, then I'd definitely be your girl. It's a little unknown fact that I'm pretty much a protein bar connoisseur. I've been there and tasted them all throughout the years. In fact, I don't think there's a protein bar I haven't tried, which is why I'm sharing everything these taste buds have learned.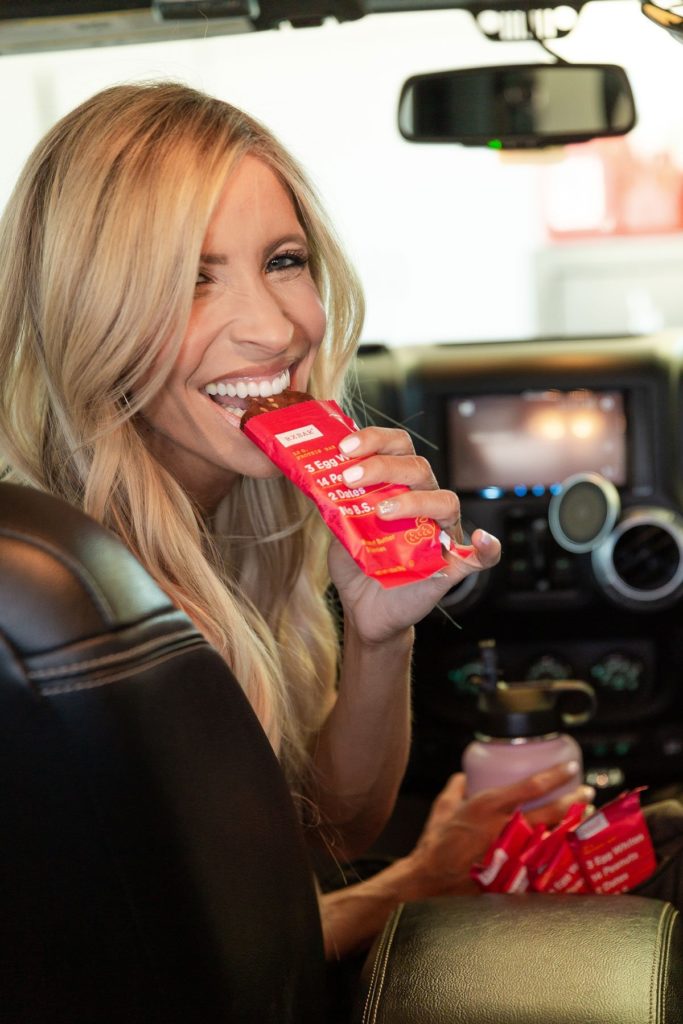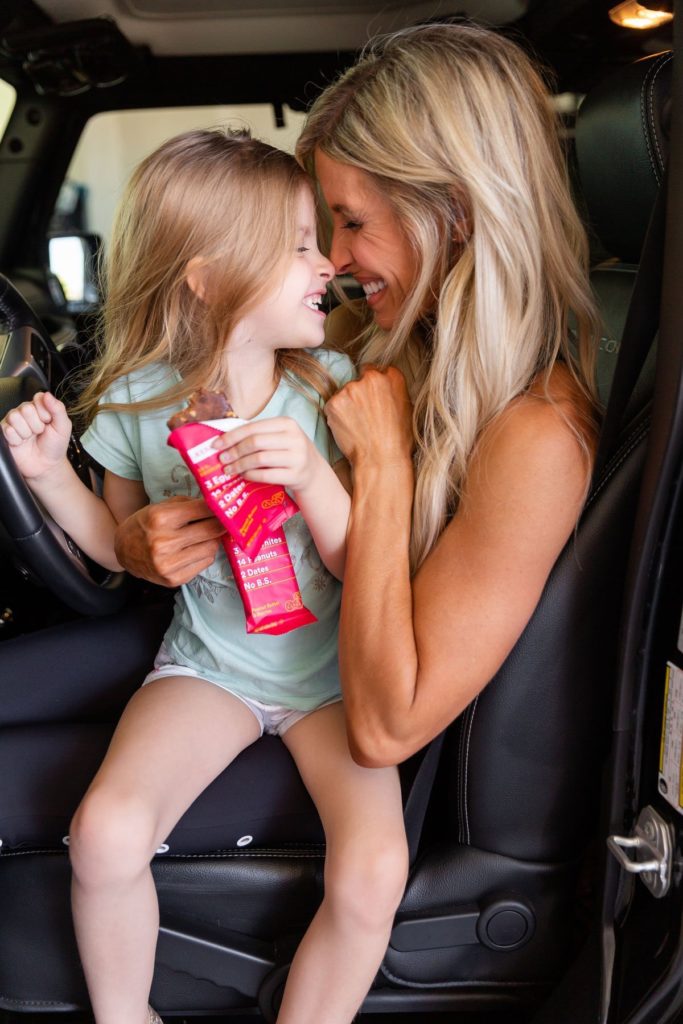 Protein bars are so dang popular that you can find them almost anywhere. Gone are the days where you had to visit your local vitamin store to get the goods. Now, you can find them at the grocery store and gas station, and you can even order them online if you're trying to keep your outings to the essentials these days. If you are out and about looking for a protein bar, you won't find them with the granola bars or snacks. Instead, so look for them in the health food section.
Before we all started staying at home, I visited my local grocery store and filmed a review of 12 popular protein bars. I'm sharing EVERYTHING I learned and giving you my honest opinion about what to look for in a protein bar:
Taste
Texture
Macros
Overall nutrition
How to Choose a Protein Bar + Top 12 Protein Bar Reviews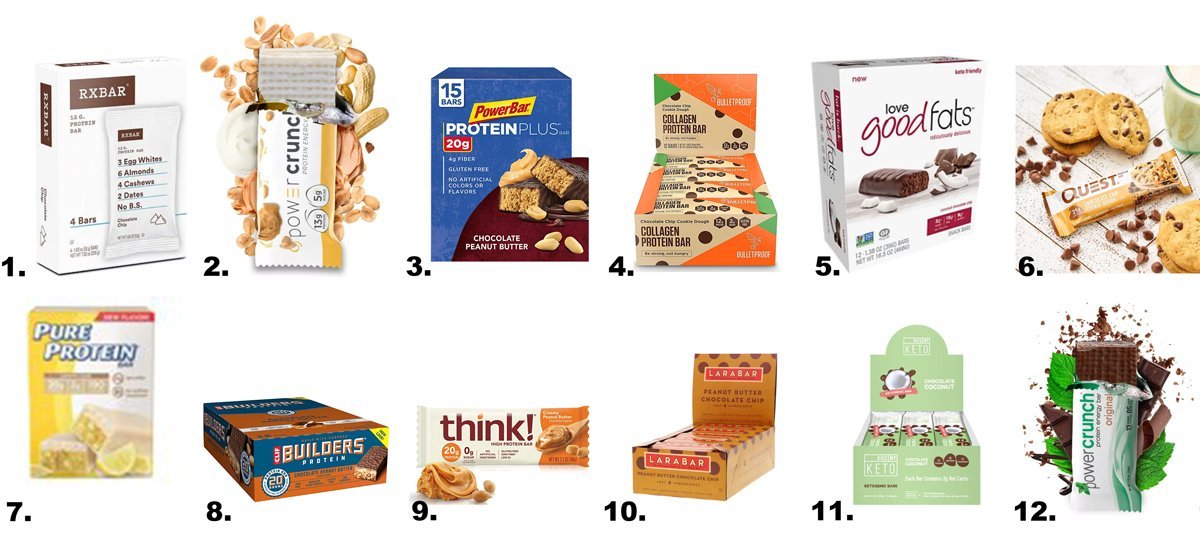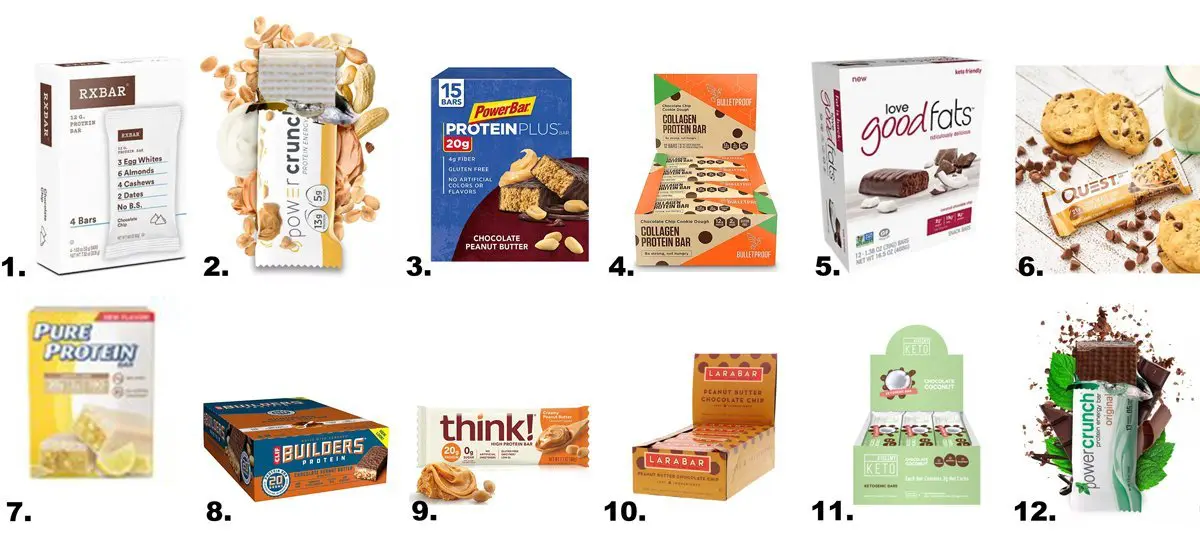 1. RX Bar | Chocolate Chip: 10g fat, 22g carbs, 12g protein, and 220 calories.
RX Bar is such a popular brand, and honestly, I love this company because all of their ingredients are clean and wholesome. You can literally see the ingredients in each bar just by looking at the front of the package. How's that for transparency?! This one seems a little high in carbs and fat, and I would agree that it is, for the most part, but because it's so dang clean, it's okay. There is literally NO added sugar in this bar, only dates, egg whites, almonds, cashews, chocolate, natural flavors, and sea sat. If all of the carbs came from table sugar, I'd say to immediately put that bar down because it wouldn't be worth it. But this bar makes a great snack, and it's going to fill you up and keep you satisfied for an extended period of time because of the healthy fat content it contains.
As far as flavor, I can taste the dates in each bite, and I honestly felt healthier just munching away. I'd probably opt to grab this bar first thing in the morning as my breakfast on the go and supplement with a protein shake.
2. Power Crunch Protein Energy Bar | Peanut Butter Cream: 12g fat, 10g carbs, and 13g protein.
If you want a healthier version of a nutty bar, this is the protein bar for you. This little dream literally tastes like a peanut butter cream wafer. It's SO good. On your low carb days, you want to go a little higher in your fats, and this bar only has 5g net carbs, which makes it a great choice for a low carb snack. I would also pair this bar with another source of protein: chicken, cottage cheese, a protein shake, etc.
3. Power Bar ProteinPlus | Chocolate Peanut Butter:? 6g fat, 24g carbs, 20g protein, and 210 calories.?
I'm kicking it old school with this Power Bar! Guys, no joke. This bar is the protein bar I used to eat religiously back in the day. The only reason I can't eat them anymore is because I learned that I have a sensitivity to soy, and these bars are made with soy protein. But, if you don't have any issues with soy, this one might be worth a try. I do have to mention that the fifth ingredient is sugar, and let's be honest, sugar isn't the greatest for our bodies, but hey…different goals, different tastes, right? This bar would be great for a high carb day if you're carb cycling. Pair it with an apple, banana, rice, potato, or some other form of carb to make it a complete high carb meal, and you're good to go.
4. Bulletproof Collagen Protein Bar | Chocolate Chip Cookie Dough: 15g fat, 14g carbs, and 12g protein
These bars were recommended by a friend of ours, and we have been ordering them in bulk online ever since. I wouldn't necessarily call this a keto-friendly bar because there are 15g fat, 14g carbs, and 12g protein. And even though it is lower in protein, I do think this bar will hold you over and keep you feeling fuller longer because of the fat content. If you want to make it a complete meal, add more protein to it. Overall, the ingredients show that this is a pretty high quality protein bar: organic cashew butter, hydrolyzed collagen (and we all know how popular collagen is these days), amazing oil powders, organic unsweetened chocolate, bulletproof brain octane oil, organic cashews, and organic coconut oil. Honesty factor: The texture is a little different, and it does fall apart easily because it's made with natural ingredients. Official rating? Thumbs up for sure!
5. Love Good Fats | Coconut Chocolate Chip: 14g fat, 13g carbs, and 8 g protein.
If you're looking for a keto-friendly bar, this one may be an option for you! The very first ingredient in this bar is a fat blend, which tells me that this is geared more toward low carb, high fat, keto-type consumers. The full ingredient list contains almond butter, organic palm coconut oil, chocolate flavoring, and milk protein. Best part? No added sugar! The only sugar content is from the chocolate chips, which do contain cane sugar. Total macro content is 14g fat, 13g carbs, and 8 g protein, but it's worth noting that it also contains 8g of fiber. As far as taste, I feel like it will grow on you. At first I felt like I was just chewing a tablespoon of cocoa powder, but I think if I continued to eat it, I'd decide to like it. Overall: interesting.
6. Quest Bars | Chocolate Chip Cookie Dough: 6-9g fat, 21g carbs (with only 4g net carbs), and 20-22g protein
Quest Bars are some of the most popular bars out there, and truthfully, they'll be one of my favorites forever. These bars are just so good, and they're dependable and reliable. I know that with every bar and every flavor, I?m going to get between 6-9g fat, 21g carbs (with only 4g net carbs), and 20-22g protein. This bar is perfect for both low carb and high carb days. Some people don't like the texture, but I think these bars are so versatile, and I love the flavors. Anyone who can create a bar this sweet without adding sugar gets two thumbs up in my book!
7. Pure Protein Bar | Lemon Cake: 7g fat, 16g carbs (4-5g net carbs because of the fiber content), and 20g protein
This bar definitely isn't as clean, but macro-wise, it checks off a lot of boxes for me. The split is 7g fat, 16g carbs (4-5g net carbs because of the fiber content), and 20g protein. It's a pretty typical macro blend of lower fat, high carb, and higher protein made with a milk/whey protein isolate, stevia, a little sugar, and some other ingredients that we haven't found yet in other bars. I gotta be honest: I love the flavor of these bars. They're super good, and they get two thumbs up on taste and macro breakdown alone.
8. Cliff Builders Protein | Chocolate Peanut Butter: 11g fat, 29g carbs, 20g protein, and 300 calories
Just like the name, this Builder Bar is MASSIVE. It feels like a paperweight just holding one in my hand! So, it's important to keep in mind that with a bar like this, you're getting a LOT in one bar. If you're looking to build muscle, this is the bar for you. With 11g fat, 29g carbs, 20g protein, and 300 calories, this bar will help you build and repair that muscle after your workouts. If you're goal is to lose weight or tone your muscles, considering eating only half of this bar. Downfall: lots of added sugar. Verdict: tastes like a candy bar because it basically is one.
9. Thinkthin! | Chocolate Peanut Butter: 10g fat, 23g carbs, 29g protein, and 240 calories
I think people love this bar because the name is so encouraging! Ha, ha. Kudos to that marketing team! This bar contains 10g fat, 23g carbs, 29g protein, and 240 calories. What I love: It has zero added sugar. The only downside is that it does contain soy, so I only took a little bite to avoid totally hurting my stomach. I've never been a huge fan of the taste. This flavor, overall, tasted a little empty and weird, but people do swear by these. If you love the flavor, it'd make a great option for your low carb days.
10. LaraBar | Peanut Butter Cookie: 12g fat, 23g carbs, 6g protein, and 220 calories?
So these aren't technically a protein bar, but instead, a fruit and nut bar. I still love them, though. They only contain about 6g protein, so consider eating them with a protein shake in the morning as your breakfast on your way out the door. They're great to keep in my bag just in case I need a snack as we're on the go. The kids eat them, I eat them. They're clean and healthy with only three ingredients: dates, peanuts, and sea salt (like honestly, it doesn't get any cleaner than that!).
11. Kiss My Keto | Chocolate Coconut: 20g fat, g carbs, g protein, and 240 calories?
Alright, keto fans. This one is for you! I find this bar super interesting because it's higher in fat with 20g fat per bar, but it only has 240 calories. With only 1g sugar and great ingredients, I think this bar is a superb choice if it fits your needs. It is a little dry, but if I had to choose a keto bar, this would be the one I'd pick time and time again.
12. Honorable mention?Power Crunch | Chocolate Mint:
Okay guys, the last bar is up! I've reviewed this one before, but I'm going to review it again. Sometimes I just need to feel like I'm eating a Thin Mint Girl Scout Cookie without all that added guilt, you know what I mean? This bar is always my choice for just that. Super tasty and great for a low carb day.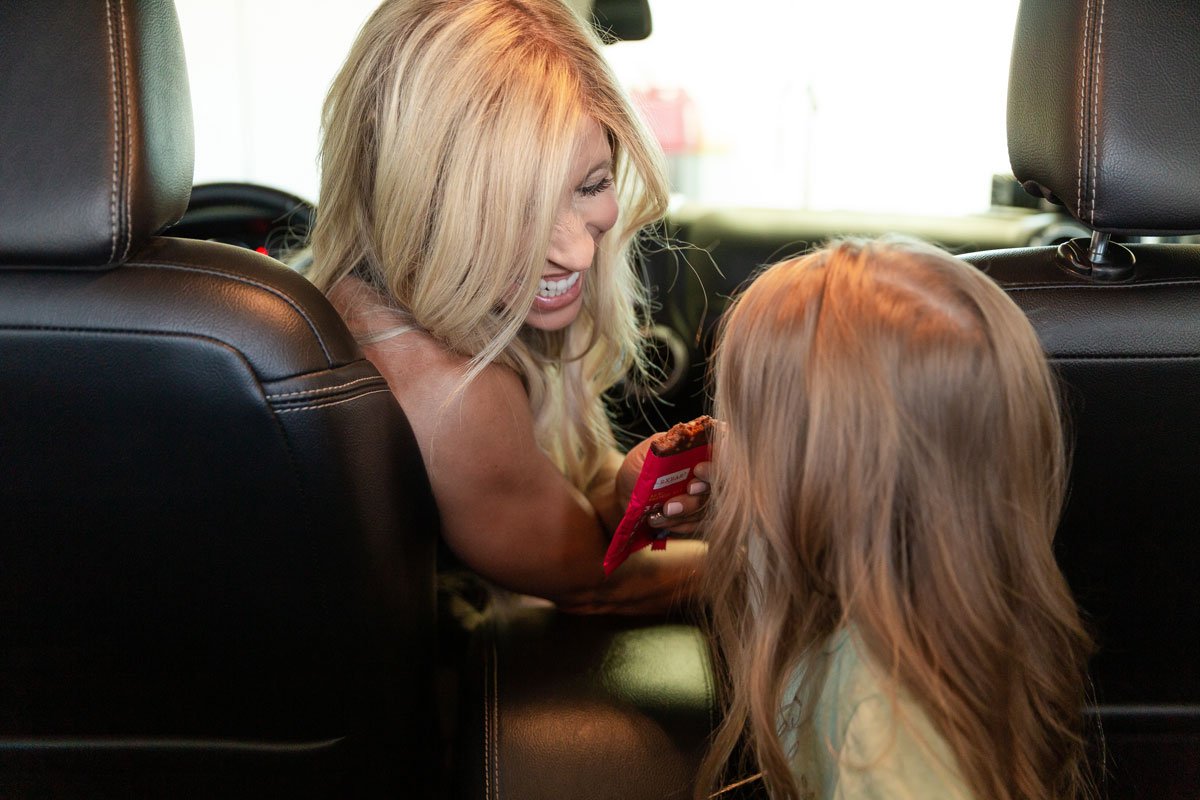 Okay…so let's break down my faves by category!
Taste: Power Crunch
Keto: Kiss My Keto
Cleanliness: LaraBar and RX Bar
Most Versatile: Quest
So, truth. No matter how good a protein bar may be for you, if you don't like it, or you don't feel satisfied after eating it, you're going to continue reaching for other foods and end up binging. Try and find something that checks all your protein bar boxes: good for you, satisfies you, and has a great taste. You may need to do a little trial and error taste testing experiment on your own.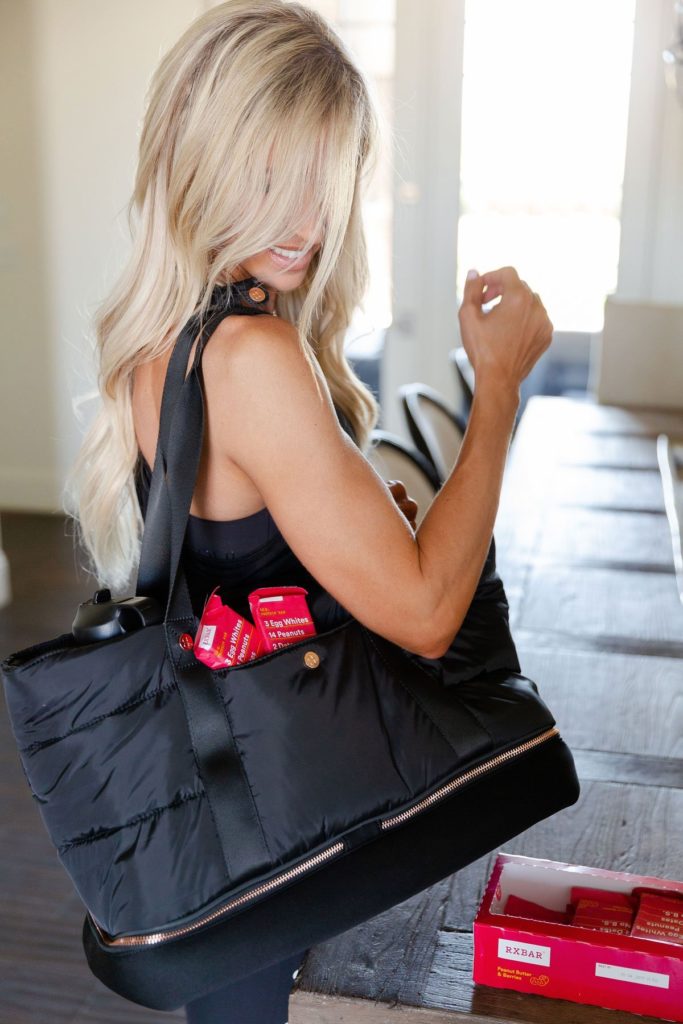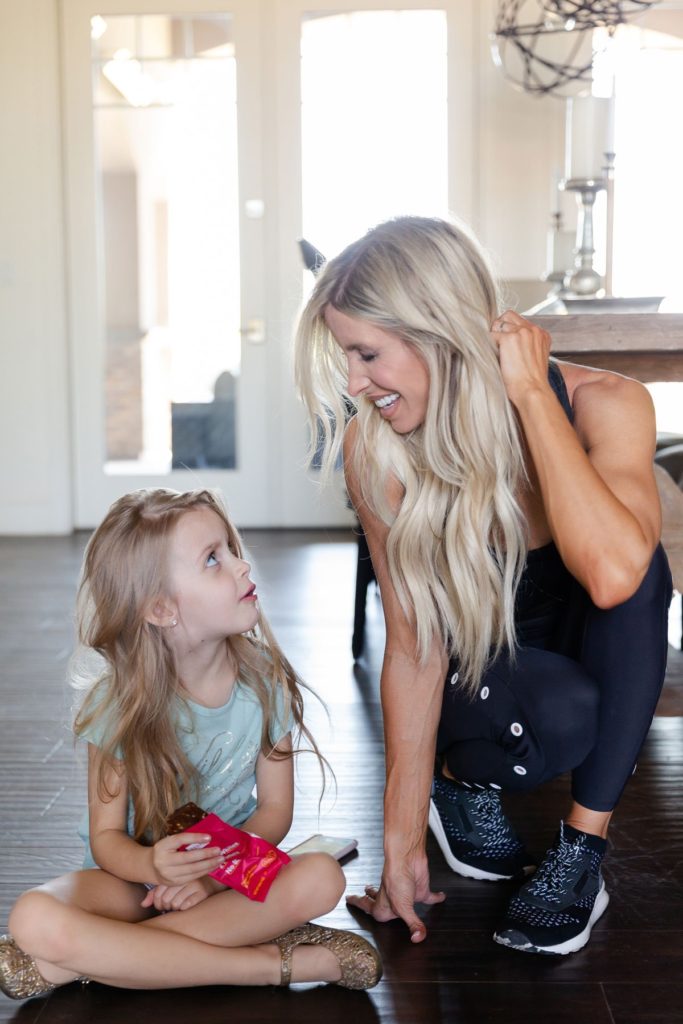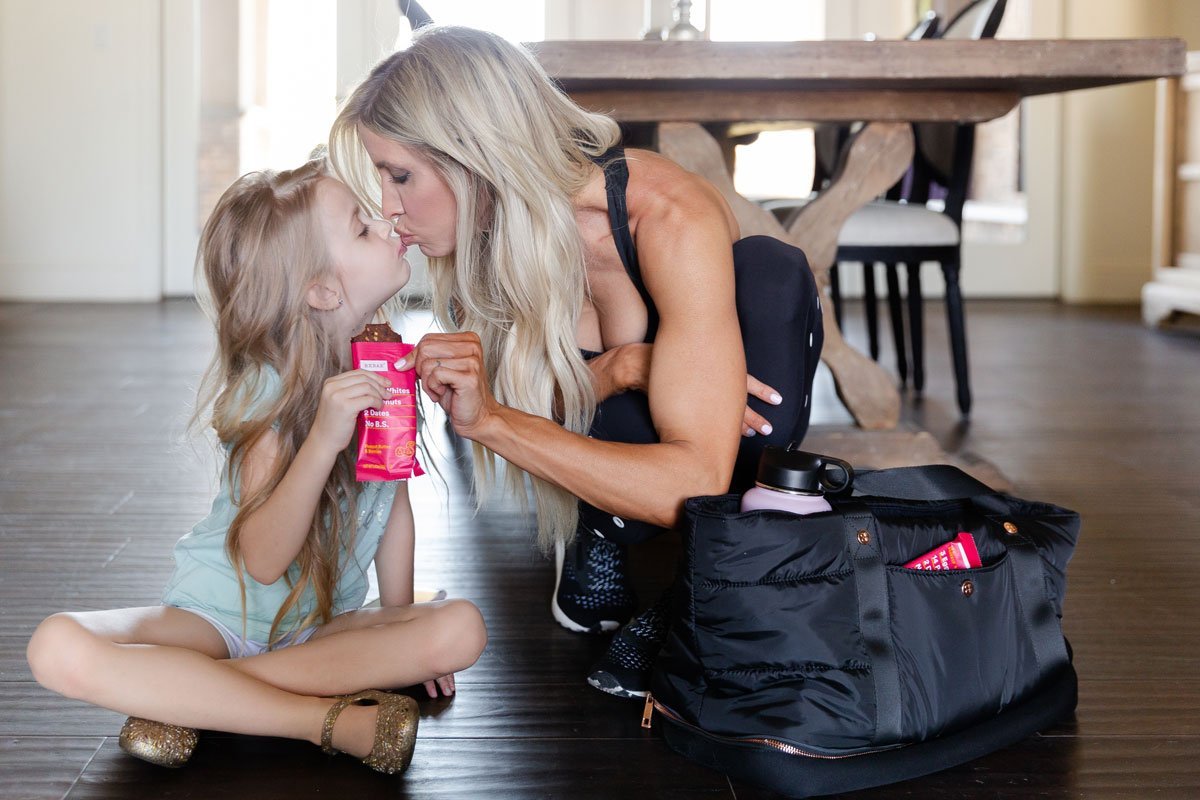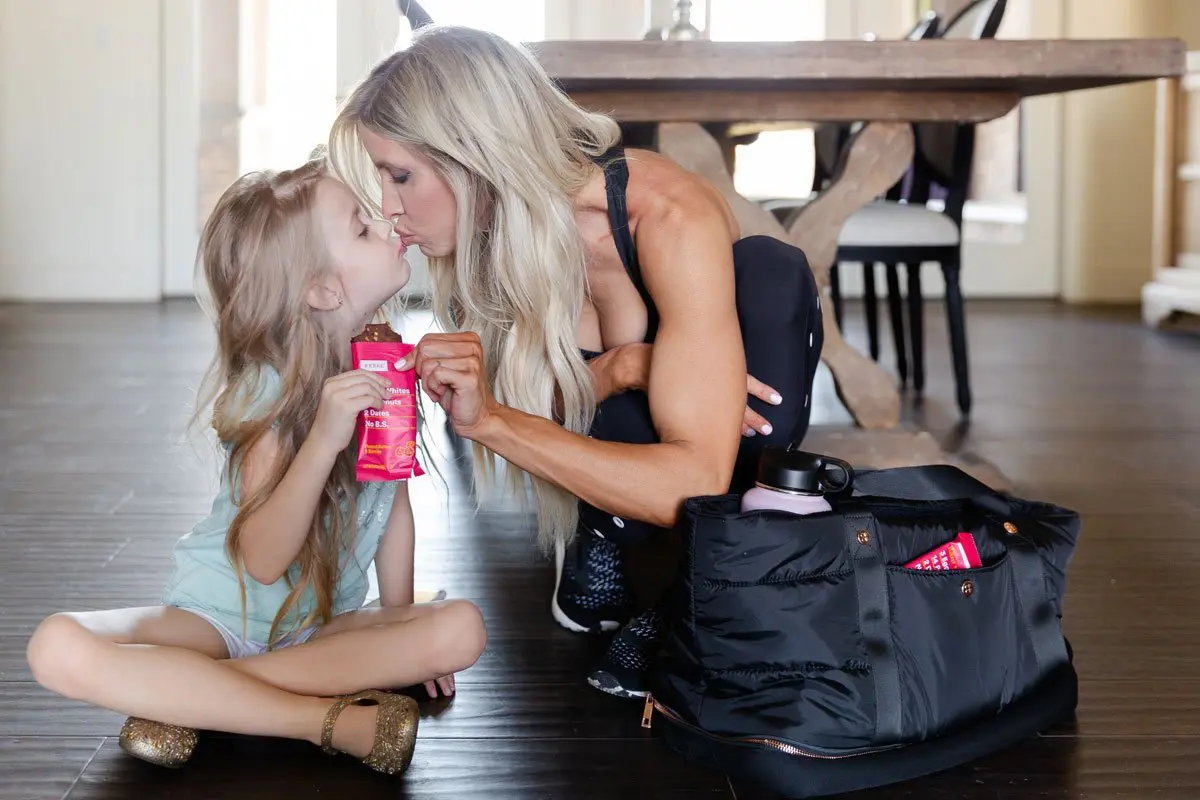 Every bar is going to be different, so it's important to find the right bar that fits your goals. When paying attention to the nutrition information on each bar, know that bars that are higher in carbs and fats will help you build muscle, so plan accordingly with your high carb and low carb days. The best part is that most bars aren't going to be very expensive. I bought 12 bars for $22 which, if you want to do the math, averages out to less than $2 per bar. Which is WAY less than any fast food meal you'd get going through the drive through! Which protein bar is your favorite? Drop a comment below, and if it's one I haven't tried, I may have to test it!
xo,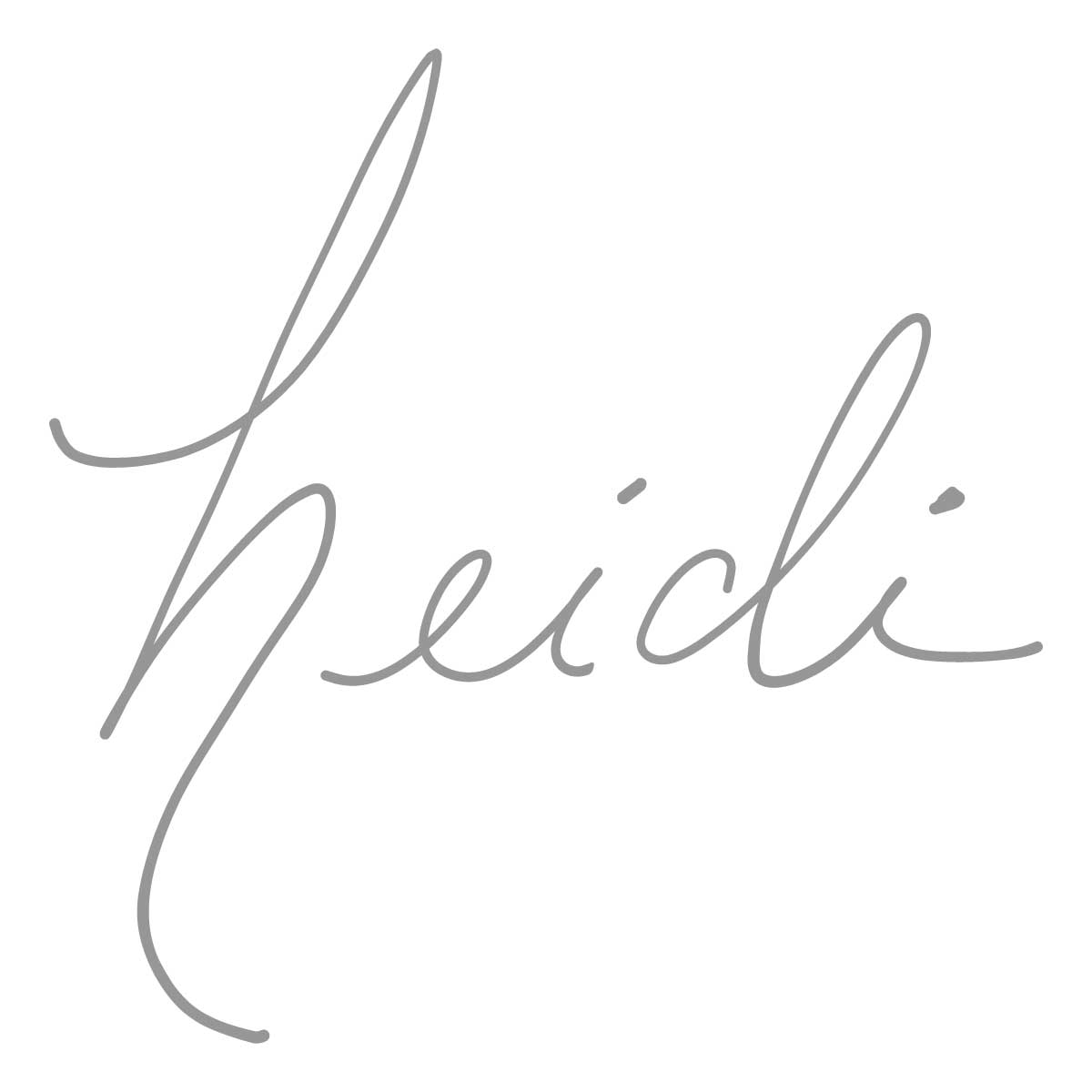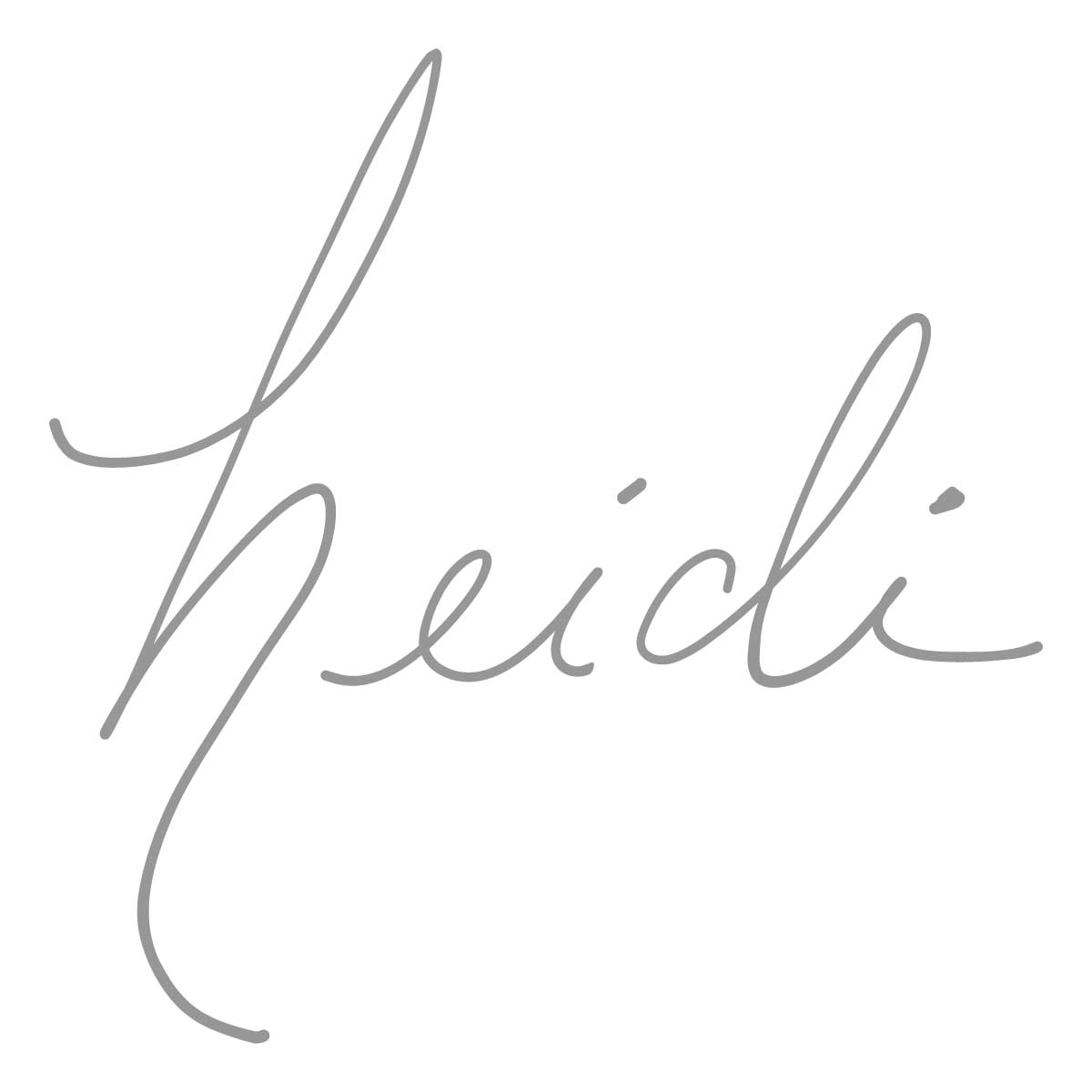 Related reading:
Protein Confusion: Your Questions Answered!
No Bake High Protein Fudge Recipe
Shake + Bake: Two Samoa Cookie-Inspired Recipes
3 Time-Saving, Pre-Packed Smoothie Recipes
Protein Powder: It?s not just for shakes anymore!