Do you have a hard time going without your favorite foods, but you still want to lose weight? Then the Easy Cycle is for you. In this cycle you alternate low carb and high carb days, and on every single high carb day you can have a reward meal, as long as that meal isn't your dinner meal.
That's right, you can eat the foods you love—four days a week— and still reach your weight loss goals. And by favorite foods I mean pizza, ice cream, bacon, chocolate cake, cheesecake—they're all okay. The power of this cycle is that if you get those favorite food cravings on low carb days, you only have to wait until the next day to satisfy them. Anyone can do that! Success can be yours with this cycle.
How is this possible? First of all, you'll be following the low carb/high carb eating plan for your non-reward meals, and the success of this pattern has been proven many times over. And even though you'll be rewarding yourself, you'll be rewarding yourself less often. Let's say you usually eat seven servings of ice cream a week. With the Easy Cycle you're already eliminating three bowls of ice cream a week, and that's a lot of calories! You're satisfying your cravings without depriving yourself, and losing weight.
Here's what an Easy Cycle week looks like:
Monday: Low carb day
Tuesday: High carb day w/ reward meal
Wednesday: Low carb day
Thursday: High carb day w/ reward meal
Friday: Low carb day
Saturday: High carb day w/ reward meal
Sunday: High carb day w/ reward meal
Every breakfast—on both low and high carb days—will consist of a portion each of protein, carb, and fat. For the next three meals, you'll either have a high carb or low carb meal (depending on which day you're on), and then your last meal of the day will ALWAYS be a low carb meal. Follow the portion size guide, and you're good to go!
And yes, you won't lose weight as quickly as you would in other cycles, but the important thing is that you will lose weight, and you'll also be forming healthy habits that will last a lifetime. And when you're ready, you can move onto another cycle if you want to. Or you can stay with the Easy Cycle throughout your weight loss journey. It's totally up to you!
For more information on the Easy Cycle, check out our book, Choose More, Lose More for Life.
Interested in learning about our new cycle, the Extreme Cycle? You can get all the info in our new book, Extreme Transformation.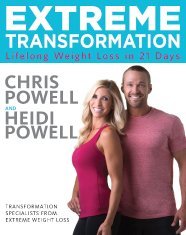 And if you'd like some help creating your own meals, there's a handy "Create Your Own Meals" chart in this post!
Note: If you've been carb cycling using our book, Choose Lose More, Lose More for Life, you'll notice that we've changed a couple of things since that book was published: You now include a fat for breakfast, and every final meal of the day is a low carb meal. Like with a lot of things in life, the more you do them, the more you learn about how to do them even better!