Do you want to "lean up" without compromising your athletic performance? Do you want to train for long periods of time? Then the Fit Cycle is the cycle for you. The Fit Cycle not only eliminates fat, but it also supplies your body with the fuel it needs to perform successfully, no matter what sport you choose to excel in.
Unlike the Easy, Classic, and Turbo Cycles, the Fit Cycle only has two low carb days per week, and there's a very important reason for this: The extra high carb day allows your muscles to absorb more fuel (glycogen), which you'll need for maximum athletic performance. During your low carb days, when this supply of glycogen gets depleted, your muscles will develop insulin sensitivity. When you then have a high carb day or your reward day, these insulin-sensitive muscles will actually soak up more carbs, your body will burn this extra fuel instead of storing it as fat, and you'll still lose weight. It's an amazing process!
Here's what a Fit Cycle week looks like:
Monday: High carb day
Tuesday: High carb day
Wednesday: Low carb day
Thursday: High carb day
Friday: High carb day
Saturday: Low carb day
Sunday: Reward Day
Every breakfast—on both low and high carb days—will consist of a portion each of protein, carb, and fat. For the next three meals of the day, you'll eat either a low or high carb meal depending on which day you're on. Your last meal of the day will ALWAYS be a low carb meal. Follow the portion size guide to put all of your meals together. And with the Fit Cycle, you won't lose weight as fast as with the Turbo Cycle, but you will be able to maintain your athletic performance. However, if you do experience a slight decrease in your athletic performance with this cycle, and you're not as concerned about losing weight, try combining the Fit Cycle with pre- and post-workout supplements or meal replacement shakes with some extra macronutrients. And as with the other cycles, you can stay on the Fit Cycle or change cycles at any time. It all depends on your weight loss and athletic goals.
For more information on the Fit Cycle, check out our book, Choose More, Lose More for Life. Interested in learning about the Extreme Cycle? Get all the info in our new book, Extreme Transformation.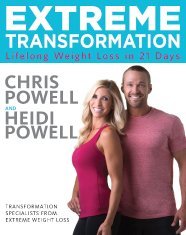 And if you'd like some help creating your own meals, there's a handy "Create Your Own Meals" chart in this post!
Note: If you've been carb cycling using our book, Choose Lose More, Lose More for Life, you'll notice that we've changed a couple of things since that book was published: You now include a fat for breakfast, and every final meal of the day is a low carb meal. Like with a lot of things in life, the more you do them, the more you learn about how to do them even better!