While the Easy Cycle is the easiest cycle, the Classic Cycle is the simplest carb cycle. It offers a quick and easy introduction to carb cycling and results in fast and steady weight loss.
Unlike the Easy Cycle, which has a reward meal incorporated into every high carb day, the Classic Cycle has an entire reward day every week. Imagine that—a whole day to satisfy those cravings for your favorite foods! And you'll still lose weight.
Here's what a Classic Cycle week looks like:
Monday: Low carb day
Tuesday: High carb day
Wednesday: Low carb day
Thursday: High carb day
Friday: Low carb day
Saturday: High carb day
Sunday: Reward day
Every breakfast—on both low and high carb days—will consist of a portion each of protein, carb, and fat. For the next three meals of the day, eat either low or high carb meals (depending on which day you're on). Your last meal of every day will ALWAYS be a low carb meal. Follow the portion size guide to put all of your meals together.
With the Classic Cycle, besides losing weight at a quick and constant pace, you'll also be able to tune into what is happening in your body during this carb cycle process. You'll learn and actually feel how food affects your body, and while you may experience some brief periods of nausea, headaches, low energy, and other symptoms as you change the way you fuel your body, these will be temporary. In the end, you'll have a whole new appreciation for this marvelous body you have! And you can stick with the Classic Cycle throughout your weight loss journey or move onto another cycle. You are in control!
For more information on the Classic Cycle, check out our book, Choose More, Lose More for Life. Interested in learning about the new Extreme Cycle? You can get all the info in our new book, Extreme Transformation.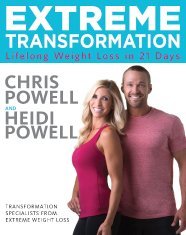 And if you'd like some help creating your own meals, there's a handy "Create Your Own Meals" chart in this post!
Note: If you've been carb cycling using our book, Choose Lose More, Lose More for Life, you'll notice that we've changed a couple of things since that book was published: You now include a fat for breakfast, and every final meal of the day is a low carb meal. Like with a lot of things in life, the more you do them, the more you learn about how to do them even better!