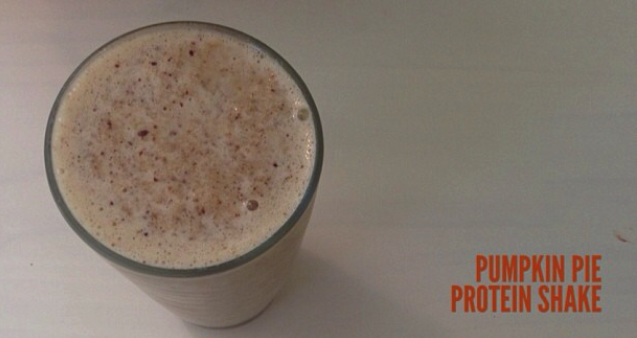 Originally posted October 30, 2013
I stole this way-too-yummy shake recipe off the Instagram account of my good friend (and fellow fitness junkie), Kacey Luvi. If you?re not a fan of protein shakes, I beg you to please try this one?you won?t regret it!
As Kacey said, ?Fall and fitness have never tasted so good.? Mmmm?she's right. Even better? It is the perfect Low Carb shake for those Carb Cycling.

Pumpkin Pie Protein Shake – serves 1
Ingredients:
2 cups unsweetened vanilla almond milk
2-3 tablespoons pumpkin puree
1 scoop vanilla protein powder
3-4 shakes each of cloves, ginger, nutmeg, and cinnamon
2 tablespoons ground flaxseed
Instructions:
1. Pour all ingredients into a blender.
2. Add ice and blend to experience healthy heaven in your mouth. 🙂
Nutritional information: Each serving has 236 incredibly healthy calories, 23 grams of protein, 10 grams of carbs, and 12 grams of fat.
Thank you, Kacey!
Xoxo,
Heidi
Related reading:
My (Almost) Famous Pumpkin Pie Overnight Oats!
Gluten-Free Pumpkin Chocolate Chip Cookies
Protein Waffles with a Pumpkin Twist!
Pumpkin Pecan Pie
Pumpkin Protein Pancakes with Pumpkin Seed Granola