It's time we have a chat?about your footwear. Would you wear stilettos rock climbing? Or how about a cute pair of wedges for a quick run around the block? I didn?t think so. As obvious as it is that there are certain shoes that are definitely off limits for physical activity, when it comes to the differences in general athletic shoes, the lines of what to wear (and what NOT to wear) get a little hazy.
Honestly, I?ll be the first to admit that not too long ago I had no clue about the HUGE impact the ?right? shoes would have on my workouts. I thought all shoes were created equally. But (and I hate to admit this), I was wrong. By testing out and choosing the right style and the right fit for me, my workouts went through the roof and my previously-aching body thanked me. I know, I know?makes you chuckle to think your shoes could actually make you jump higher. While they can?t add a foot to your high jump, proper shoes will take care of your body the way it should be cared for?and this equates to maximizing your athletic potential (possibly a higher box jump!).
It should seem obvious: Crossfit shoes are best for Crossfit, running shoes are best for running. But sometimes finding the right shoe is a little trickier than that. Over the past few years, I?ve been blessed to try just about every shoe out there?and I?m happy to tell you I have my favorites!! Time to share my top picks with you. I am a devoted follower of Reebok for a reason: I freaking love their stuff!!!!!!!!!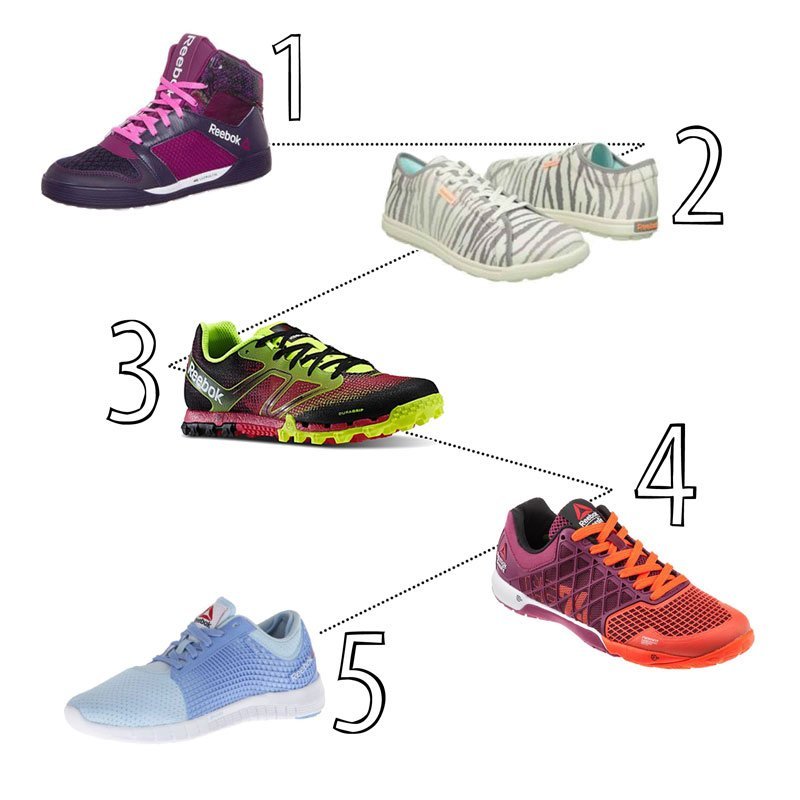 1. Dance UrTempo Mid – Okay, I admit, I?m no dancer and have ZERO rhythm ? but these shoes totally make me feel like I could be! Ha! Honestly, I love the way these look, which truthfully, is what first drew me to this shoe?but they really are designed for dancing. Since Zumba is a GREAT way to burn some cals, I highly recommend these when you?re wanting to bust a move! They feel amazing on, and maybe, just maybe if I keep wearing them, I?ll become that dancer I pretend I am.
2.?Skyscape Runaround?- This adorable shoe literally only weighs 5 oz…you can?t even feel these babies! Totally perfect for walking or, in my case, chasing around my littles! So many different colors and patterns, you can't go wrong with any of 'em!
3.?All-Terrain Super?– The ultimate trail running shoe! I first tried these shoes back in February when Chris and I participated in our first-ever Spartan Race. The traction on these bad boys was so amazing ? while everyone around us was slipping through the mud (I felt so bad), Chris and I were solid as a rock! The 360 traction, H2O drains, and the built-in obstacle grips will rock your world too. Couldn?t imagine a better shoe to wear for an muddy obstacle race, or any ol? trail run! You can read even more about my experience with this shoe in my post,?Did The Shoes Make The Cut??
4. CrossFit Nano 4.0 – I?ve said it before, and I?ll say it again, one shoe certainly does not fit all. Guys, there is a time and place for each and every shoe, and when it comes to Crossfit and Olympic style weight lifting THIS is the shoe you want to be wearing. I am by no means an Olympic weight lifter, but in the short period of time since I?ve taken up Crossfit, I can genuinely feel the difference when I wear this shoe. Plus?Chris thinks my feet are sexiest with these on ;).
5. ZQuick – The name says it all?Z-?quick?. So light flexible, they?re absolutely perfect for a long run – or a short one! And call me crazy, but I feel faster in them (says my inner child). These puppies are made of the most breathable material and somehow still provide the most incredible support. After two major knee surgeries, I have to be picky about my running shoes. With these, I?m completely confident I?m getting the support and structure I need. And the colors? So cute! What more could you ask for?!
As important as it is for us ladies to be wearing the right shoe, its just as important for the men in our life to have the right footwear too. Especially when you?re married to a man that wishes he could live in the gym. Heck?Chris would make our entire home a gym if he could. Anyway? here are a few of Chris? top picks for guys, straight from the man?s mouth, himself!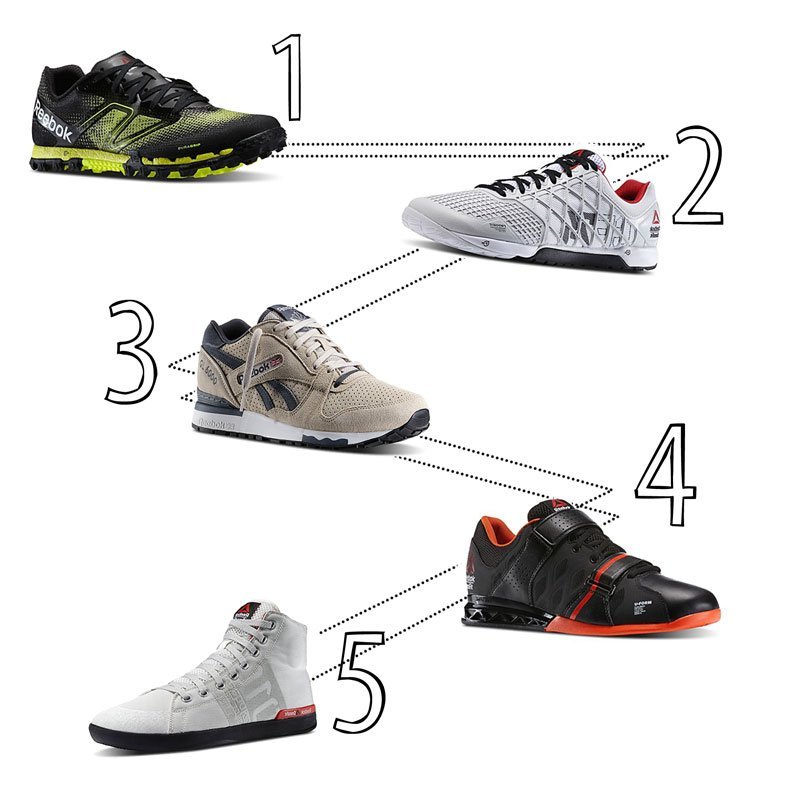 1. All-Terrain Super Series – "Ultimate hiking and obstacle racing shoe."
2. CrossFit Nano 4.0 – "All around best workout shoe."
3.?GL 6000?- "Classics for kicking' it – insanely comfortable and timeless!"
4. CrossFit Lifter Plus 2.0?- "Go-to weightlifting shoe."
5.?CrossFit Lite?- "Perfect for powerlifting."
Finding the right shoe, is so essential in helping prevent injuries during any sort of physical fitness – so tell me, what's your fave fitness shoe?!
Xoxo,
Heidi
For more of my favorite shoes and workout apparel, head over to Reebok.com/Heidi.Powell