Is it just me, or does old St. Nick get all the glory around the holidays? I'm all for a little friendly (or not so friendly) competition, so I thought a good old fashioned battle with Santa would put him back in his place. Santa and I went head-to-head, competing over present wrapping, egg frying, and, of course, a handstand contest with completely fair rules and a completely fair little Elf referee. 😉 Check out the video to see who came out on top, just how creepy this Santa got, and who our guest starring referee was. And if you can't imagine Santa being a little on the shameless side, this is a video you'll have to see to believe!
Was it any surprise who won?! I didn't think so! If you didn't catch the video, here's how it all played out:
Gift Wrapping Battle: Heidi won!
Egg Frying Egg-stravaganza: Santa barely beat Heidi here. 😉
Handstand Competition:?Heidi wins again!
….that's right, I took the cake, and it's officially official?Heidi beat Santa! Maybe if Santa would've focused on winning more and creeping less, he would've come out on top. Better luck next year, Santa Claus!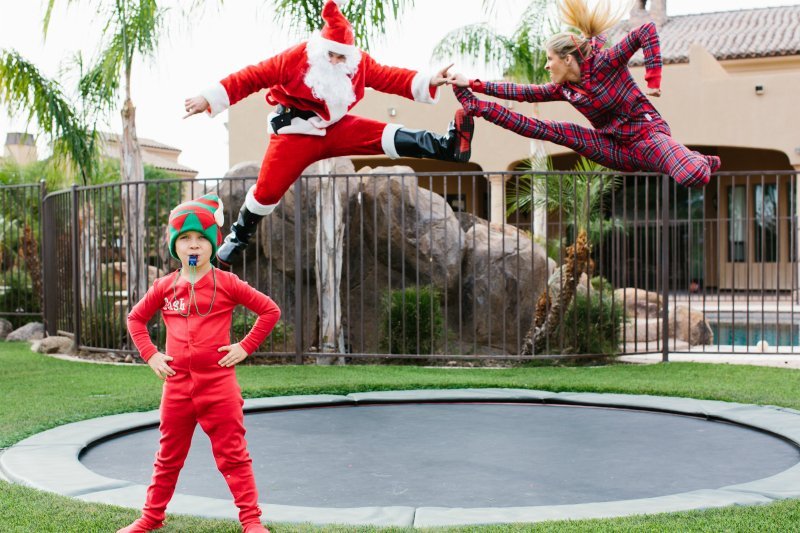 For more fun Powell Pack videos, subscribe to my YouTube channel here!
Xoxo,
Heidi
Related posts:
Christmas Morning Cooking // 1-Minute Breakfast in a Mug
Christmas Craft: Rudolph the Thumbprint Reindeer
Ask the Powells: How Do We Handle the Holidays?