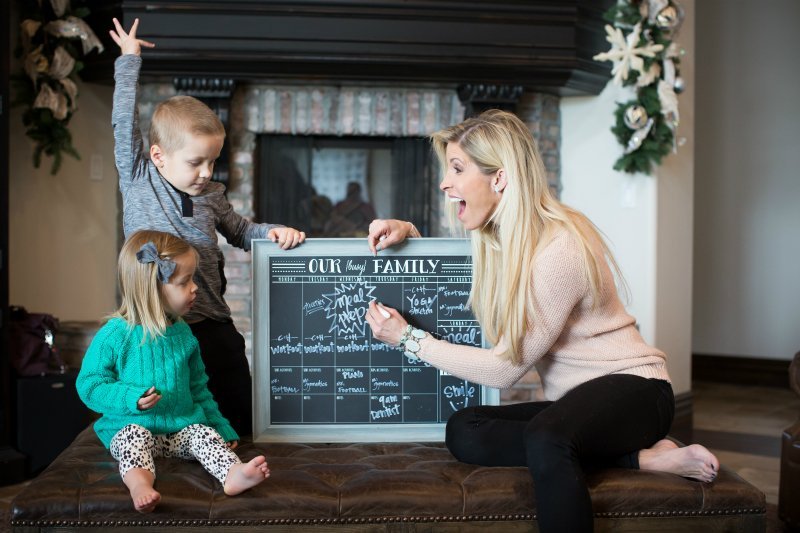 Keeping your health and fitness goals on track while juggling a busy schedule can be so difficult? trust me, I totally get it! I must say that after years of busy-ness (including 4 kiddos and a full-time workload), I do have one tip in particular that keeps me ahead of my game: an accountability calendar! Planning ahead and scheduling your workouts and meals into your daily life (ahead of time)?is a MUST, and it is my tried and true way to say on top of my own fitness and transformation. I should mention, this tool has worked wonders for many of our clients too.
The how-to is simple:
First, grab a cheap calendar at your local store. You can literally get one at the dollar store! Then at the beginning of every week (I like to do this on Sundays), write out ALL of your high-carb/low-carb days (according to your carb cycle needs) for the entire month, and then list your daily workouts underneath. Take it a step further by pre-planning days to bulk prep your foods (my days are Wednesdays and Sundays). If you are like me, you can also write out your detailed?meal plan for the week according to your pre-allocated high- and low-carb days.
Simple, right? But seriously such a game changer! Treating your workouts and meals like a meeting or an appointment on your ?to-do list? is much more helpful in keeping you accountable than playing it by ear or going with the flow. As the old saying goes, "fail to plan, and plan to fail!
For meal ideas + workouts, check out our latest book, Extreme Transformation!
Xoxo,
Heidi
Related reading:
Tuesday Tip: Fruits and Veggies?Out of Sight, Out of Mind!
The Extreme Cycle | Meal Planning Tips
Tuesday Tip: Couch Potato Workout