Diaper changer, carpool driver, fight mediator, sock matcher, laundry doer, dried applesauce on the floor scrubber, lunch maker, report writer, homework corrector, chore list maker and implementer, and hug giver. There is one word that can sum up all of these titles (and so many more): MOM. Whether it's you, your wife, your friend, or your own mom…let me help you shower them with love this weekend (and always!) Gift guide below….
But first, my own thoughts on motherhood.
I've said it once, and I'll say it again. Of all the roles I play and the hats I wear in this life, motherhood is by far and away the best. Most of the time, to be honest, I don't feel so deserving of 4 kids that dote on me and love me as much as they do. But I will take it, because no love compares to that of my little self-made (with the help of another) human beings, and no love makes me want to give more love to the world than that of a child. Really though, can you think of anything else that can turn your day from awful to amazing in .5 seconds like your own kiddo can?
Matix with his wit and jokes, always making me laugh. And STILL wanting to snuggle with his mama at 12 years old.
Marley and her random acts of kindness to me: Cookies, cards, protein bars shaped into hearts, and love notes telling me how proud she is of me. Sometimes I have to remind myself that I am HER mom. The sweetest.
Cashy boy. All I need are those baby blues and his hilarity that he is completely unaware of. But he is oh, so aware of the world. One special kid.
Ruby…do I even need to go on? This little one is the sunshine of my life. My little feisty mini-me. I only tolerate her sassiness because it's exactly how I feel on the inside many times but I'm too afraid to let it out. She is my inner spirit child.
A little bit for my own mama?I wouldn't be here without her. Not just physically in this world, but actually WHERE I AM in life right now if I didn't have her love and support the entire way through. I've gone through some really rough patches in my life, even some recently. Through it all, I always have to remind myself that there is ONE person on earth that would stick by me no matter what. That is my mama. Just knowing that, and knowing I have unconditional love from at least one human being on this earth, is enough to get me through sometimes. I love her to pieces, and I hope I can be a fraction of the mom to my kiddos that she is to me and my brothers. Happy Mother's Day, Mom!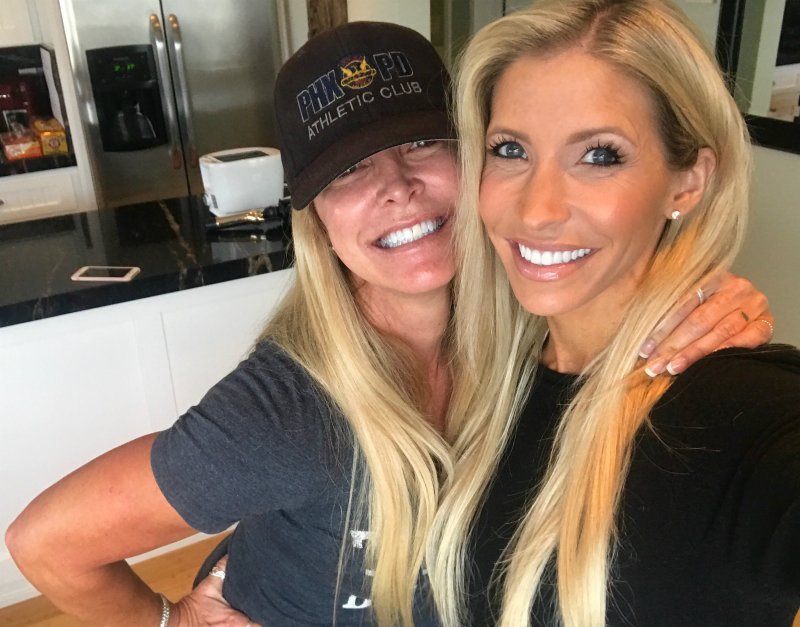 Mommy-friends, time to squeeze our kids a little tighter this weekend, appreciate the love they bring us, and also appreciate ourselves for the sacrifices we make and the love we give to ensure they turn out to be decent human beings! It's hard work, and it oftentimes goes unnoticed. But worth it times a million, am I right?
Now to the gifts. (Mom, this is where you need to STOP reading…because I may or may not have gotten you an item or two from this list).
For the Fitness Loving Mom:
While I'd rather roll into the gym with no makeup, pajama pants, and just my Beats, all the cute gym bunnies/mommies have inspired me lately. It's true?I firmly believe that if you look good, you feel good…which makes you work that much harder somehow, so YES, your gear CAN actually make a difference (due to BOTH comfort and fashion). Is there anything your favorite fitness-obsessed mom wouldn't love more than looking and feeling great? If you?re looking for even more inspiration for your fave fit mom (beyond looking great at the gym), our book and app are some other great options. <Shameless plug> Either way, here are some of my favorite gym finds.

For the Fashion Loving Mom:
Staying stylish while juggling kids, work, health, and everyday life means focusing on staple pieces, but adding that special something (or saying) can really turn your day around. Some of my favorite gifts are small?but very powerful in meaning?which is why I?m absolutely obsessed with Cents of Style?s line of Tribe Inspiration Bangles and Perfectly Imperfect Tee! Added bonus: use code Powell4 on my picks to take $12 off of each (the tee come in at $17.95 and the bracelets are $12.95 ?). All of these pieces add a special touch to this year's Mother's Day. Here are some of my favorite fashion finds for mom.

For the Foodie Mom:
It's true, abs are made in the kitchen, but so are delicious and nutritious treats for the family…and having fun kitchen accessories adds that extra flavor (pun intended). For your favorite mom who loves to cook and bake, here are some of the sweetest gifts for mom.

While moms are worth everything in the world, and you wouldn't be here without yours, shopping for mom sometimes means buying practical gifts – because let's face it…you make my life easier, I'll make yours easier too. 😉 These are a few of MY fave practical and sweet gifts! Remember: It doesn't have to be Mother's Day to gift! 😉 What are you gifting this year?
Xoxo,
Heidi
Related reading:
My Top 5 Ways to Fall In LOVE With Your Body
How I Manage My (Im)Perfectly Balanced Life
I am (still) Perfect?
I am (not) a Pinterest Mom
Love Who You Are