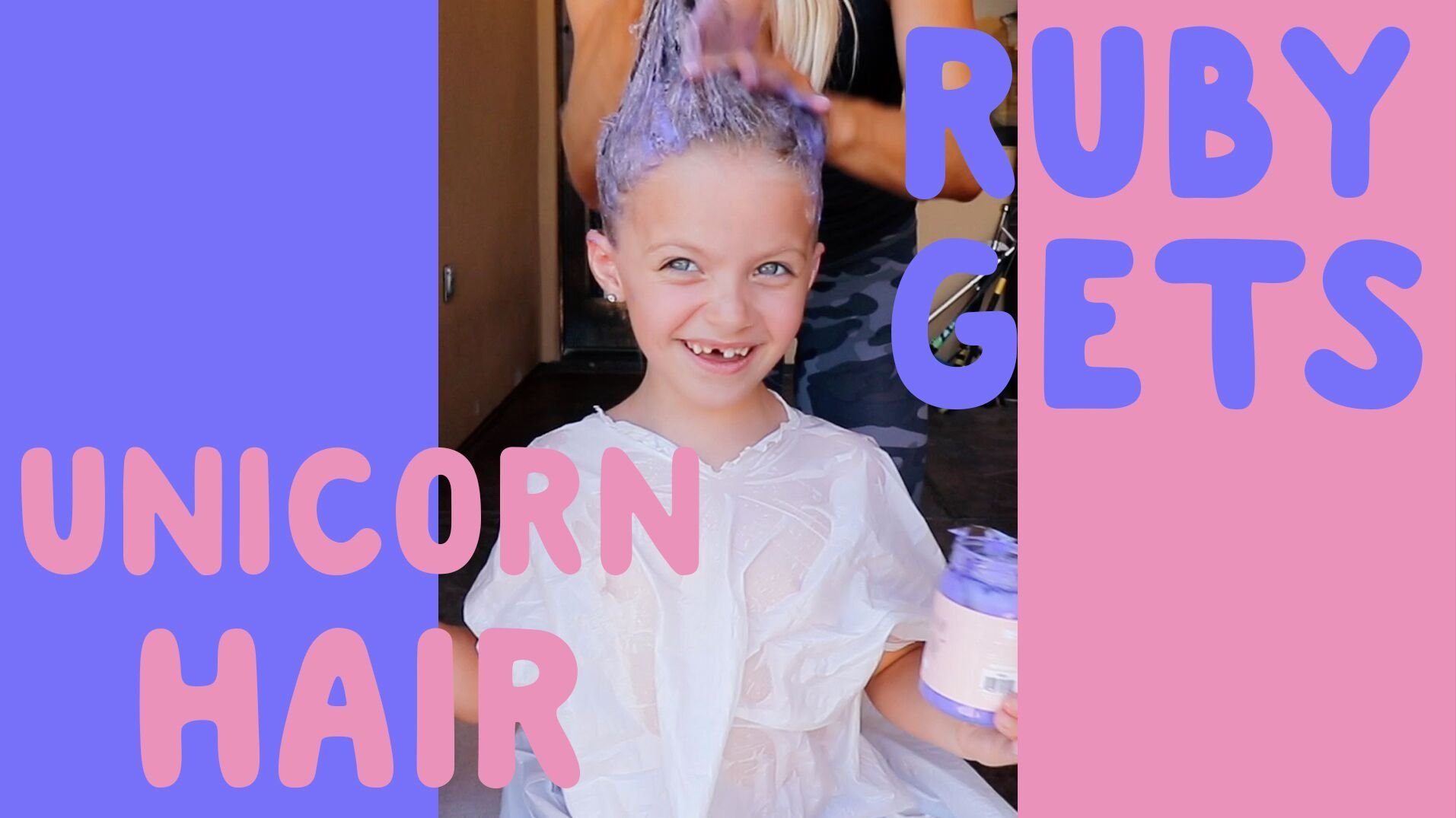 Halloween is here!? And I?m feeling the push to suddenly transform into some sort of Pinterest-esque mom of the year. What is it about the holidays that gives me the need to be DIY crafter extraordinaire?! You?d think I would?ve learned by now to leave the crafts and homemade costumes to the real experts.
But with a kiddo as creative and fun as my Ruby Lane, coming up with fun, easy, costumes is practically effortless, and with a little bit of hair dye and some imagination, a DIY look is totally within reach. After some digging and a little research, I found quite a few fun options for hair accessories, colored chalk, and wax that?s both easy to use AND easy to remove. Plus, they?re super fun and totally give me major ?cool mom? points. Not to mention, you can do this with your kids anytime of the year!
Ruby Review: Lime Crime Unicorn Hair Purple
You guys, don't take it from me. Miss Ruby Lane has her own review of Unicorn Hair by Lime Crime, and it's obvious Ruby thinks she has her own YouTube Channel. Don't tell her otherwise! You can find Lime Crime dye here. It is semi-permanent, so it's a little bit different than the suggestions below, but it's still a fun way to turn your hands purple (sorry, moms) and have a fun and subtle hair color in the end.
Hair Color for Kids: Favorite Ways to Add Colors to Your Kids' Hair
Our experiment with Lime Crime wasn't the first time Ruby became a real life Rubycorn. ? To help your kids, this Goldilocks is sharing her top ways to have fun with your kids on Halloween or any time you feel like playing dress up!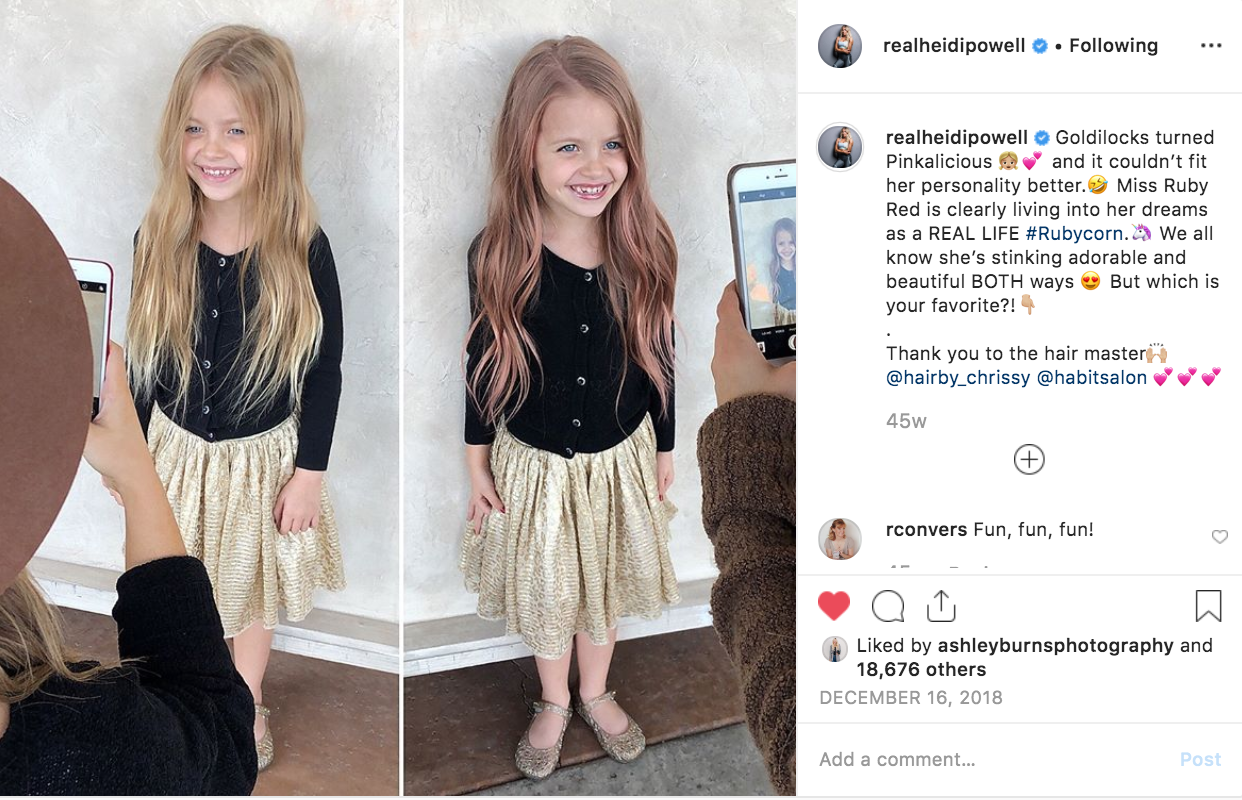 JUMBO HAIR CHALK PENS: These. Are. Amazing. Both colored AND scented, these jumbo hair chalk pens are so much fun! Just rub them right on dry hair, almost like you?re painting or coloring with a crayon, and watch your kiddo?s (or your!) hair transform. These were a huge hit! Right now they?re over 75% off, and you can snag 6 colors for less than $12! Such a win.?Order today, and you?ll have them for every day fun and future festivities!
COLORED HAIR EXTENSION CLIP-INS: Updating a hairdo from drab to fab is a snap with these guys! Literally, a snap. Just clip ?em in to your girl's hair and wait for the praises and ?Thank you, mom!? to roll on in. Just $10 for 16 pieces of fun, vibrant, clip-in hair extensions. I can only imagine all the crazy costumes Rubes could come up with using just these! So much fun.
TEMPORARY HAIR CHALK COMBS: Okay, this one is really cool! Use these just like a regular comb but watch them change your hair color instantly! Unlike the chalk pens, use these on wet hair. Just glide them on through your tresses for a super fun transformation. They come in a pack of 6 for $9! Rainbow Unicorn hair, anybody?! Plus, you don't have to wait the 45 minutes that you otherwise would with the Lime Crime Unicorn Hair. These are Ruby-approved.
In the words of Ariana Grande, "You like my hair, gee, thanks, I bought it." Insert Ruby dance moves here. 😉 But really, these are great and simple ways that add color and fun to your kids on Halloween or any day of the week. Perfect for those of us who aren't exactly the next Martha Stewart, and all three of these get the Ruby Powell stamp of approval!
What are you kiddos dressing up as for Halloween? Do you DIY or buy your costumes? Let me know in the comments below!
xo,
Heidi
Related reading:
Ruby?s First Halloween?DIY Style!
Does the Powell Pack Eat Halloween Candy?
Halloween Sweet Treats
How to Win the Halloween Candy War: My 3 Tips to Avoiding the Candy Binge
Halloween Candy Workout: Family Style!