Any normal year, you'll find me scrounging around the clearance aisle a couple of days before Easter searching for items to make a great basket so that I don't get in trouble with the Easter bunny (and my kids)! The hustle and bustle of life can make that Pinterest mom idea a real challenge. But this year, for many, there aren't any Easter clearance aisles to pick through. Knowing how important social distancing is, it's made me rediscover and re-prioritize how we can celebrate Easter. Truthfully, with everything going on around the world, the silver lining is that it's reminded me to slow down and appreciate what I have: my family.
If you're feeling a little bummed that you won't be able to socialize with family near AND far, you're not alone. Or maybe you're afraid the kids won't be as excited without Easter baskets filled to the brim. To help alleviate some of that quarantine stress, I've put together some great gifts and activities to make sure the Easter bunny still hops to it, bringing you all the joy you're accustomed to this time of year.
Top 5 Sugar-Free, Stay at Home Easter Basket Ideas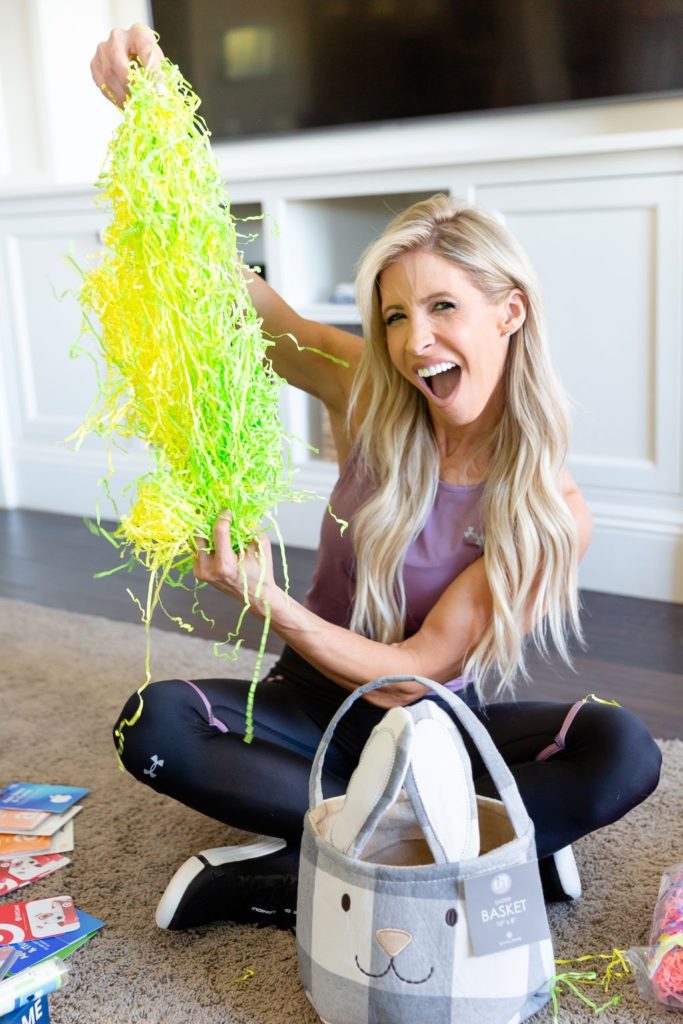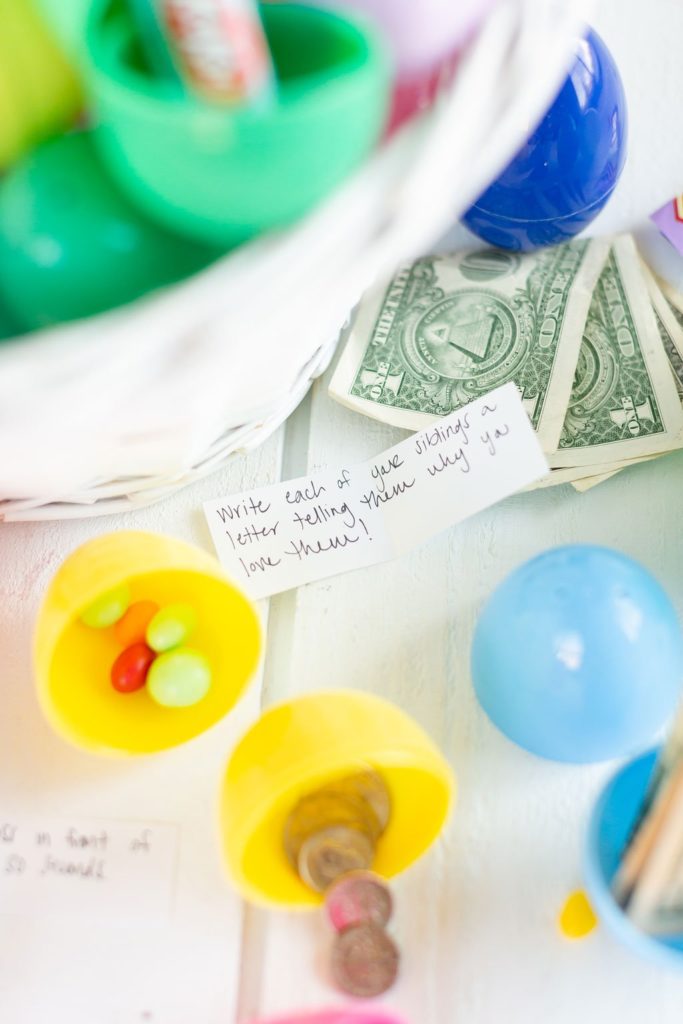 Before I tell you my top tips, an EGG-sential part of Easter in the Powell house includes hiding eggs for my kid's egg hunt AND it just so happens that it requires you to #stayathome. Instead of filling eggs with candy, we fill them with quarters, love notes, and pranks or chores for the kids to do. You never know what you?re going to find on this egg hunt!
The best part about this hunt is it requires 0 visits to the store, and if you're used to doing an egg hunt family-style, consider using video chat on your mobile devices to share the experience wherever you are.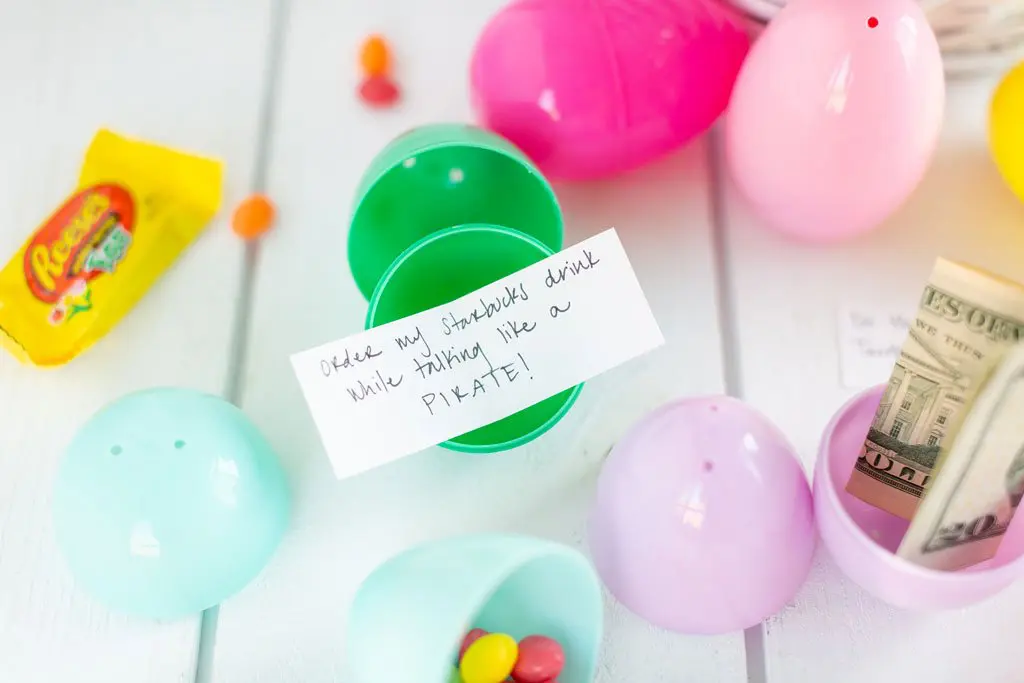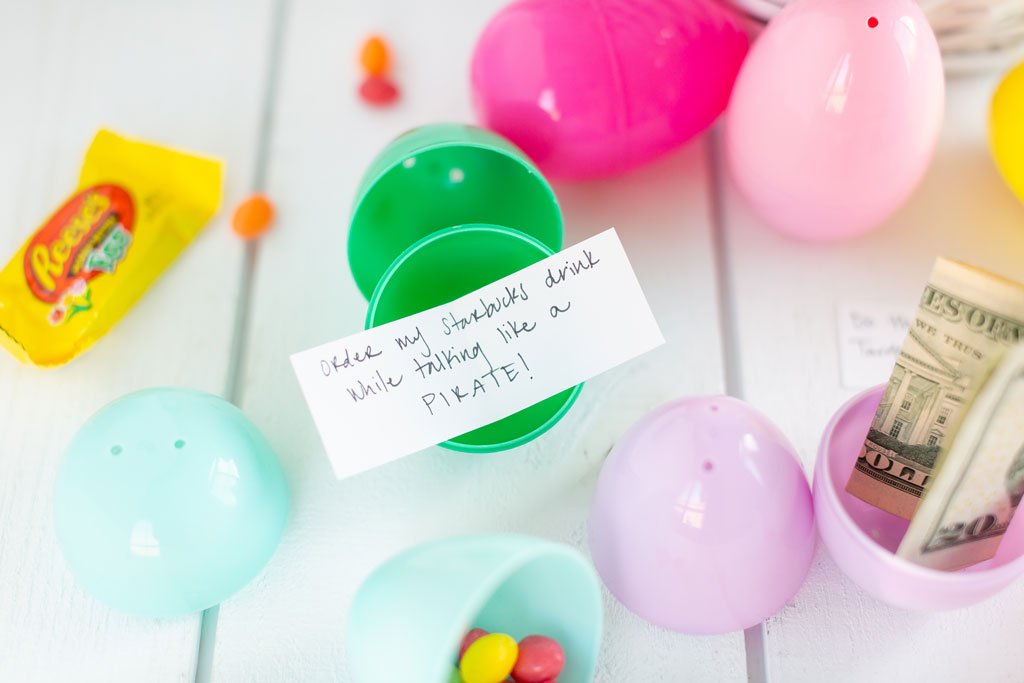 Note: We save the eggs every year so there's no need to buy them again. If you haven't picked up eggs yet, depending on where you live, these are available for curbside pickup and these adorable monogram eggs ship within 3-5 business days. If you want to completely forgo the plastic eggs, hide paper slips or notes on sticks behind different natural features in your yard like plants, rocks, etc.
For those who can't join us at the table this year (aka everyone who doesn't live in our house), we're all going to eat "together" over video chat and share recipes beforehand so everyone is having a similar experience without being physically together. There are also plenty of virtual church services you can enjoy "together." If you want to break out of your norm, take off those sweatpants and have everyone get dressed up to enjoy the day together to make it an occasion.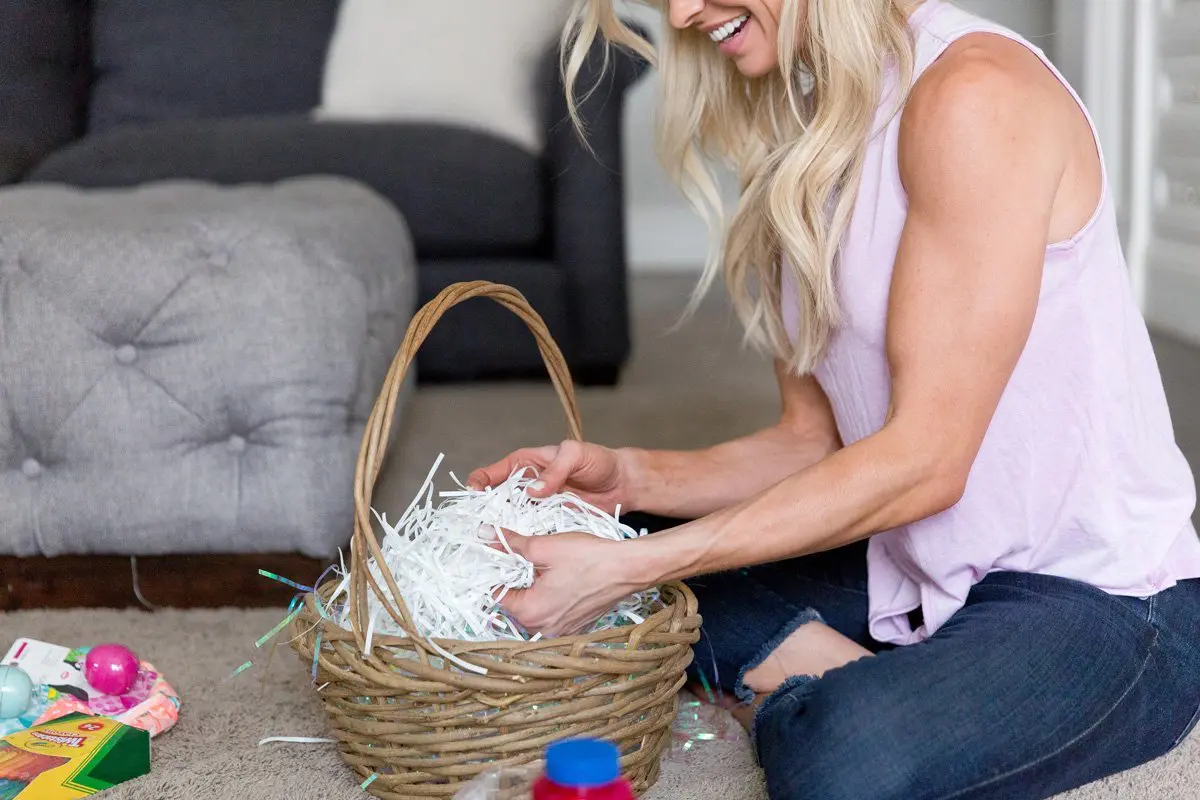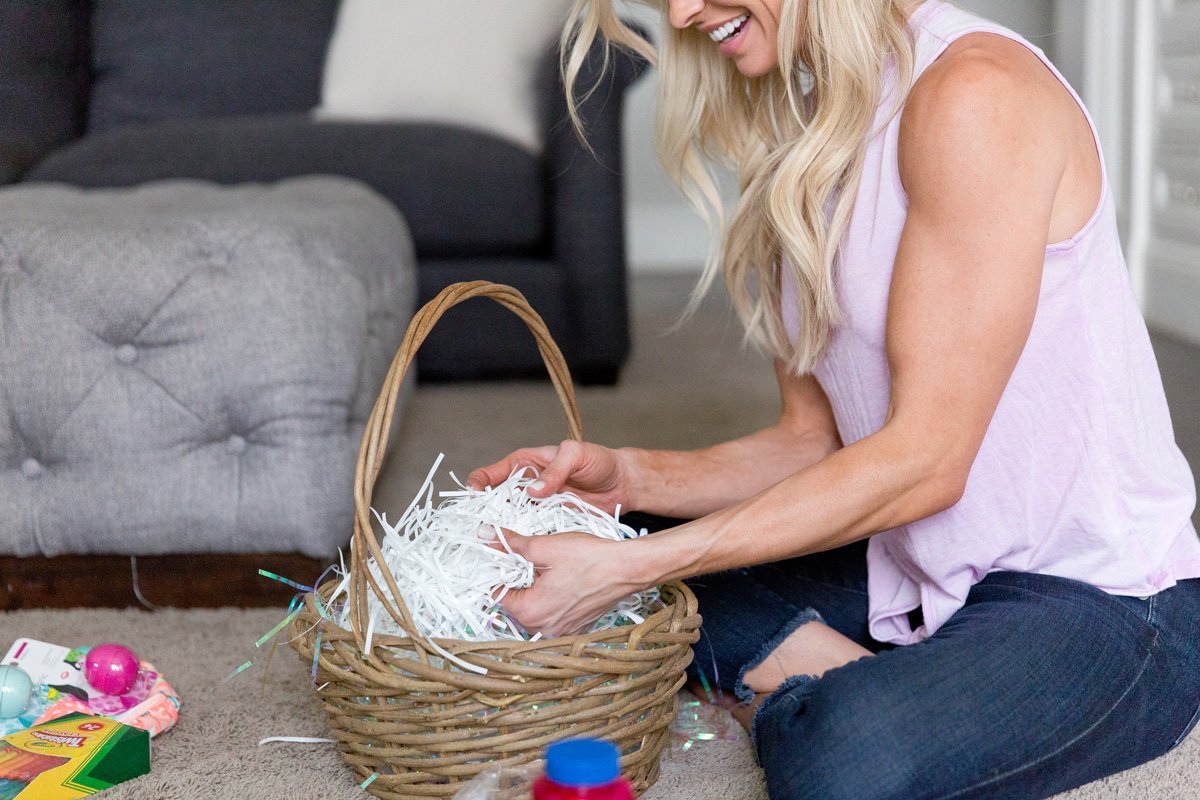 Luckily, we saved our baskets from last year (click here to see Ruby's unicorn basket and all our other baskets). If you don't have baskets, think about what you have inside your home. With a little imagination, even some paint and an old soda bottle can turn into an Easter basket. To fill the baskets and not leave home, I'm starting with some DIY grass. You can use anything from paper (even shredded newspaper colored with markers) to felt scraps, fabric, or even real grass. Click here for some great ideas.
1. Gift Cards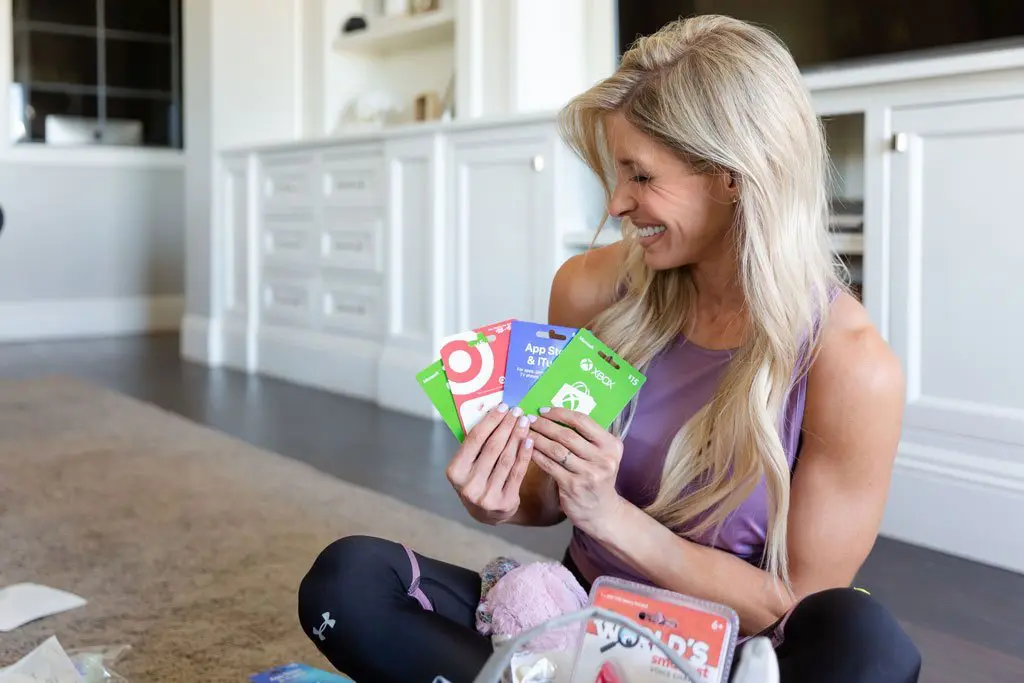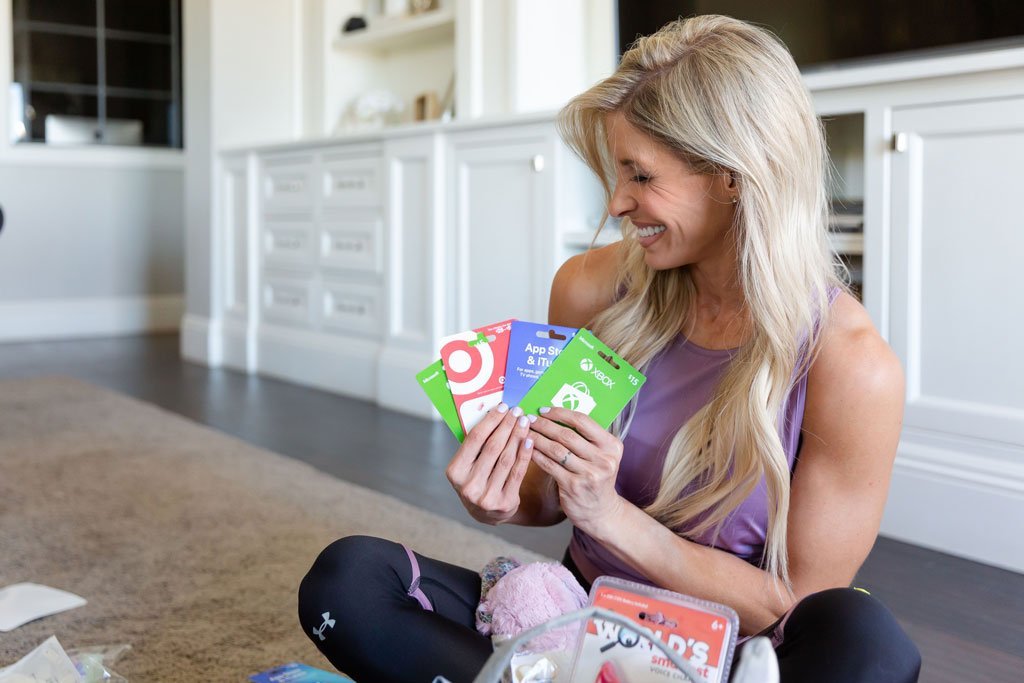 This year, we are gifting two kinds of gift cards: gift cards for our favorite local businesses and digital gift cards. If you want to support your local restaurants, call to see if they have gift cards. Some places will even take your name and create a credit/gift card for you that you don't have to pick up. For each digital gift card that doesn't have a printable option, Chris and I are going to create handwritten notes from the Easter Bunny to them so that they still have things to open and get excited about.
In addition to supporting local businesses, we're adding digital gift cards to the bags. This amazon gift card lets you add your own photo, and it will be emailed directly to you. I'm also gifting this Starbucks gift card (sent via email) and this Hulu gift card because who doesn't do a little binge-watching with everything going on?
2. Sidewalk Chalk + Stencils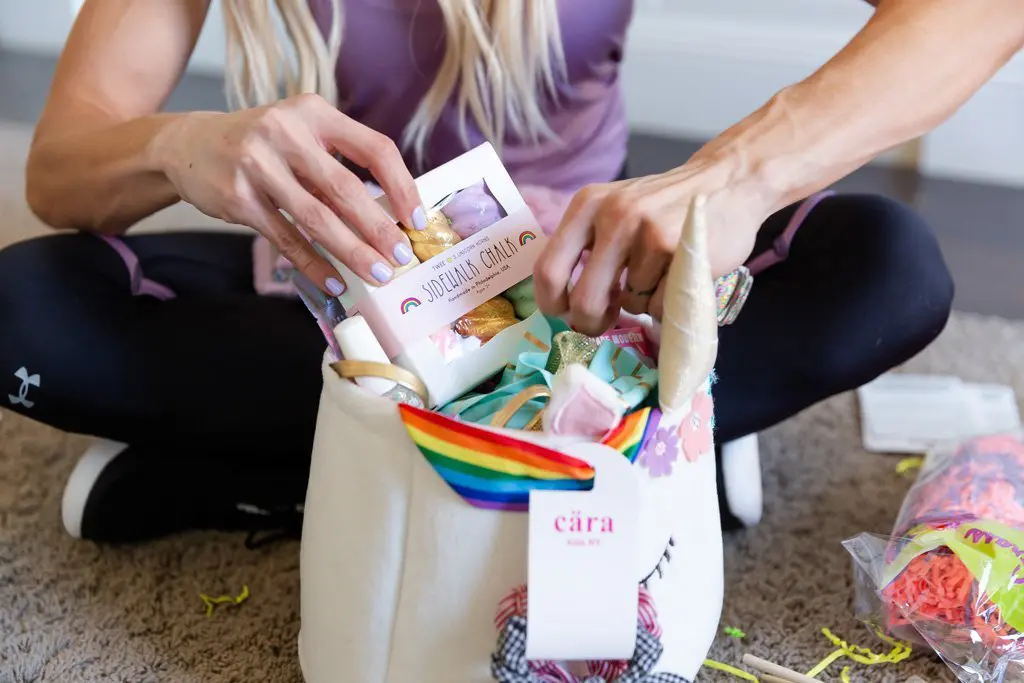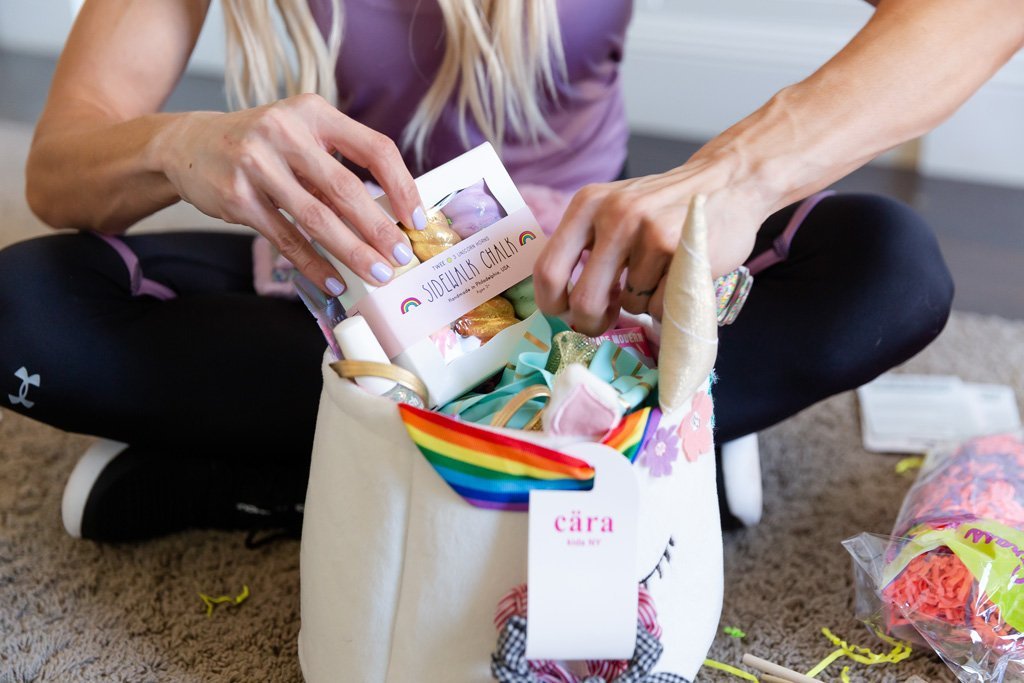 Last year, these unicorn sidewalk chalks were a big hit, and with all the at-home time, the kiddos will certainly be seeing sidewalk chalk in their baskets. You guys, it's a great way to get the kids outside. The kids also love these space stencils (plus, you can use them as an educational tool), and we love this 3 pack of spray chalk too.
3. Gardening Kits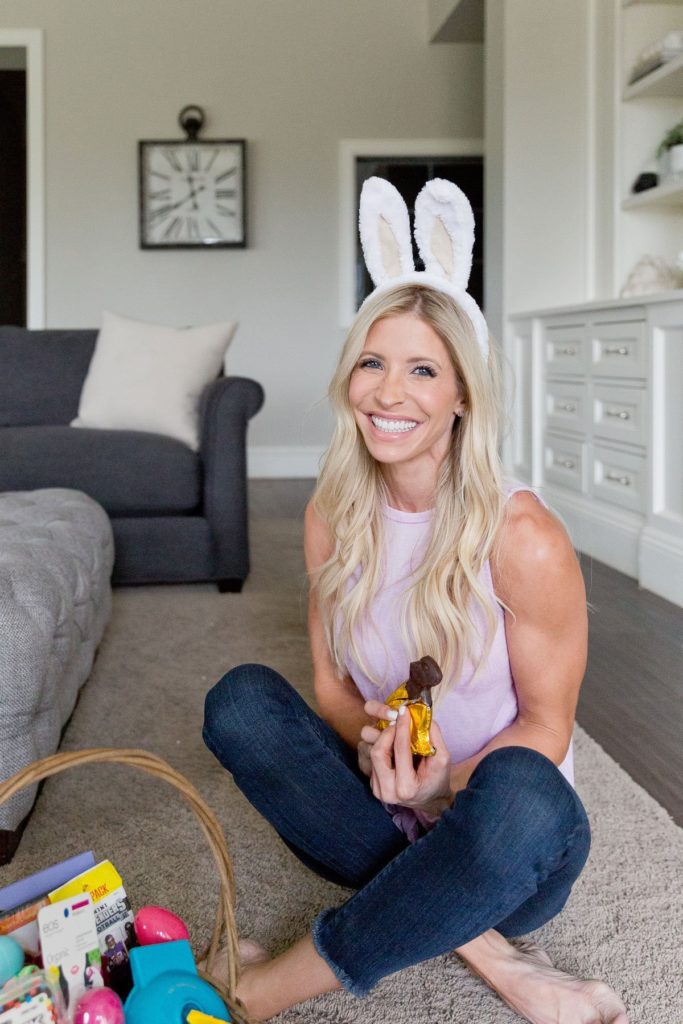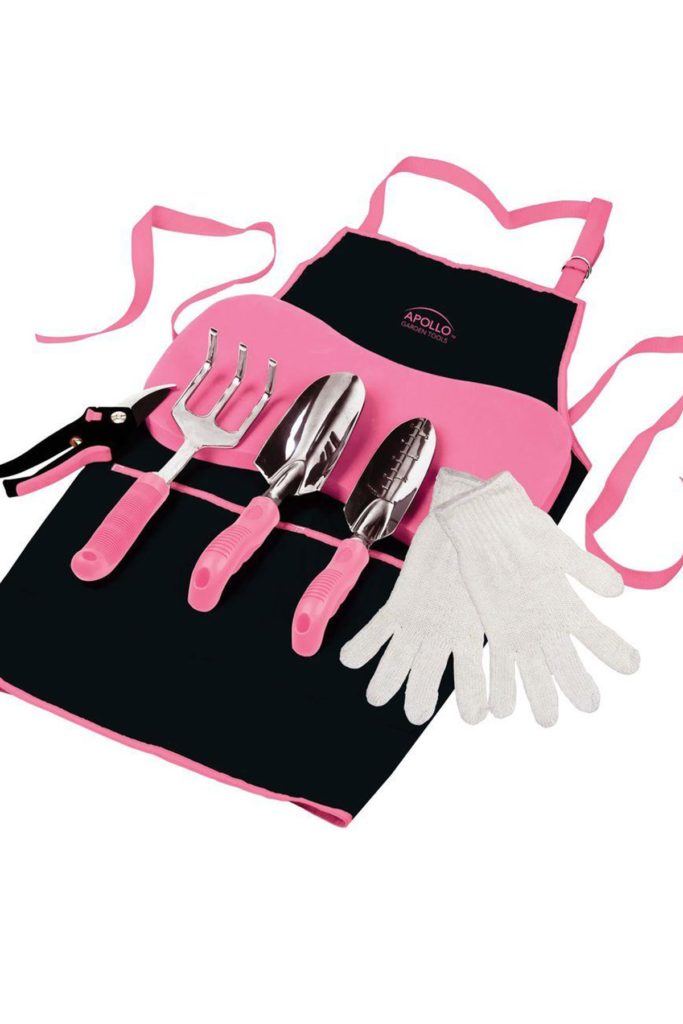 If you feel like all you hear during the day is the word "mom," you're not alone. So why not gift something to help your sanity too?! 😉 Another way we're getting the kids outside and their minds fully occupied is this at-home gardening set (in-store pickup options available in select locations) and this kid's gardening hat with markers so they can color it in is a great way for everyone to get creative. If you really get into the spirit of hunkering down, take this opportunity for them to pick out a plant that produces food like tomatoes, lettuce, or herbs.
4. Future Family Trip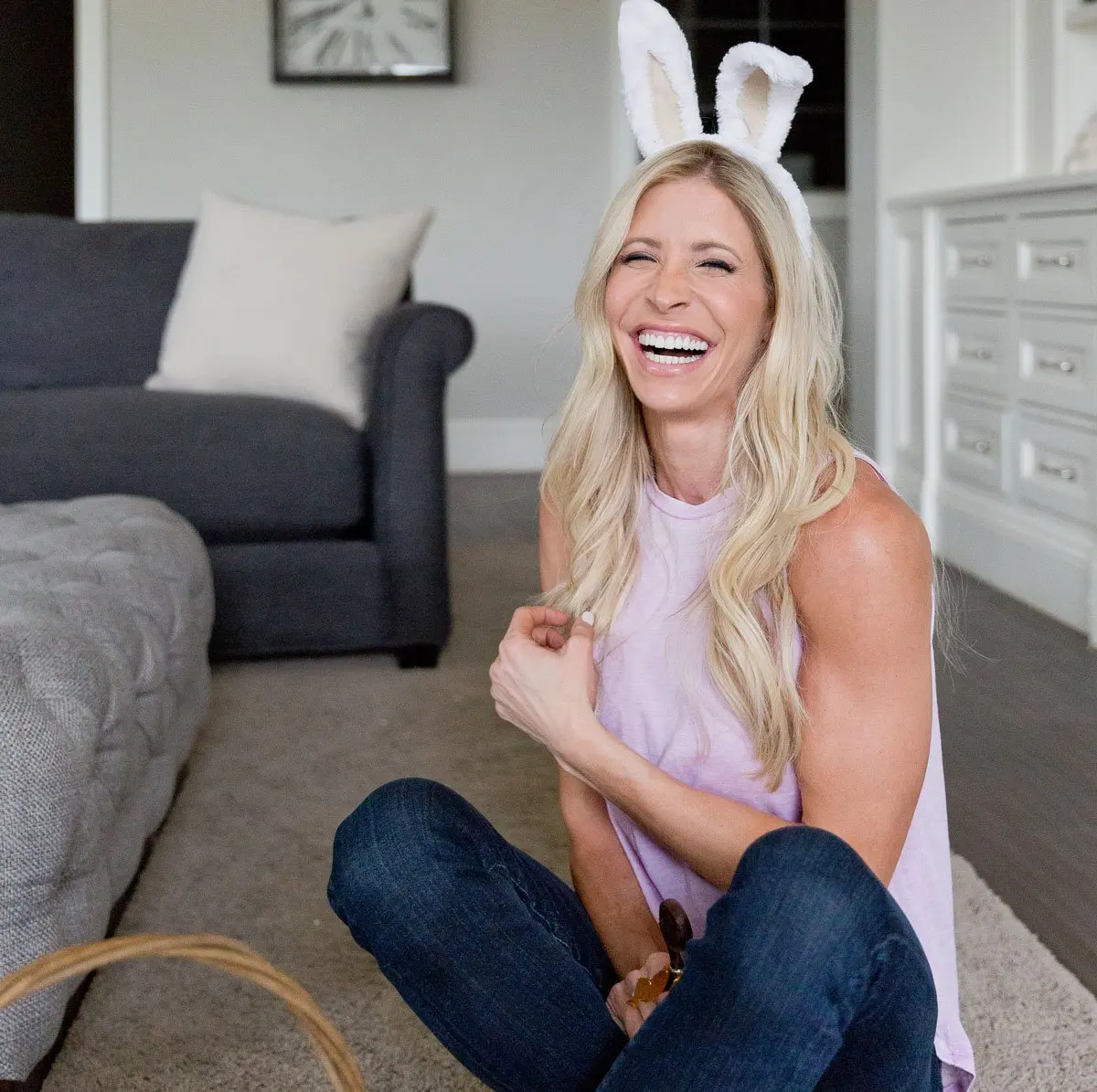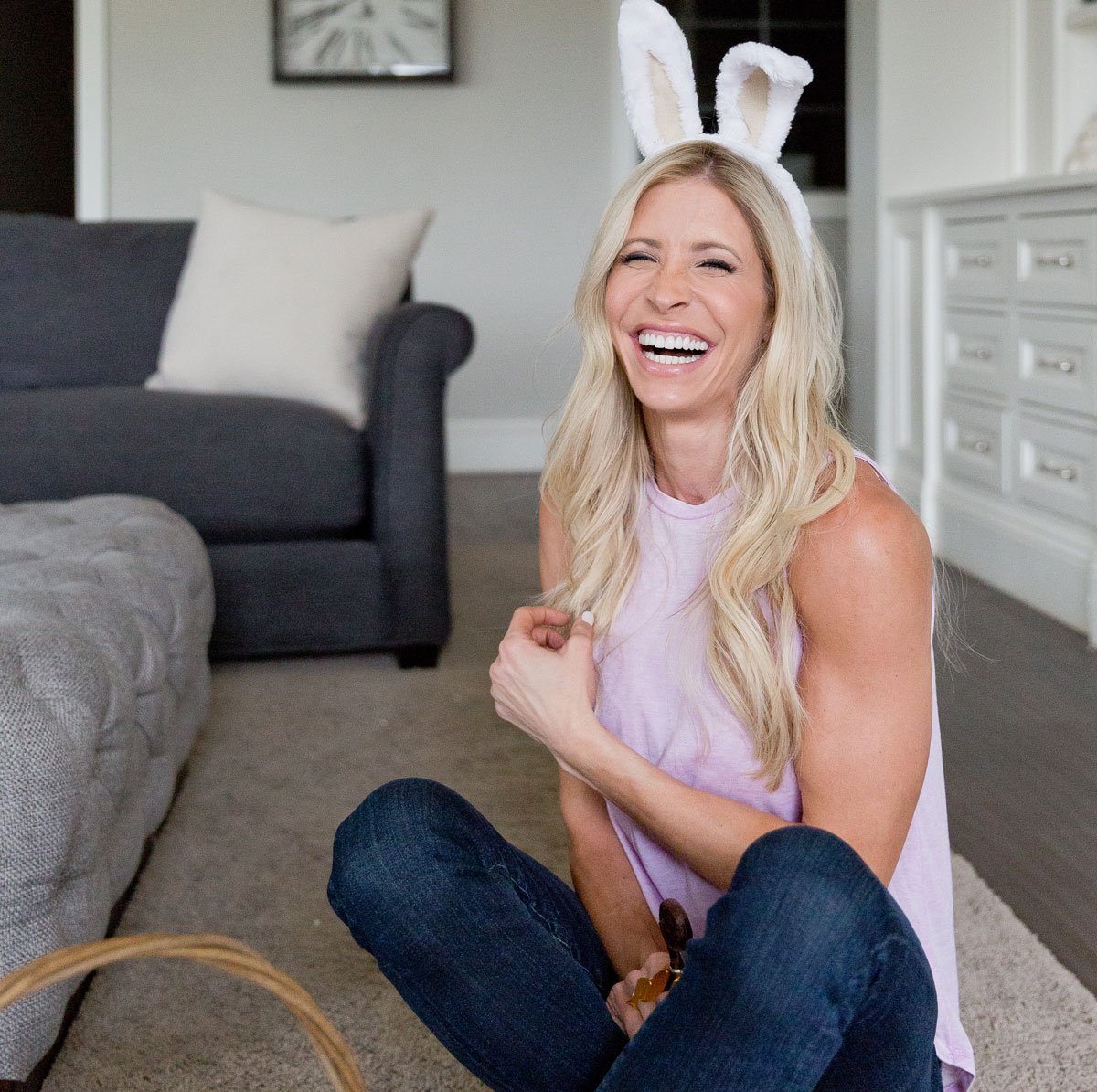 We like to sneak away to The Four Seasons, which is about 25 minutes away from Phoenix. It's the perfect way to recharge and reconnect. We may not be able to hop ? on over right now,? but planning a trip with the family is one way we plan to give the kiddos?and ourselves?something to look forward to. Ultimate mom hack = finding a gift that gives back to you, am I right? A printable like this one is a great way to show the kids all the great stuff we're planning to do. Plus, no one has to leave the house to get started. I also love this vacation planner. It's a great DIY way to give the kids something to unwrap without being the ultimate Pinterest mom.
5. Family Games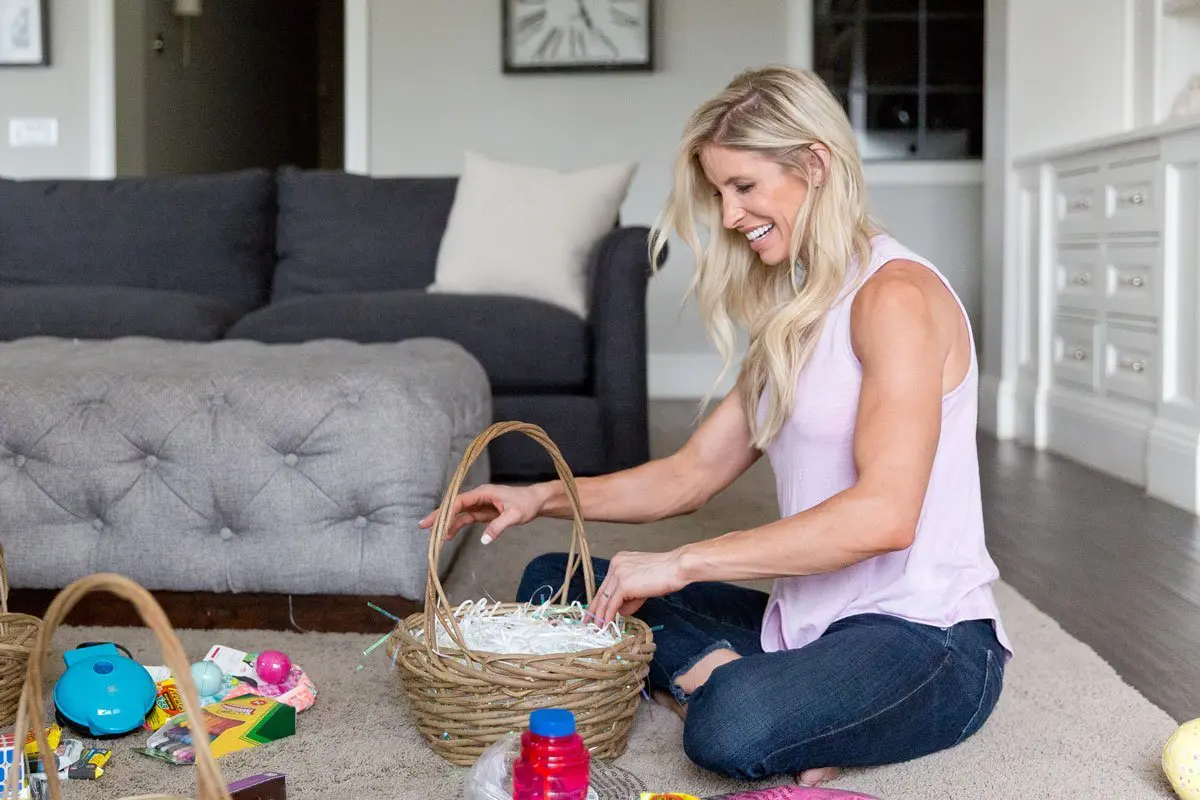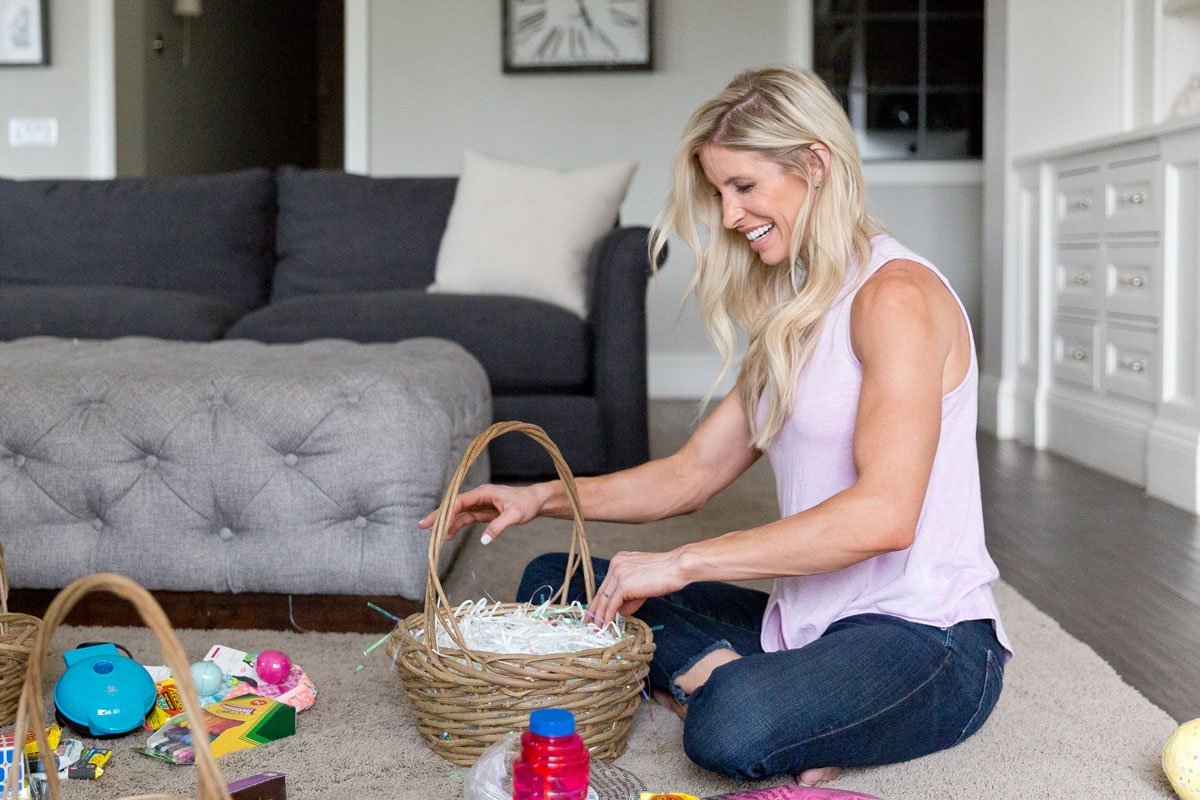 The Powell Pack loves a good game night (and some solid competition!). Some of our favorites are Watch Ya Mouth, Gator Golf, and the beloved classic, Mouse Trap! Depending on where you live, you can order for curbside pickup or delivery before Easter. Board games are a great way to organize the family chaos with all that at-home time!
The reality is that this year is going to be different. But that doesn't mean it can't be just as good as the years before. It's during this time that we reflect on the true gifts we really have which are our family and not things. Things can wait, and I'm sure that as we reach the other side of this, the stores will be filled and the restaurants will be packed, but until then, let's do what we need in this time of social distancing to help flatten the curve, stay home, and enjoy what's right in front of us: our families.
Happy Easter!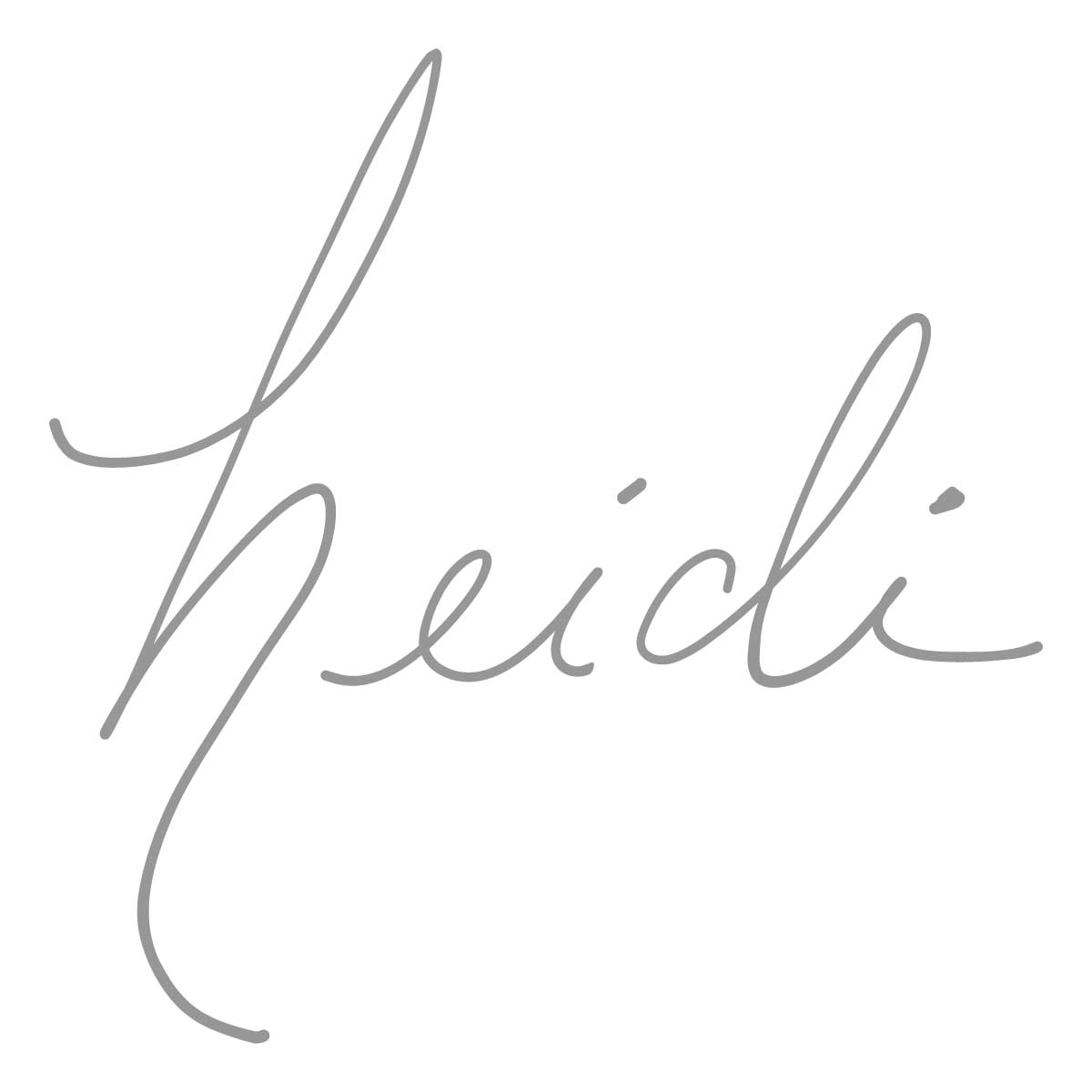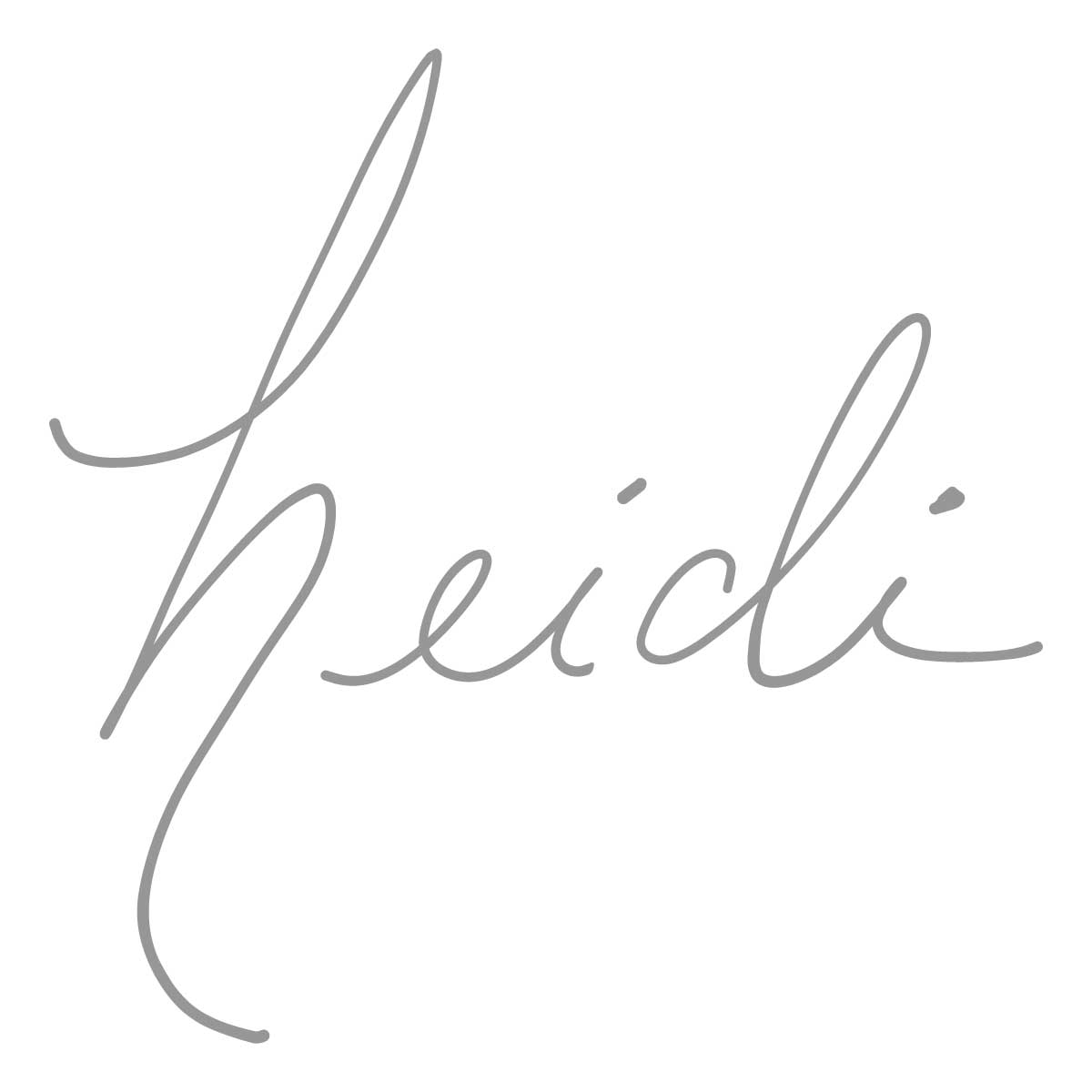 Related reading:
Fun Easter Activ-ities
Easter Made Easy: 5 Hacks for Busy Moms!
Easter Brunch: Apple Chicken Hash
Easter Bunny?s (Almost) Sugar-Free Easter Basket Ideas for All Ages