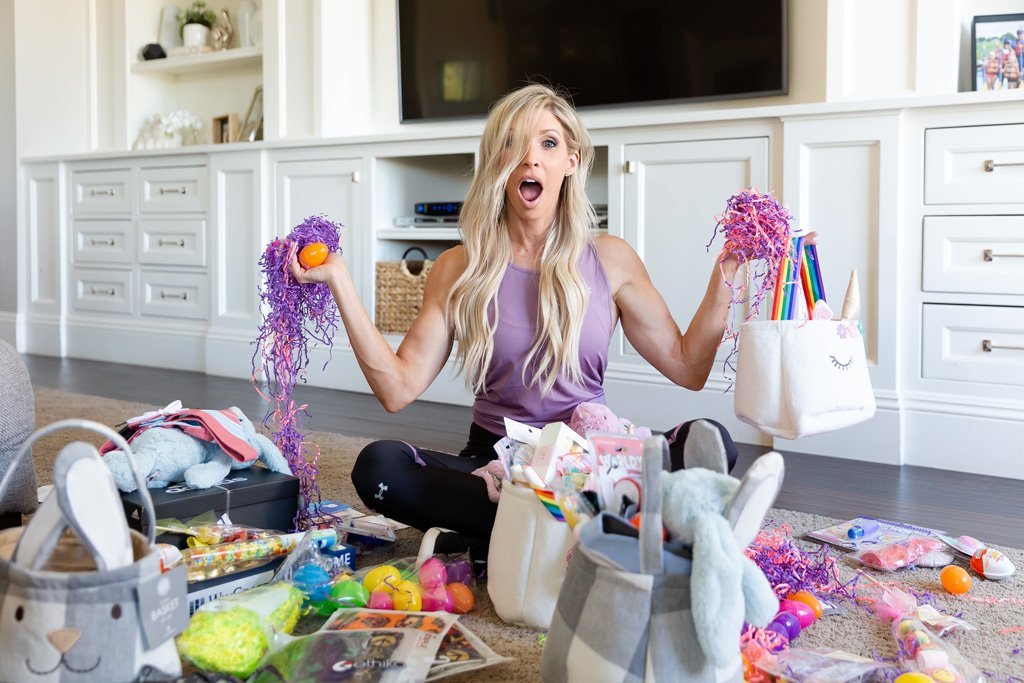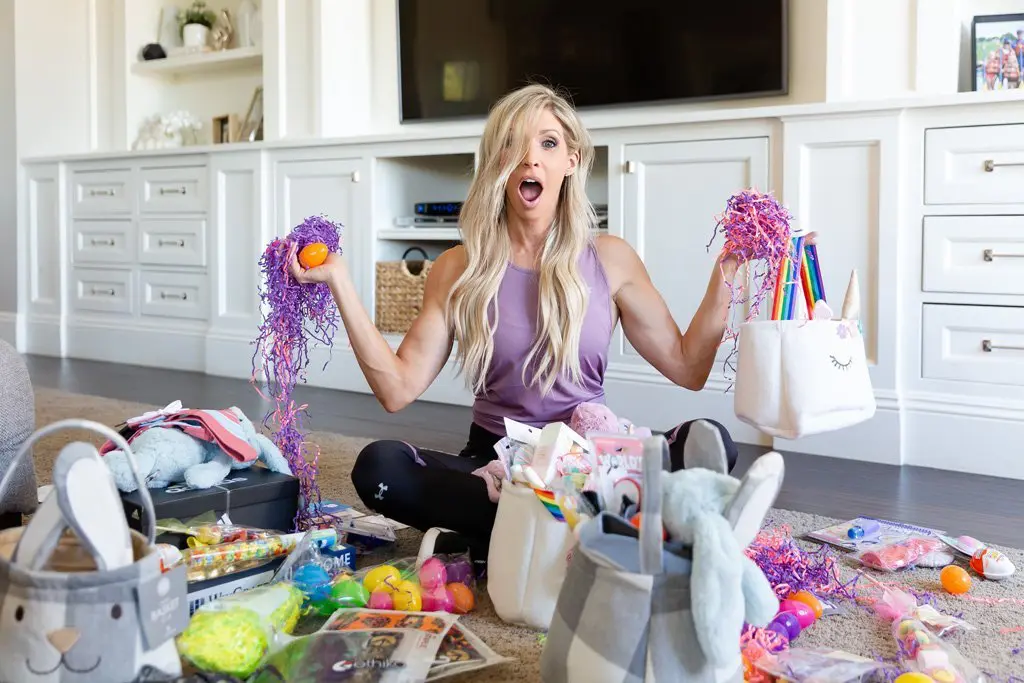 WHOA! Did you see that?! That little pink thing in the clouds? I think it may be a pig flying, because this last-minute-mama is actually ahead of the game this Easter! I'll admit…I usually get so caught up in the hustle and bustle of life that I never have time to snag adorable baskets and fun gifts for Easter!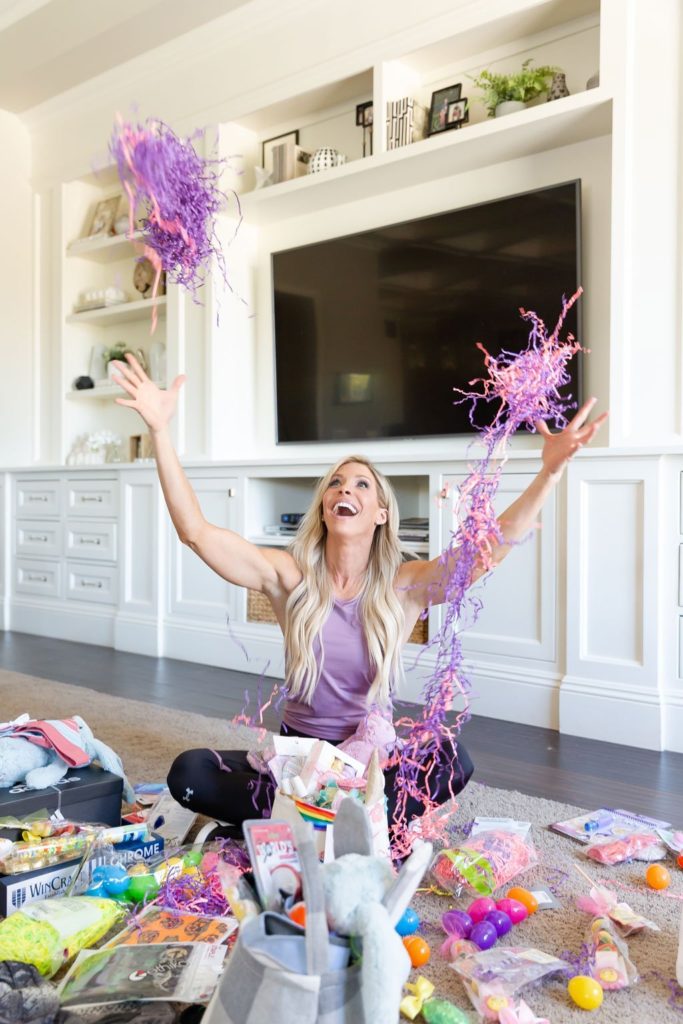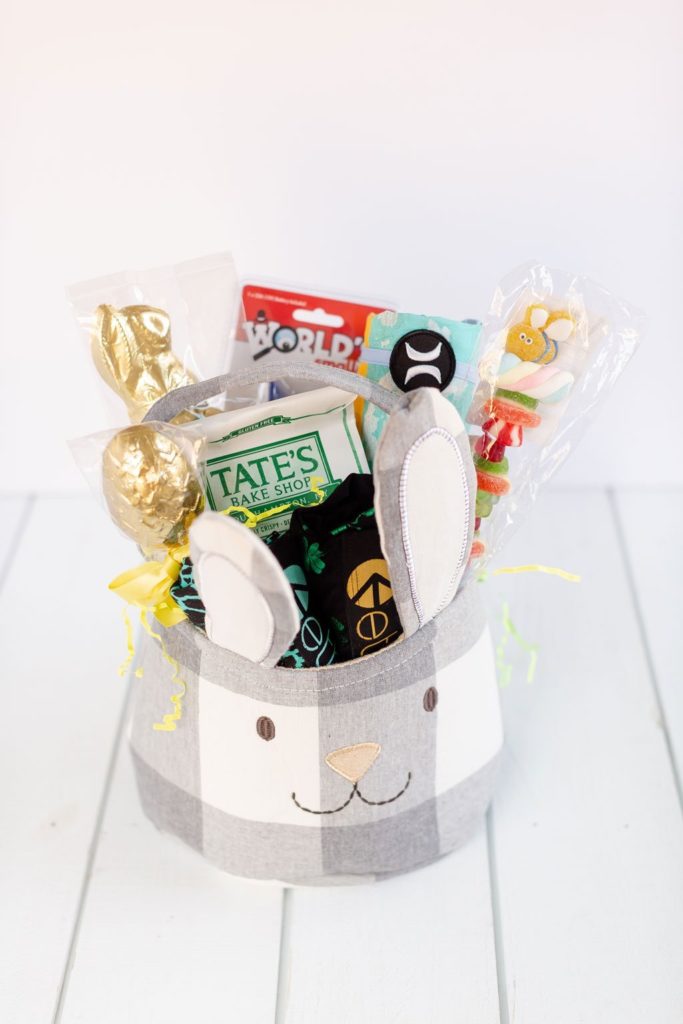 I can usually be caught trying to scrounge up the leftovers from the Easter section and blaming the bunny for less than amazing gifts! But this year is different! A few weeks ago, I was out shopping and came across the most ADORABLE baskets ever!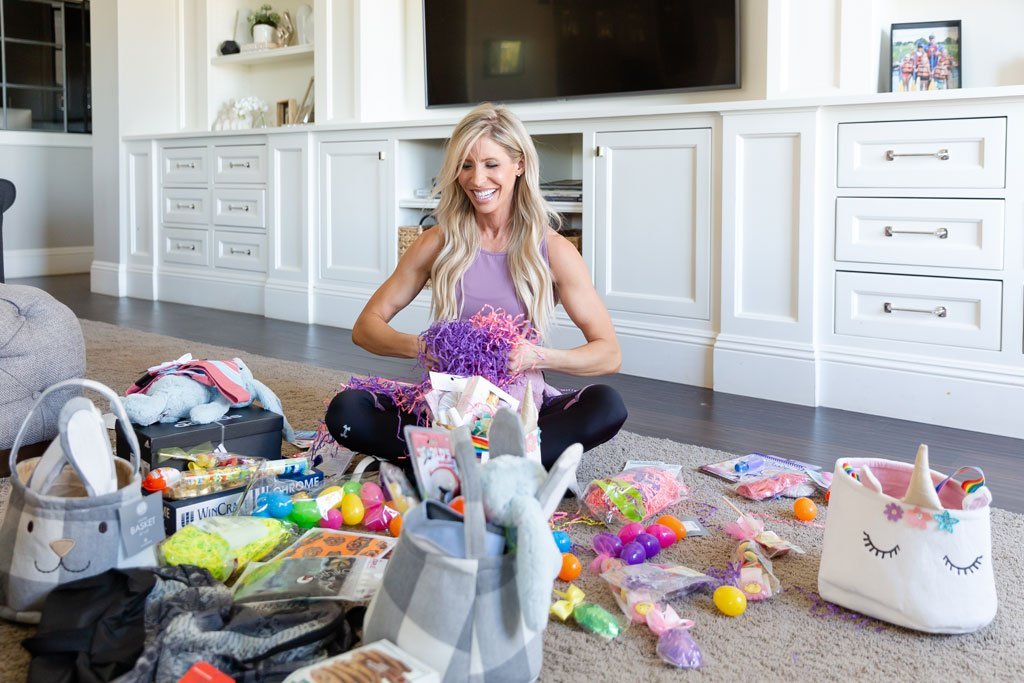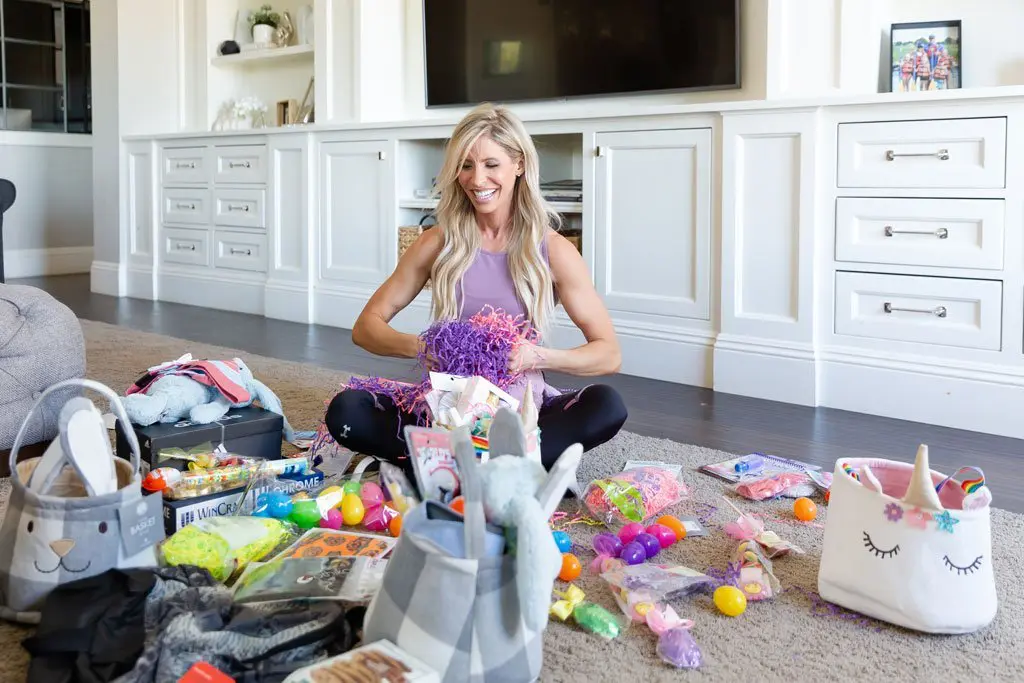 I knew my kiddos would flip for them, and it totally got me in the Easter spirit (is that even a thing?!). I had so much fun rounding up all their favorites and putting together baskets that rivaled what Ol' Saint Nick brought them for Christmas!
(Almost) Sugar Free Easter Basket Ideas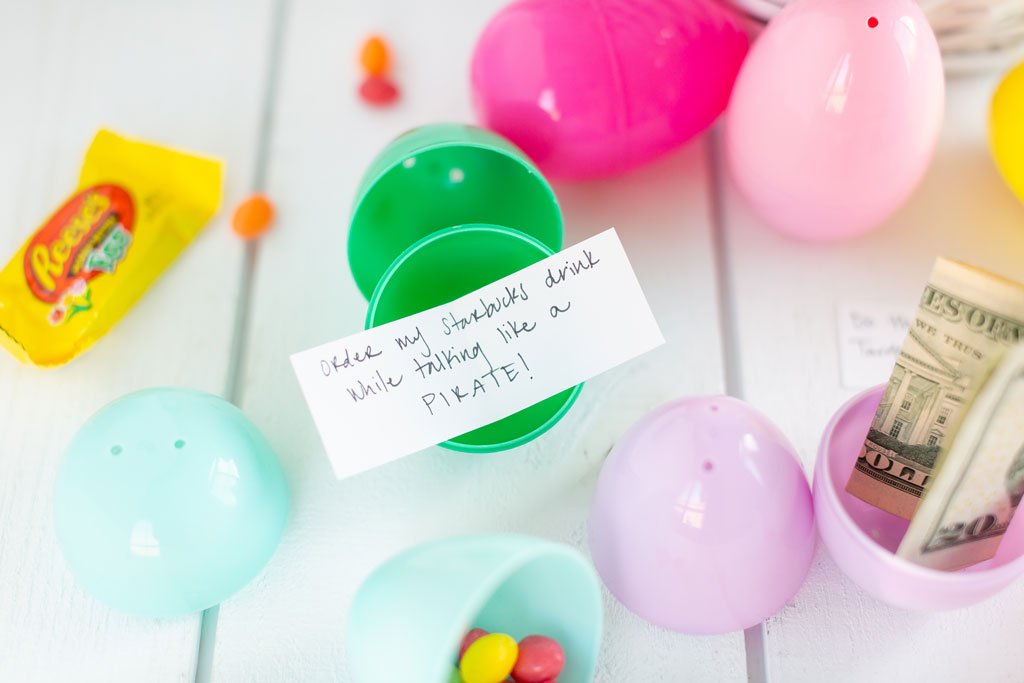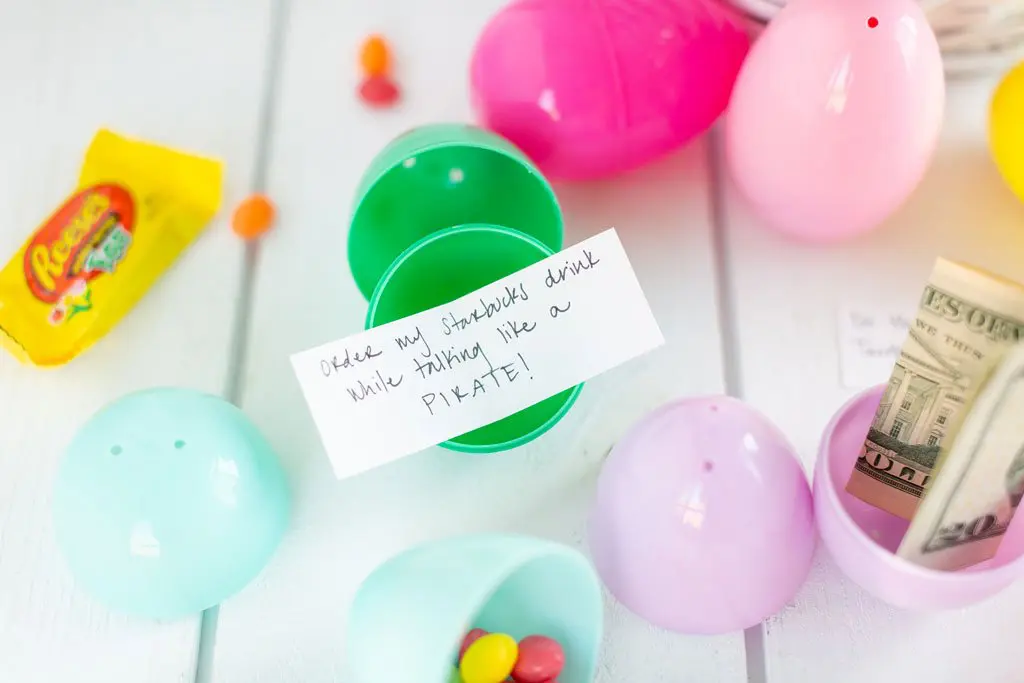 Before I break down how I'm packing these almost sugar free baskets, one of the EGG-sential parts of Easter in the Powell house is hiding eggs for my kids? egg hunt.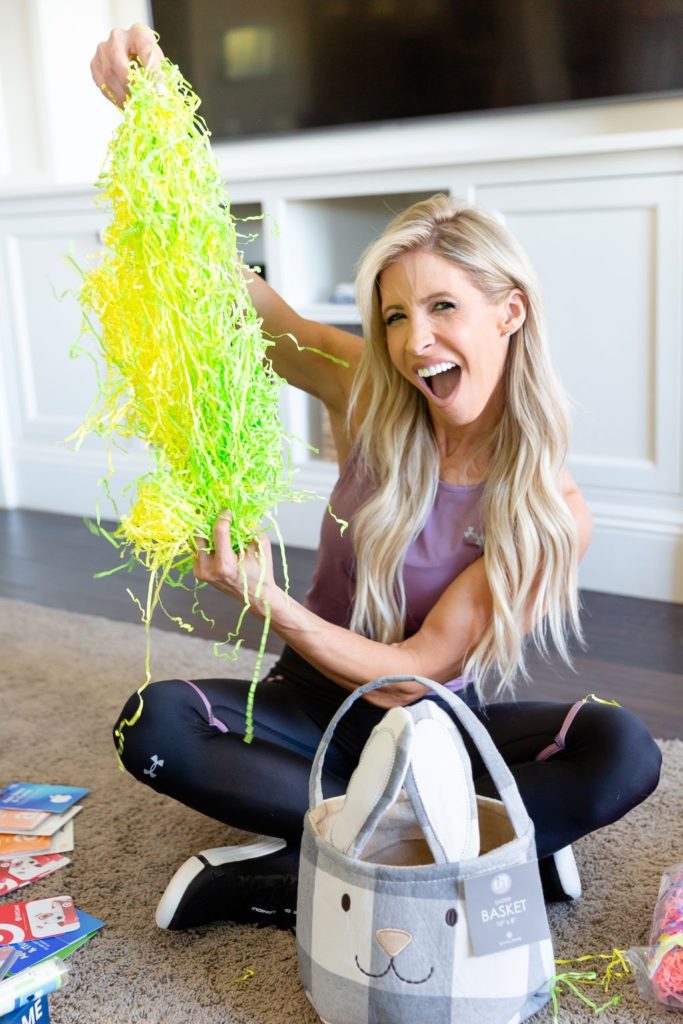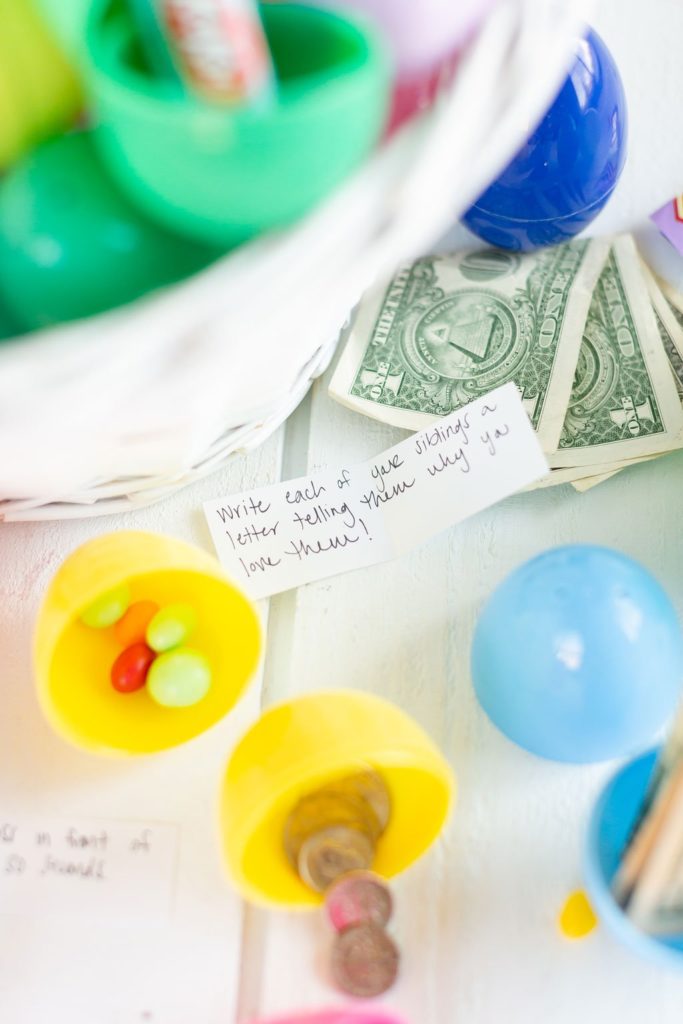 We do it with a twist, filling the eggs with quarters, love notes, and funny pranks or chores for the kids to do. You never know what you?re going to find on this egg hunt!
Ruby?s Easter Basket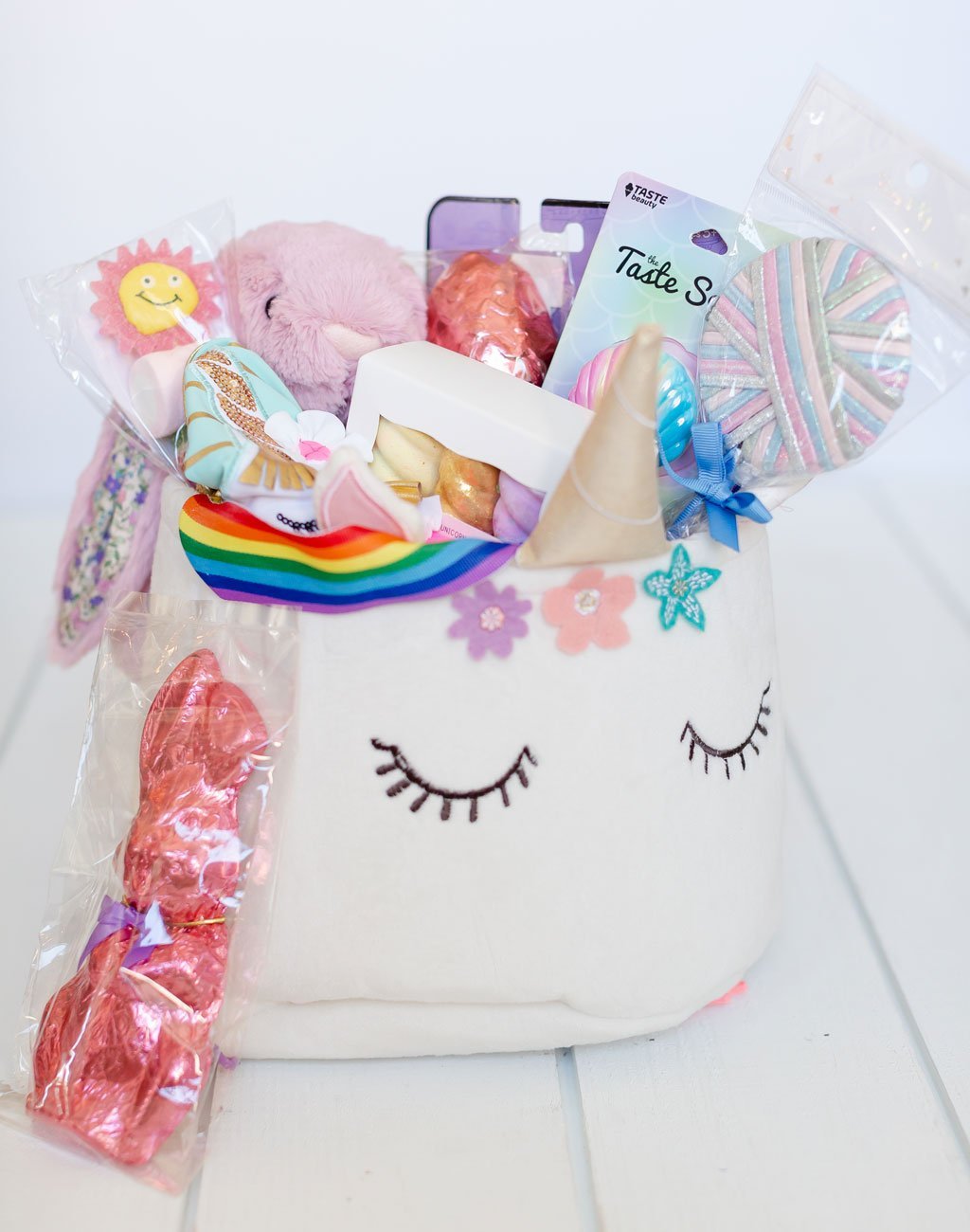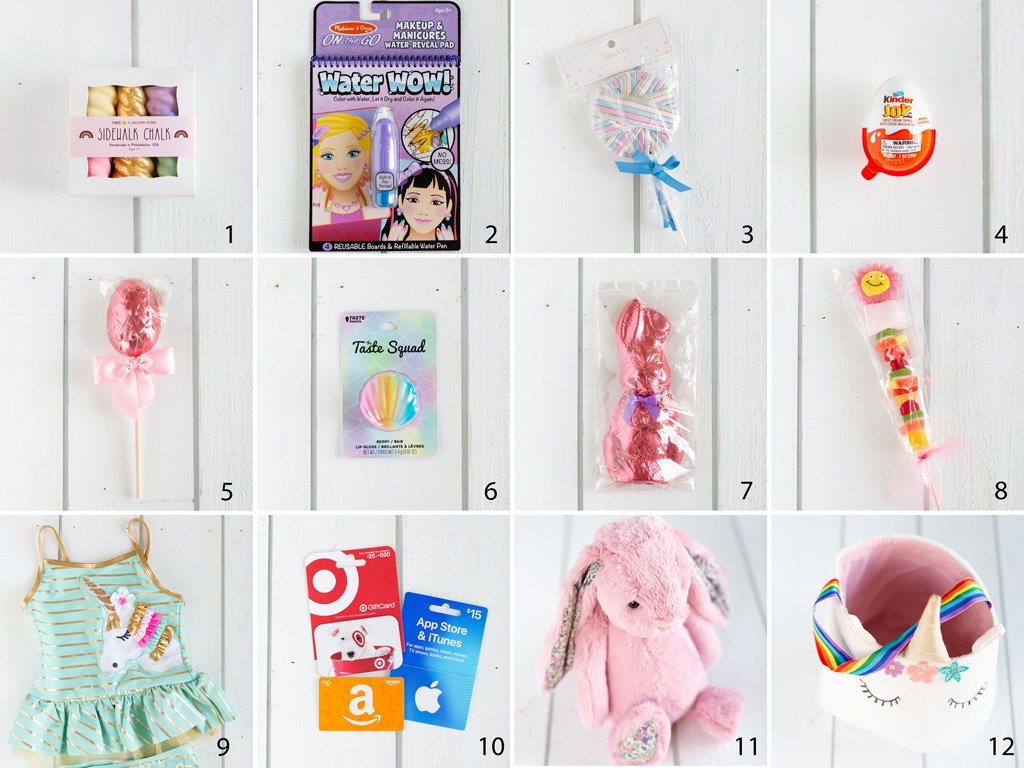 ? Unicorn Easter Basket (also love this one): THIS basket is what kicked off my Easter frenzy! Ruby is going to absolutely flip over this basket. She is completely Unicorn obsessed! I?d bet a pretty penny she?ll be hauling this thing around long after the last egg is eaten!
? Blossom Tulip Bunny: Every little needs a stuffed animal sidekick! This bunny is super soft, and I?m loving the fun floral detail on the ears.
? Unicorn Tankini Two-Piece Swimsuit: Easter is the unofficial start of warmer weather around these parts, so swimsuits in Easter baskets has kind of become a Powell Pack tradition! I couldn?t say no to this very Ruby suit!
? Ruby & Ry Hair Tie Lollipop: What accessory do you get for the queen of accessories?! Lollipop hair ties, of course! These are so fun and unique!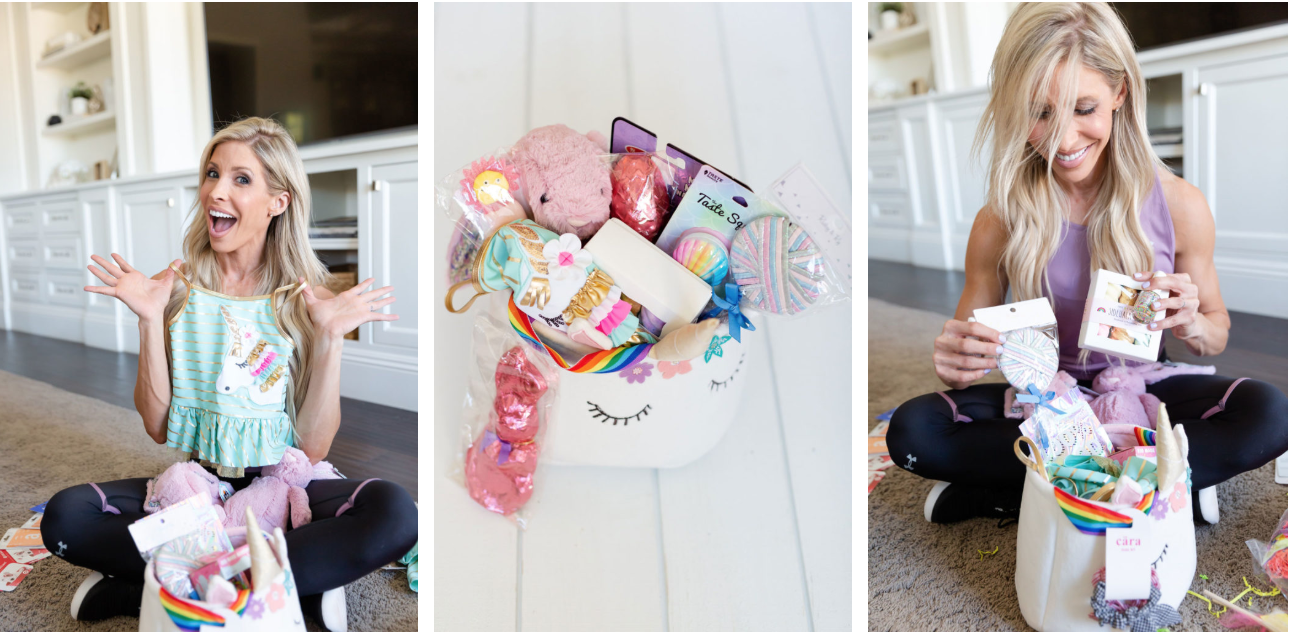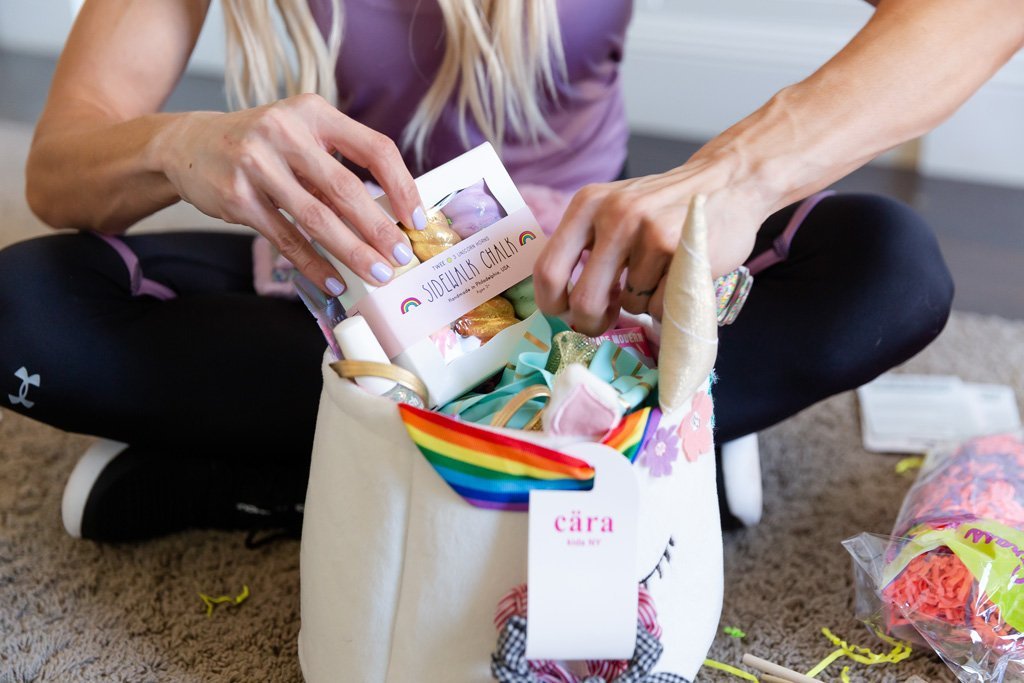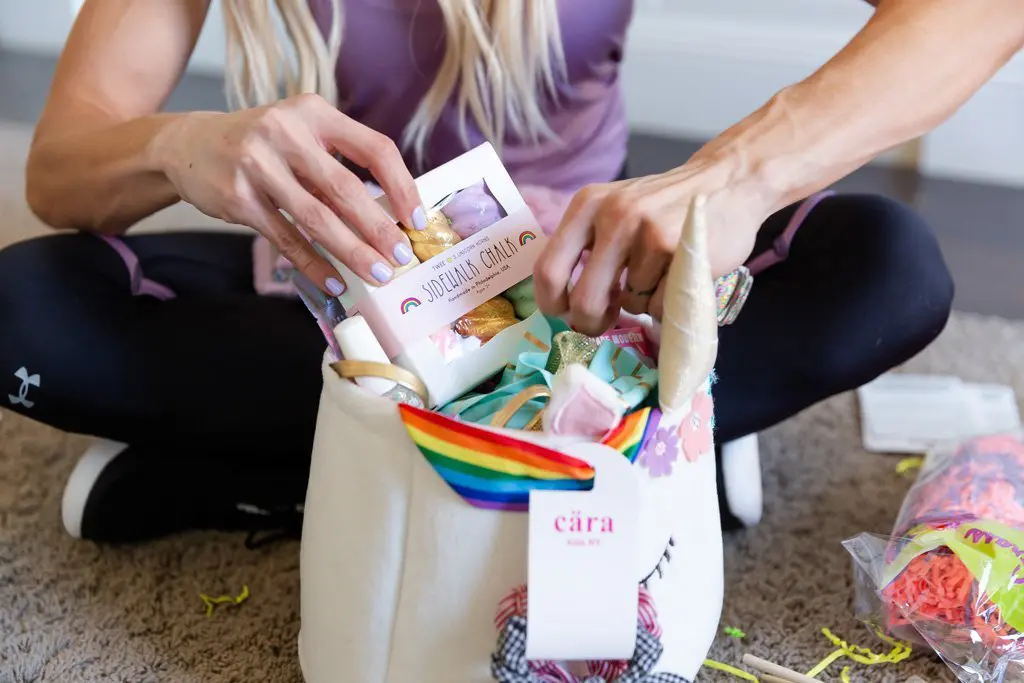 ? Taste Squad Seashell Lip Gloss: Lipgloss fit for a mermaid!
? Water Wow Makeup: All the fun of a makeover, none of the mess! If this isn?t a mom win I don?t know what is. I love that it?s also reusable and inexpensive.
? 3-Piece Unicorn Horn Sidewalk Chalk Set: I?m not normally a chalk fan, but how could I resist these?! They?re almost too cute to use!
? Egg Painting Party: Ain?t no party like an egg painting party! This kit comes equipped with sequins, googly eyes and bright paints. What more could a girl need to decorate some eggs?!
? Target Gift Card: Target gift card, need I say more? The perfect gift whether you?re 5 or 50!
? Kinder Joy Egg: An Easter basket just isn?t an Easter basket without at least one candy egg. These have a little bit of chocolatey goodness as well as a fun little trinket.
Marley?s Easter Basket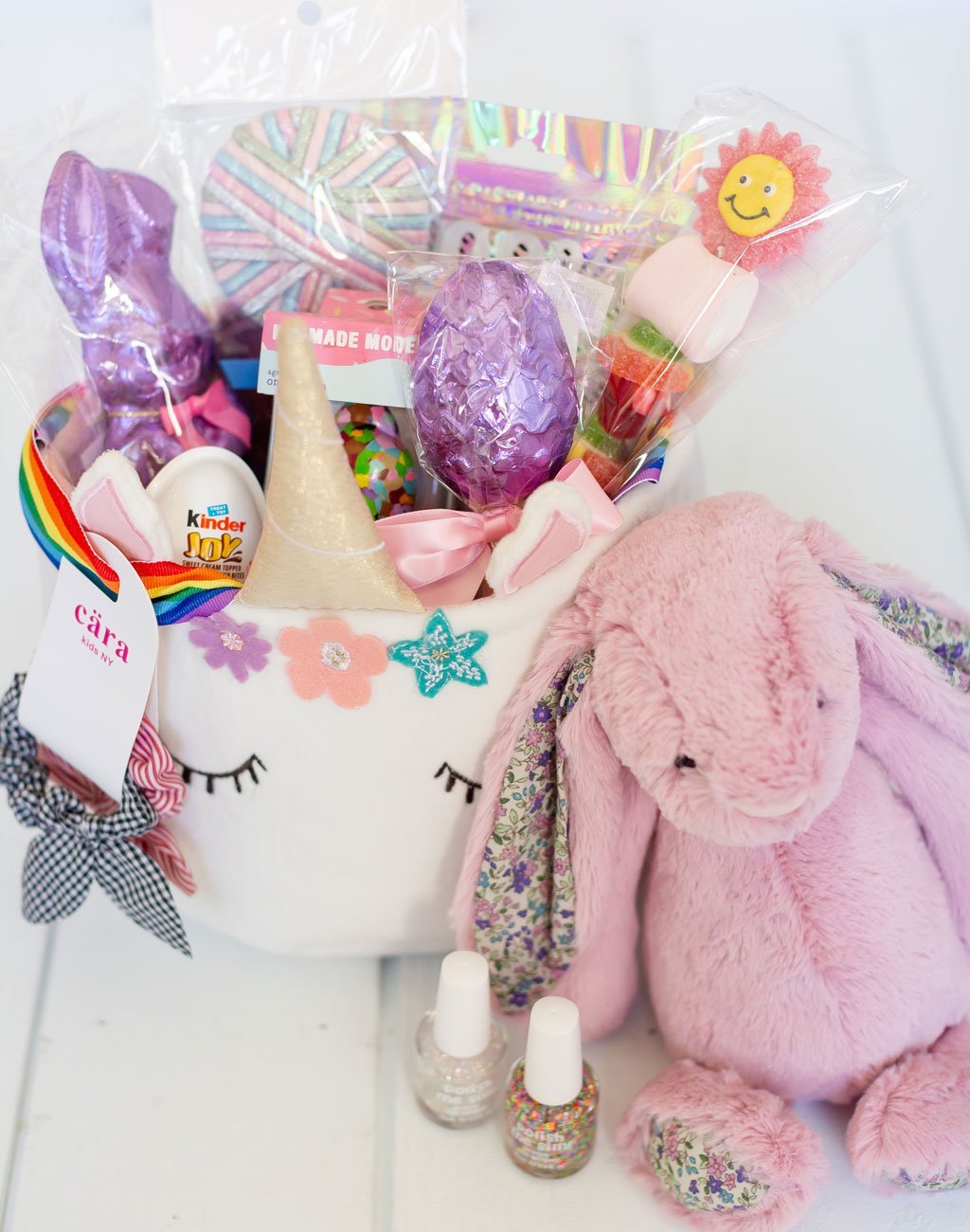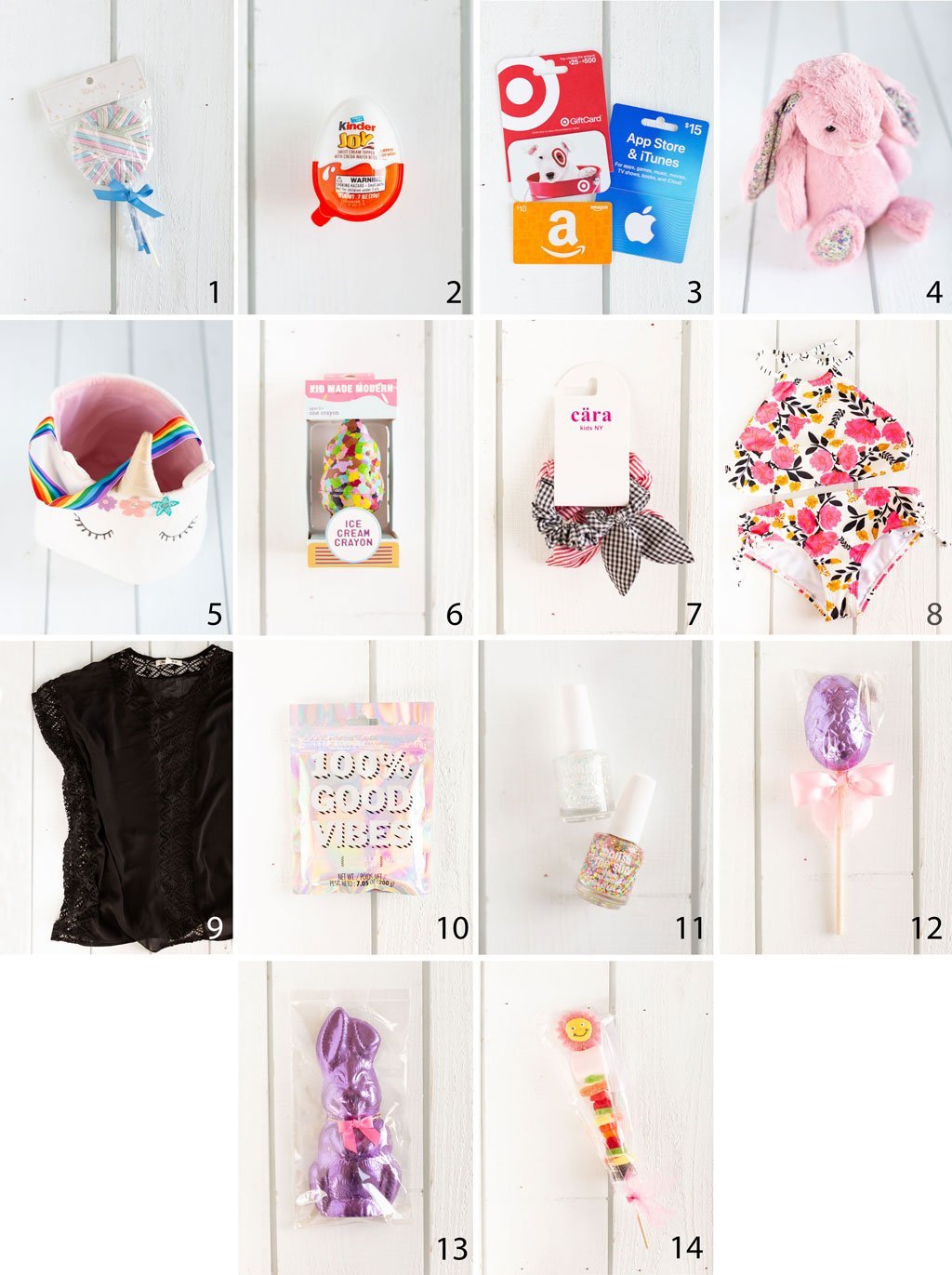 ? Billabong Sun Dream Two-Piece Swimsuit: What?s better than one new swimsuit? Two new swimsuits! What?s better than two new swimsuits? One that serves as two! This swimmer is completely reversible? floral on one side, stripes on the other, so Mars can mix and match her little heart out!
? Crochet Kimono Cover-Up: The perfect little throw on and go cover-up!
? Cara 2 Pack Scrunchies: I?ll be honest…I thought I?d never see the day scrunchies would make a comeback! The pastels on these two are so pretty that I?m not hating the trend!
? Glitter Sugar Scrub: Marley is super into all things girly and self-care right now, so this is perfect! It smells yummy and leaves skin super soft.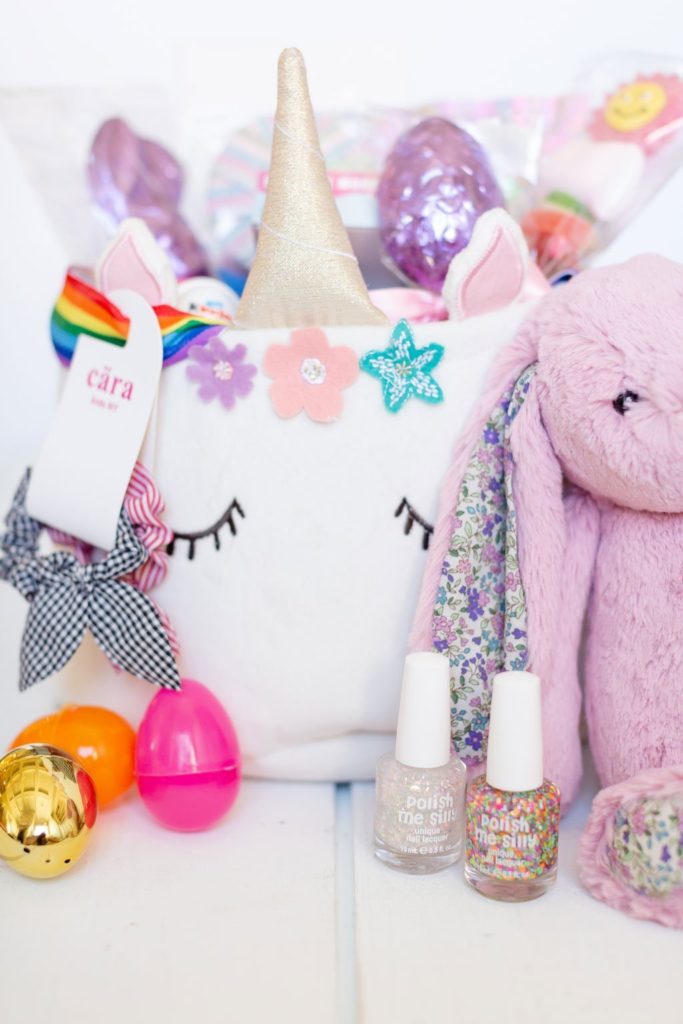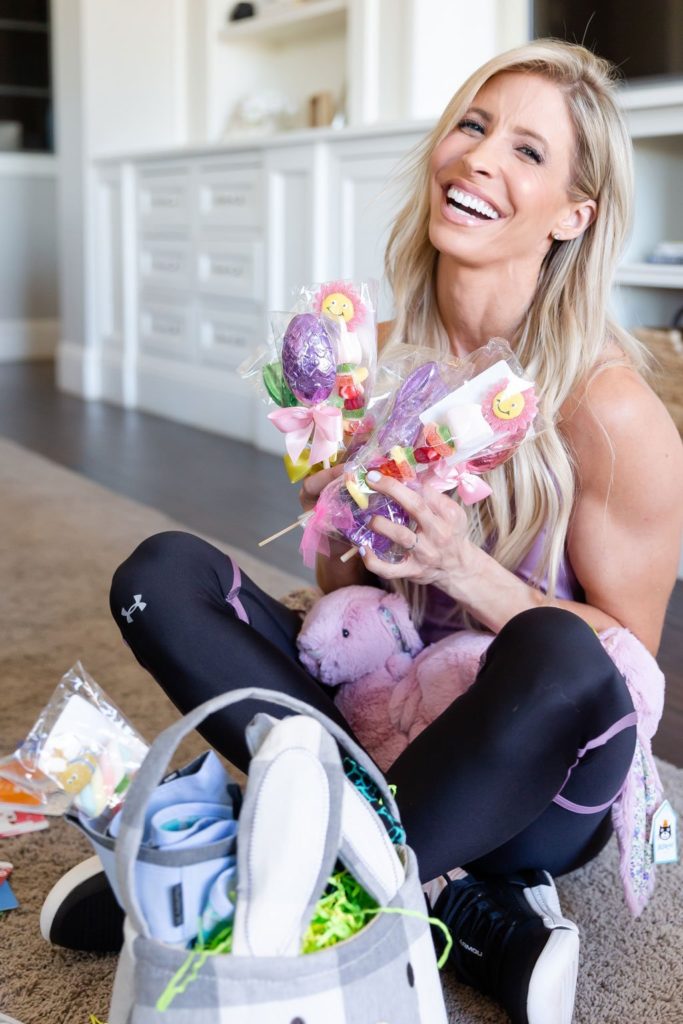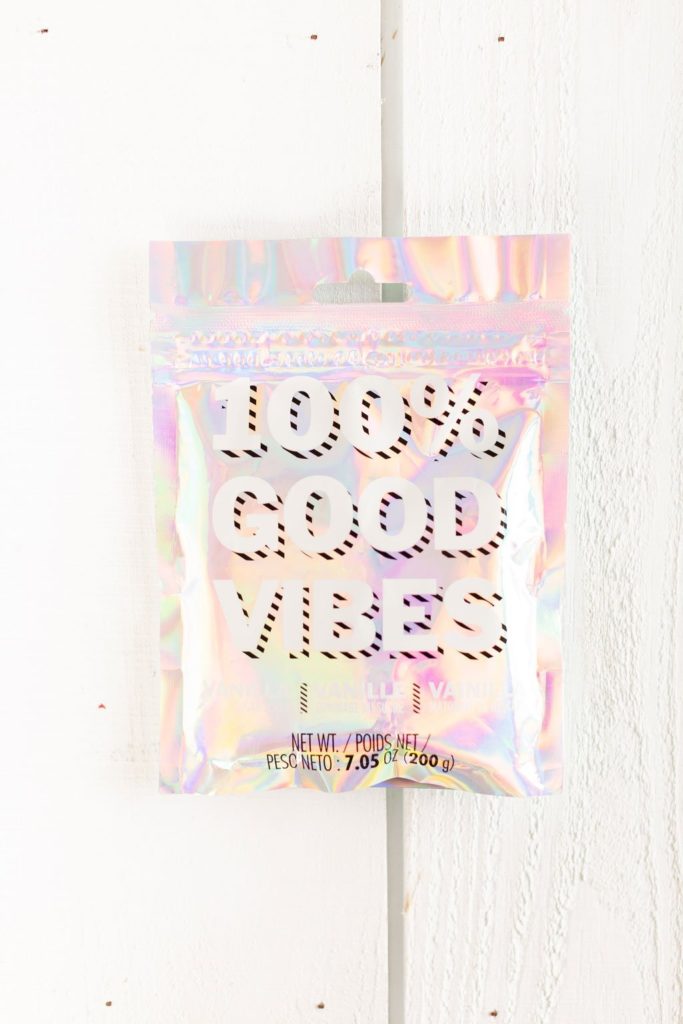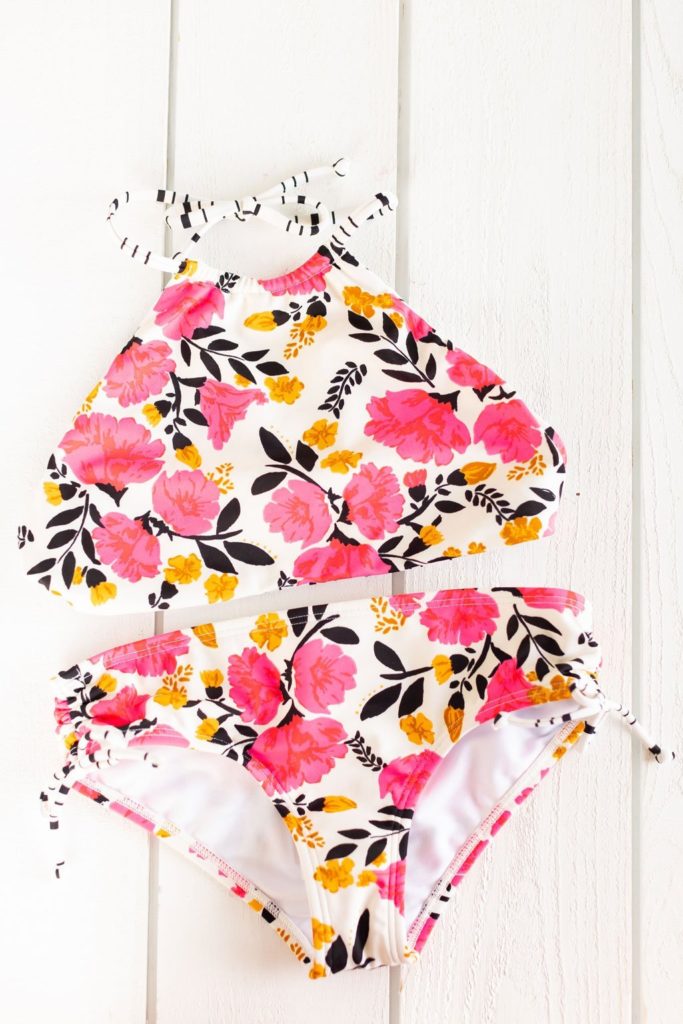 ? Polish Me Silly Flirty Polka Dot Nail Polish: I?m not much of a polish girl, but Mars loves a fun set of nails! This stuff is pretty neat. It goes on like regular polish but leaves a cool polka dot design.
? Ice Cream Crayon: Another too cute to use item! While I?m sure this crayon works great, I?m just loving how adorable the design is!
? Forever Sweet Candy Kabobs: The cutest way to do candy! I saw these a while ago on Pinterest and had to hunt some down for my girl! She?s going to love them.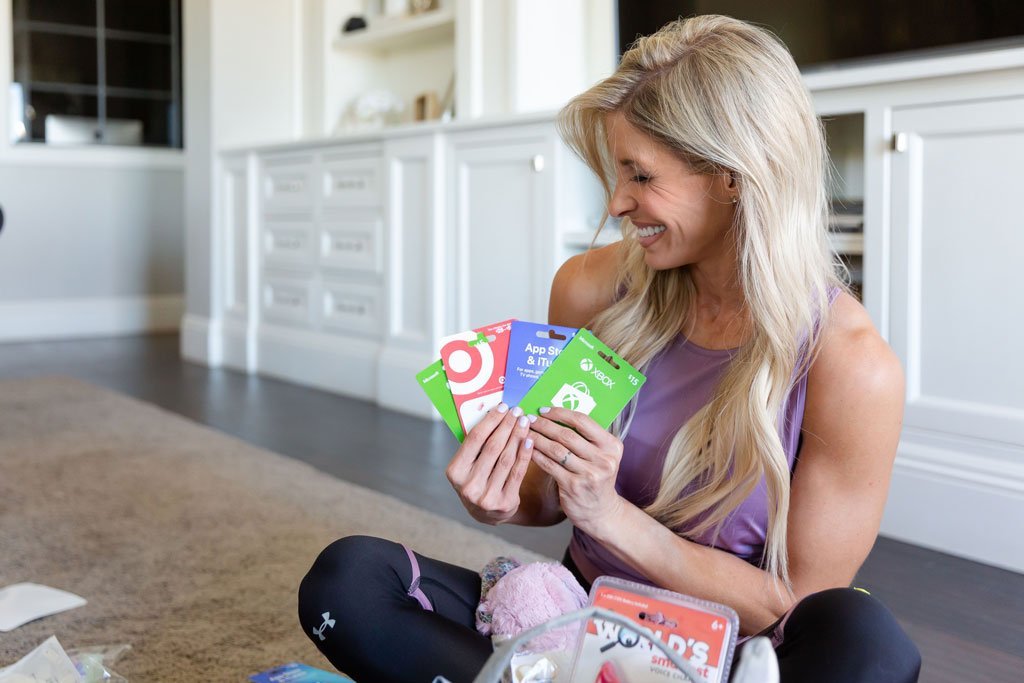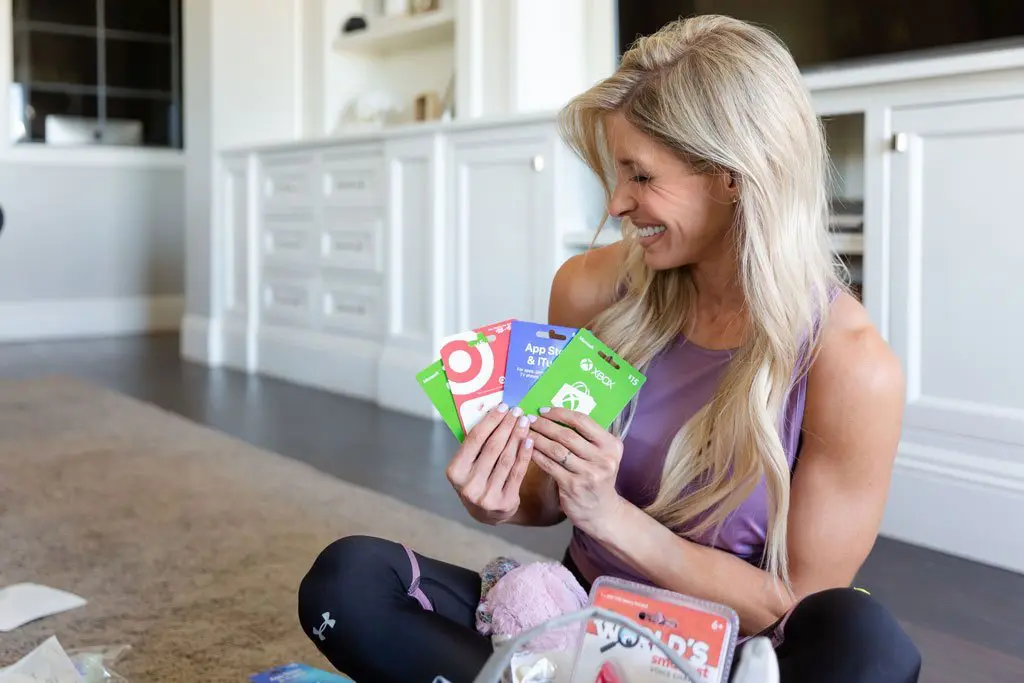 In Marley?s Unicorn basket, I also included a Target gift card, Kinder Joy Egg, Lollipop Hair Ties, and the adorable plush bunny!
Cash?s Easter Basket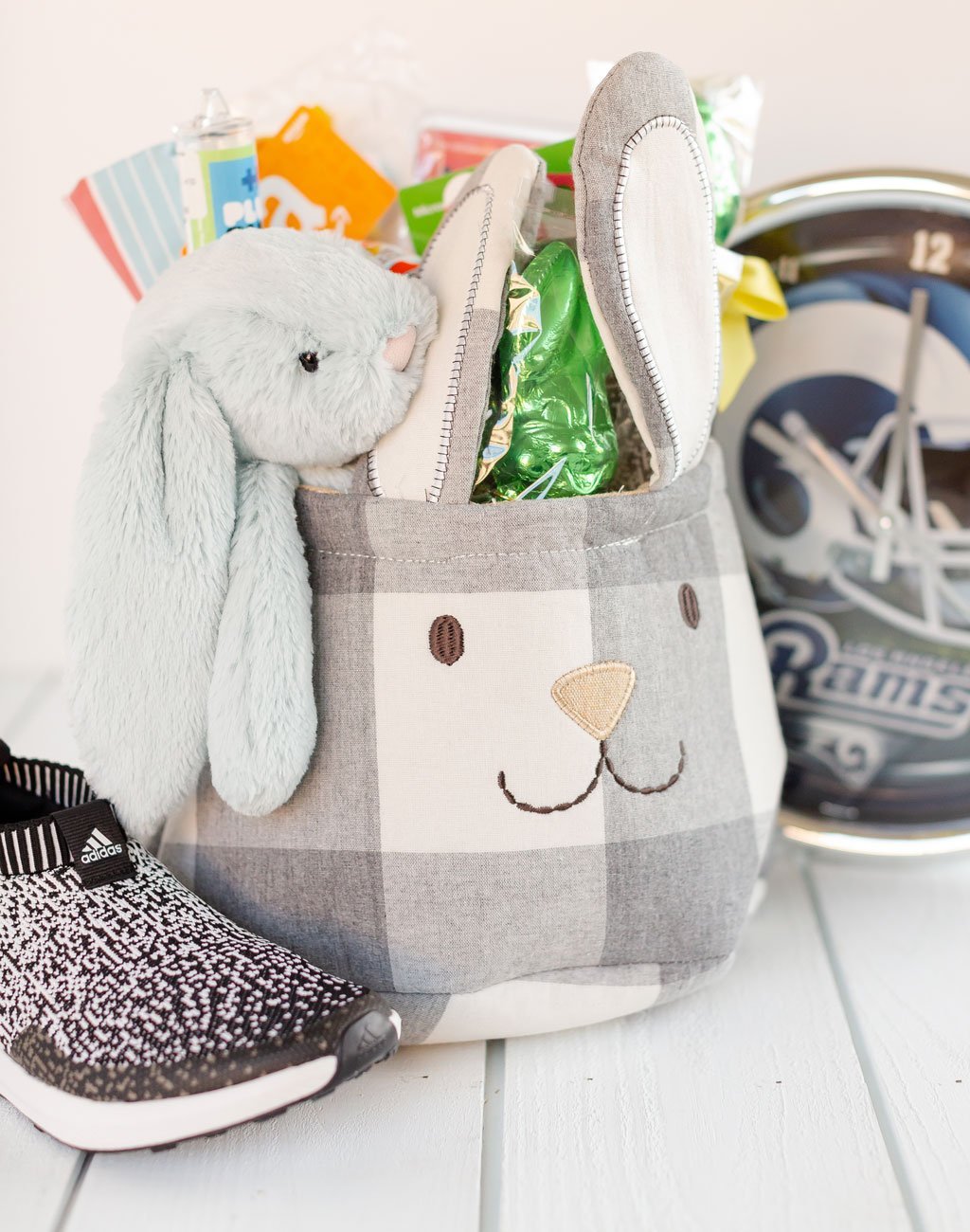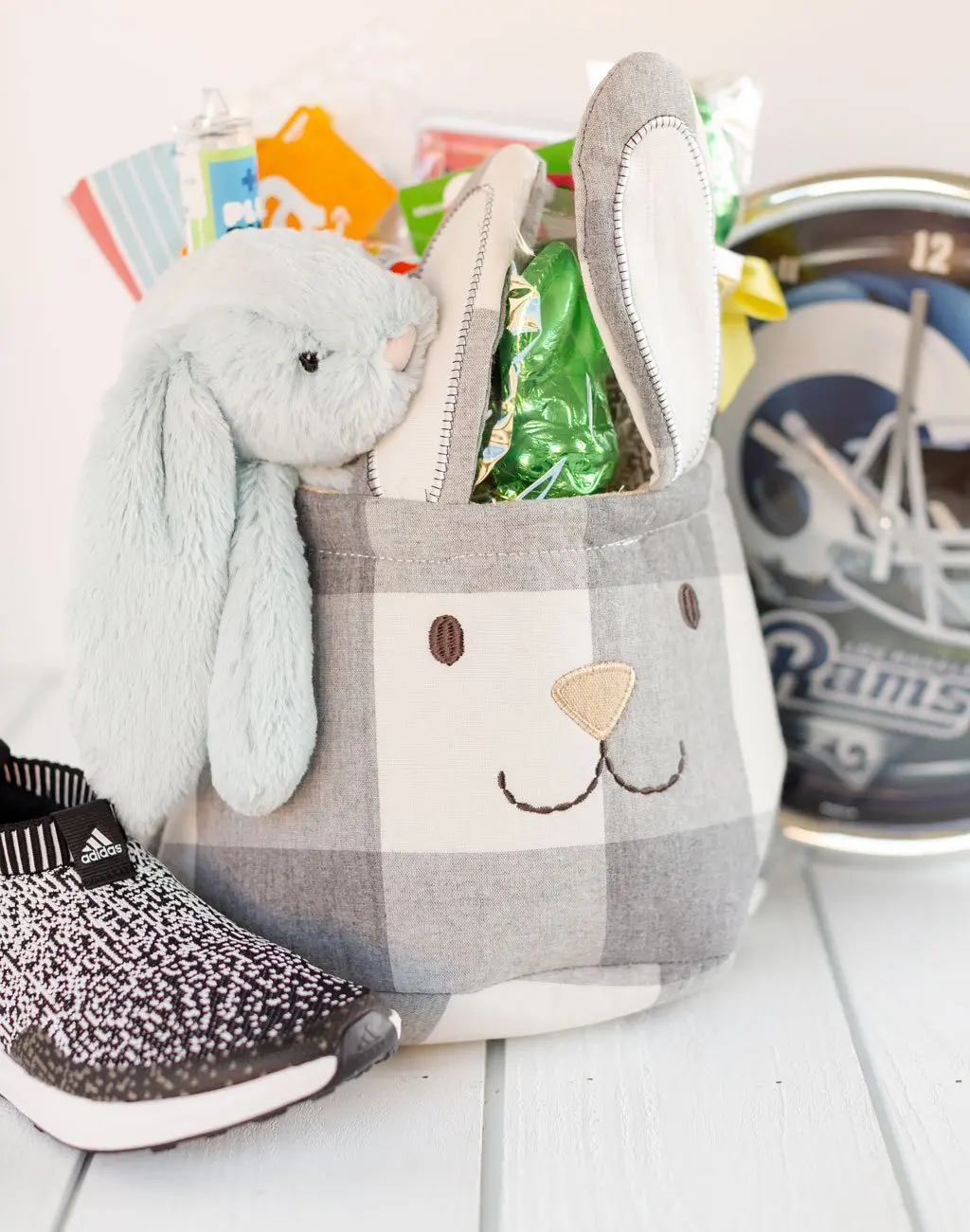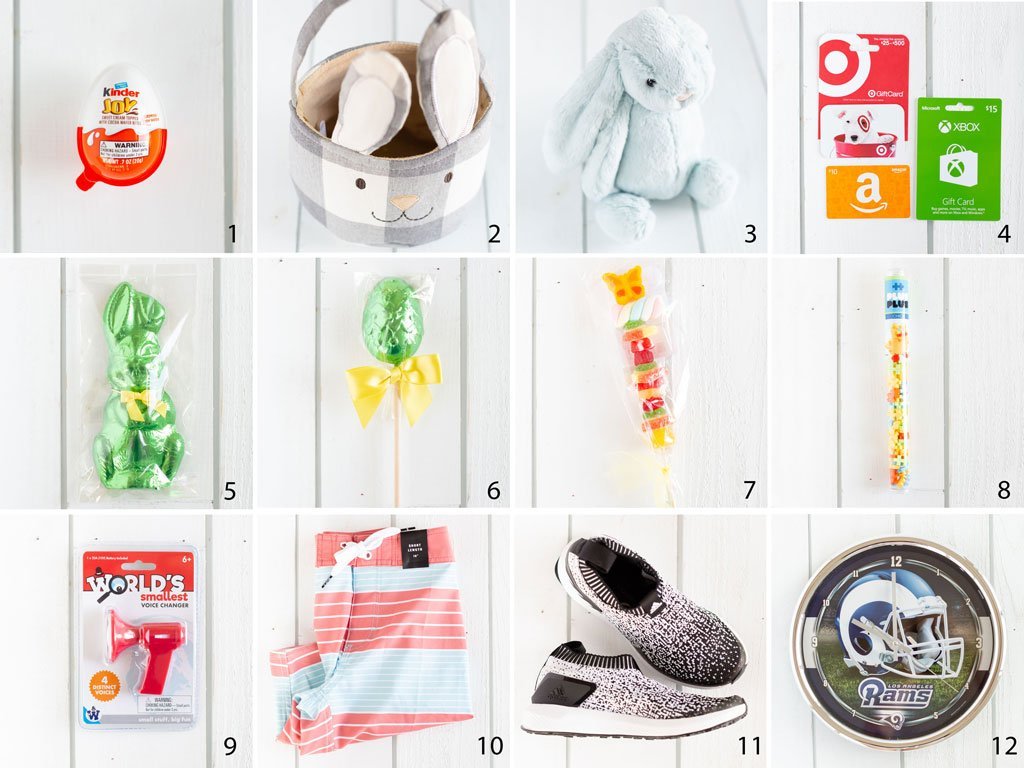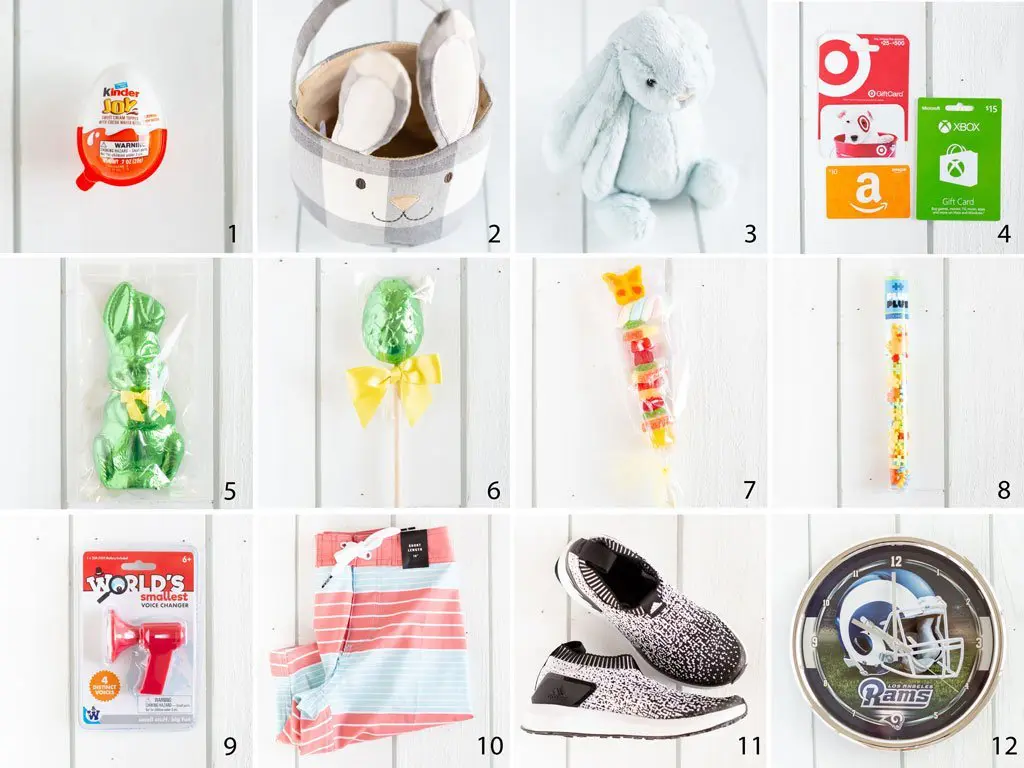 ? Buffalo Check Bunny Easter Basket (also love this one): Let?s pretend the buffalo plaid print makes this cute bunny a bit more masculine, k?! It?s so dang cute that I?m hoping my guys will overlook that fact that it?s not the manliest basket in town!
? Bashful Beau Bunny (also love this one and here's the large version): While it sometimes seems like Cash is all grown up, he still loves a good stuffed animal! This one is super soft like the ones I snagged for Ruby + Marley!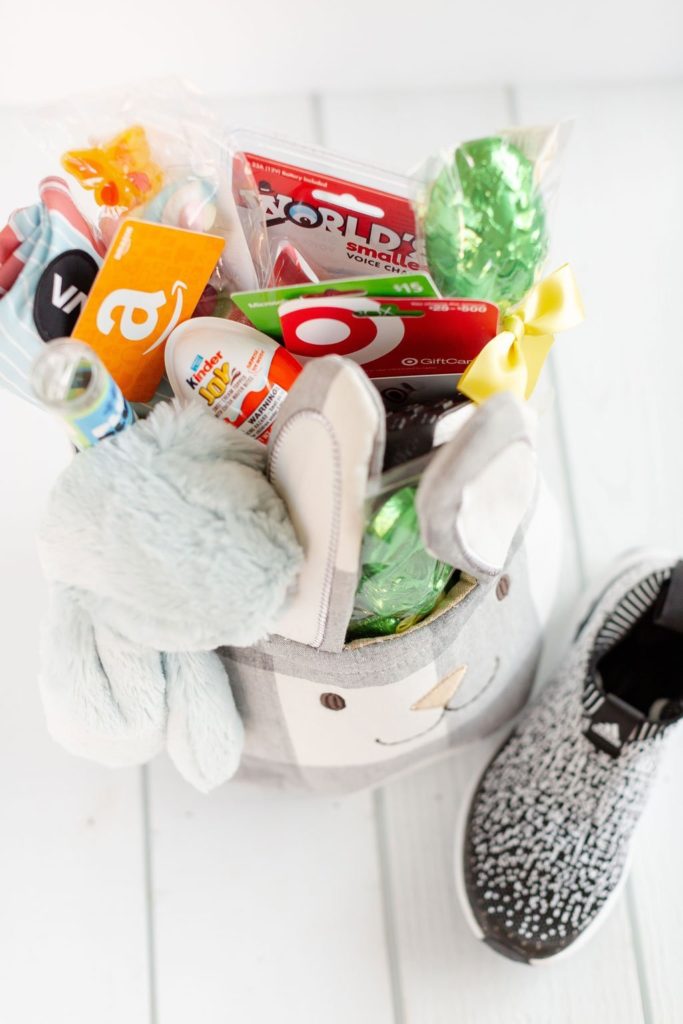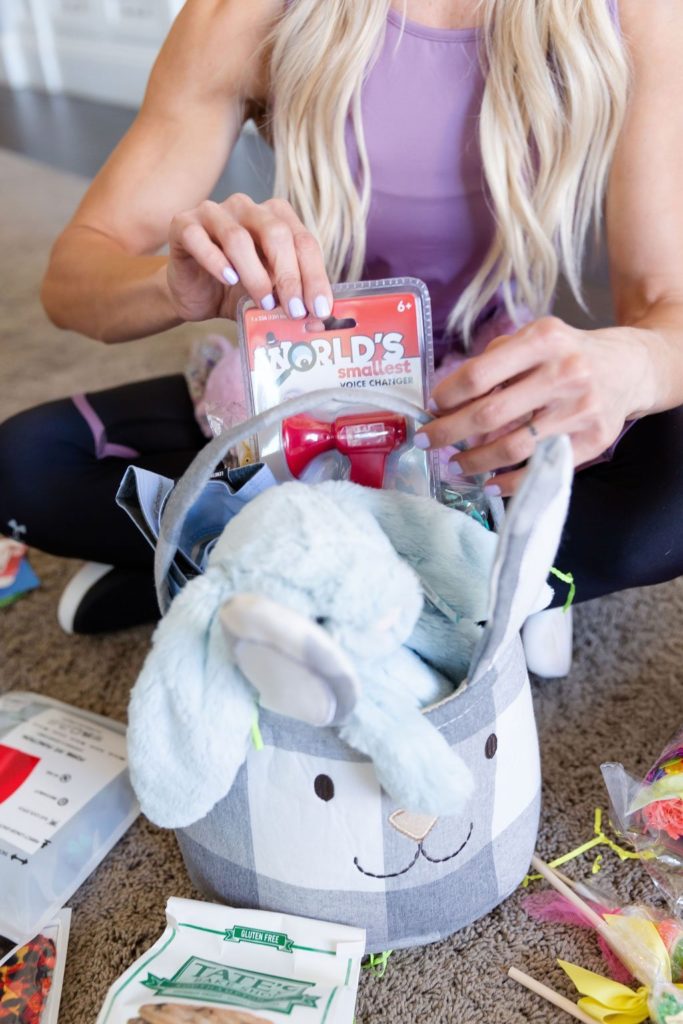 ? Uncivil Stripe Swim Trunks: Speaking of all grown up, I?m kind of dreading giving this swimsuit to Cash! While it may be so cute, I just know he?s going to look like a teen in these trunks!
? Adidas Kids? RapidaRun Laceless Running Shoe: This is the perfect shoe for your boy on the go! Easy to slip-on, but sturdy and great for crazy kids!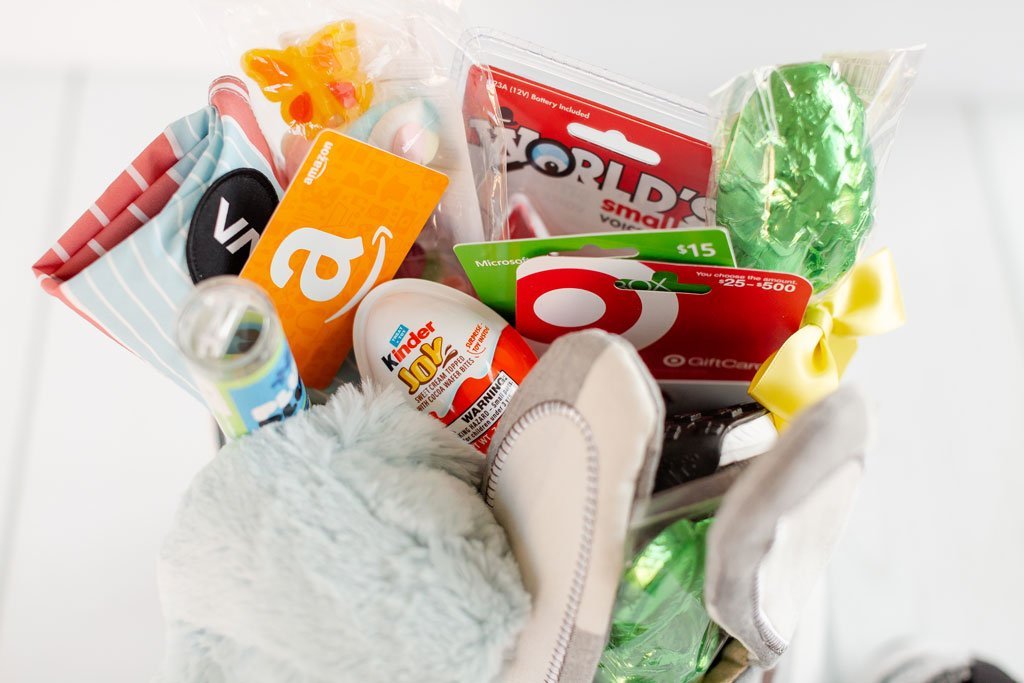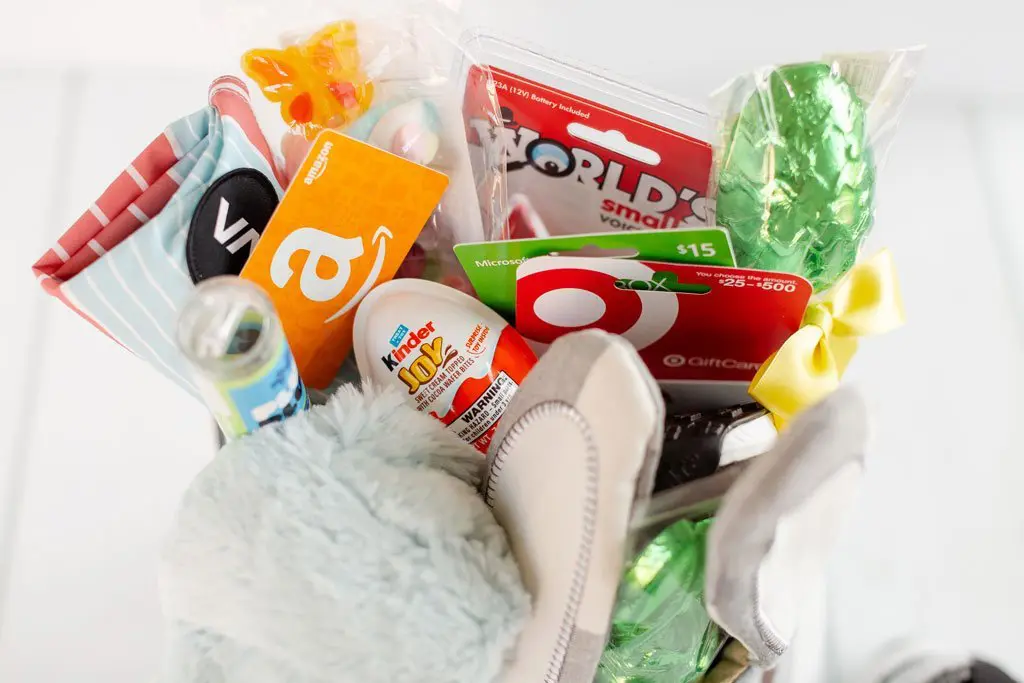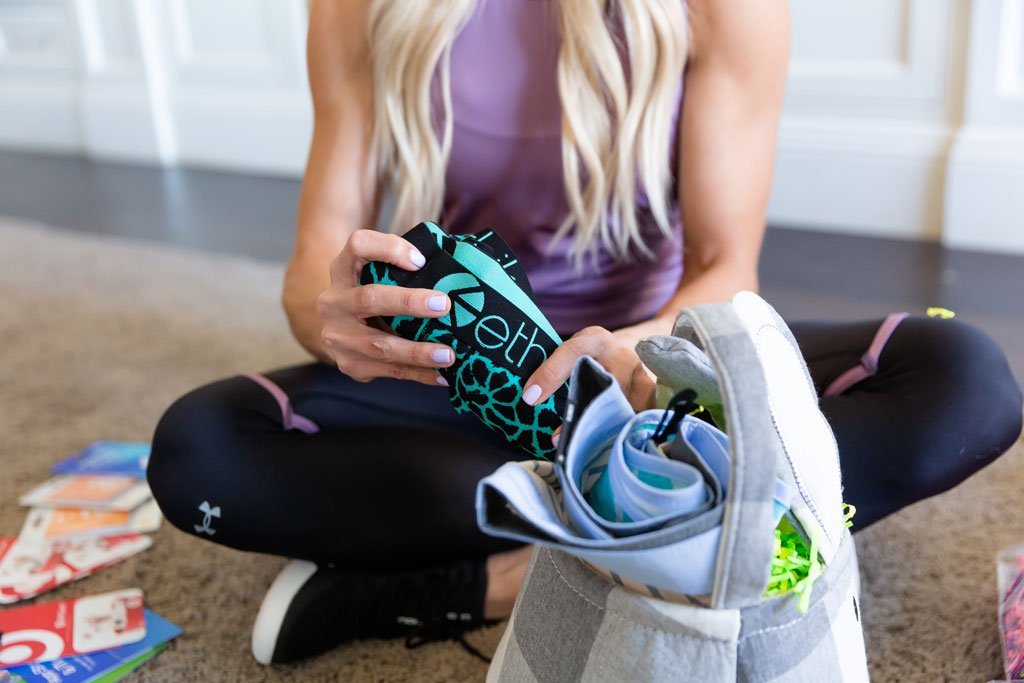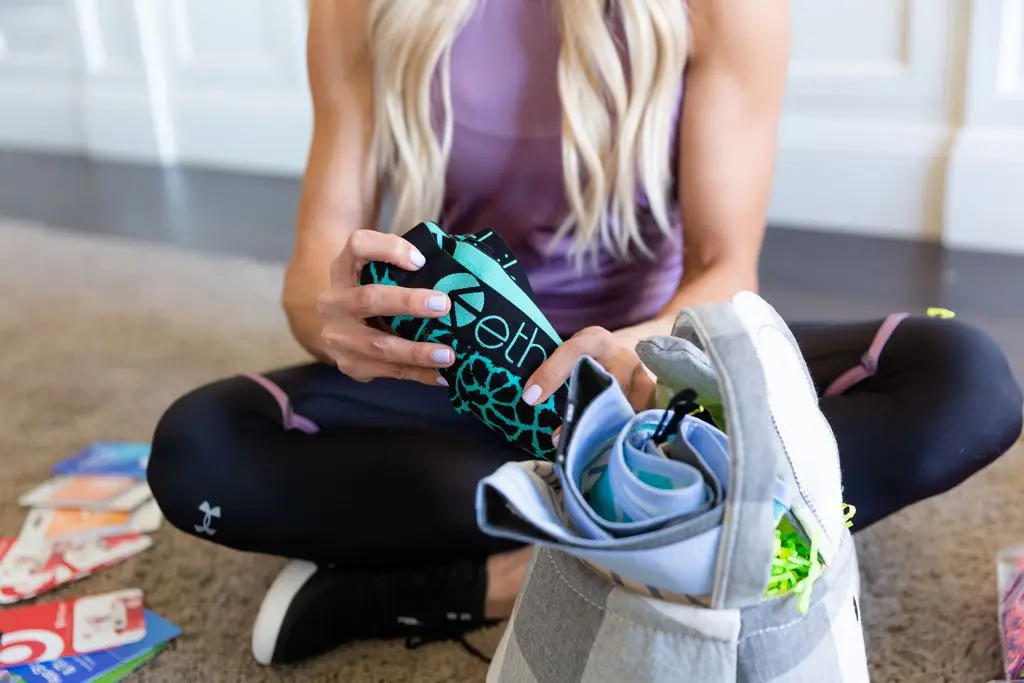 ? NFL Los Angeles Rams Chrome Clock: I have no idea where this Rams obsession came from, but I guess we?re officially LA fans now! Cash is going to be so pumped to have a touch of his favorite team in his room.
? Plus-Plus 70 pc Tube?Chick: Gotta' love a toy that encourages learning, keeps kids quiet, and doesn?t break the bank! Cash could keep busy with these for hours!
? World?s Smallest Voice Changer: My little budding comedian is going to have a blast with this thing! Such a quirky little gift, but he?ll be singing the Easter Bunny?s praises for months to come.
For Cash, I also stuffed his basket with a Kinder Joy Surprise Egg, candy kabobs, and Target, Xbox, and Amazon gift cards!
Matix?s Easter Basket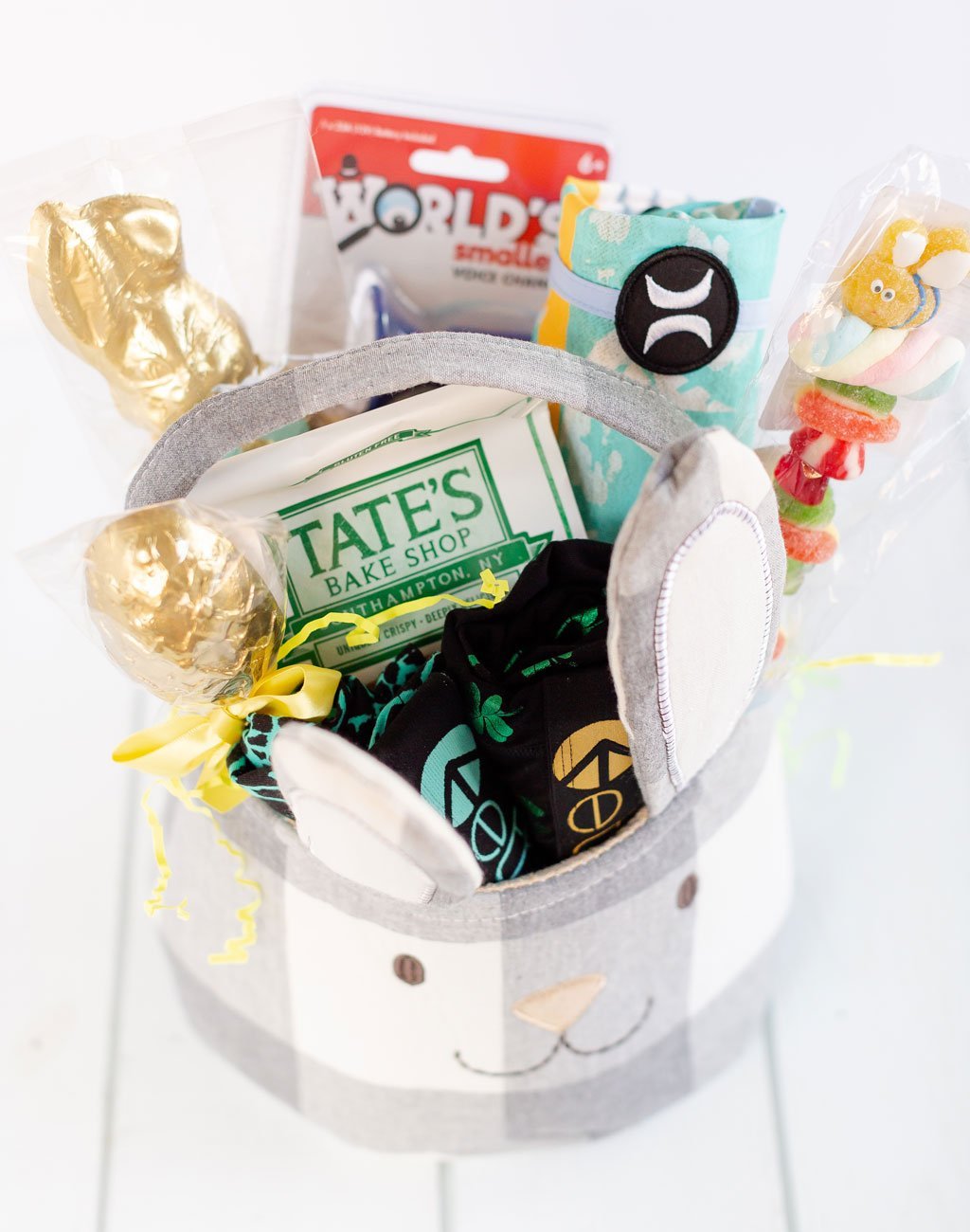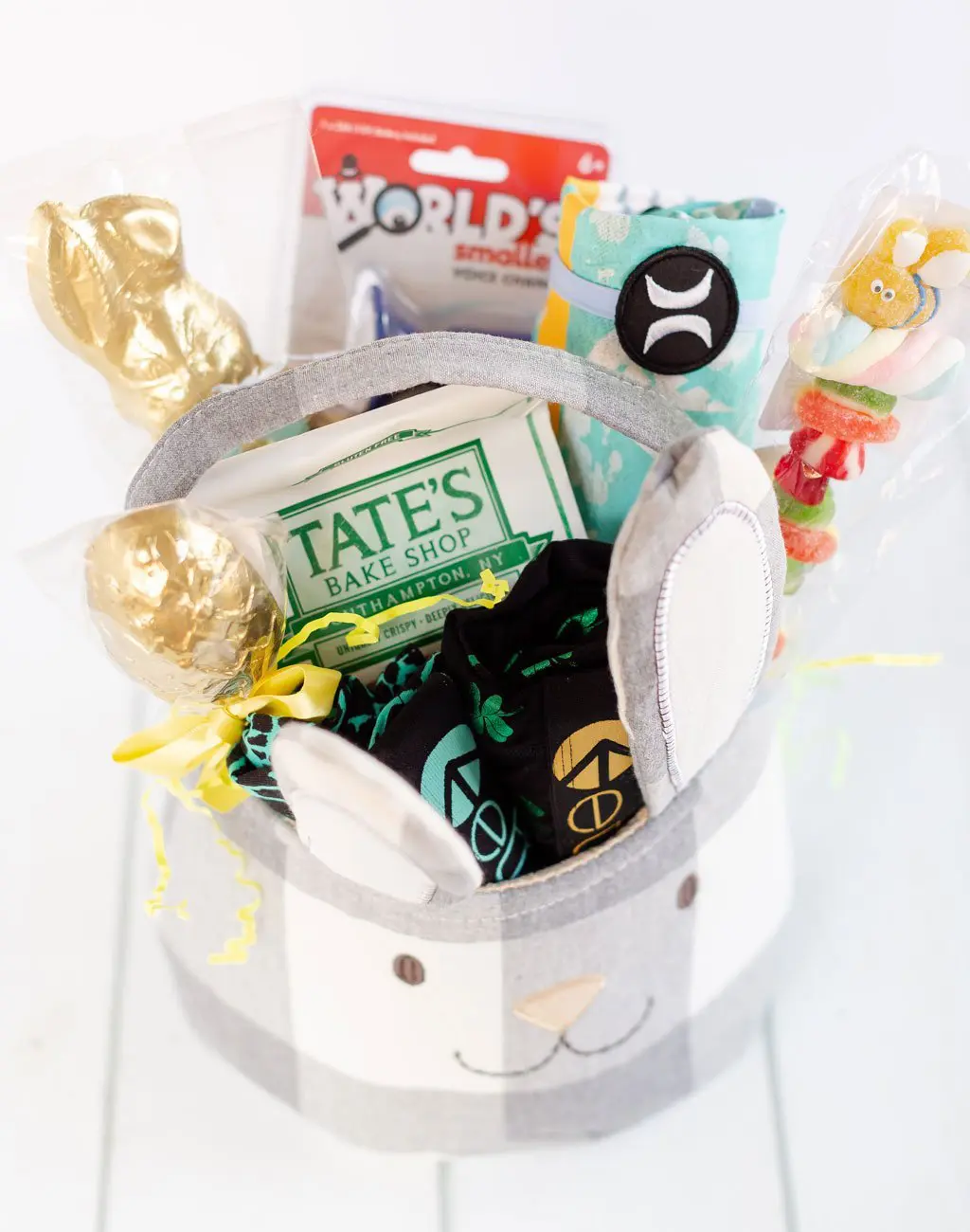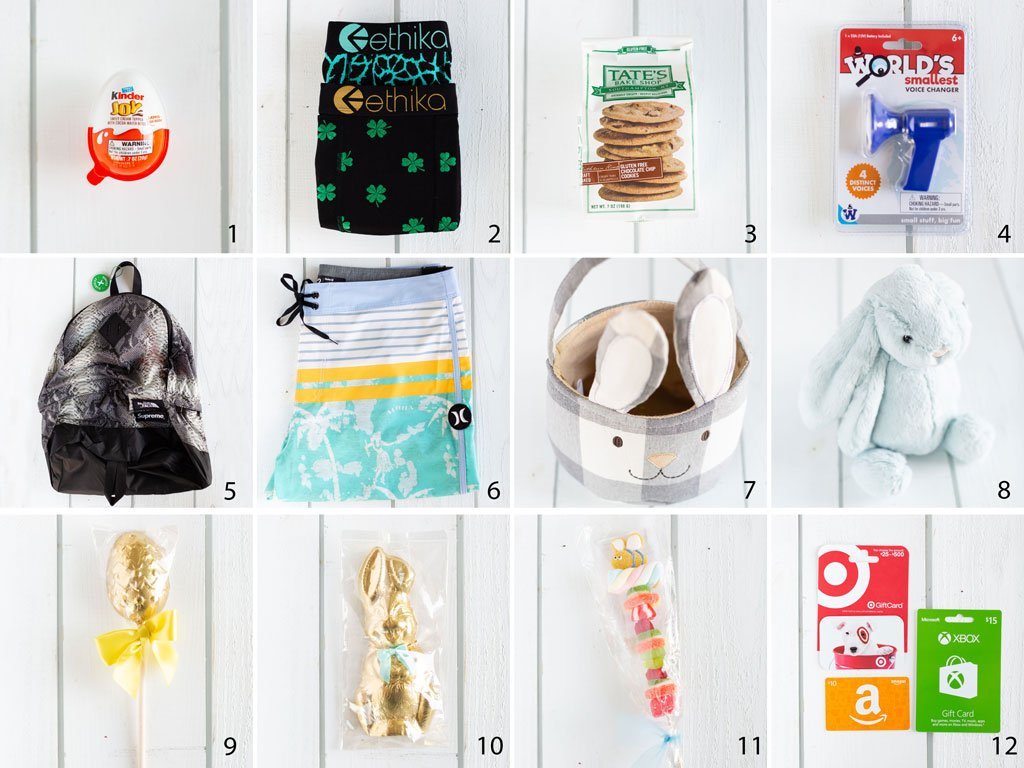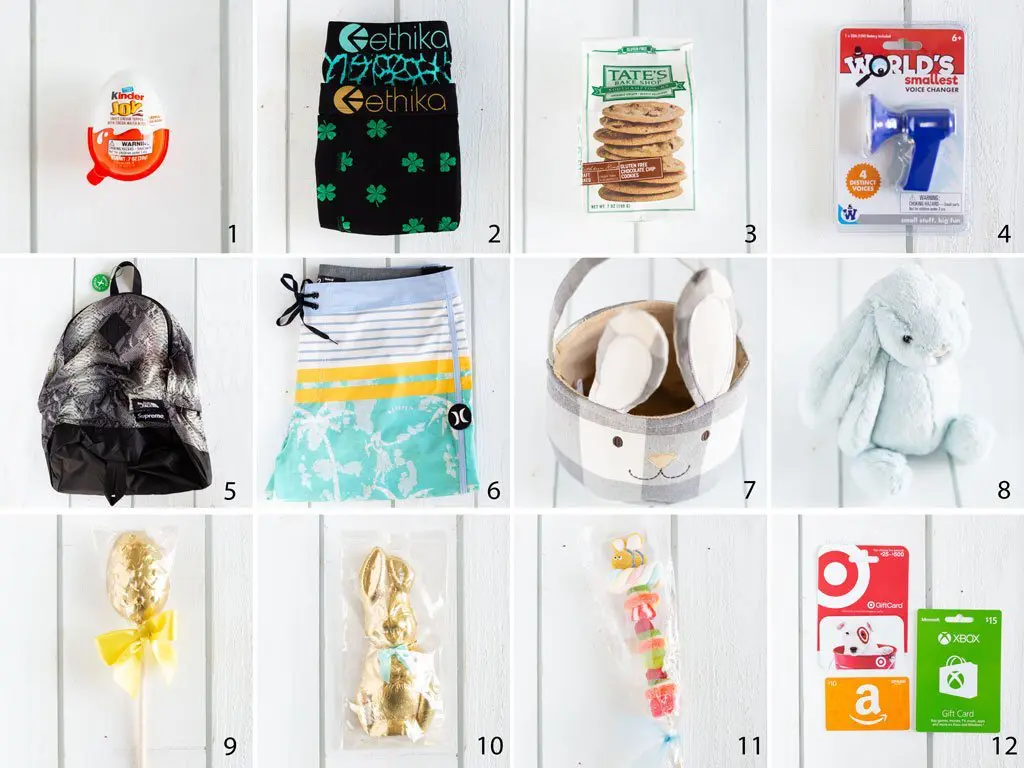 ? Hurley Men?s Phantom Boardshort Swim Short: We?ve officially entered the stage of me picking out clothes for my son that I?d also gift my husband! When did my baby get so big?! Chris and Matix love these shorts because they're super quick dry and comfortable.
? Supreme The North Face Snakeskin Lightweight Day Pack Black: Matix was in desperate need of a new backpack! I love the quality of North Face products, and the print makes it cool enough for a soon-to-be high schooler!
? Ethika Mens? Underwear: PLEASE tell me I?m not the only one with a kid obsessed with this underwear!? The pricetag isn?t my favorite, but they do last forever, and if Matix is going to collect anything, I guess underwear isn?t the worst thing. 😉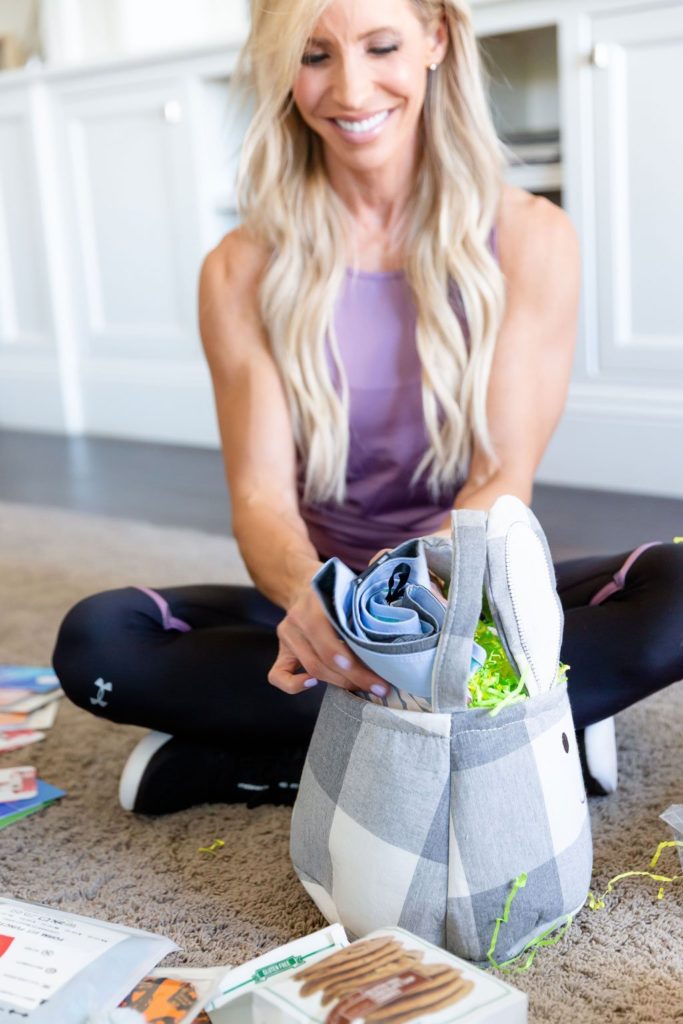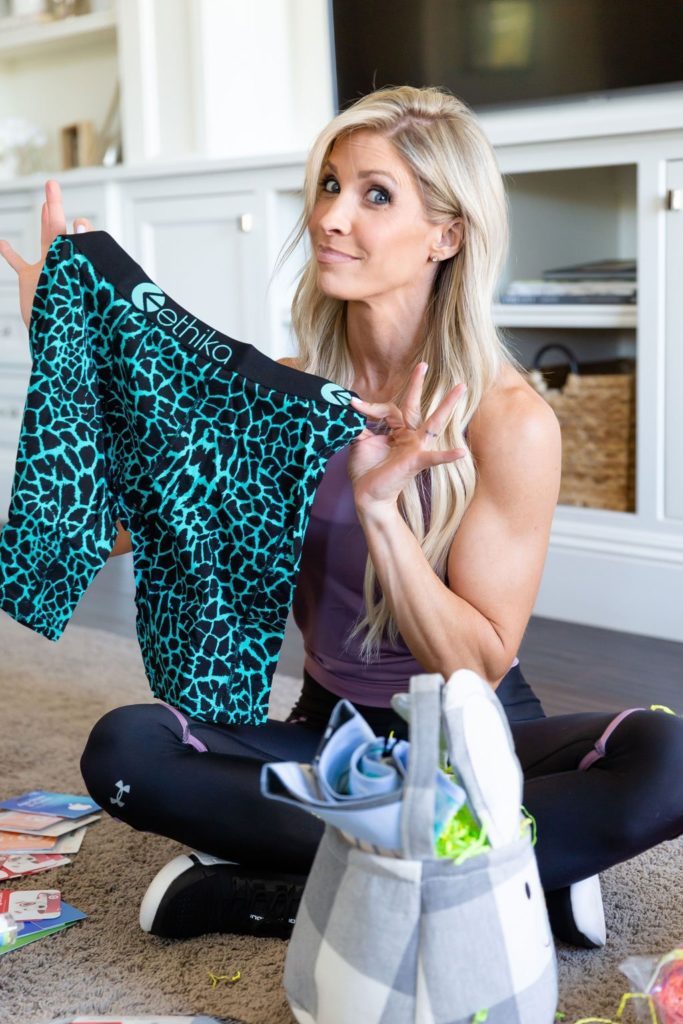 ? Tate?s Bake Shop Gluten Free Chocolate Chip Cookies: If you?re gluten free, you know the struggle of finding a good GF cookie that actually tastes like a cookie. These are the best!
For Matix, I also stocked his buffalo plaid basket with the voice changer, and Amazon, Xbox and Target gift cards! He may pretend to be too old for the Easter Bunny, but I?m pretty positive he won?t be disappointed by what he leaves behind!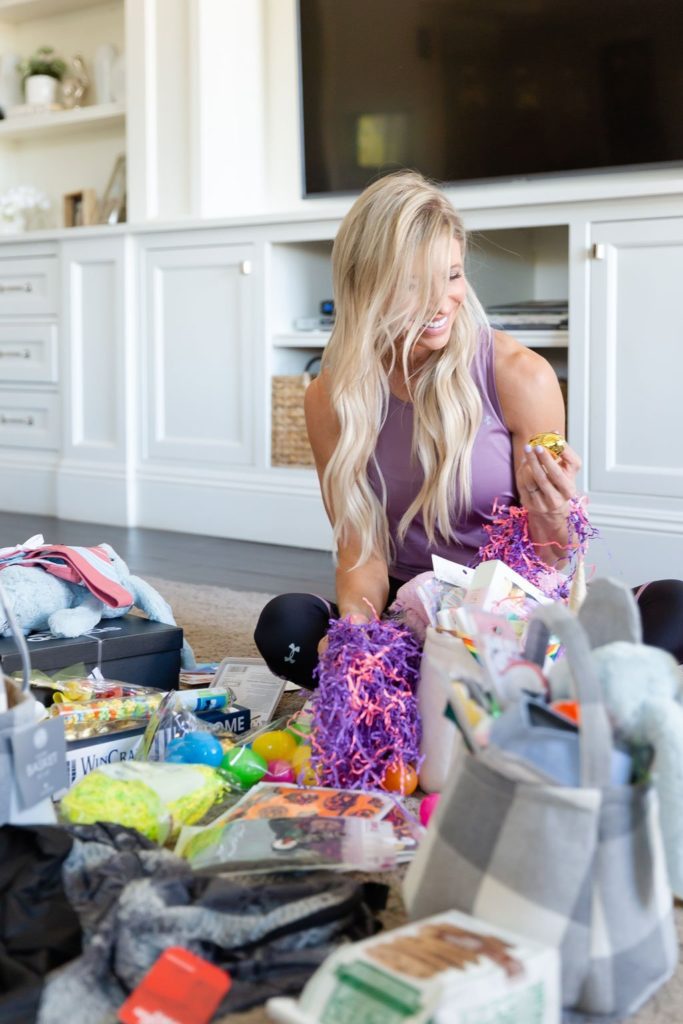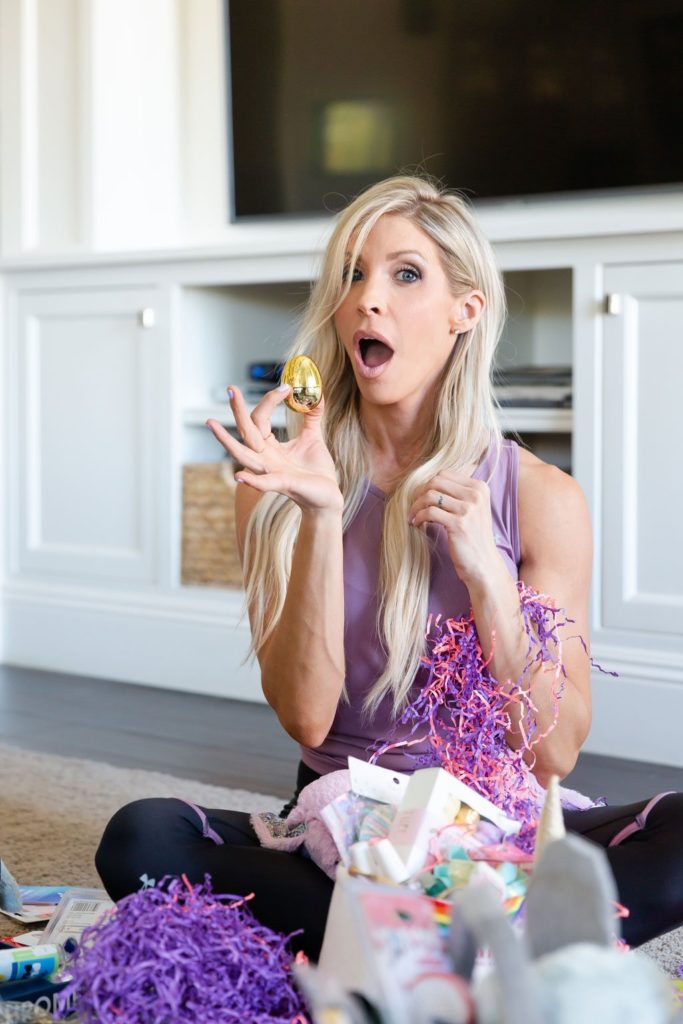 I honestly can't wait to see their faces this Easter morning! No stale Peeps for the Powells this year! What are you gifting your kiddos this year?! Any fun Easter traditions? Let me know in the comments below!
xo,
Heidi
Related reading:
Easter Egg Hunt + Exercise = The Perfect Powell Pack Combo
Easter Made Easy: 5 Hacks for Busy Moms!
Fun Easter Activ-ities
Easter Brunch: Apple Chicken Hash