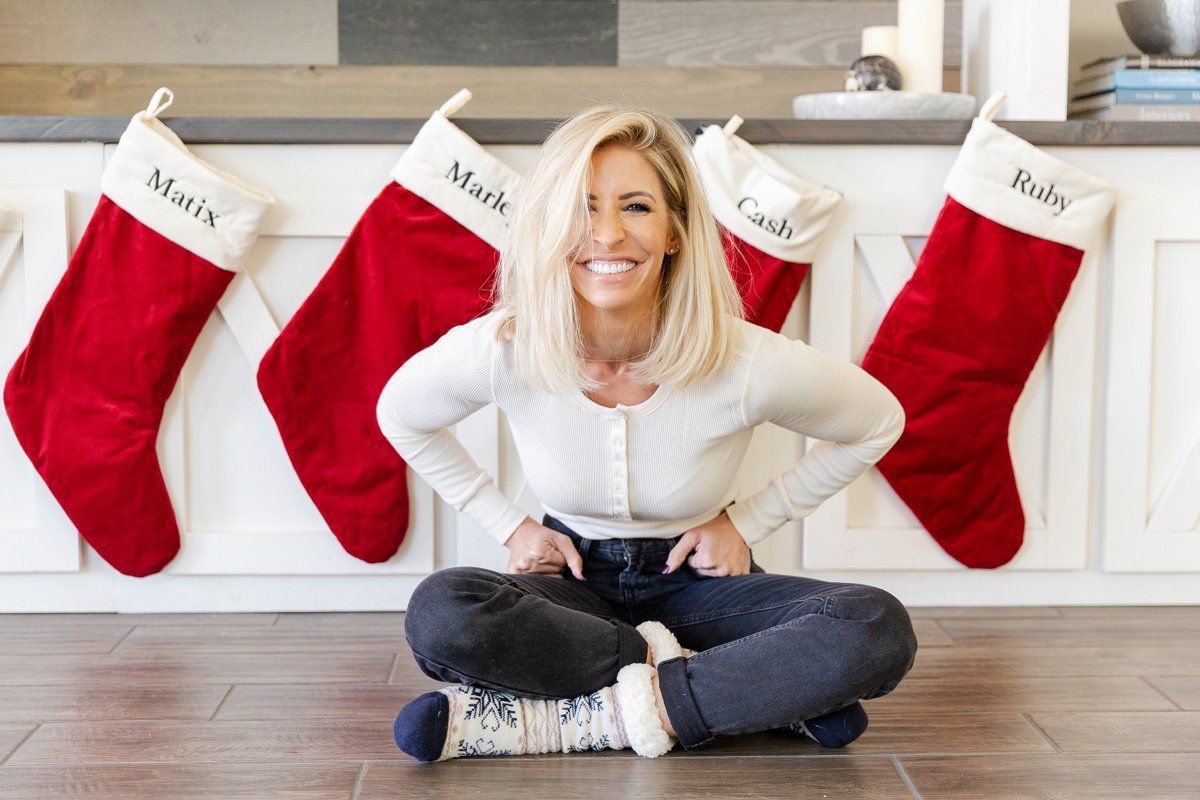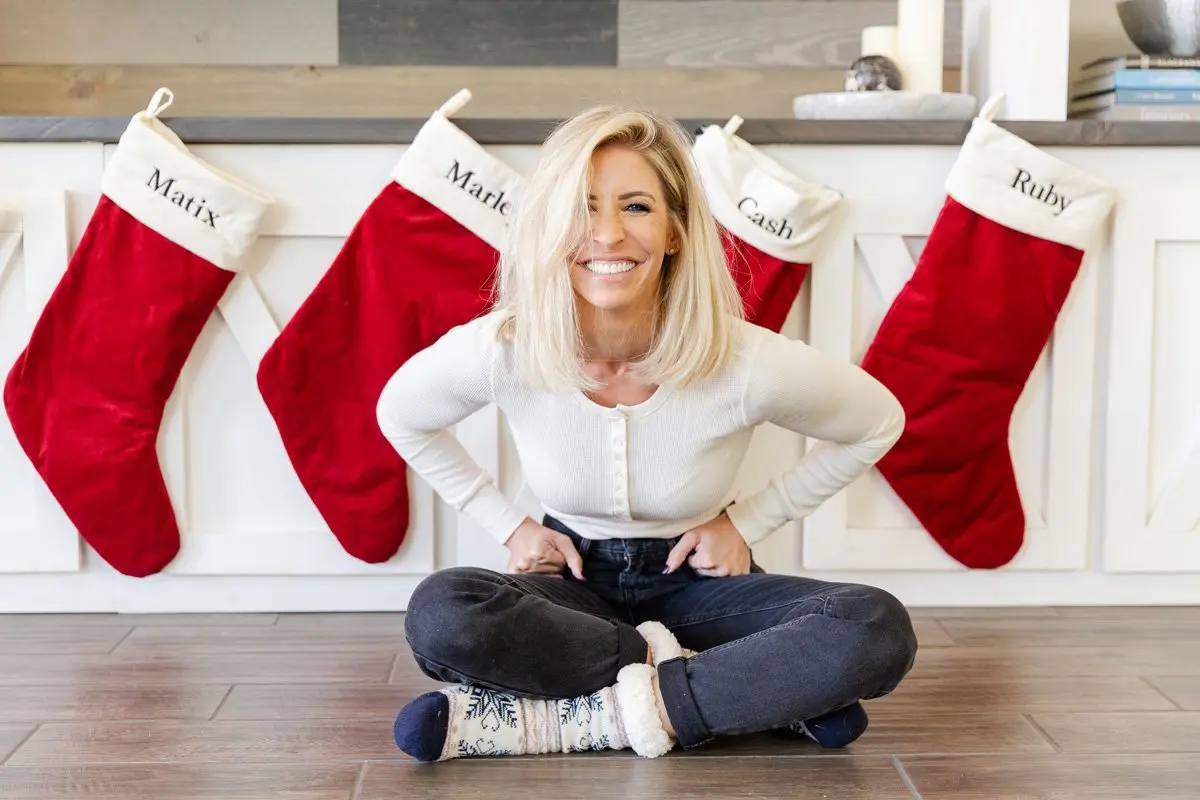 You guys, let's talk about stocking stuffers, the most underrated part of Christmas gifting. You know what they say…good things come in small packages, and that's reason enough for me to fill these things to the dang brim! Think about allllll the goodies—from gift cards to accessories—you can fit inside them. Stocking stuffers are basically the cherry on top, and who doesn't love a great cherry to polish off an ice cream sundae? Plus, the easiest way to get last minute gifts seems to be finding a ton of stocking stuffers. You guys, I'm totally guilty, so here are my favorite last minute stocking stuffers!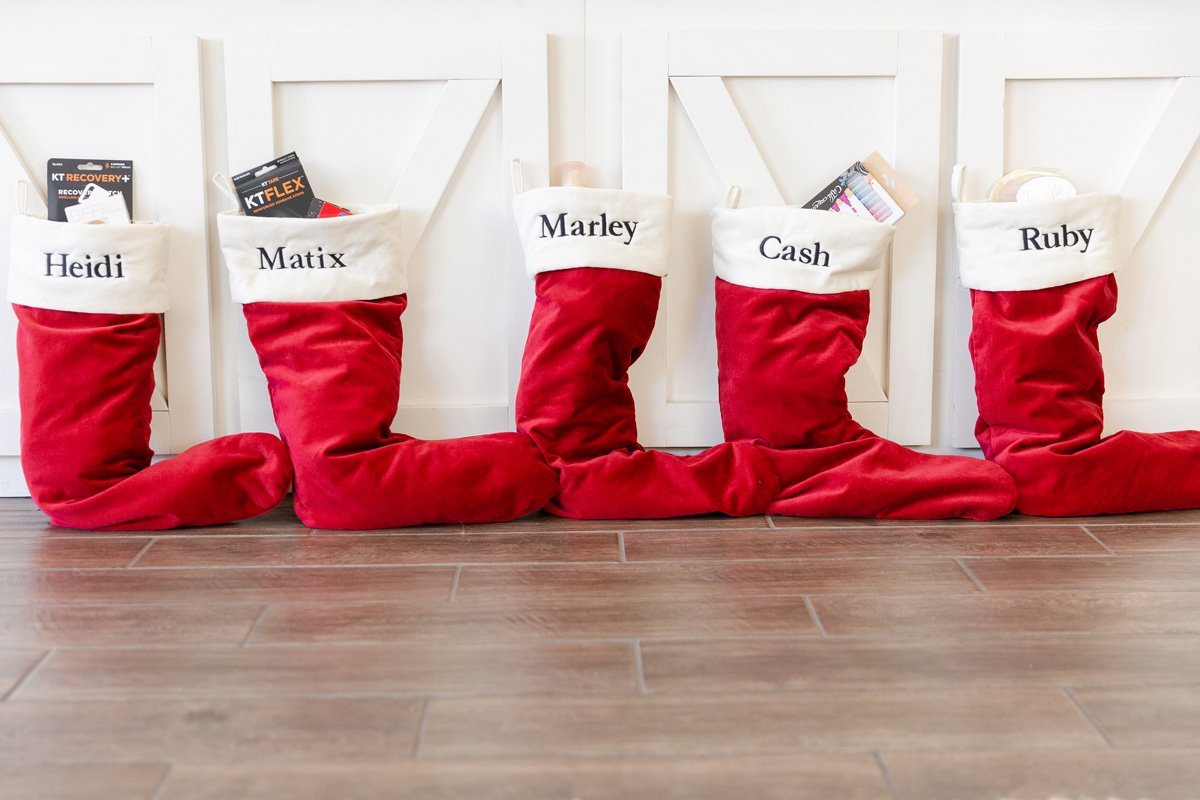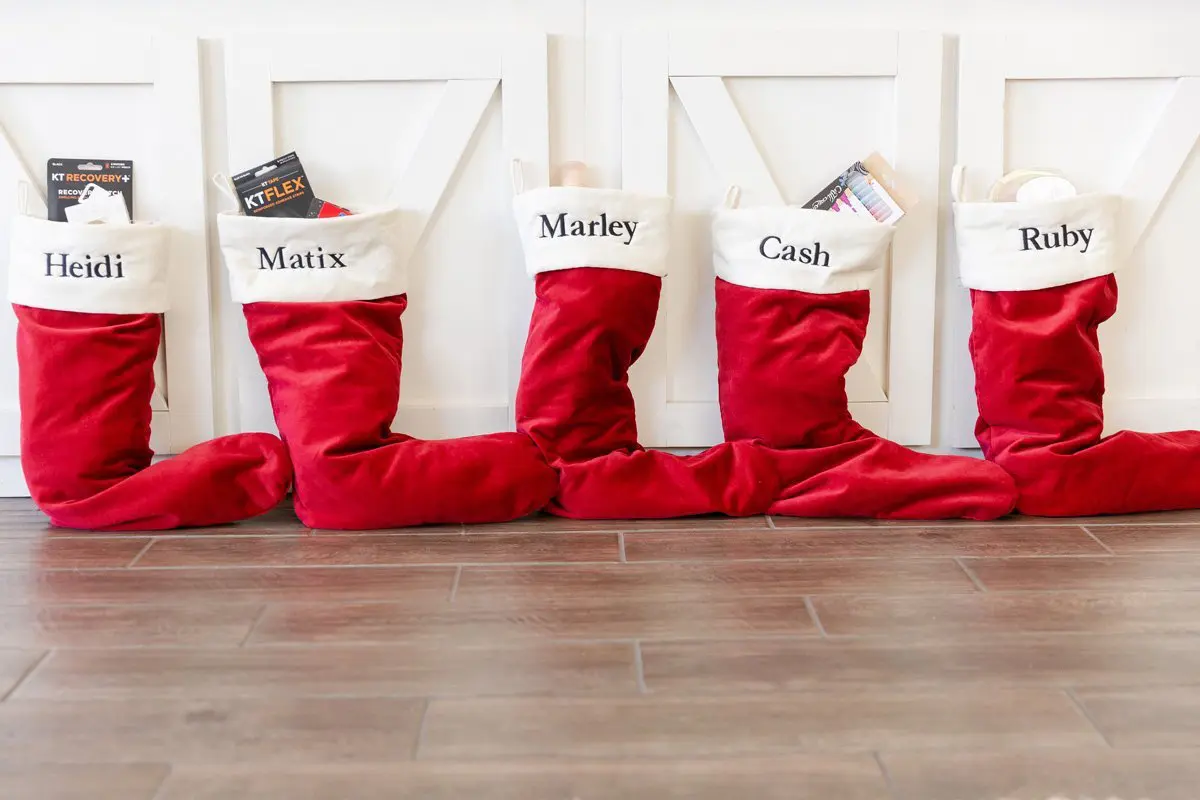 Heidi?s Holiday Decor:
Pottery Barn Embroidered Stockings, Green and Black Plaid Ribbon, Wrapping Paper (also love this winter scene and this rustic holiday set), and faux snowy pine greenery for wrapping, Heidi's Outfits: Cents of Style Thermal, Cents of Style Socks (similar and very cute here)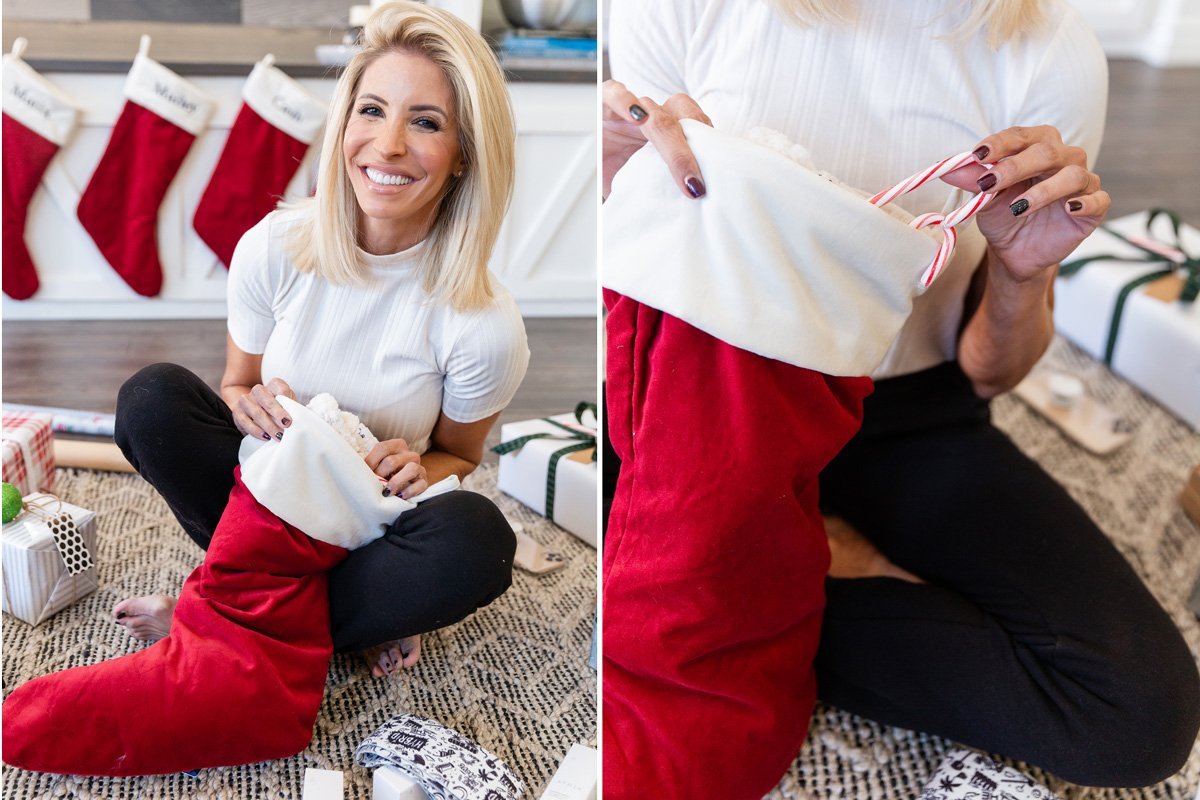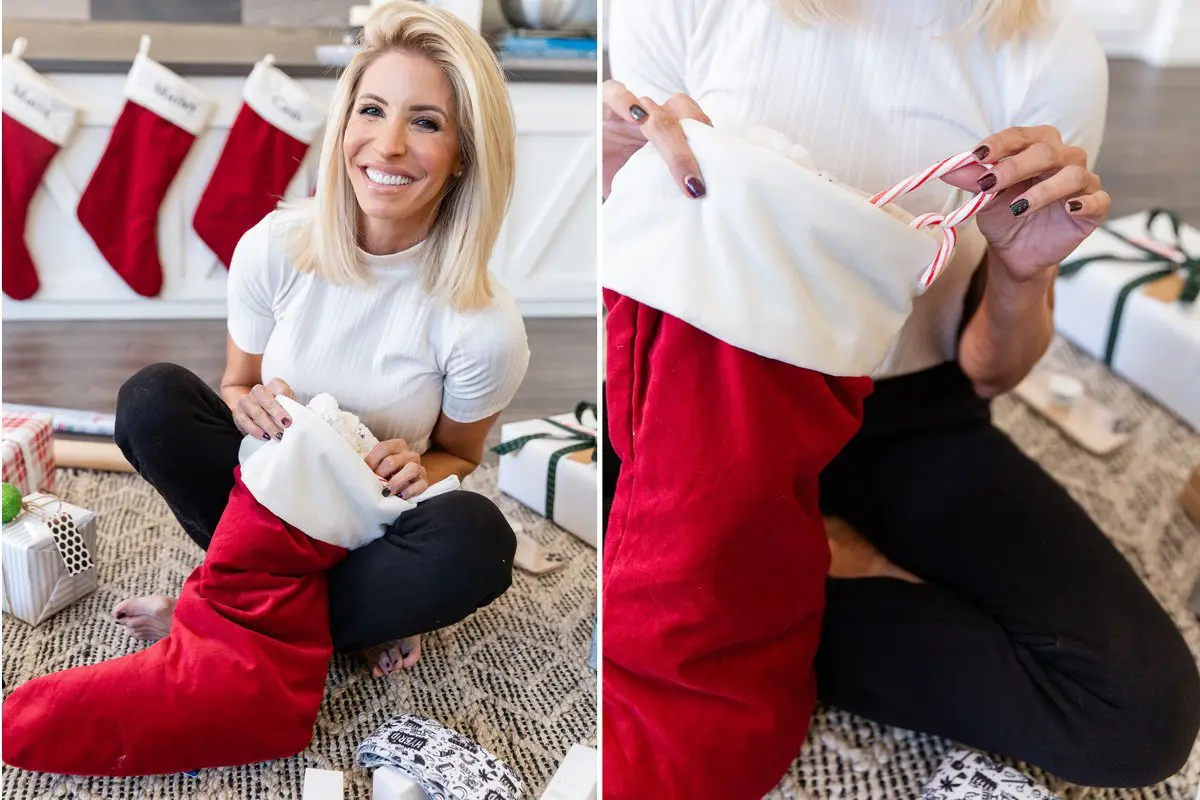 Top favorite gifts to stuff that stocking
It's easy to fall into gift wrapping exhaustion, especially if you save it all for Christmas Eve. But you guys, don't skimp on the stockings! They are so much fun, and here's the real treat: Stocking stuffers require less wrapping and less cleanup. How's that for a holiday treat that only Mrs. Claus will truly appreciate? So, stuff those babies to the brim because I'm sharing my favorite gifts to stuff your stockings!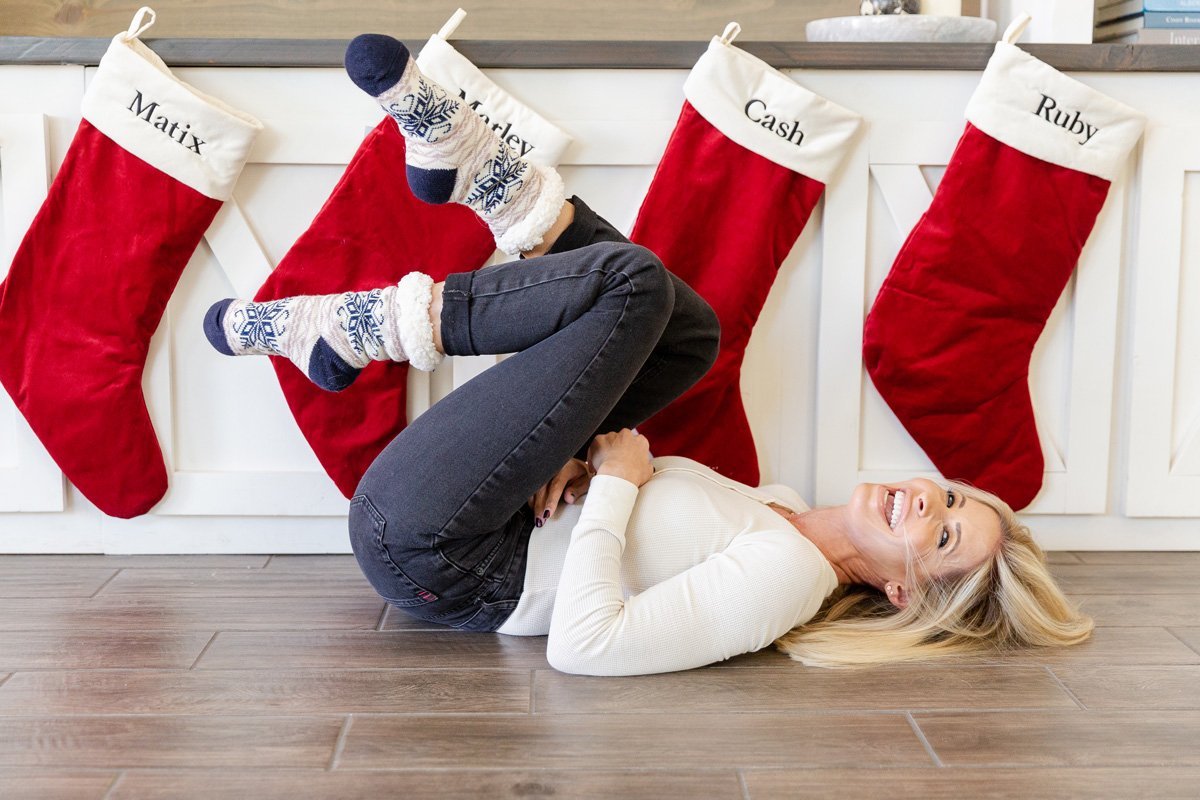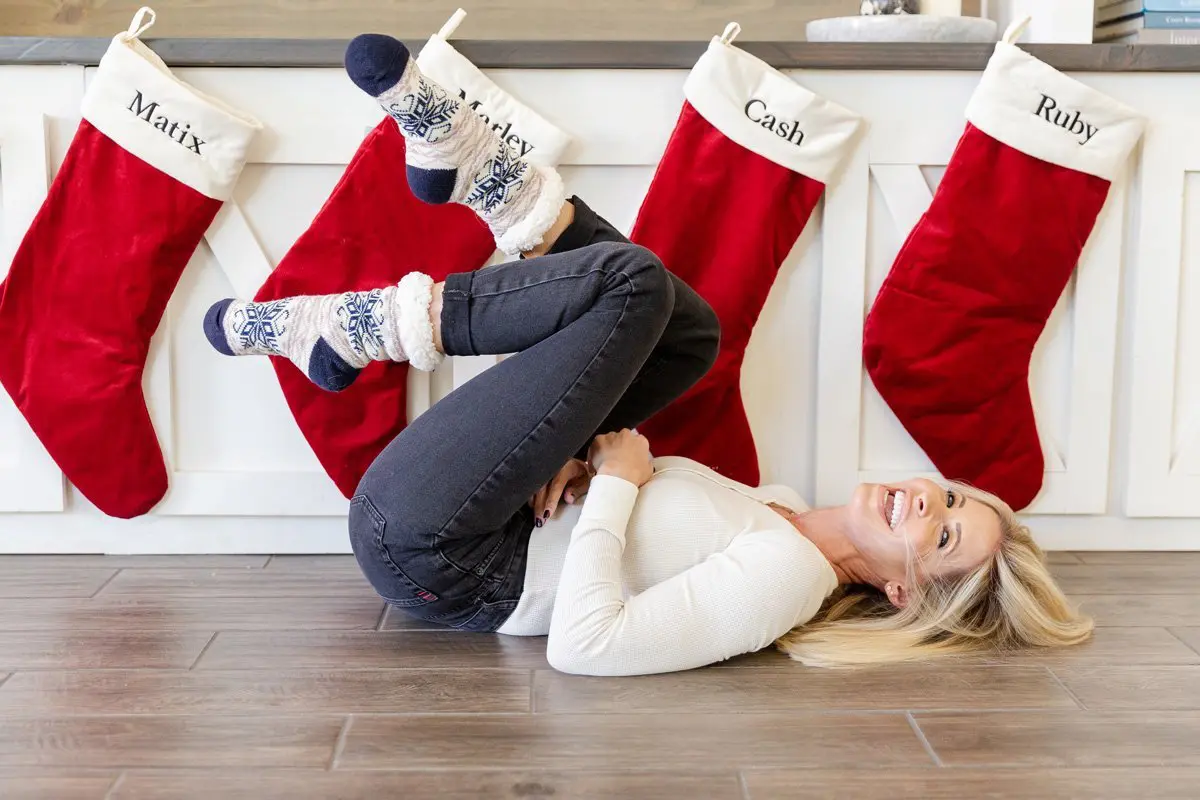 Favorite cozy stocking stuffers (Comfy Socks, DAVIDsTEA Dessert Loose Leaf Tea Gift Set, Fleece Lined Leggings)
The gift of comfort and joy takes on a whole new meaning in 2020. There's nothing better than snuggling up at the end of the day, and honestly, who doesn't love a nice comfy pair of socks to make it that much better? Bonus points if they're fuzzy on the inside. If cozy socks aren't at the top of your gift list, then snuggle up with this perfect Tea Set (they even have a night time tea named, "Mother's Little Helper." Clearly, they get us busy moms). While we're working on turning our houses into mini spas, I also love gifting mini candles and these amazing fleece lined leggings.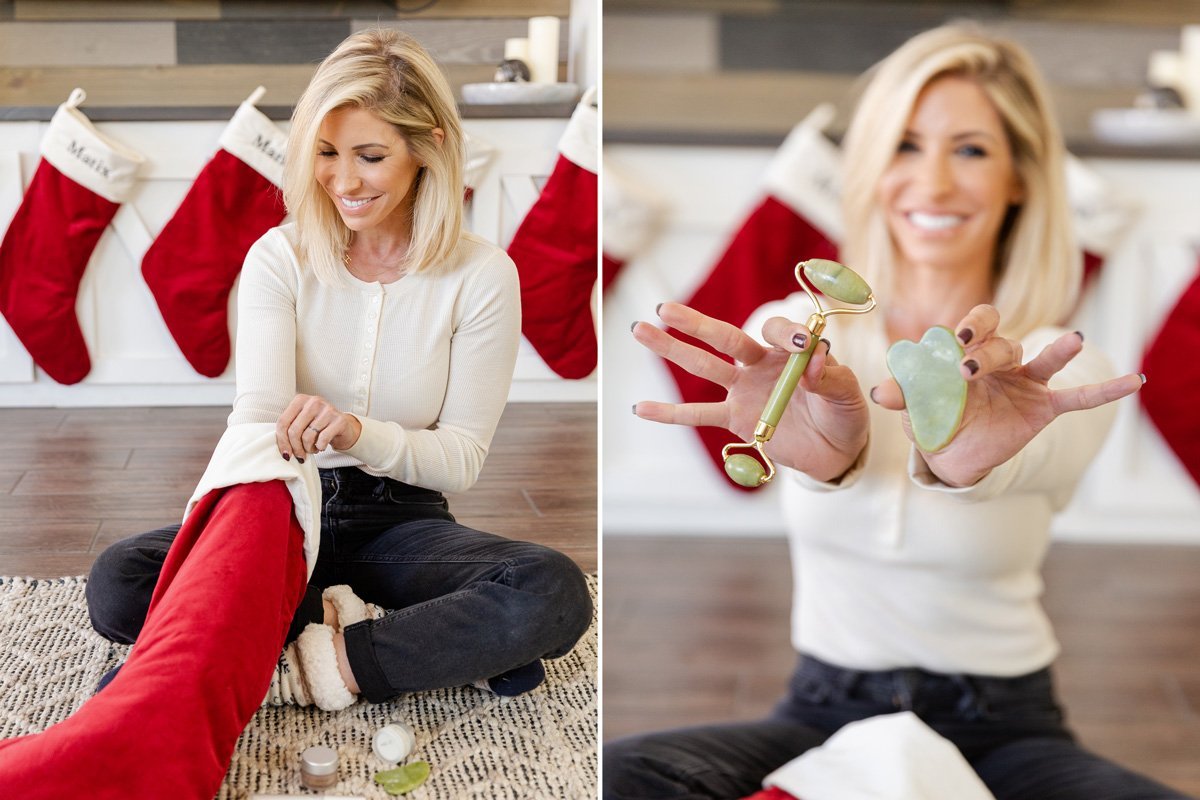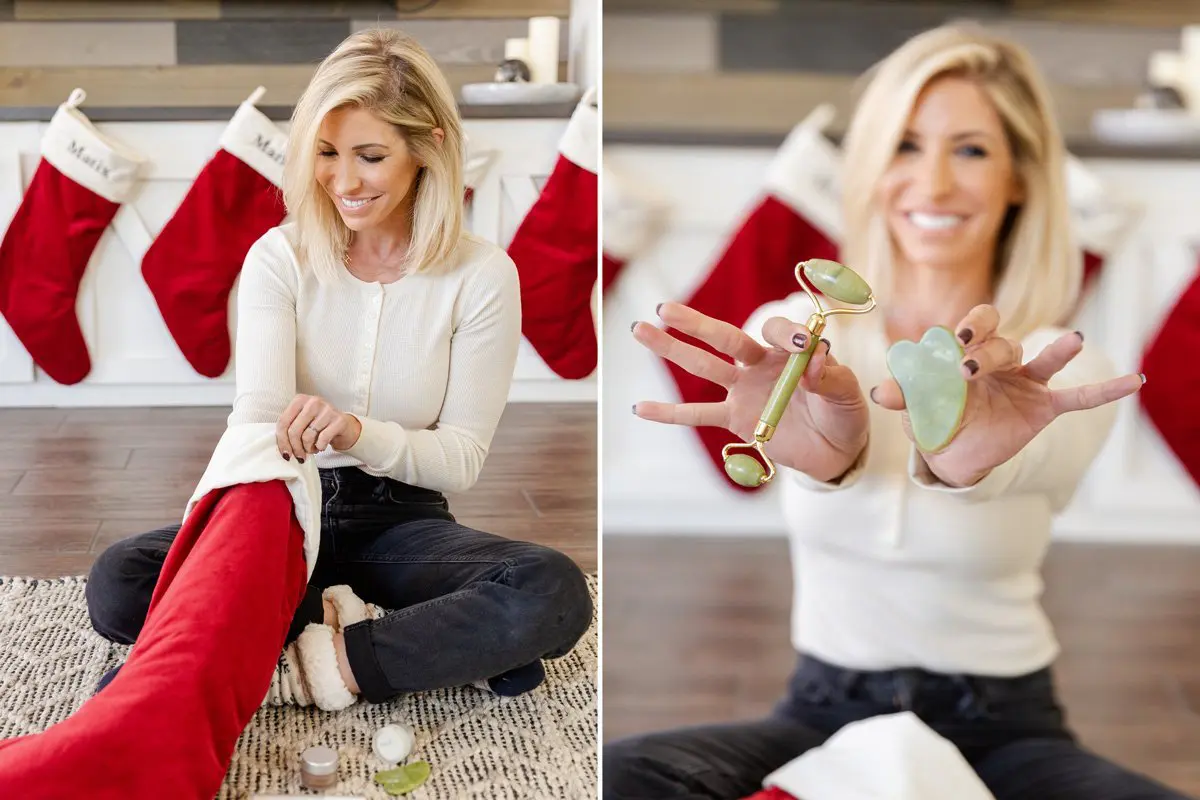 Stocking Stuffers for Beauty Lovers (Kristin Ess Temporary Hair Tint (under $15) Jade Roller, and Whish Lip Balm)
If mommy was caught kissing Santa Claus, it's probably because she had really soft lips, right? During the winter months, or if you live in a dry climate, the Whish Lip Balm is an absolute dream come true. It's the lip balm dot com as they say…ok they don't say that, but still. It's awesome! While you're at it, the Whish Body Butter is pretty amazing too. Give the gift of soft skin, comfort, and joy!  Plus, can you ever really have too many beauty products? No way. No how.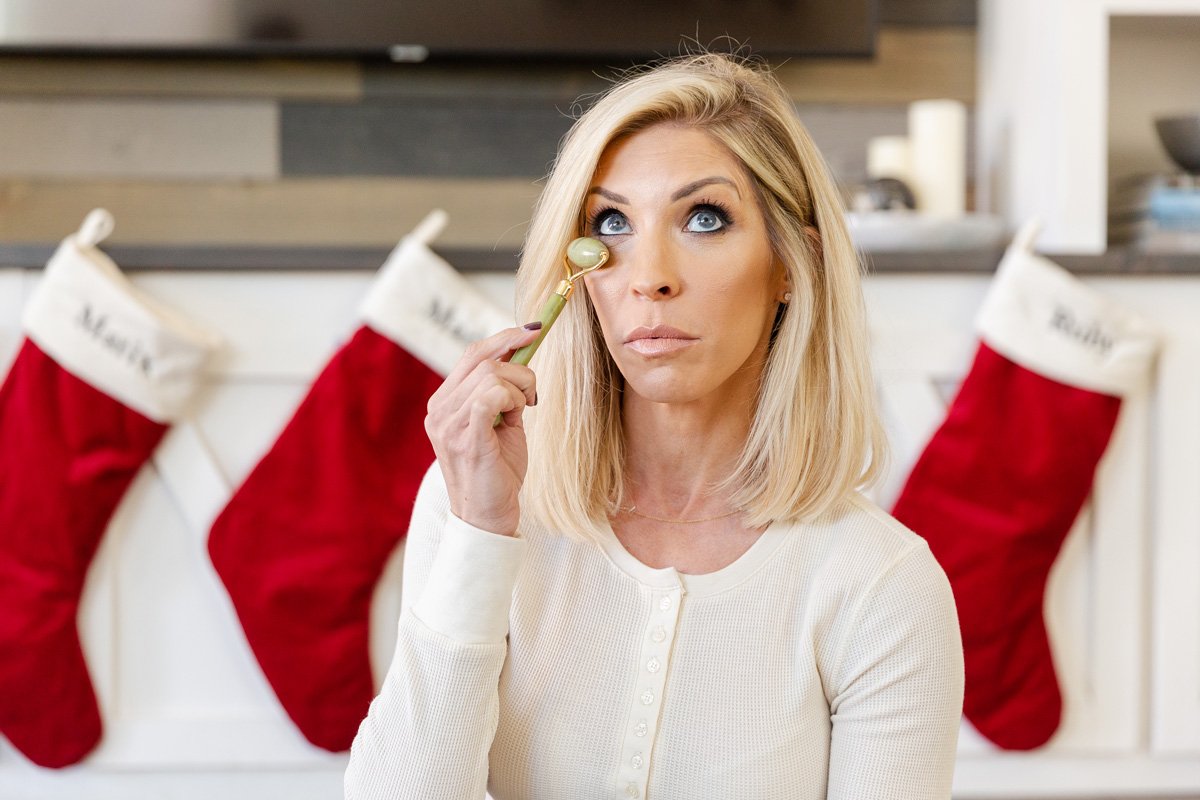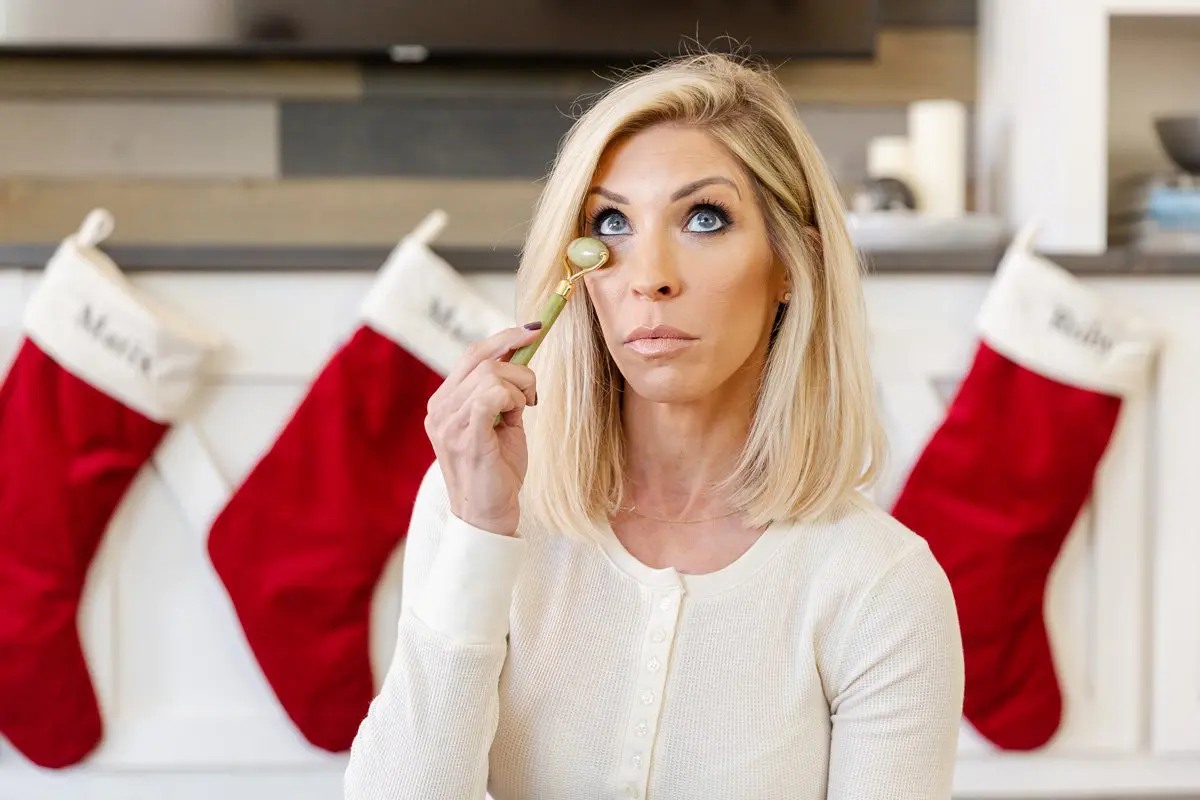 And while you're taking a couple of minutes of beauty time, this Jade Roller is perfect. It has a cool touch that's really relaxing. It also helps brighten your complexion, reduces puffiness, and promotes blood flow. Bonus points if you get one that has a mini gua sha sculpting tool (like this one). This whole stocking is a one-two punch when it comes to a) giving someone the gift of some alone time for their beauty regime and b) making them look and feel amazing. If you have a beauty lover on your list, or maybe someone who just needs five seconds away from everything, this stocking will surely hit the nail on the head. And just because it's fun and so many people have asked about it, stuffing your stockings with hair products like Kristin Ess Temporary Hair Tint or Coil Pack Hair Ties is another great stocking stuffer.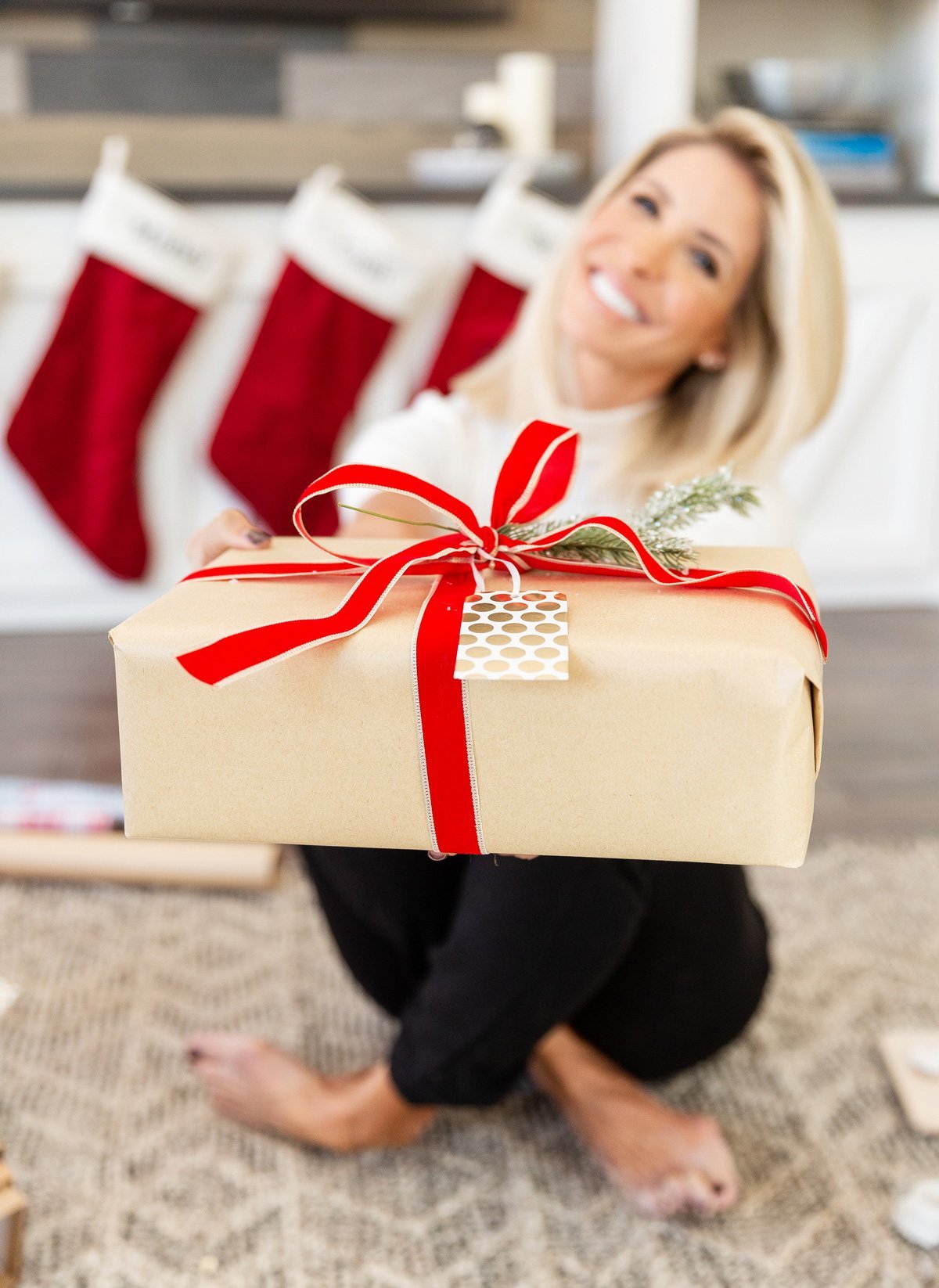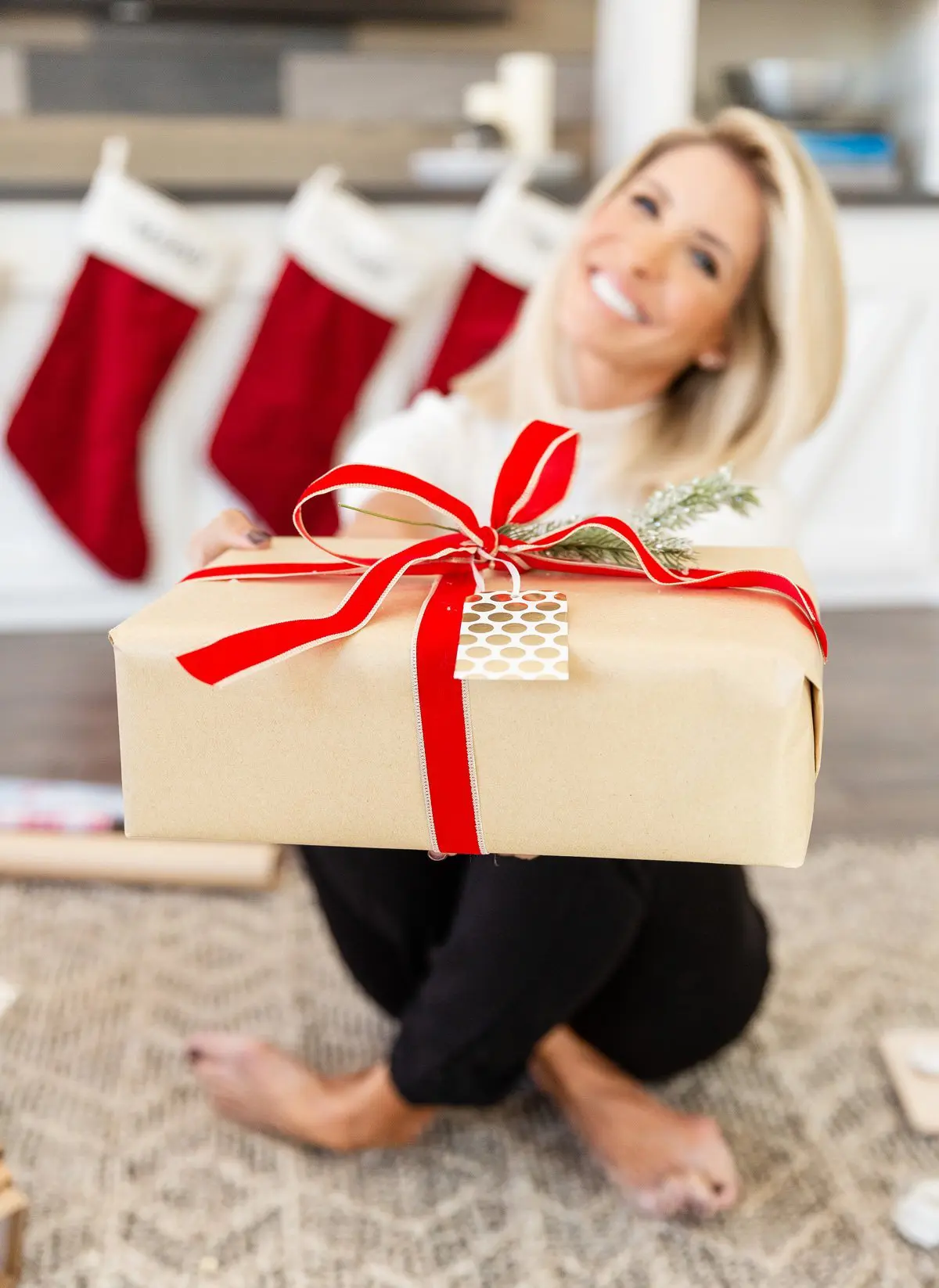 Stocking Stuffer Fitness Favorites: Resistance Bands (also love this set on Etsy), Motivational Water Bottle, KT Tape, and Reebok Lux Leggings 
The best part about stocking stuffers? Sooo many fitness gifts and gadgets are small: resistance bands, KT Tape , and even water bottles. During the holiday season it's always a good reminder that amidst the chaos we just have to move! If you have a resistance band lover, like me, give the gift of an even cuter set. Pair that with some booty hugging leggings, and you're sure to win Christmas (hey, you, I'm talking to Mr. Claus over there)! Plus, we've got motivational water bottles to wet the whistle of any fitness lover!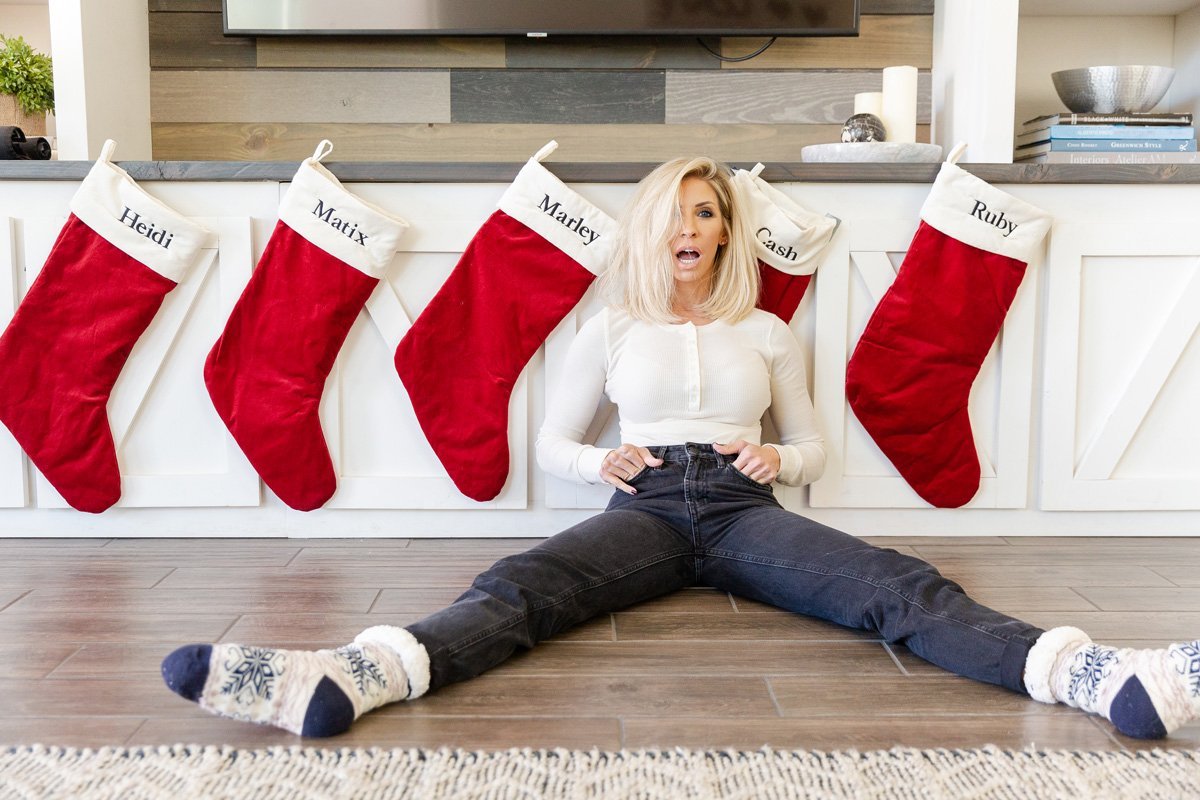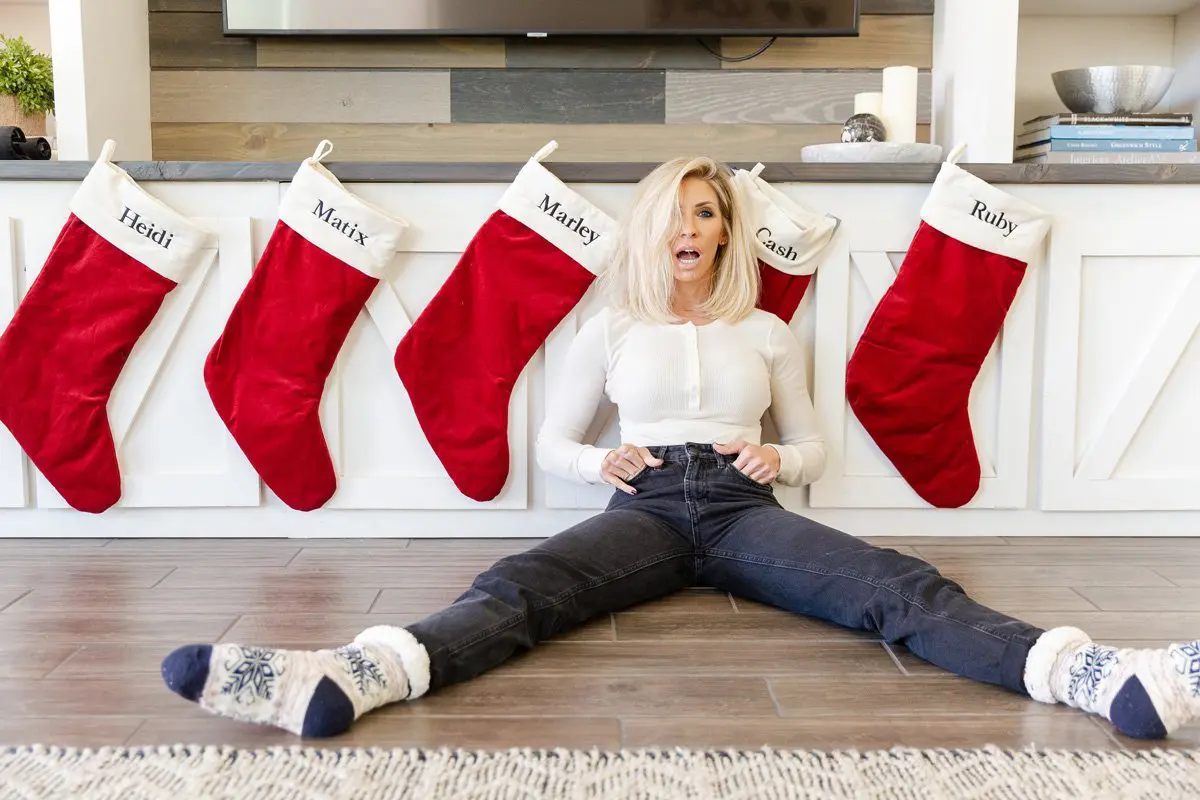 You guys, I'll let you in on a little secret: If all else fails, and you find yourself in a pinch, you know the days when even Amazon prime ship is slower than Rudolph on a foggy night and the kids are actively anticipating the pitter-patter of reindeer on the roof, gift cards will be your best friend. You can print them or get digital versions and hand write a card. The top digital gift cards in my house are for Game Stop, Google Play, and Amazon. Oh, and this Mrs. Claus is fueled by Starbucks, so you know that's on my gift list.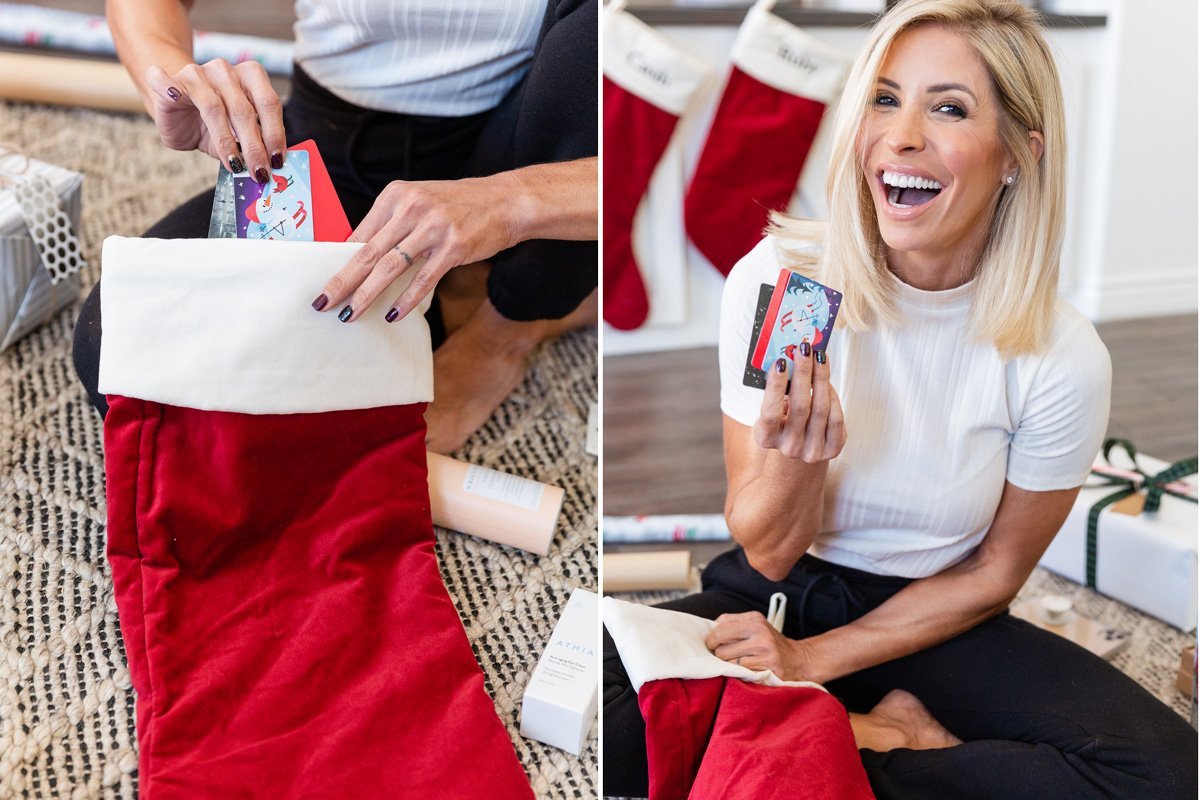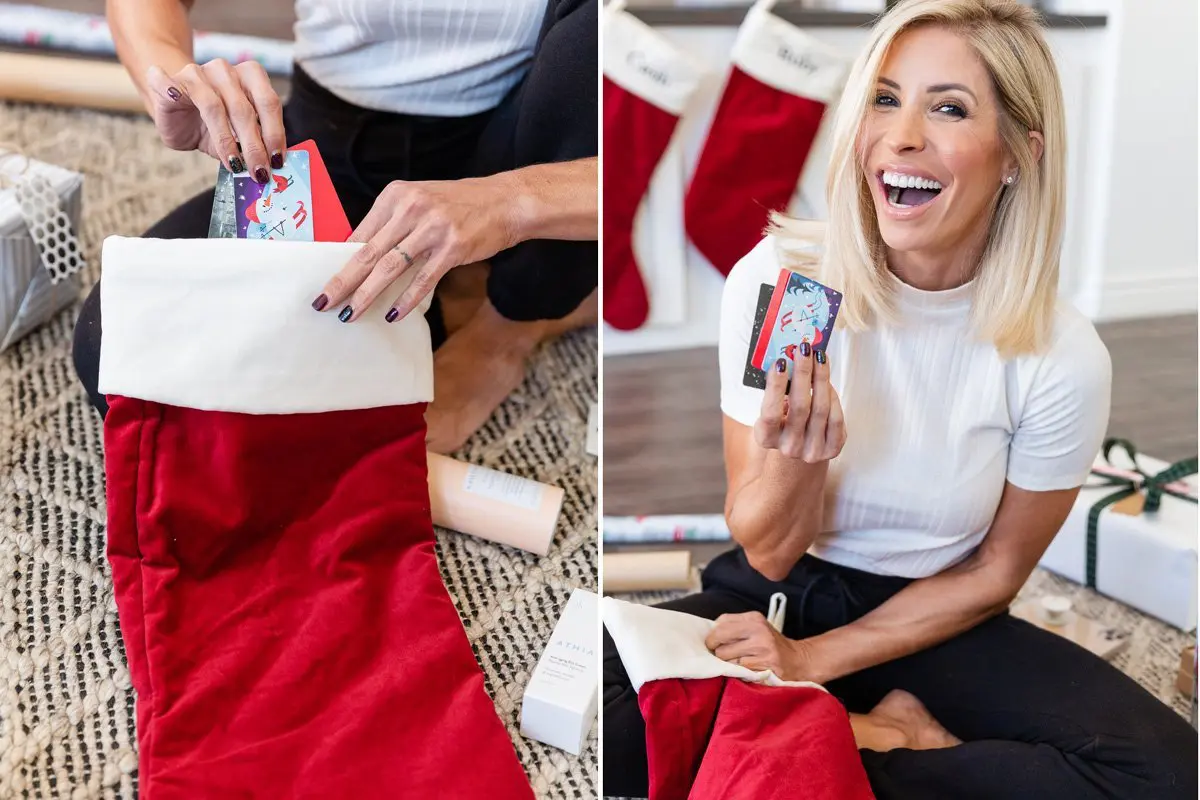 Bonus: During this time, many of your local shops can use our support. Lots of local stores will make up gift cards for you if you ask them. It's a great way to make future plans to visit your local spots.
xo,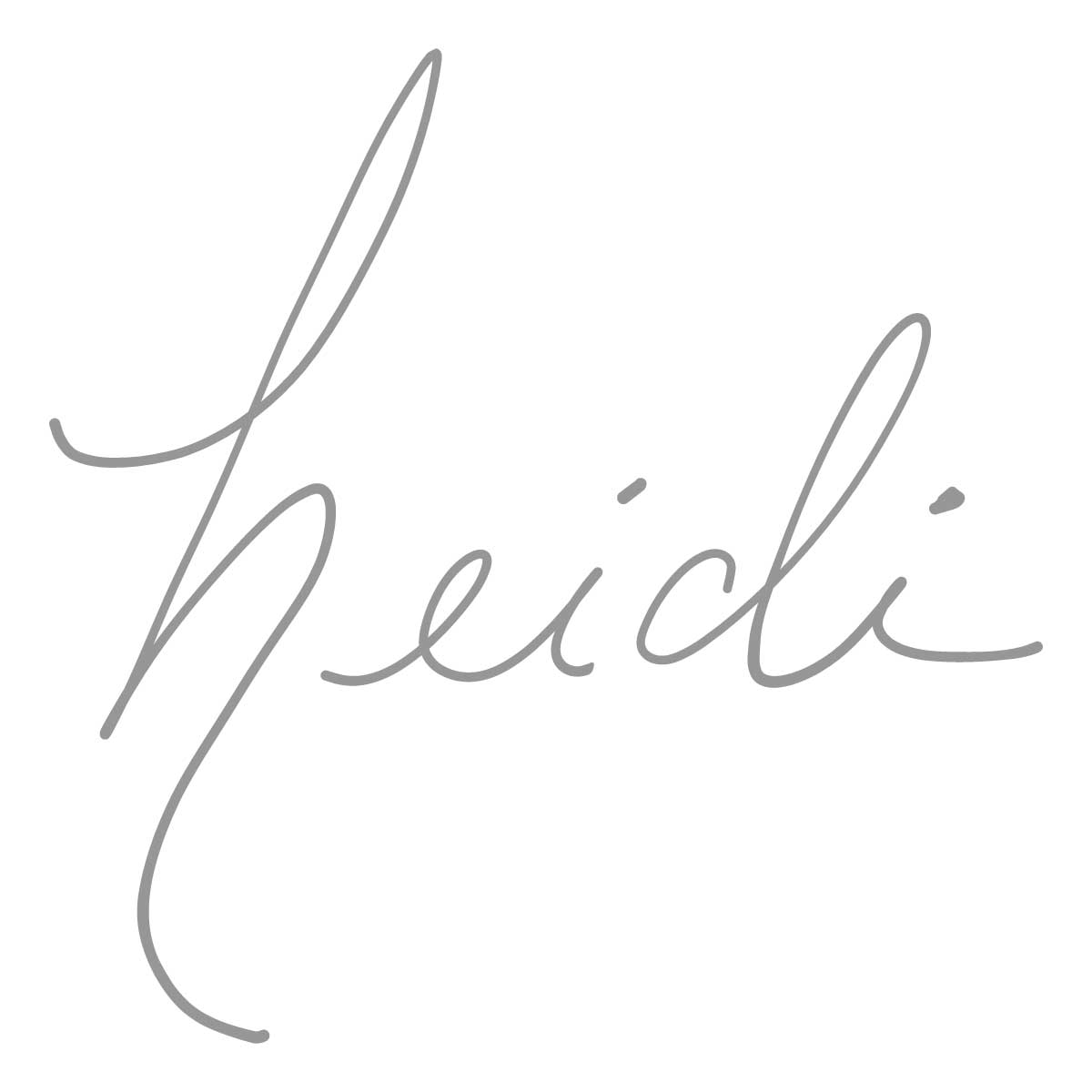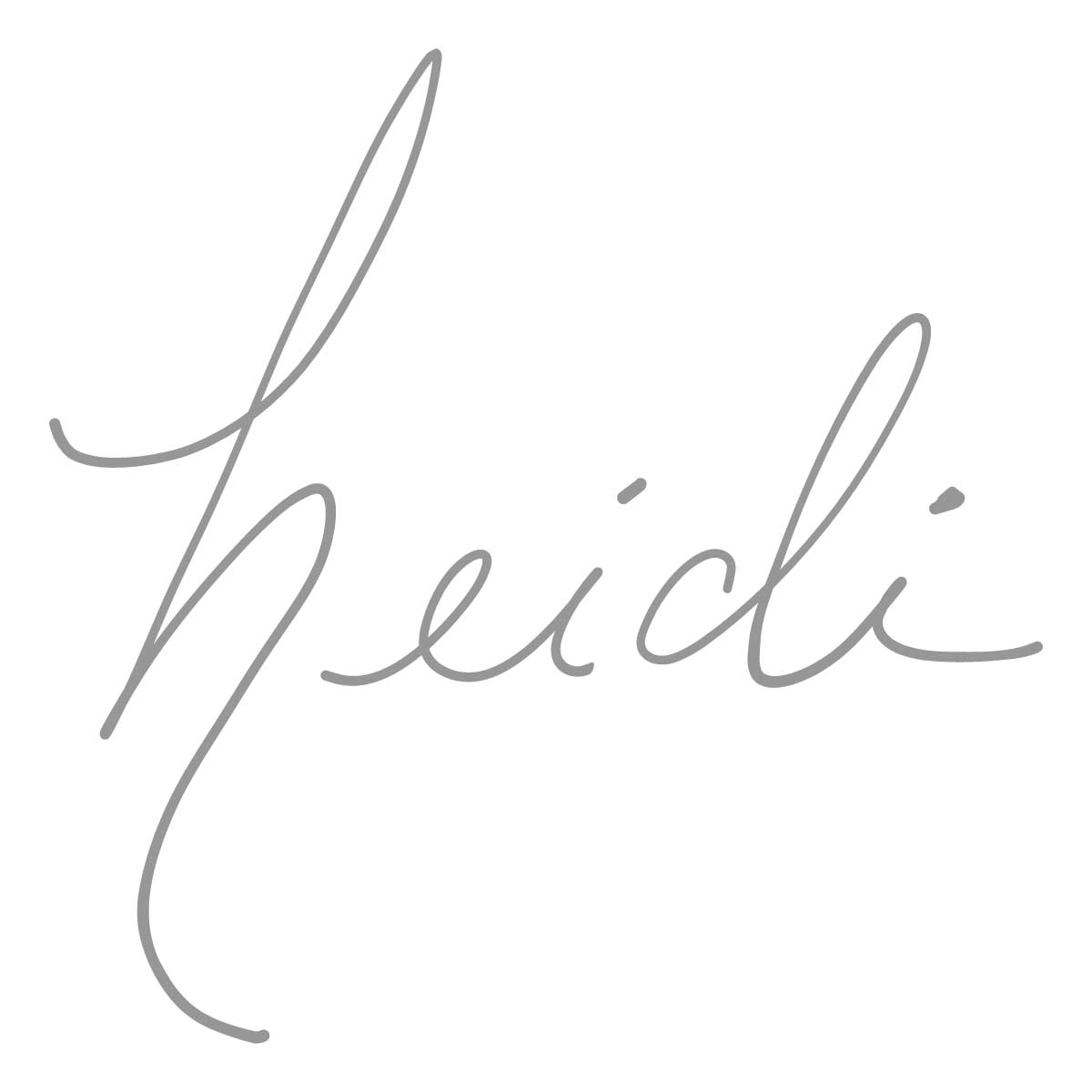 Related reading:
Heidi's Holiday Gift Guide and Giveaway 2020 (Giveaway has ended)
Holiday Survival Guide: How to Maintain Your Weight During the Holidays
Green Grinch Shake
6 Best Healthy Holiday Recipes
Christmas Craft: Rudolph the Thumbprint Reindeer!
Photo credits: Erica and Jon Photography