Chris and I have worked tireless hours this past year creating the foundation of our vision to help people live happier, healthier lives?our "TRANSFORM with Chris and Heidi" app is more than just an app. It is literally 5 apps-in-one, and it does what no other fitness app can. TRANSFORM focuses on what you really want?to be led, step-by-step, to your lifelong goals. It's truly the total transformation experience, and we've jam packed it with all of the tools you need to be successful: Custom nutrition programs, full workout plans, mental and emotional coaching, and documentation of every step on your journey?from your journal, to post-workout selfies, to your weekly picture timelapse. It is the full experience, guys!! Like having us right in your pocket.
Now to get YOU moving in the right direction?whether you are using "TRANSFORM with Chris and Heidi" or not?here are some of the basics: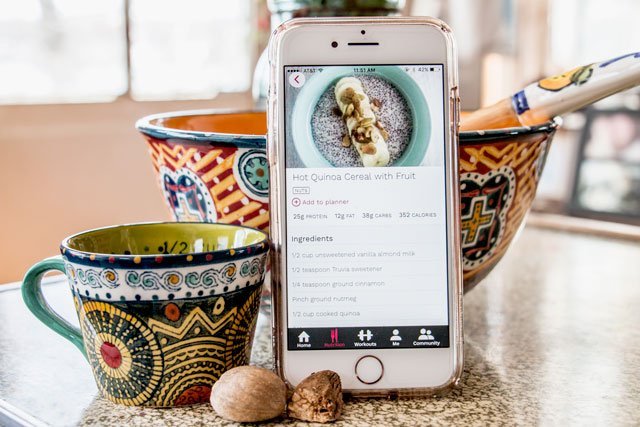 Let's start with Nutrition:
Carb cycling is the foundation of what Chris and I do every day and with every client, and it is the powerful method we prefer to use for all of our nutrition plans. It is a patterned way of alternating between a high carb/low fat diet (to optimize metabolism and muscle development) and a low carb/higher fat diet (to maximize fat loss). Beyond the physiological benefits, it also allows you to eat a lot of different foods and meal combinations so you can create a transformation lifestyle around foods you truly enjoy. There are 7 different variations of Carb Cycles that we use, depending on you and your transformation goals.
To make it even easier for our MyFitnessPal followers (I am one of them!), we?ve added every single meal to MyFitnessPal for you?to lay that out for you, we've input over 2,000 recipe variations, by calorie and macros, inside of the database. Simply search for the name of the recipe and the calories listed for that meal (Example: Pepper Jack Chicken (346 cals)), look for the brand ?Chris and Heidi Powell/Transform,? and you?ll know that?s the meal you?re looking for. Part of the app process was asking ourselves, "How can we simplify the steps along the path to transformation for us AND everyone else?" And we feel that this is one huge step, especially for us macro counters!
Some of my favorite prep tools to keep you hydrated and healthy on the go:
Why are water and hydration so important?
Adequate water consumption is so important to achieving your transformation goals for so many reasons. The medical community typically recommends drinking at least HALF of your body weight in ounces daily as an absolute minimum for a sedentary individual. In addition, you should drink 8 ounces for every 15 minutes of exercise you do. These numbers can get tricky, so instead, it is pretty easy to recommend drinking 1 gallon of water daily, and choose whichever method works best for you! And for reference, 1 gallon = 128 ounces.
TIP: Use our ?10-gulp rule?: Every time you take a drink, you must take 10 gulps before putting the bottle down. Learn to breathe through your nose. 😉
How do I curb cravings?
One of the most common issues we see people encounter when transitioning to eating for transformation is that they are surprised at how MUCH food they need to eat every day. However, sometimes there is a craving for old comfort foods. The key is to effectively stay "full" to manage these cravings as you experience them. Here are some of the best?and most powerful?craving curbing tips:
Tip # 1: Drink LOTS of water, and always aim to drink your prescribed minimums. It's kind of crazy, but when we feel hungry, we're often just thirsty, so drink up!
Tip # 2: Eat foods that are high in fiber. Fiber acts like brakes on your food so it stays in the stomach and small intestine longer, keeping you feeling full. Studies have found that people who eat high fiber foods are far less likely to overeat! High fiber breads, oatmeal, whole grains, sweet potatoes, and beans are excellent sources of high fiber starchy foods. But one of the best methods is to use tons of veggies to volumize ALL of your meals!!!
Tip # 3: Chew mint-flavored gum, eat a breath mint, or brush your teeth after meals. The mint flavor is great for suppressing your appetite, and it will hold you over until the next meal.
Tip # 4: Consume a little fat! Good fats, of course. 😉 Simply eat one tablespoon of your favorite healthy fat, set your timer for 15 minutes, and Bam! You will have conquered your sweet and salty craving. Pretty awesome, right? Keep in mind these have a 100 calorie impact, so plan accordingly!
NOTE: If you absolutely need to have something to hold you over, try these liquid craving-curbing tricks:
Coconut Water (healthy and effective): Add 1 tablespoon of coconut oil to a cup of warm water. Sip and enjoy! In 20 minutes, you should feel fuller!
Root Beer Float (not-so-healthy and effective…but delicious!): Add 1 tablespoon of heavy cream to a chilled diet root beer. Sip and enjoy! In 20 minutes, you should feel fuller!
Fitness and Daily Workouts:
Some of our go-to workout gear:
We understand that each person comes with a different story that requires customization along the way. For every movement, we give modifiers and/or alternate movements to substitute into your workout, and the modifiers and alternates can be found at the bottom of every movement description. If you are dealing with an injury, we encourage you to work around injuries, not through them. Feel free to substitute any movement into the workout that does not aggravate your injury.
NOTE: If you are experiencing an injury, please be sure to discuss your exercise regimen with your healthcare team before beginning any program, and then be sure to follow any modifications they might recommend while recovering from your injury. If you are experiencing any new injuries, be sure to discuss these with your healthcare team if the injury persists past a few days.
Should I still work out if I'm really sore?
Soreness is very common the first few weeks of beginning a new program. If it is extremely painful, then 1) do your Accelerators/light cardio instead of your workout until the soreness goes away, or 2) do your workouts focusing on body parts that are not sore.
Massage, Epsom salt baths, and ice baths have also been shown to help reduce muscle soreness and speed recovery so you can get back into the groove as soon as possible!
When should I weigh myself?
Weigh yourself as much as you like, but your official weigh ins should be done once a week (after a low carb day), first thing in the morning before eating or drinking. Keep in mind that it takes roughly one to two weeks to get a truly accurate change on the scale, so this is why weighing at the end of each week can keep the number much more consistent and reliable.
Other than pounds on the scale, what are the ?signs? I need to watch for when losing weight?
Clothing and inches: Pay attention to how your clothes are fitting?they are an incredible gauge of your progress!
Energy levels and body temperature: These will fluctuate as we cycle our nutrition from high to low carb days. You will notice a nice boost of energy and a body temperature rise on high carb days as your body consumes higher quantities of ?fuel.? Low carb days (low ?fuel? days) will result in decreased energy and decreased body temperature. Don?t be alarmed if you feel your energy zapped and a bit foggy-minded without all of those carbs. This is normal, and it?s only temporary!
Water retention and flushing: Here?s one more reason NOT to rely only on the scale. If you insist upon weighing daily, you will notice that your weight fluctuates with your high and low carb days. Our bodies will naturally retain water during high carb days, and they?ll flush water during low carb days. As a result, there will be some noticeable fluctuations on the scale. You may find yourself up 4 pounds after a high carb day, then down 5 pounds after the following low carb day.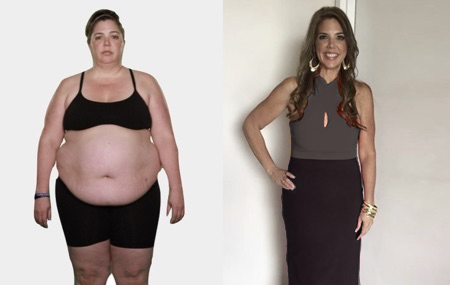 Do I have to take pictures during my transformation?
While you don?t HAVE to, we highly recommend it. One of the most wonderful gifts you can give yourself during this transformation is the proof of progression. Not only will this memorialize where exactly you came from (and it will serve as a constant reminder to never go back), but it will also give you a more ?objective? perspective of your own body so you can see the true results. Naturally, our eyes play tricks on us?what we see in the mirror is NOT reality!
If you choose to, you can share your transformation pictures across any of your social networking platforms (Instagram, Facebook, etc.) from the TRANSFORM app. Your transformation will give hope and inspiration to everyone around you, and it can help them choose to change their lives for the better too!
Now, if you are following the app, you don't have to worry about much of this at all. We will guide you every step of the way…even sharing our tried and true Life Lessons that have proven to be the magic ingredient to thousands of lasting transformations over the years.
On that note…come TRANSFORM with us! Click below to Download:
Xoxo,
Heidi
Related reading:
10 Tips to Crush those Cravings?For Good!
It Really Is All About the Promise
Meal Prep Tips and Tricks You Need to Know
A Weight Loss Win: It?s More Than That Number on the Scale
Our Transformation Mantras + Top Tips for Success
6 Secrets to Success: How to Reach Your Goals This Year
Avoiding Road Trip Road Blocks!