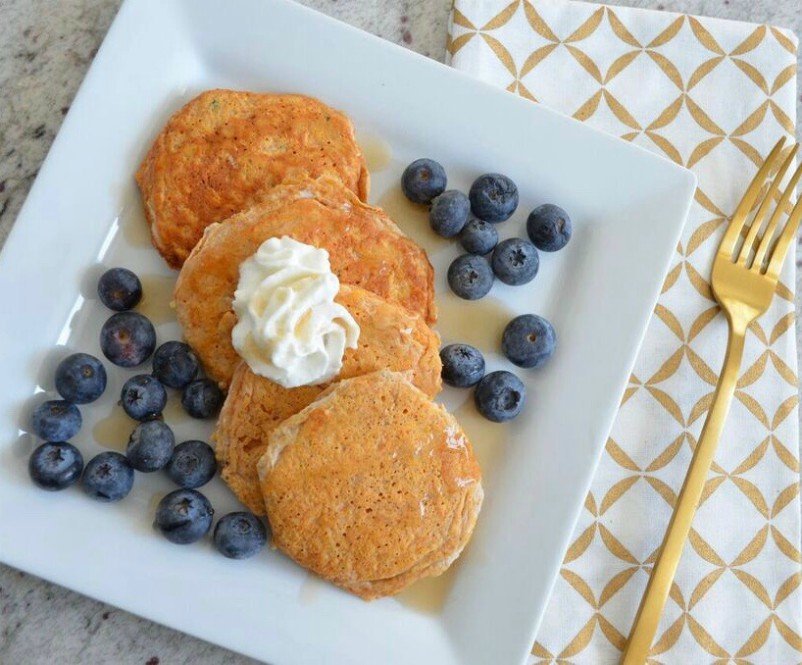 'Twas the week before Christmas, and all through the house, not an item was clean, not even a blouse! But seriously, though, is it just me, or is the week before the holidays just absolute chaos?! I feel like my head is spinning!
With all of the holiday prep and family fun, it can feel nearly impossible to stay on your health + fitness A game! Lucky for you, Chris and I (and the TRANSFORM app!) have taken the guesswork out of your diet this season. Less time on figuring out what the heck you're going to eat = more time with family for Christmas. Small victory!
Something about the cold weather has me CRAVING hearty, hot breakfasts lately! And with the kids home for two weeks for winter break, there's no reason I shouldn't be whipping them up something hot and healthy every morning. If you're short on time, but want something nutritious and delicious, try our Sweet Potato Pancakes. These bad boys are so freaking good, and they?ll be one of the new recipes in our next TRANSFORM App update! #sneakpeek
Give them a try this season?your taste buds and waistline will thank you!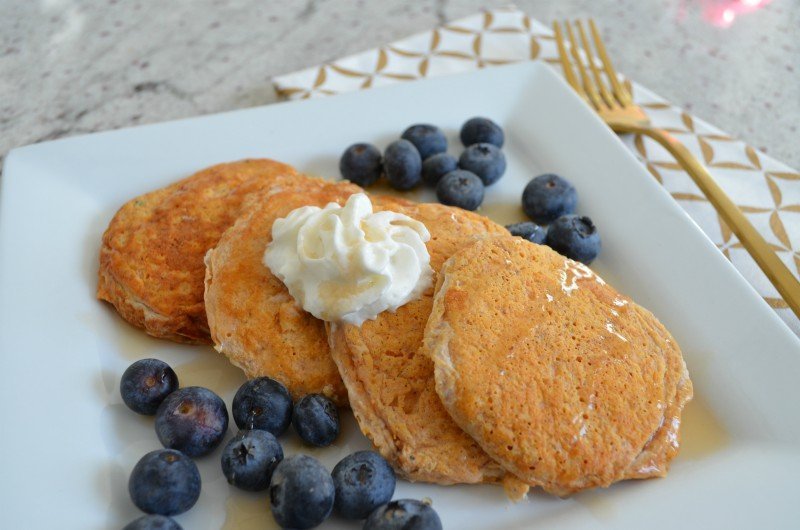 Sweet Potato Pancakes
Makes 1 serving
Ingredients:
? cup cooked sweet potato
? teaspoon cinnamon
1/8 teaspoon Allspice
1/8 teaspoon salt
? cup liquid egg whites
1 ? tablespoons all-natural almond butter
2/3 cup blueberries
? cup Walden Farms pancake syrup
1 ? tablespoons fat-free whipping cream (aerosol)
Directions:
1. Preheat griddle to medium heat and spray with nonstick cooking spray.
2. Remove skin from sweet potato, mash well. Mix with egg whites and stir until combined.
3. Add seasonings.
4. Pour batter onto griddle using ? cup of batter for each pancake.
5. Cook pancakes for 2-3 minutes. Flip over and cook for an additional minute.
6. Remove from pan. Melt almond butter in the microwave and drizzle on pancakes.
7. Top with blueberries, syrup, and whipped cream, and enjoy!
Nutrition information: 394 calories, 13g fat, 41g carbs, 27g protein
Xoxo,
Heidi
Related reading:
Pumpkin Protein Pancakes with Pumpkin Seed Granola
My (Almost) Famous Pumpkin Pie Overnight Oats!
Our Top 4 Transformation-Friendly Food Faves
Christmas Morning Cooking // 1-Minute Breakfast in a Mug
Skinny Pancakes