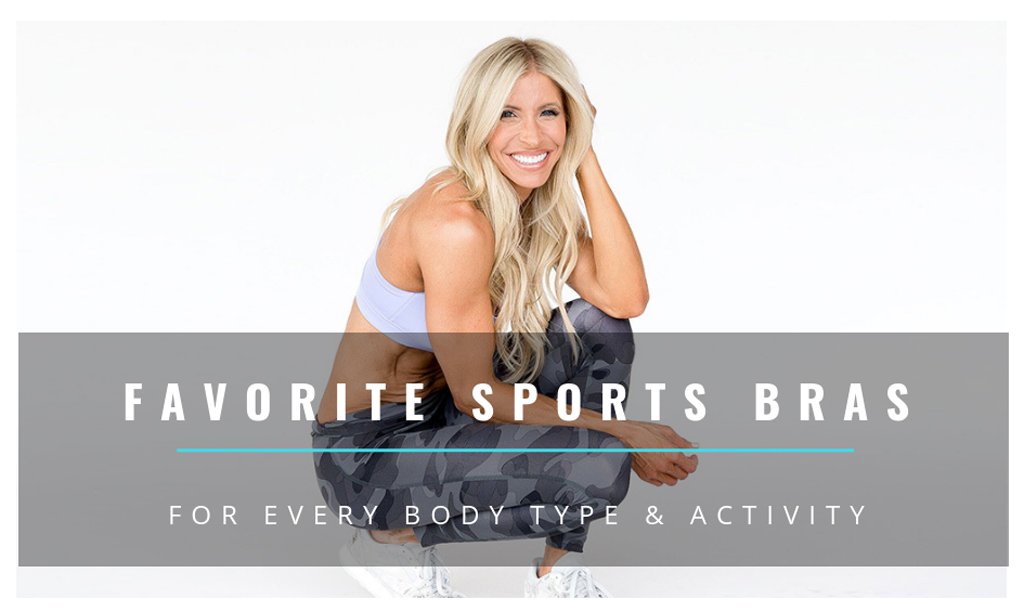 Let?s talk sports bras, shall we? Remember when you were a little girl and the straight up excitement you felt around your first bra purchase?! That long-awaited, magical moment finally came, and while it made little to no difference in the support department (because you begged your mom to buy it even though it was probably too soon!), you felt more grown up, and you were basically full of swagger because you were now adulting.
Suddenly, bras went from being sophisticated and cool to an uncomfortable chore?especially sports bras. There's nothing more un-sexy than feeling like you're strapped in and can't move. Thank you, next! Not to mention, ladies, just like everything in life, boobs have a way of…changing.
I don't often talk about this, and while it's probably no shock, this mama of four chose to get implants between kids two and three. In some ways, this gives me a deeper understanding of the importance of good support. Lucky for all of us, some pretty amazing boss babes in the fitness industry created sports bras that real women want (AND NEED), which make a world of difference.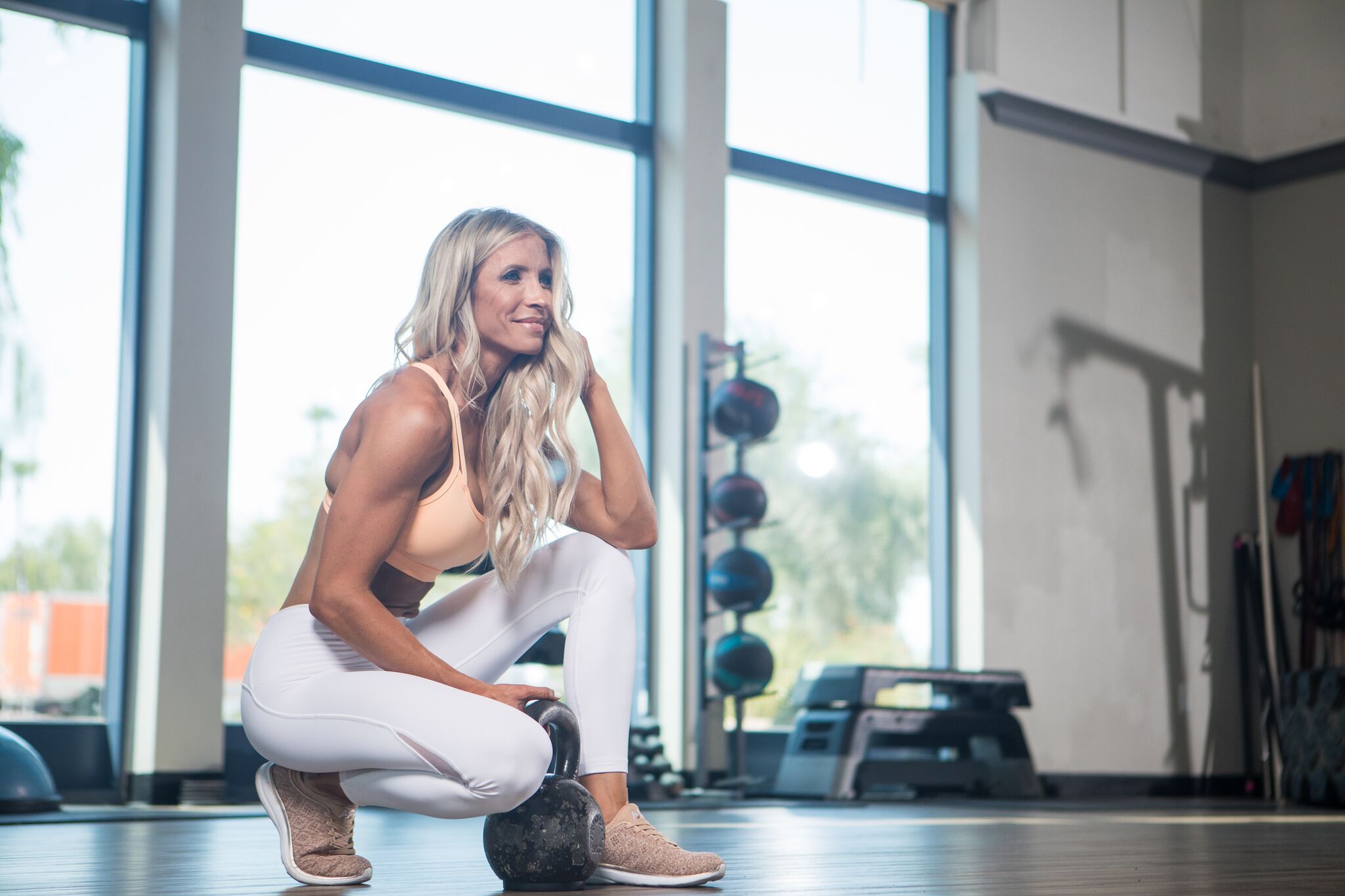 Of course there are tons of cute designs out there, but there's nothing worse than fashion without function in the fitness world. I'm breaking down the whats, whys, and of course, designs of sports bras starting with what to look for and what the different types mean. I'm sharing all the sports bra knowledge I?ve learned through the years, and with my wisdom, you can achieve the fit of your dreams!?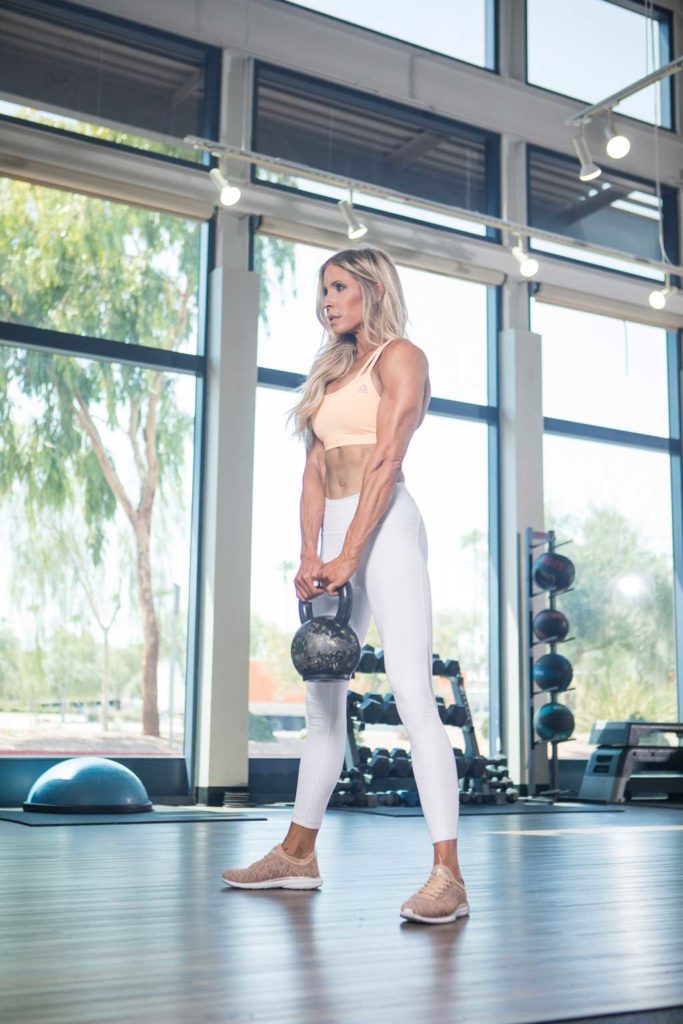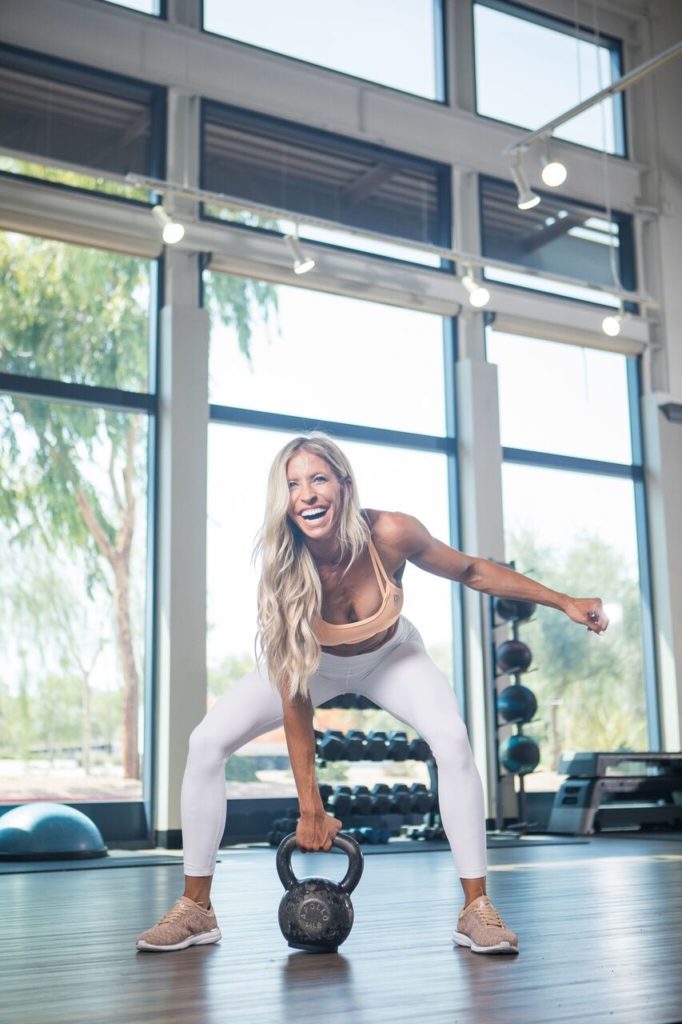 Sports Bras 101
Sports bras are typically separated into three categories: low support, medium support, and high support. This can mean different things to different people. I tend to go with a medium support bra for my daily workout (and usually for the rest of the day too), but go with what feels comfortable for you and what activities you?ve got on your to-do list.?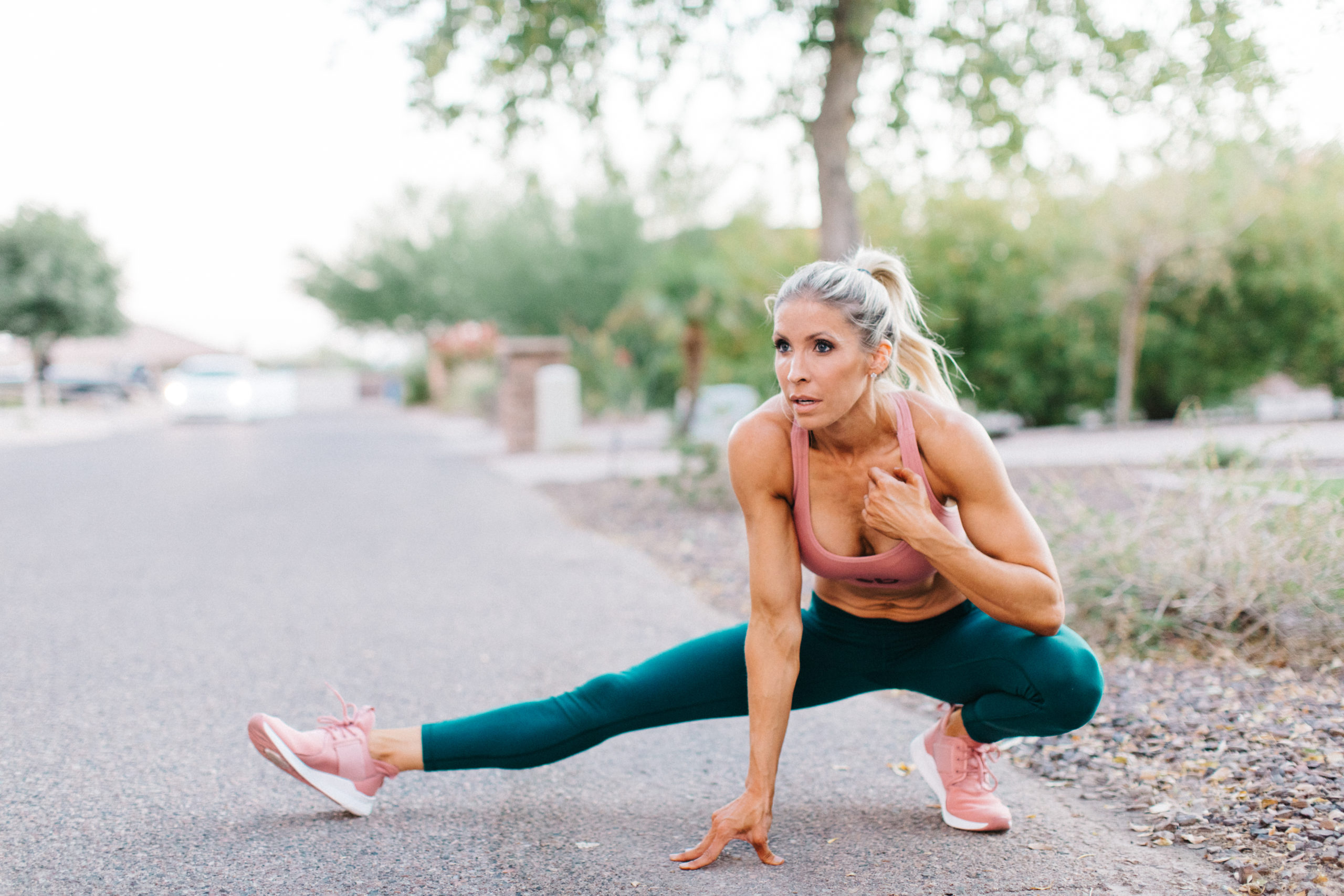 How do you know that you?ve chosen a sports bra that will hold up your assets?
Well, support comes from three points on the sports bra: the straps, cups, and side panels. I have learned to size DOWN. If I normally would wear a small, I actually go with an XS. I am a 32 DD in my underwire bras. I know it SOUNDS big, but because I have such a narrow rib cage (30?), I go with the smallest size possible and find a cup size that fits. In MOST sports bras, I am a XS or S. Why am I telling you this!? Because I always find it SUPER helpful when I?m on a site trying to buy a sports bra to compare! While I don?t want my sports bras to compress my implants too much (my surgeon says this a NO-NO), I DO want to make sure I have adequate support around my rib cage and also from the top of the bra over the shoulder. Our body types definitely play a role in what we personally define as comfort when it comes to the perfect bra.?
High Support Sports Bras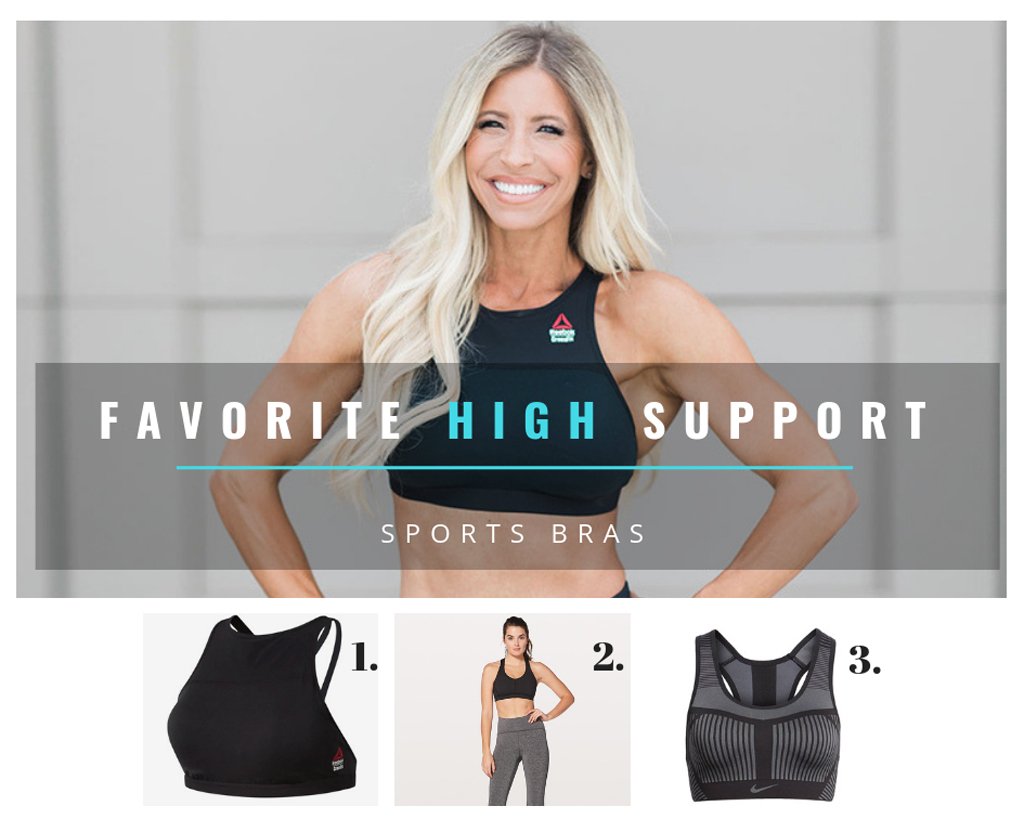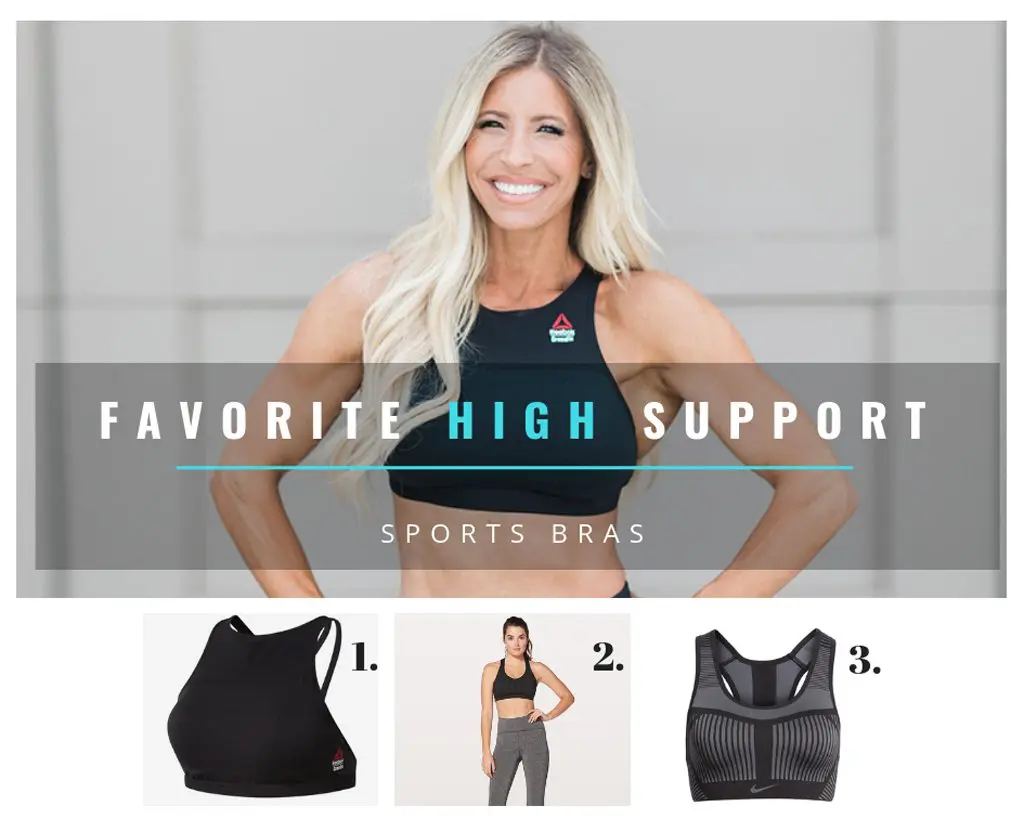 Heidi-Approved Top Pick: Reebok Cross Fit Tech
High support sports bras are for those high-intensity workouts, like running and HIIT training, when you need something strong and durable because you can?t afford to have ANYTHING jiggling or popping out at the wrong time! High support bras get a bad wrap for smooshing your boobs or creating the super seductive unaboob when, in fact, the right high support bra should make you feel secure throughout ANY activity.
Reebok Cross Fit Tech Bra (Bonus: On Sale under $35)😕 The back of this bra speaks for itself! It's SO cute. Plus racer backs ALWAYS work better for those who need extra support. ? Plus, I've learned that the CrossFit bras are made exactly for high impact activity, so you cannot go wrong!
Lululemon Stash 'N Run Bra: GREAT for support!! I can literally bounce on a trampoline for an hour in this bra, and my boobs won?t move! I buy a size 2, which is tight because I prefer a tighter fit. If you want something more loose, size up.
Nike FE/NOM Flyknit: Another great racer back option, made from the same technology as the flyknit Nike is putting in their running shoes. Super light, but super supportive.
When you're looking for a high support bra, think compression. They are usually made from moisture-wicking fabric (to help with all the sweat), and give you less free movement.
Medium Support Sports Bras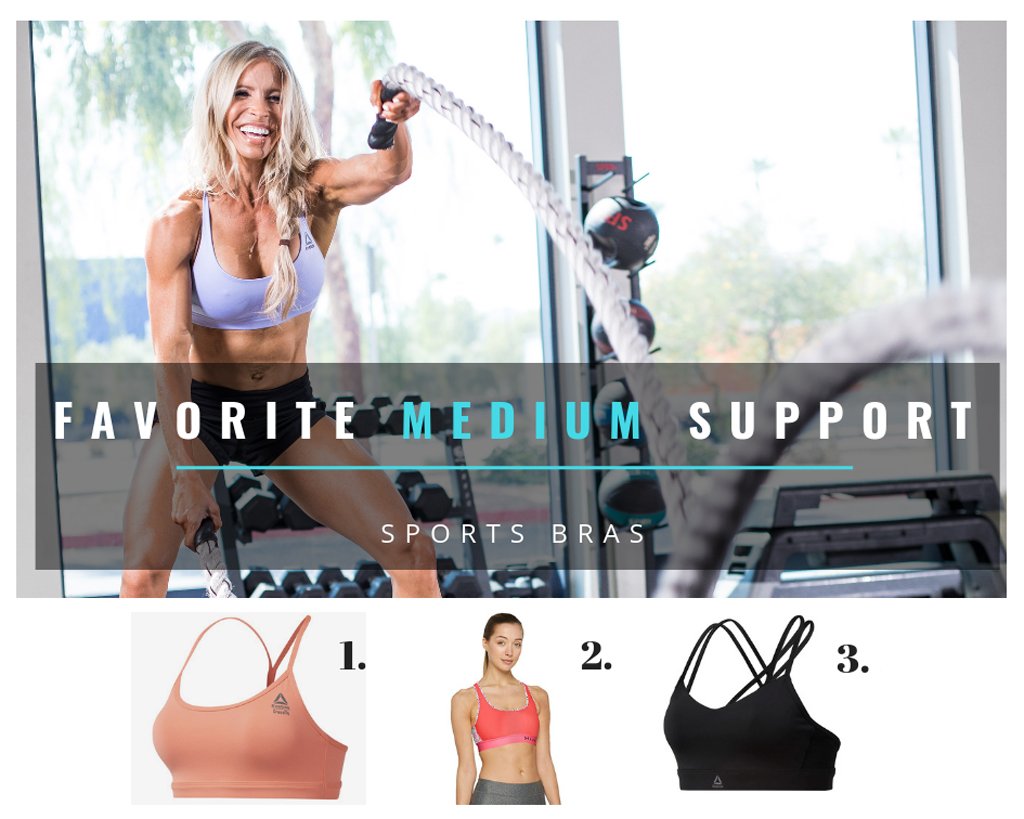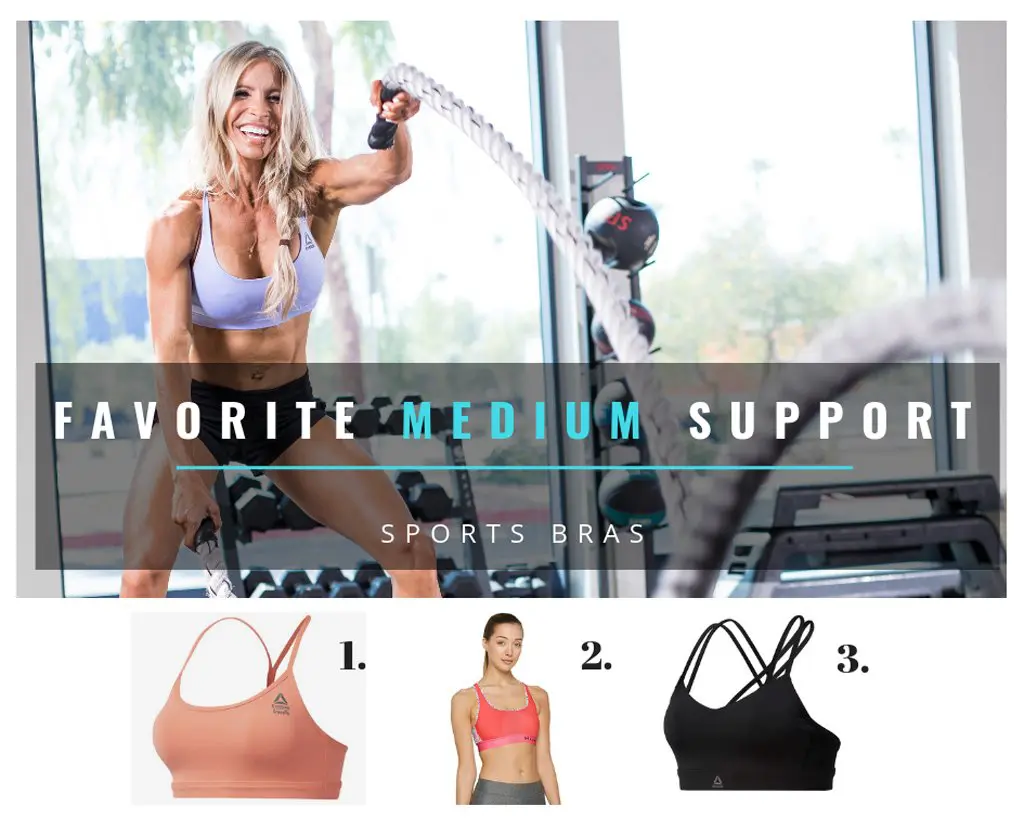 Heidi-Approved Top Pick: Reebok Crossfit Solid Skinny
Medium support sports bras generally have a little more compression, and they provide a more moderate hold that allows you to move around more freely without having to worry about excess or unwanted jiggling. We've all been there, ladies…I know we have. Here are some of my faves for hiking, spin classes, CrossFit, and the occasional jog. I?m also totally obsessing over this sports bra for medium support too! Bonus: It comes in TONS of cute colors!
Reebok Crossfit Solid Skinny (Bonus: On Sale Under $40): One of my current favorites! I buy in an XS, and it's VERY supportive, while keeping it feminine with the straps. This bra is made from sweat-sweeping Speedwick fabric, but it has plenty of spandex for a body-hugging fit. It's the absolute best of both worlds!
Under Armour Mid Crossback Print Sports Bra:?If you're not a gal that likes padding, this bra is perfect? because it has removable padding. Plus, the compression gives the perfect support, and because you're not compressed the way you might be in a high support sports bra, it's a great bra to layer under additional gear like UA cold gear for outdoor jogging in those chillier months.
Reebok Hero Strappy Padded Bra (Bonus: On Sale Under $25): This bra falls under the "it depends on your body type clause." While I wear this as a high support bra, it's also considered a medium support bra. The ability (again) to remove the padding gives this bra that kind of versatility. Plus, it comes in metallic, and you guys know how much I love metallic gym wear.
Low Support Sports Bras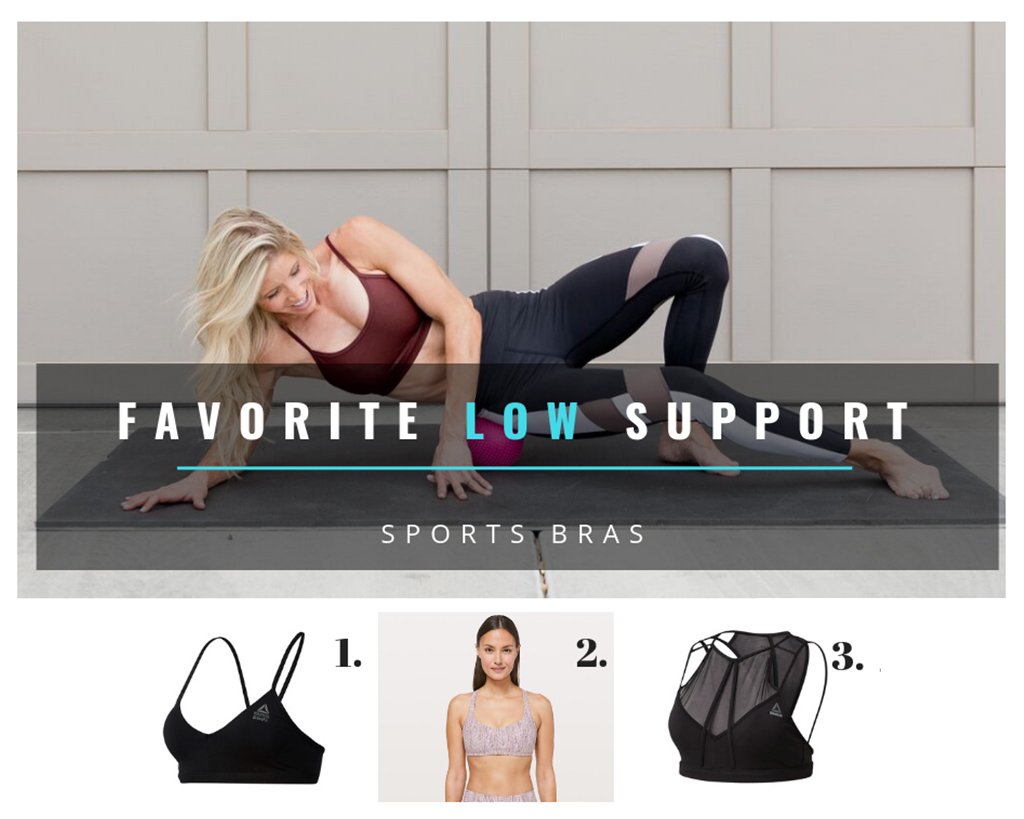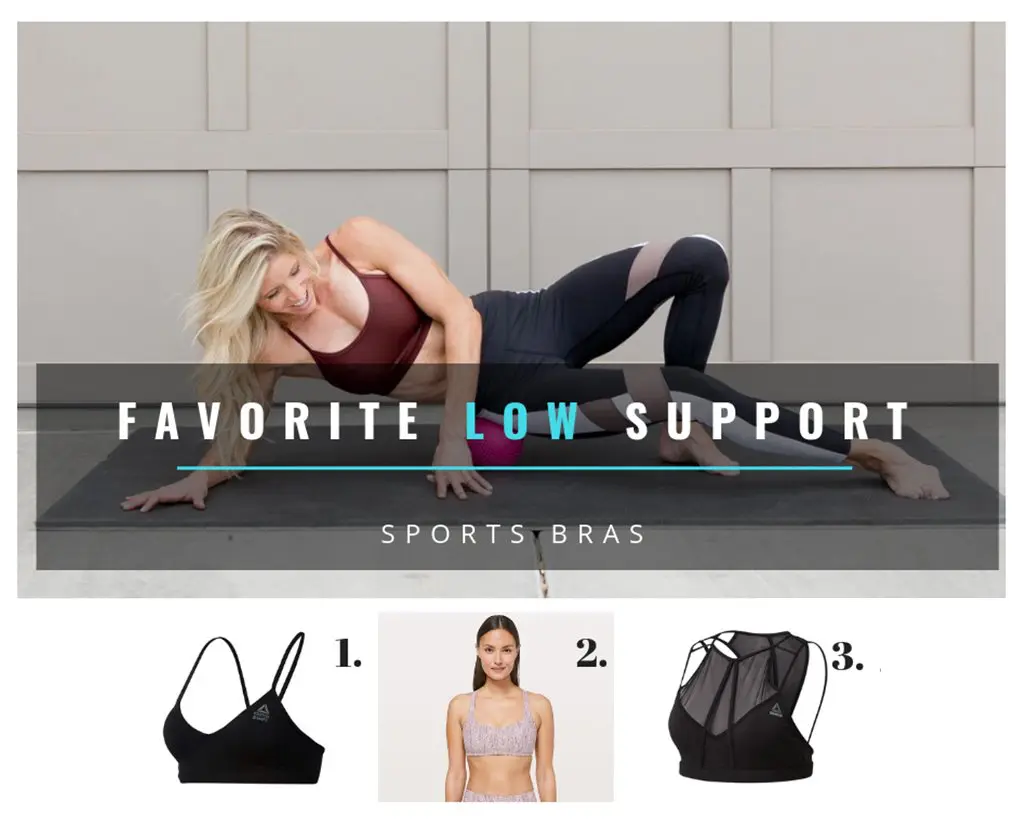 Heidi-Approved Top Pick: Reebok Crossfit Skinny Bra (*see comments about bust size ?)
Low support means anything that isn't going to prevent any major issues with bouncing, and while probably cute as heck, these definitely aren't the kind of sports bras you'd want to wear when practicing your jump rope technique. Instead, these are the sports bras you'd wear for anything that requires low levels of activity: walking, yoga, running around with the kiddos, weight training, or the occasional, ?hoping to work out but ending up getting coffee with the gals instead." While I fully stand behind everyone having their unique opinions about what they do and don't like from a sports bra (and anything, really!), you'll often find that the low support sports bras are sometimes more comfortable for those with a smaller chest, and the high support or high impact sports bras are more comfortable if you have a larger chest.
Reebok Crossfit Micro Bra: This is a great alternative to the Reebok Cross Fit Solid Skinny for smaller busted girls. On the other hand, I sometimes have an issue with my boobs falling out, so if you're a bustier lady, go with the medium support Rebook CrossFit Solid for a very similar look. If you're a smaller busted girl, the support in this bra is GREAT for all intensities
Lululemon Free to Be: I have a few of these, and I really like them for the style. Here's the trick: If you're looking for the support of a high impact bra or if you are bustier, this bra is not for you. Like most Lulu bras, I size up. Although the rib cage sizing for me fits a 2, my boobs need the support/size of a 4, so sizing up is key. If you're a smaller busted girl doing light walking, this is perfect and so cute!
Reebok Dance Strappy Bra: I have the older variation of this in black, and I LOVE it. I did need to size up to a small here so my boobs didn?t fall out! Very important! Super cute with low support.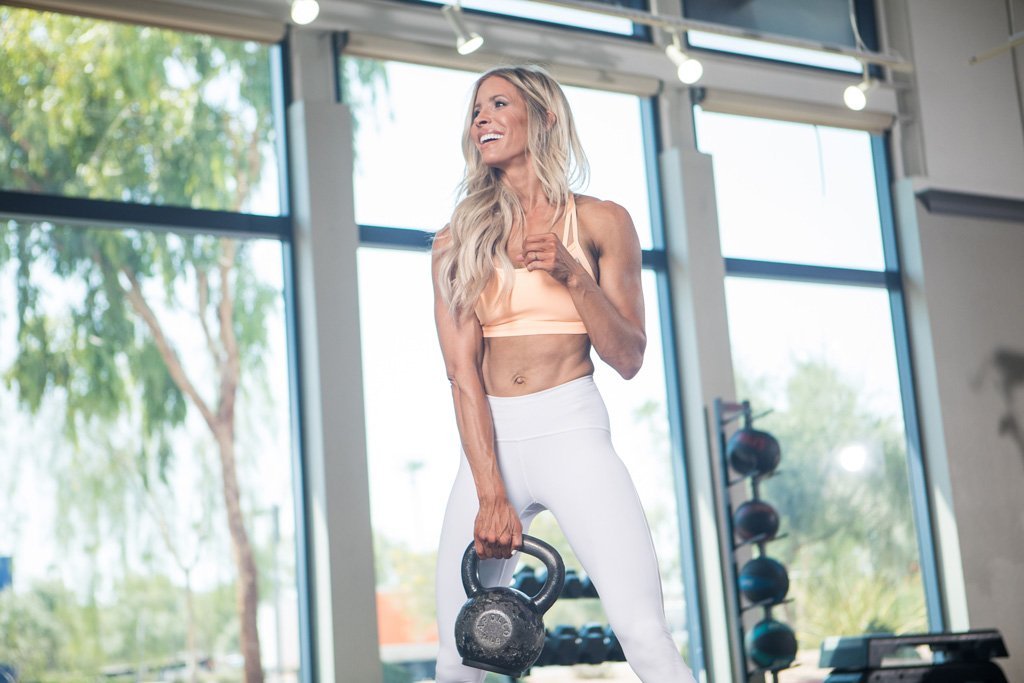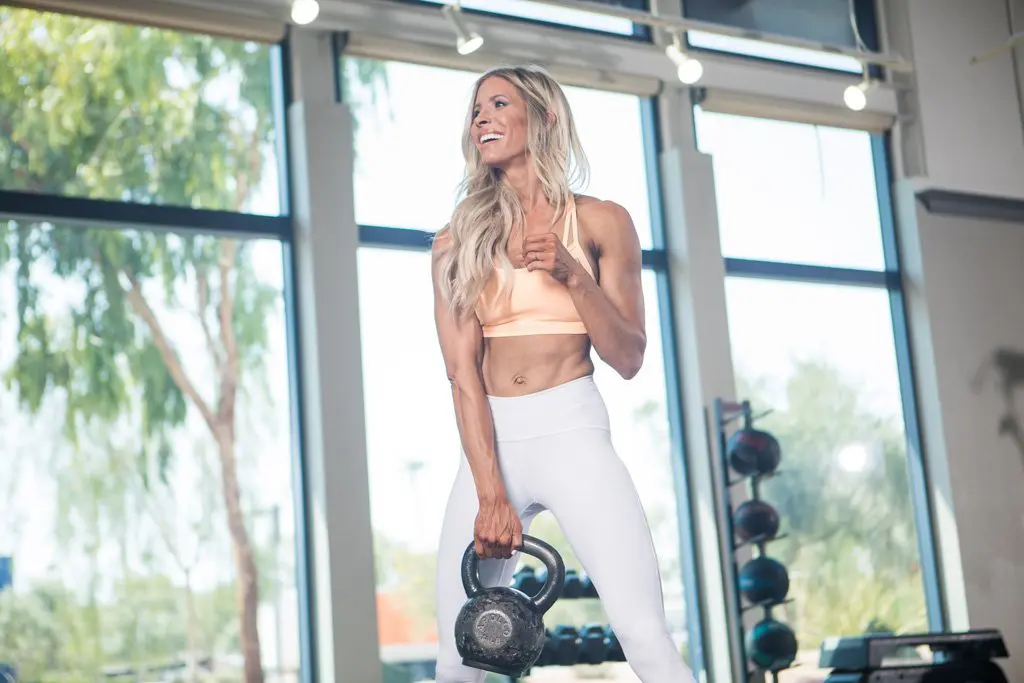 My best piece of advice: find a couple brands you trust and try out a few styles and figure out if you prefer adjustable straps, underwire, zippers, compression, or removable pads (hey, why not!?). Then go bounce, bend, jump, and twist to see what happens! Did the bra move with you? Did you feel too confined or too loosey-goosey? Figure out what feels best for you, and once you do, your confidence level will soar. Plus, no one has time to be worrying about their sports bra when they're trying to achieve a new PR! And let's be real…the hardest part of the workout comes after exercise when you're trying to wiggle out of a sweaty sports bra! I'm still working on a solution for that one! 😉
xo,
Heidi
Related reading:
What?s in My Gym Bag | 10 Gym Bag Essentials
7 Workout Moves You?re Doing Wrong
5 Workouts You Can Do Anywhere
7 Resistance Band Moves You Can Do Anywhere
Fit On The Job! 6 Tips + 14 Exercises for the Desk Bound Professional