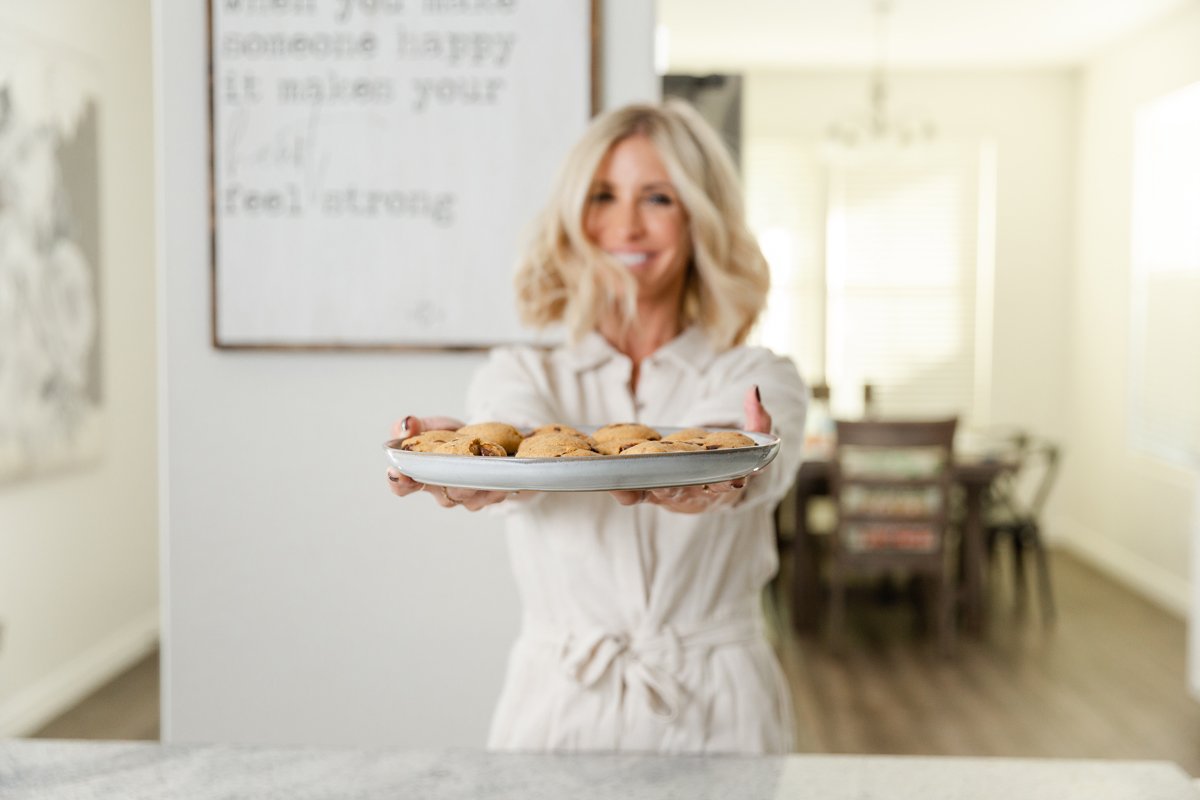 Okay. Pumpkin season might be over, but it's one that lives on in my heart ALL year long! Give me a good pumpkin-spiced ANYTHING no matter the season, and I will be one happy lady. I have been spending a lot of time cooking, baking, and loving my new kitchen, and I whipped up this treat that's too good to wait until next fall to share. 😉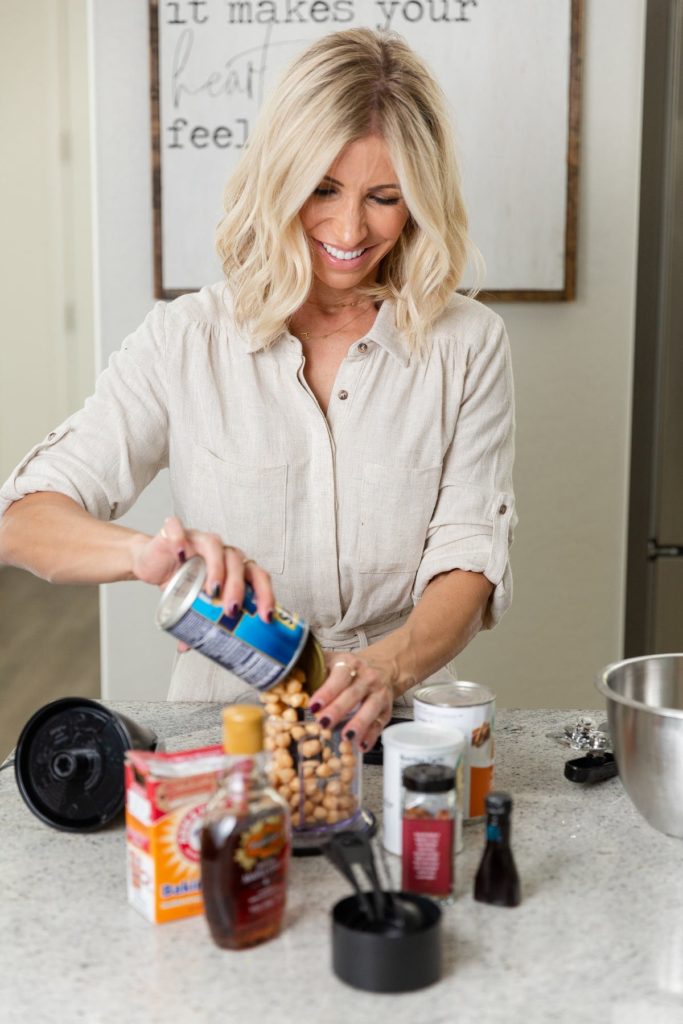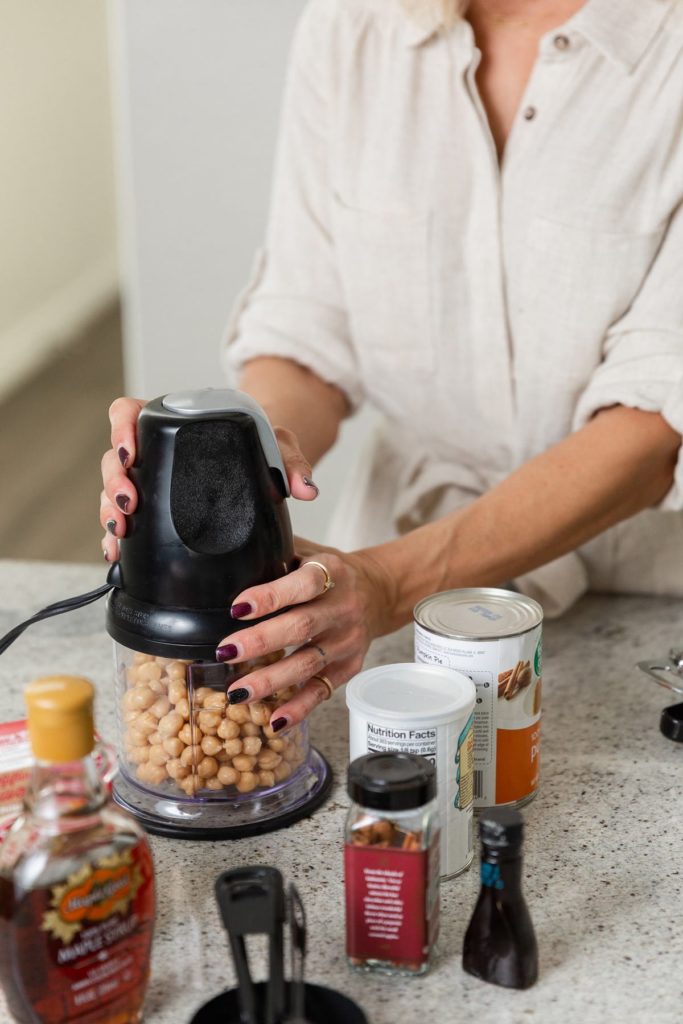 While we've been hunkered down a bit more than usual lately, it's important to know you can create a sweet treat that satiates your craving and has some hidden nutritional benefits. A hidden dessert secret you may or may not have thought about is using chickpeas in your recipes. I mean, there's even a chickpea cookie dough hummus that makes you feel like you're indulging in cookie dough. Chickpeas are great because they are a rich source of vitamins, minerals, and fiber.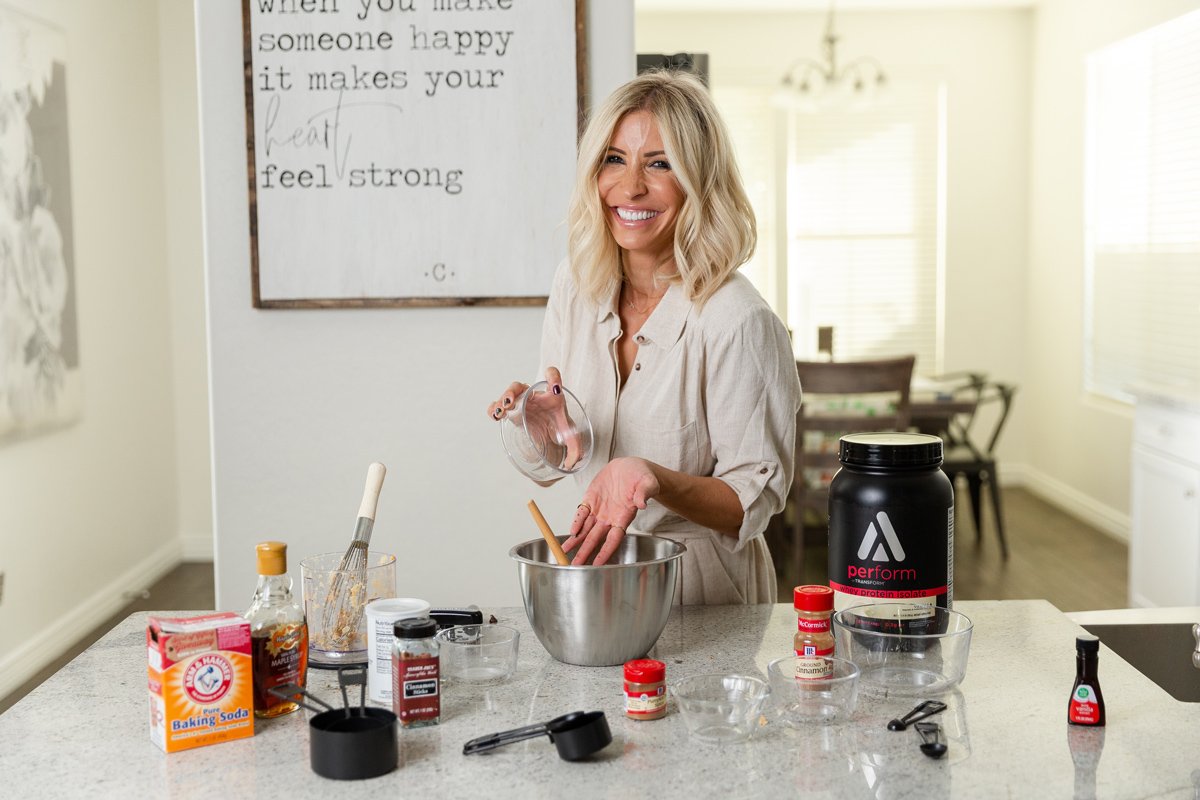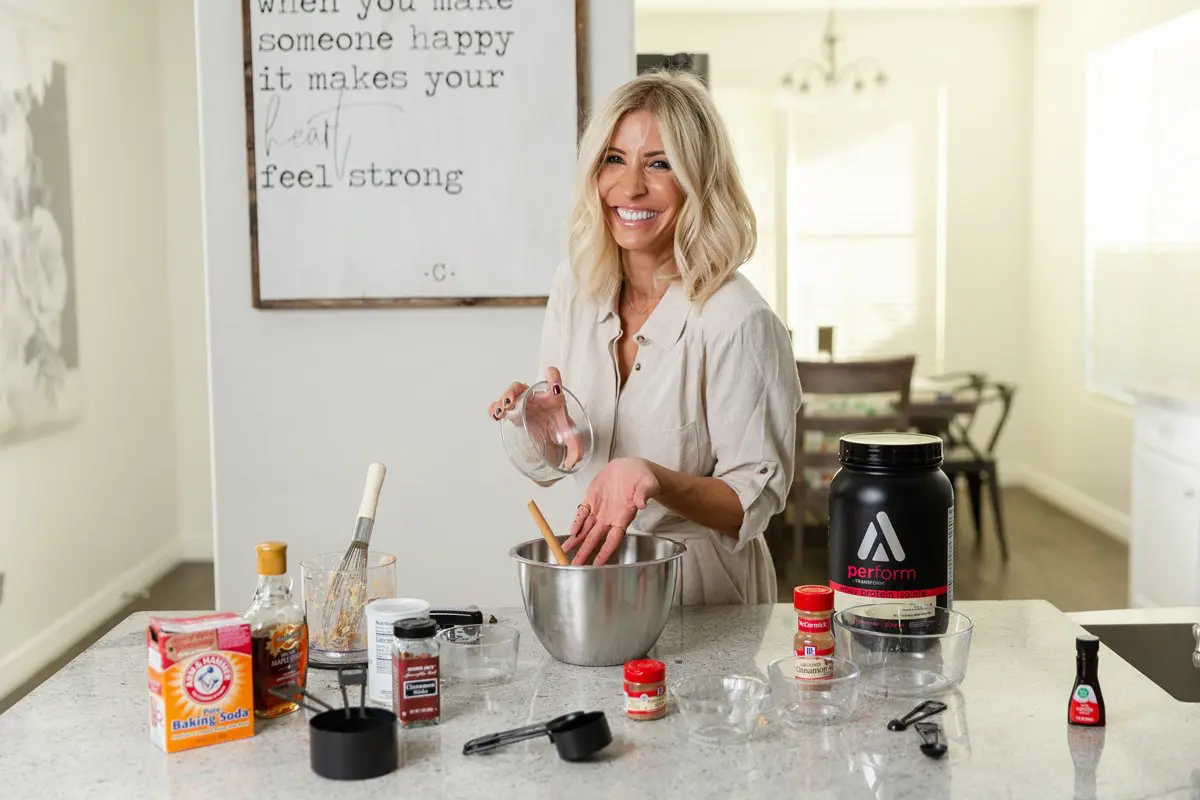 Click here to read more about how important fiber →
And just like chickpeas, did you know that pumpkin is actually a super healthy food with so many benefits that you should be adding it to your meal plan all year long? Pumpkin is packed full of vitamins and nutrients that help combat against chronic diseases, and it can actually boost your immunity too.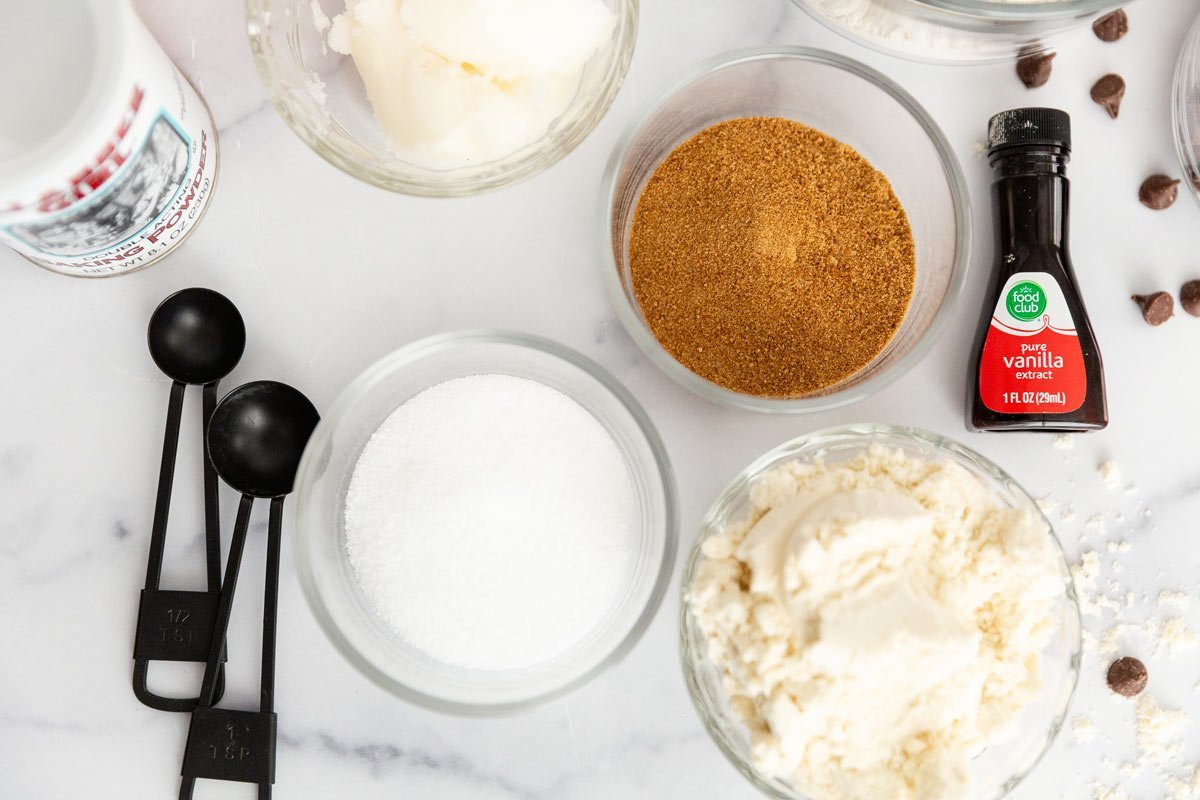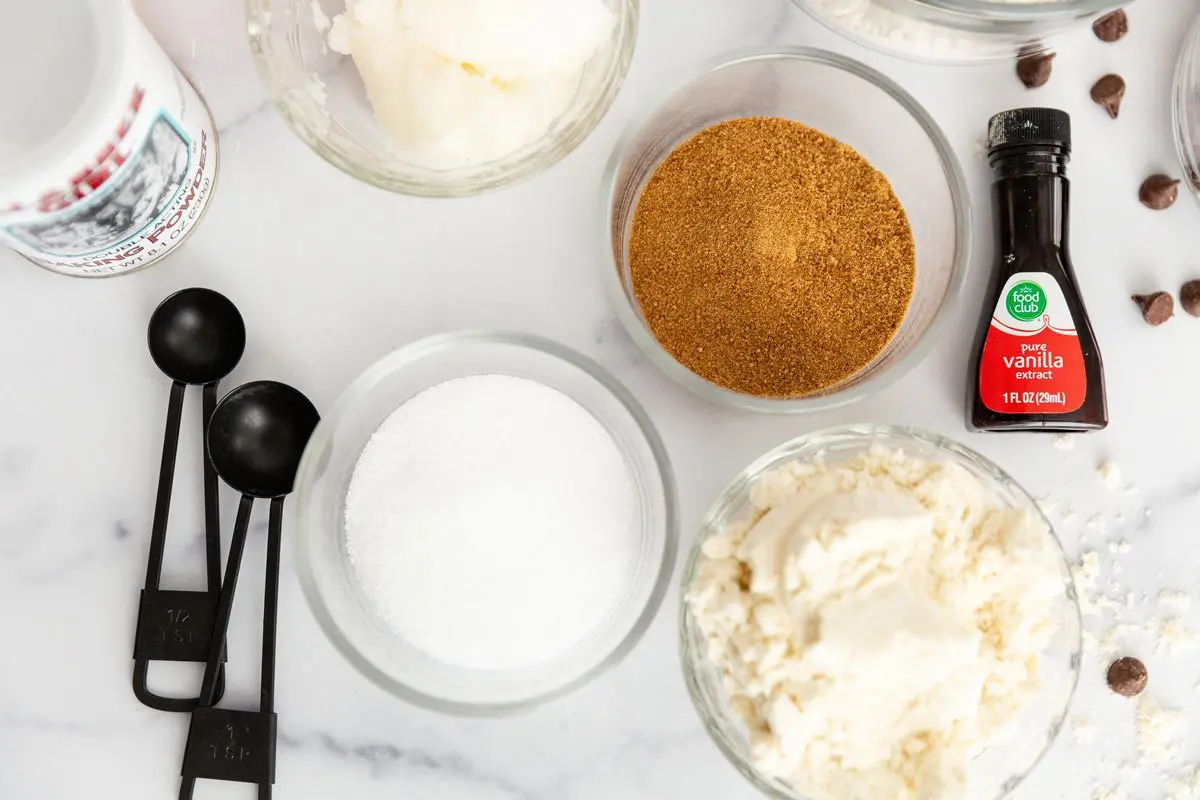 Outfit + Kitchen Details:
Living Easy Jumpsuit // sold out (also—love this one on clearance for under $30 and this romper style for under $20), Initial Necklace, Ring Set, Glass Mixing Bowls, Transform Protein Powder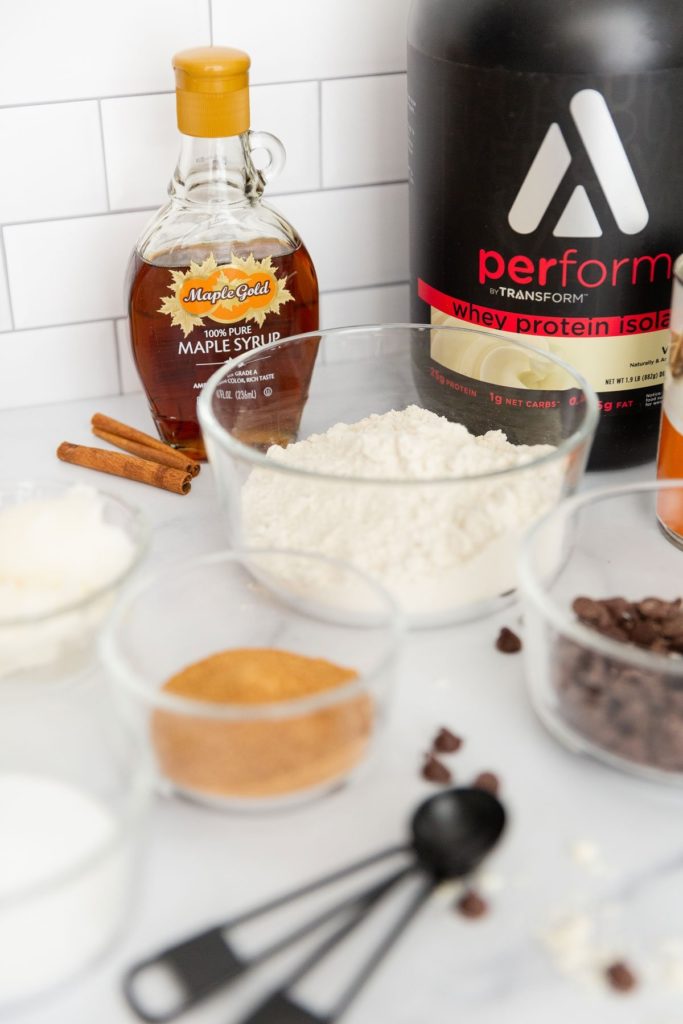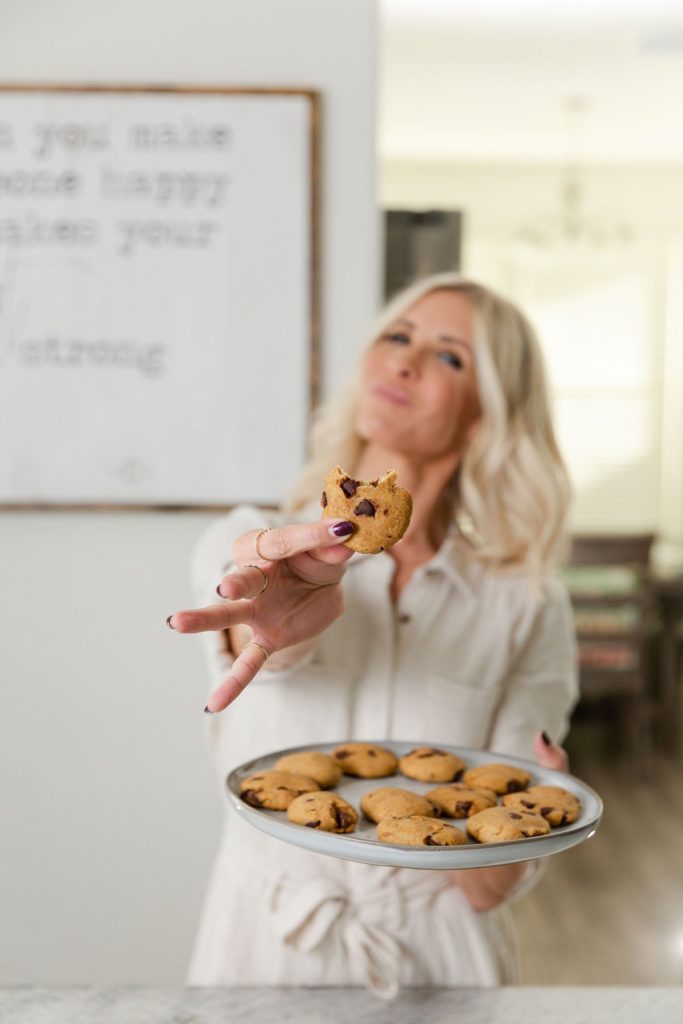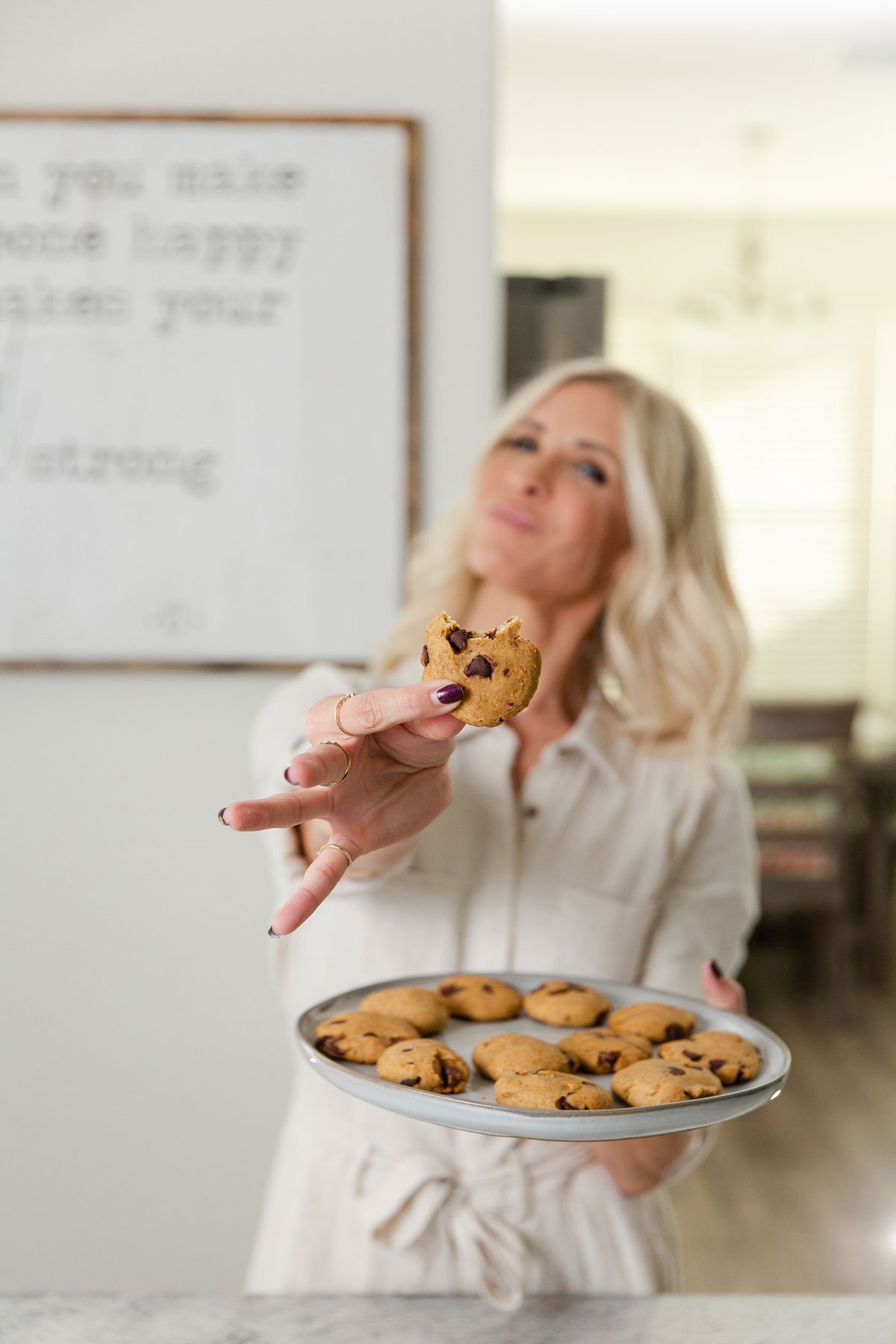 Let's be real: We ALL could use a little more immune system-boosting these days! Since they're so packed full of nutrients, pumpkins are considered a dense food, and they're also low in calories. Meaning, they're going to give you so many health benefits while also helping you to actually LOSE weight when you can pack your plates full of pumpkin as opposed to starchier carbs. Wins all around.
Gluten-Free Pumpkin Chocolate Chip Cookies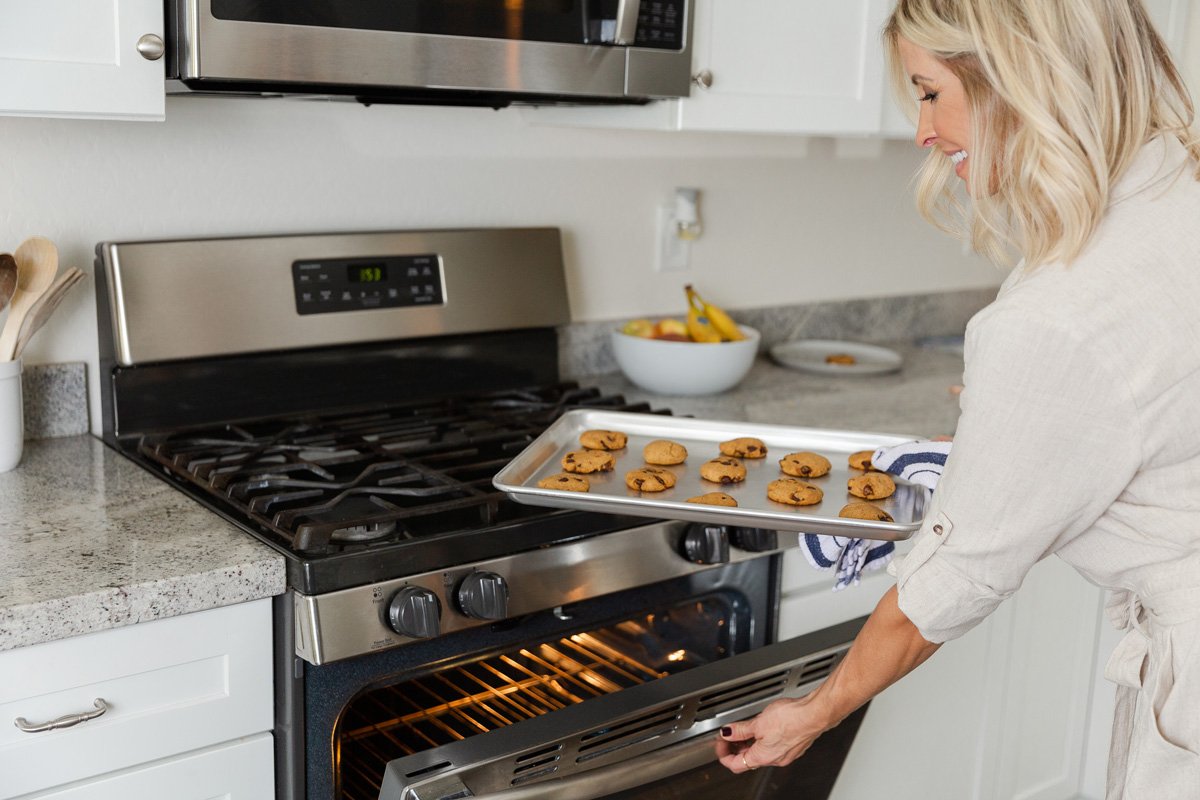 Ingredients:
1 (15 ounce) can garbanzo beans, drained and rinsed well
½ cup coconut oil
1 tablespoon pure maple syrup
½ cup pure pumpkin puree
1 teaspoon vanilla extract
1 egg
¼ cup stevia (or Truvia)
¼ cup coconut sugar
2 scoops vanilla protein powder
½ teaspoon baking powder
½ teaspoon baking soda
1 ½ cups gluten-free all-purpose flour
2 teaspoons pumpkin pie spice
½ teaspoon cinnamon
½ cup semi-sweet chocolate chips
Directions:
1. In a food processor (or high powered blender), blend garbanzo beans until a paste forms, scraping down the sides of the bowl as needed.
2. Add coconut oil, maple syrup, pumpkin puree, vanilla, egg, stevia, and coconut sugar to the garbanzo beans paste, mix on high until thoroughly combined.
3. Add the rest of the ingredients, except for the chocolate chips, to the food processor and blend on high until dough begins to form.
4. Remove dough from food processor, place into a large bowl. Add chocolate chips to dough and fold in using your hands or a rubber spatula.
5. Chill dough, covered, in refrigerator for at least 3 hours or overnight. (This step is not mandatory, but it does keep cookies soft and fluffy!).
6. Preheat oven to 350 degrees Fahrenheit, spray a baking sheet with nonstick spray. Remove dough from refrigerator.
7. Measure out a heaping tablespoon of dough, roll into a ball with your hands. Using your palms, flatten the ball into a disc shape, about ½ inch thick. Place on cookie sheet sprayed with nonfat cooking spray.
8. Continue until baking sheet is full, keeping about 1-2 inches between each cookie. Recipe makes 36 cookies.
9. Bake in preheated oven for 12-14 minutes until the bottoms of cookies are golden brown. Allow to cool 5 minutes on baking sheet before transferring to cooling rack.
10. Enjoy! Store in airtight container for up to 1 week.
Nutrition Information (per cookie): 87 calories, 4g fat, 11g carbs, 3g protein, 4g sugar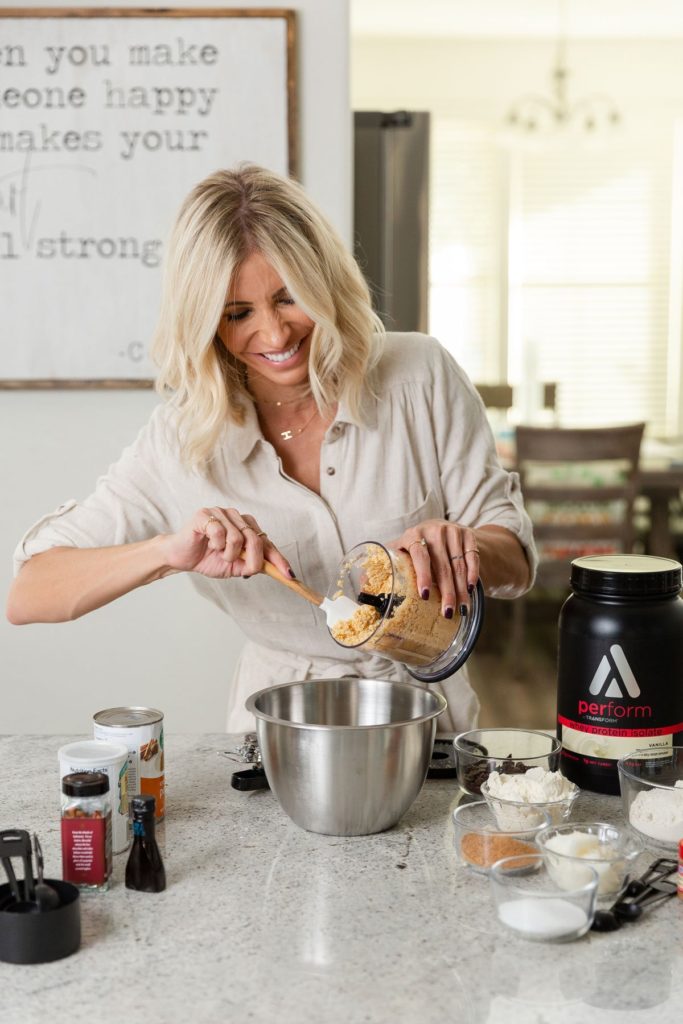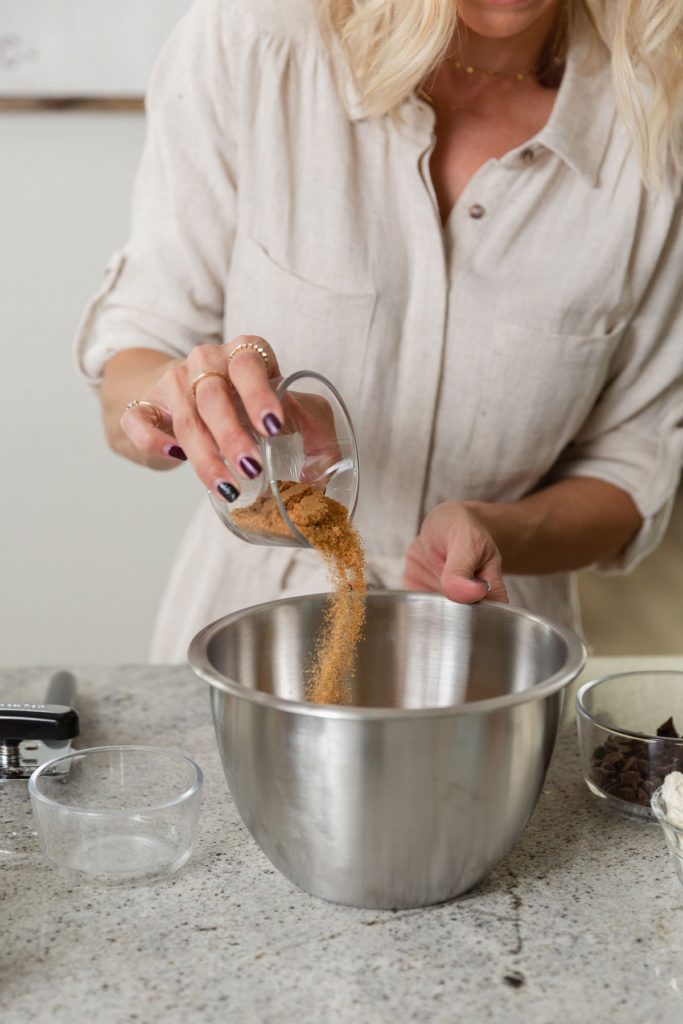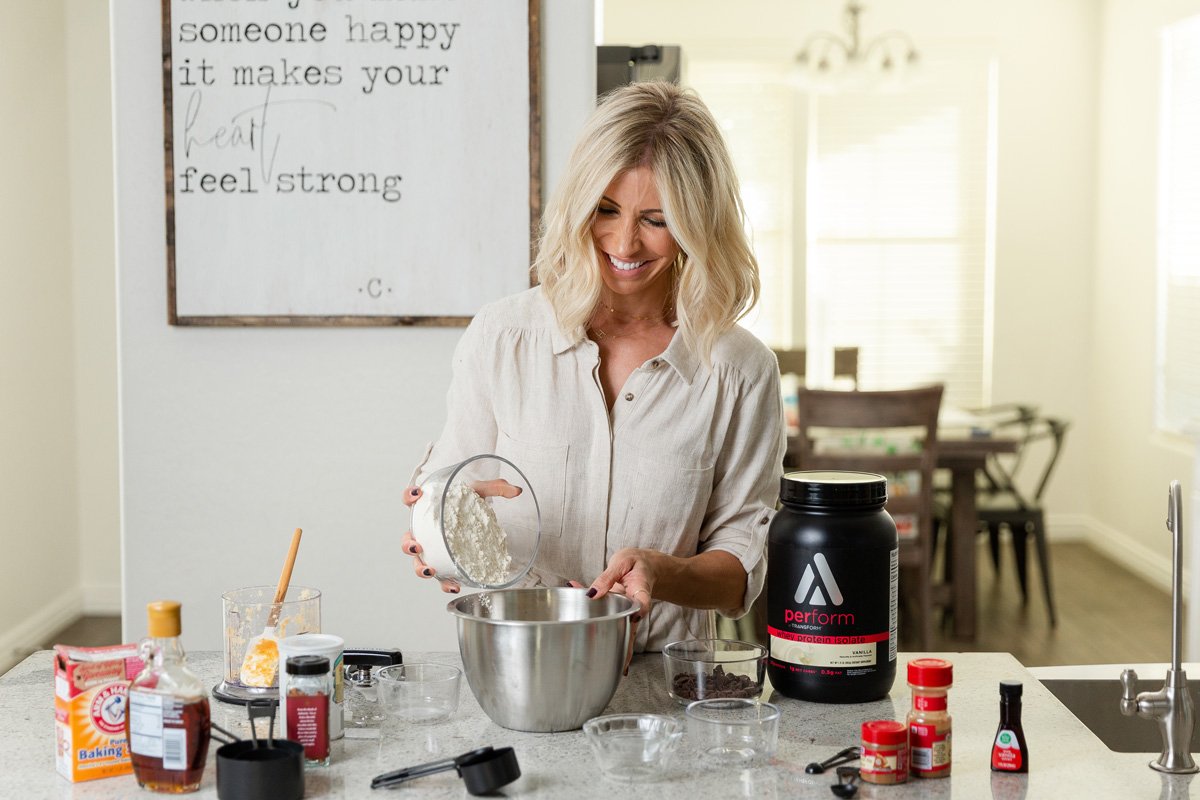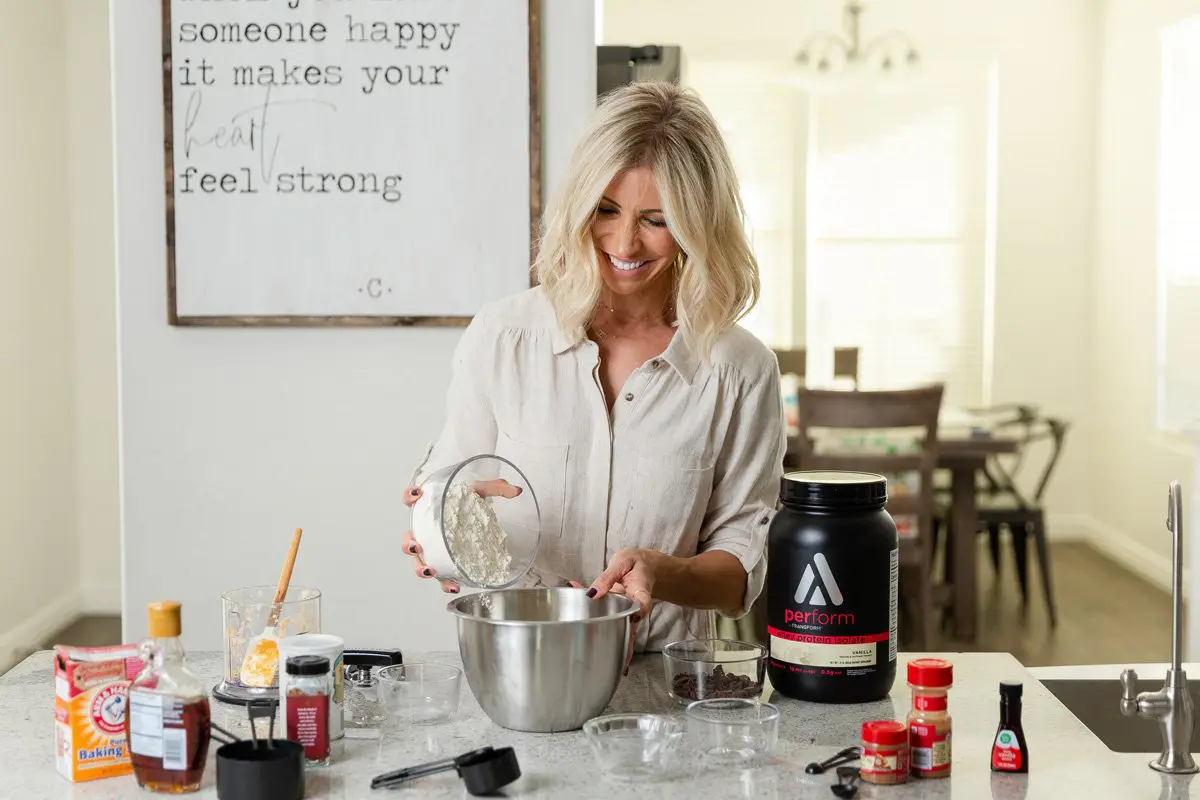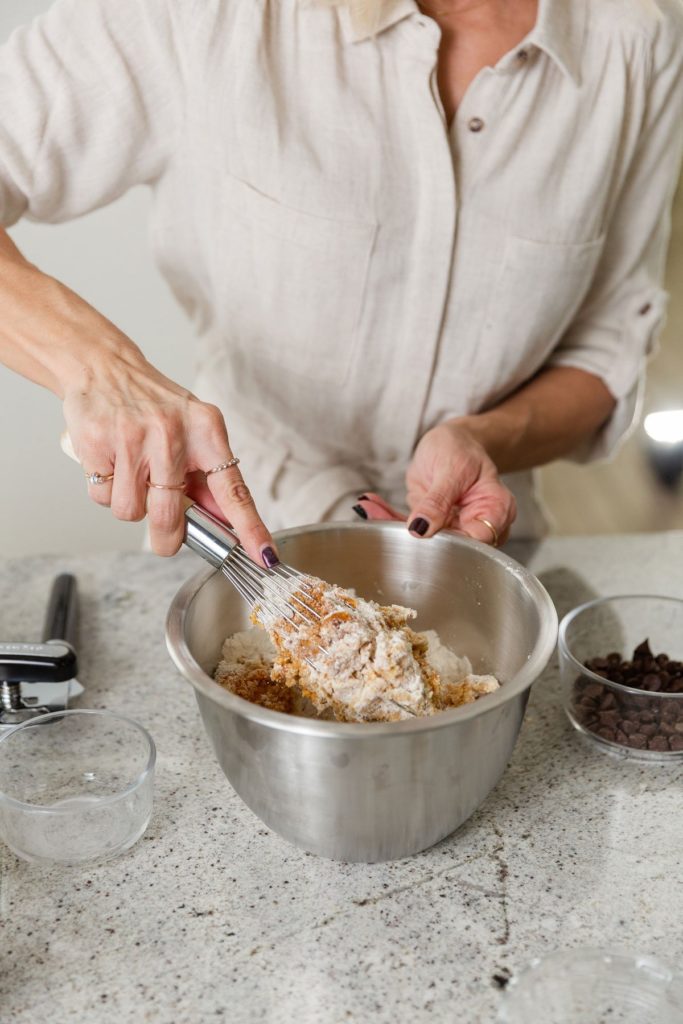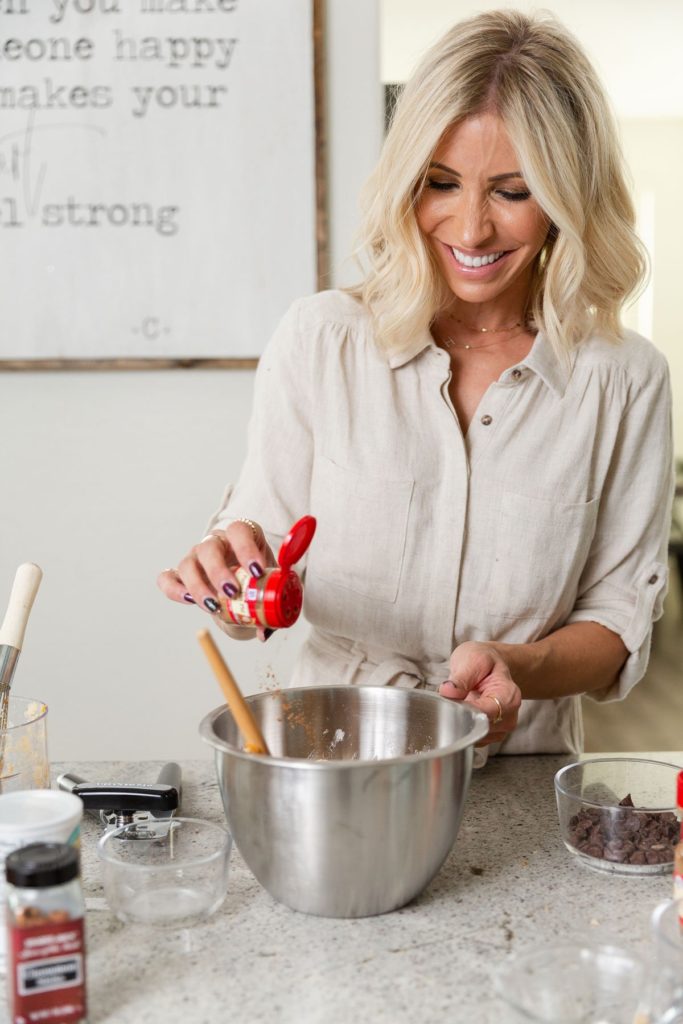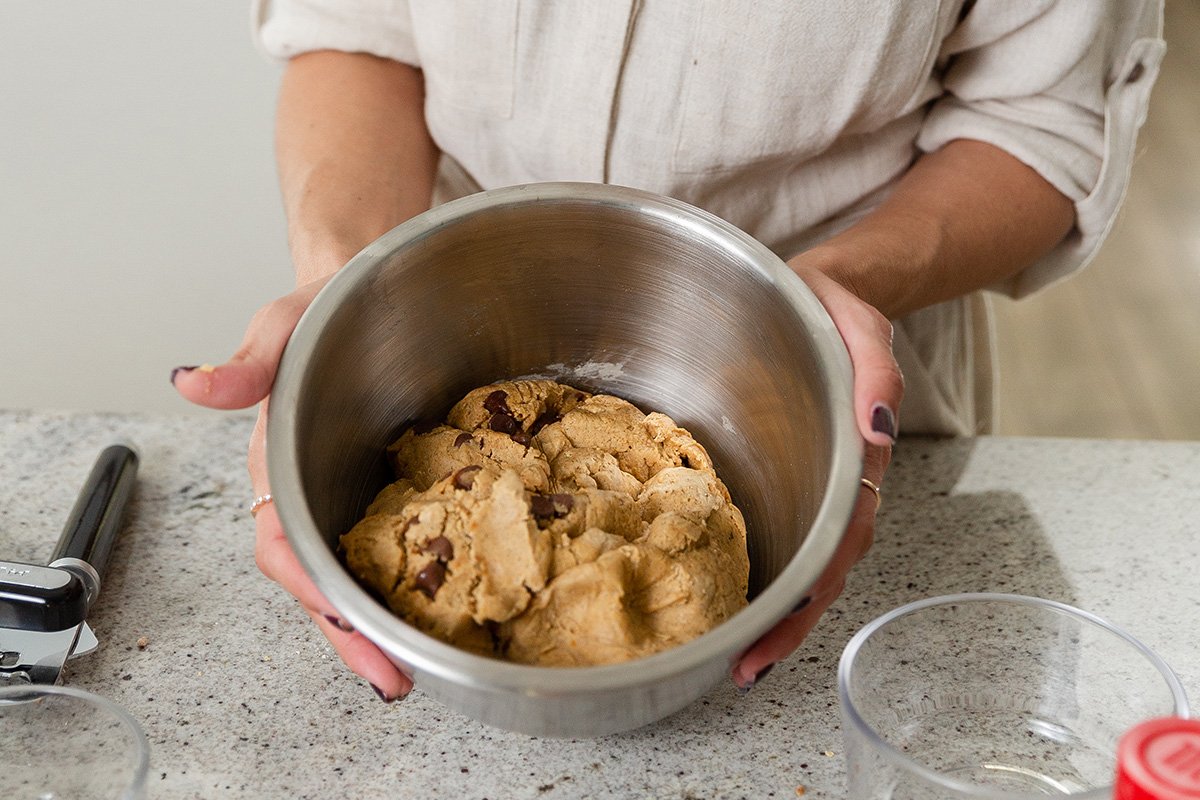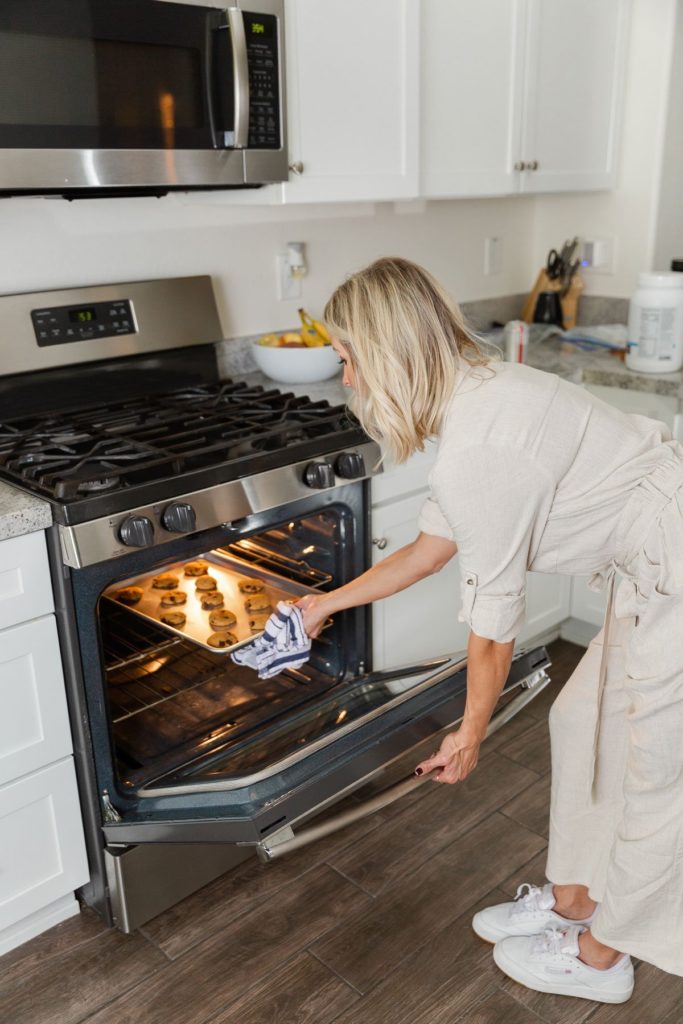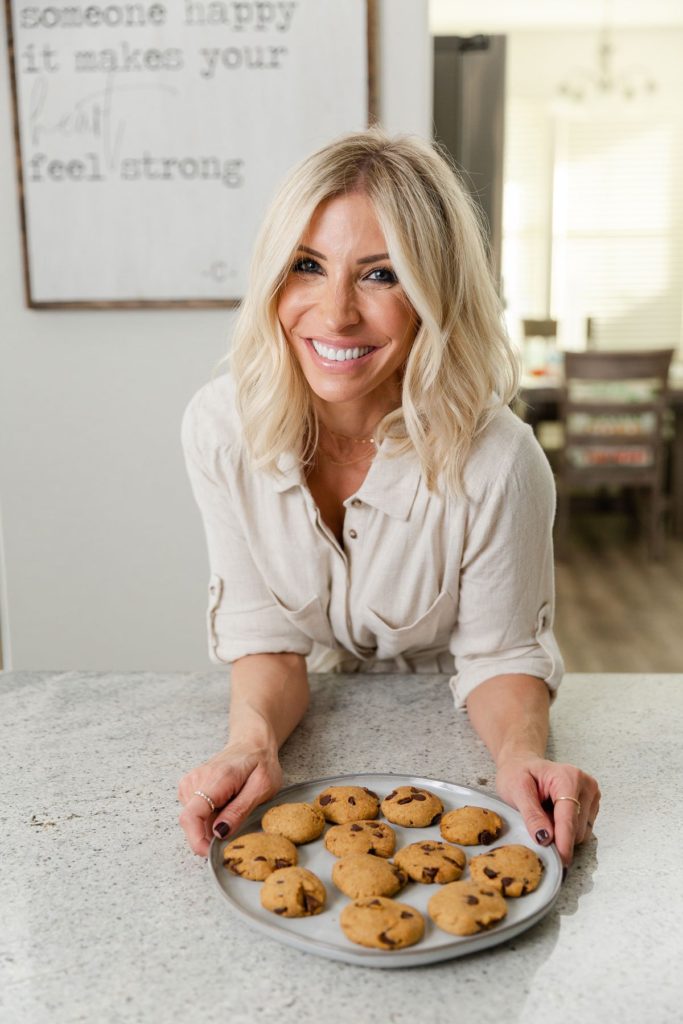 For me, I'll volunteer to eat my pumpkin in cookie form. Now grab your cutest apron and bring your appetite because this is one recipe you won't want to miss! (Bonus: It's gluten-free!). What's your favorite type of cookie that you just can't resist?! Inspire me to create more healthy versions of your favorite treats!
xo,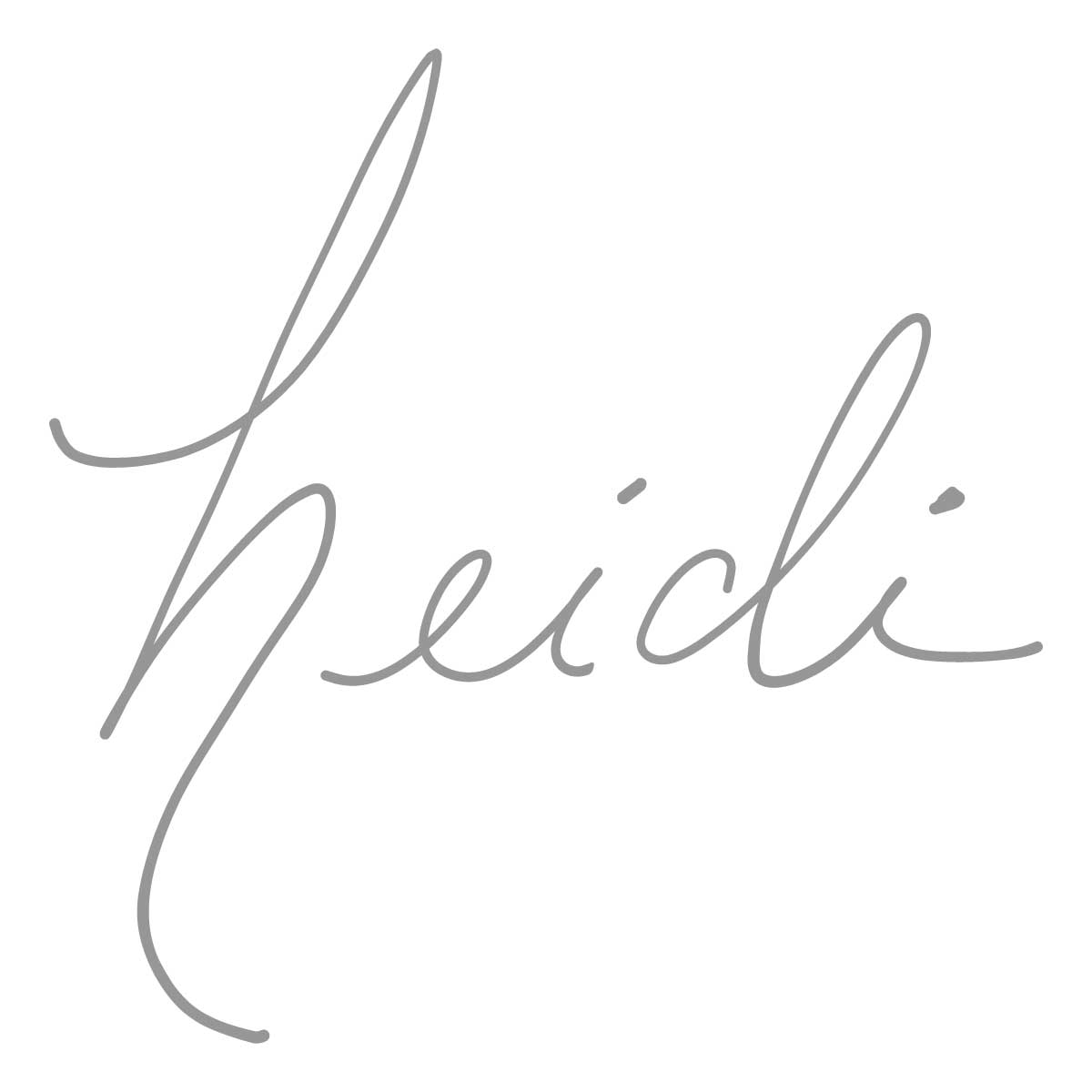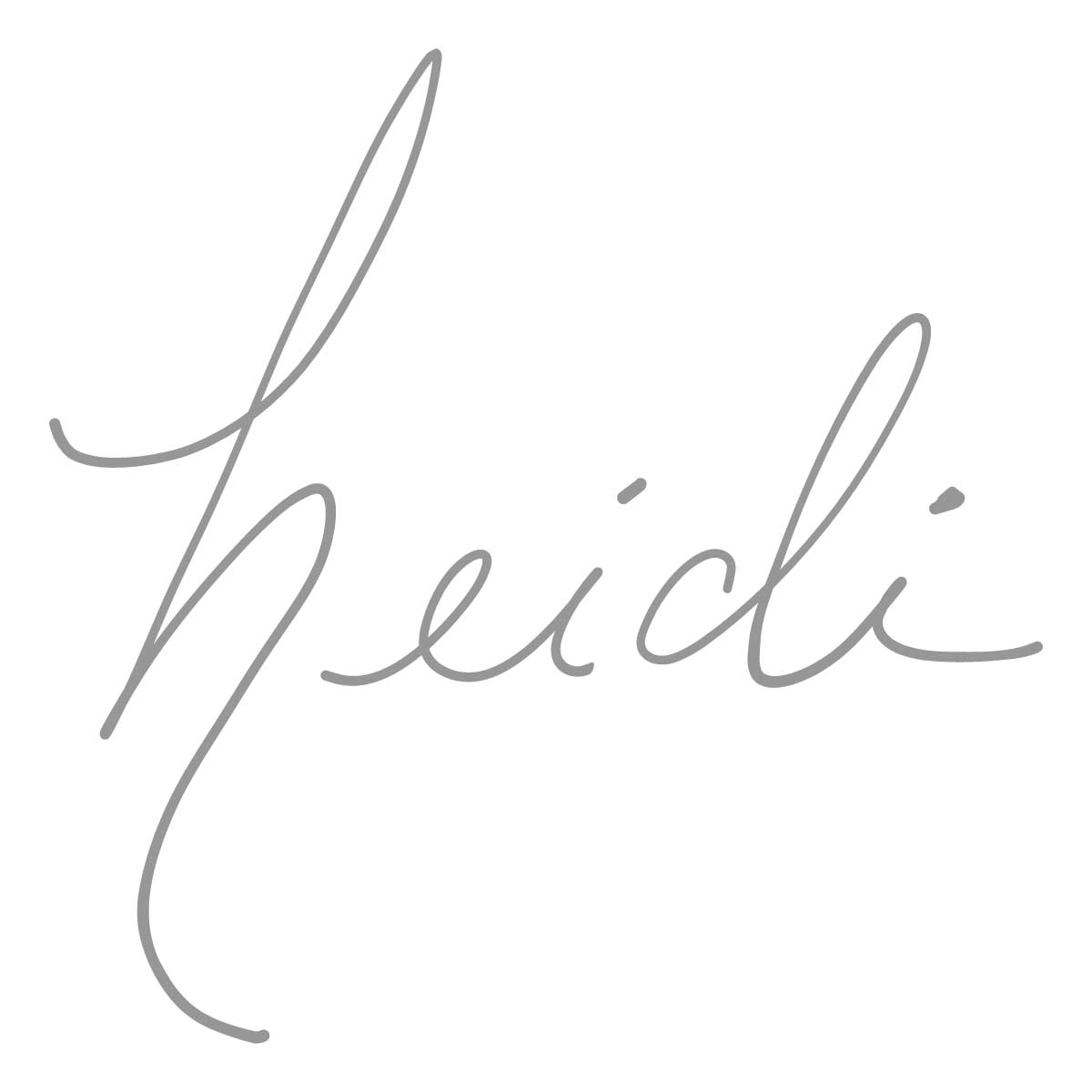 Related reading:
Gluten-Free Maple Bacon Protein Donuts
Pumpkin Spice + Everything Nice: 5 Favorite Healthy Pumpkin Spice Swaps
Gluten-Free Pasta Perfection
Pumpkin Banana Protein Pancakes Recipe + Perfect PJs
The Health Benefits of Chocolate + 5 Transformation-Friendly Chocolate Recipes
Guilt-Free Chocolate Indulgence Cake