Nothing says "summer" like a backyard BBQ…after all, May IS National BBQ Month! So what better way to kick off summer break than a little healthy cookout?! My dear friend, and healthy eating guru, Erika Peterson – Clean Simple Foodie, whipped up THE most amazing Honey Lime Grilled Chicken + Plantain Chips with Black Bean Dip recipe for me to share with my fam for our annual Memorial Day BBQ! This weekend, fire up the grill and give this yummy recipe a try – it's a guaranteed crowd pleaser!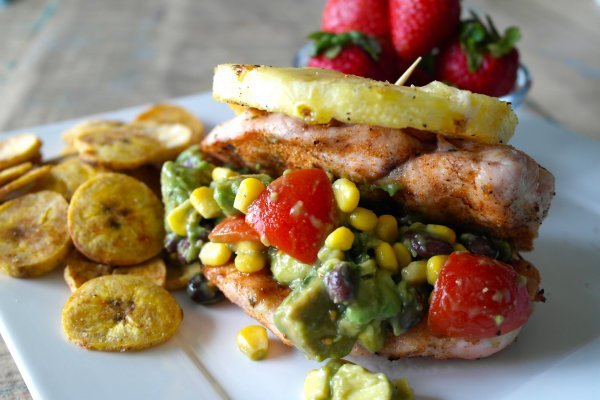 Honey Lime Grilled Chicken + Plantain Chips with Black Bean Avocado Dip
By: Erika Peterson, Clean Simple Foodie
What you'll need for the chicken:
6 chicken breasts
Season-All or Everything seasoning
1 small pineapple
2 Tbsp honey
1 lime
Black pepper
Gallon-sized Ziplock bag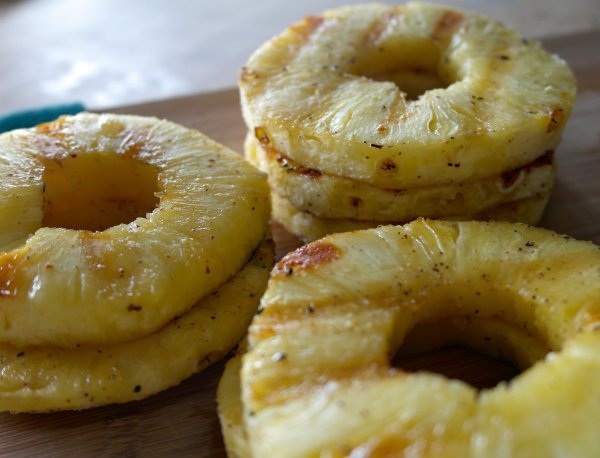 For the plantain chips:
2 plantains (green, unripe)
Sea salt
Black pepper
Cumin
Cooking spray
For the black bean avocado dip:
1 can black beans
1 can sweet yellow corn (or fresh corn)
2 ripe tomatoes?
2 ripe avocados
Handful chopped cilantro
1 Tbs. olive oil
1 Tbs. apple cider vinegar
1 lime
1 packet Italian salad dressing mix (or homemade)
How you'll make it:
1. Prepare your pineapple! Slice your pineapple into 6 rings, removing both the core and the shell. In a gallon sized Ziplock bag, add honey, juice from one lime and a dash of pepper. Shake together. Add pineapple and massage until well coated. Set aside.?
2. Make the dip! Pour beans and corn into a colander. Rinse and drain. Pour into serving bowl. Chop tomatoes, avocados and cilantro. Add to the bowl. Add olive oil, apple cider vinegar, juice from 1 lime, and Italian seasoning. Stir, cover, and store in fridge.
3. Make the chips! Preheat oven to 350 degrees. Slice plantains into thin slices. Place thinly sliced plantains on a baking sheet lined with foil. Bake 10 minutes. Flip and spray with cooking spray. Sprinkle with sea salt, cumin, and pepper. Bake another 10 minutes. If still not crispy, broil 2 minutes (be careful not to burn!)
4.?Make the chicken (while chips are baking)! Grease your grill and preheat to medium heat. Butterfly cut your chicken. Season both sides with your Everything seasoning or Season-All. Place on your greased grill. Cook about 5-10 minutes per side or until cooked through, but tender. Also add your pineapple to the grill and cook about 3-5 minutes per side or until the color darkens and grill marks appear.?
To serve, stuff grilled chicken with black bean, corn, & avocado dip, top with one grilled pineapple ring & chips on the side ?OR- stuff grilled chicken with one pineapple ring and serve chips and dip on the side. ENJOY!!
About Erika:
Superman?s wife, Mother of 3, lover of family, fitness, and baseball tees, and of course, anything that involves clean food (lots of it)! AFPA certified nutrition and wellness consultant, certified TRX group fitness instructor, and Clean. Simple. Foodie. If you need me, I?ll be in the kitchen!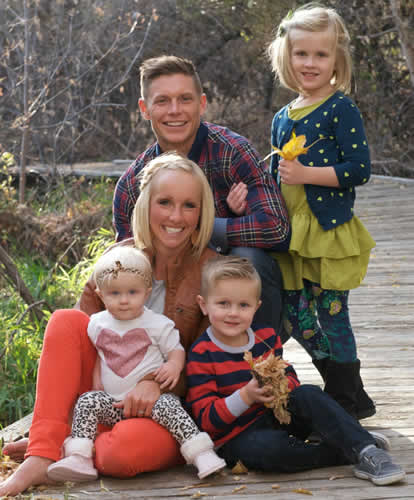 Want to connect with Erika? Find and follow her here: cleansimplefoodie.com